"Jazzie" the Siamese Ballerina Kitten, Original One-of-a-kind Art Doll Figurine by Max Bailey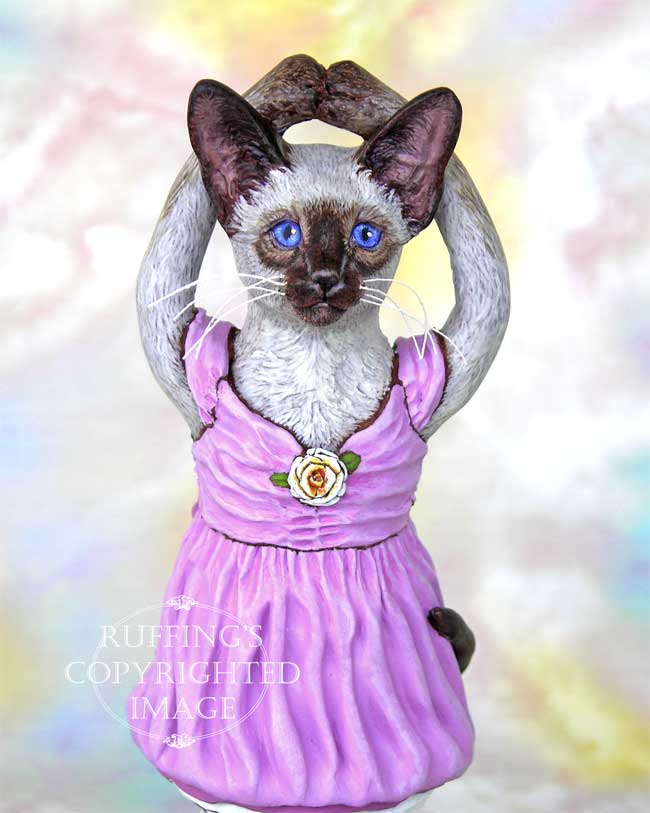 They named her Jasmine, after the sweet smelling flower, but everyone calls her "Jazzie."
Jazzie is a little kitten with a big dream. Someday, she wants to be a prima ballerina.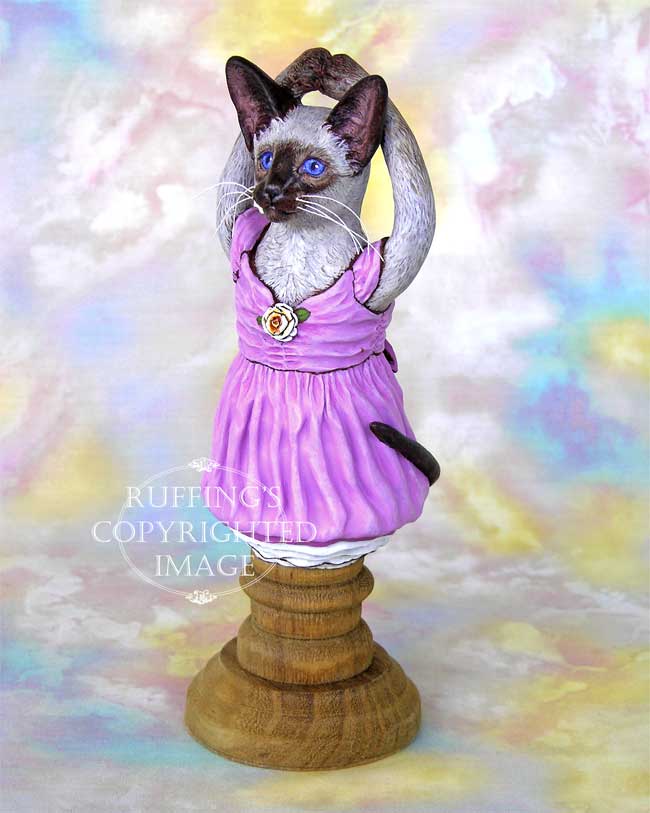 She has the jumping thing down, and the leaping thing. Her somersaults are outstanding, and she's trying to think of a way to work them into her first ballet recital.
The only really disappointing thing to Jazzie is that her little limbs are not yet long enough for her to put her paws together above her head in that graceful ballerina arch. Her ears always get in the way.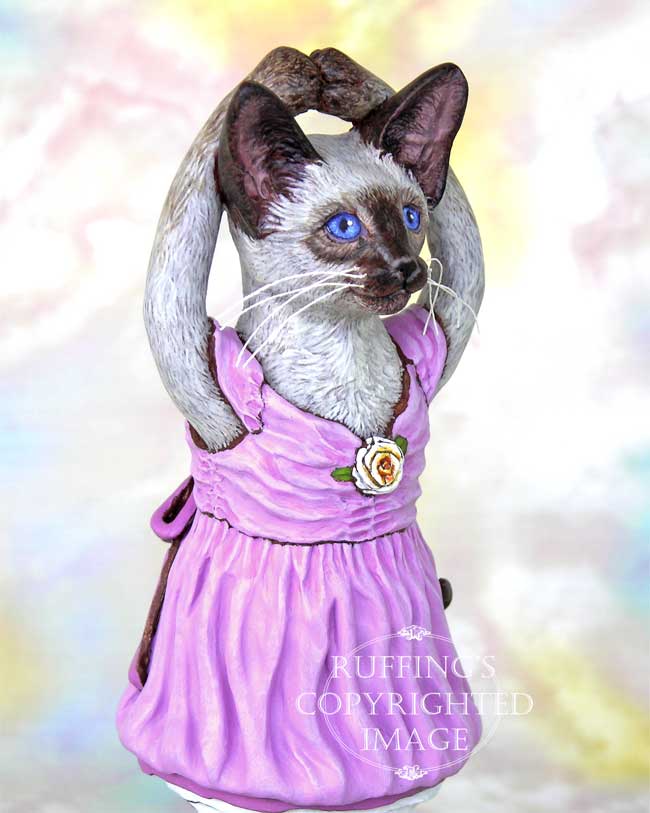 Today, Jazzie is twirling around the dining room table.
"Jazzie, you really are very weird," her brother says, looking up from his violin practice.
Jazzie ignores him. She has just discovered that if she concentrates really hard on trying to catch the tip of her tail in her mouth, she can spin even faster. Depending on where her tail is at the moment, she can spin to the right or spin to the left!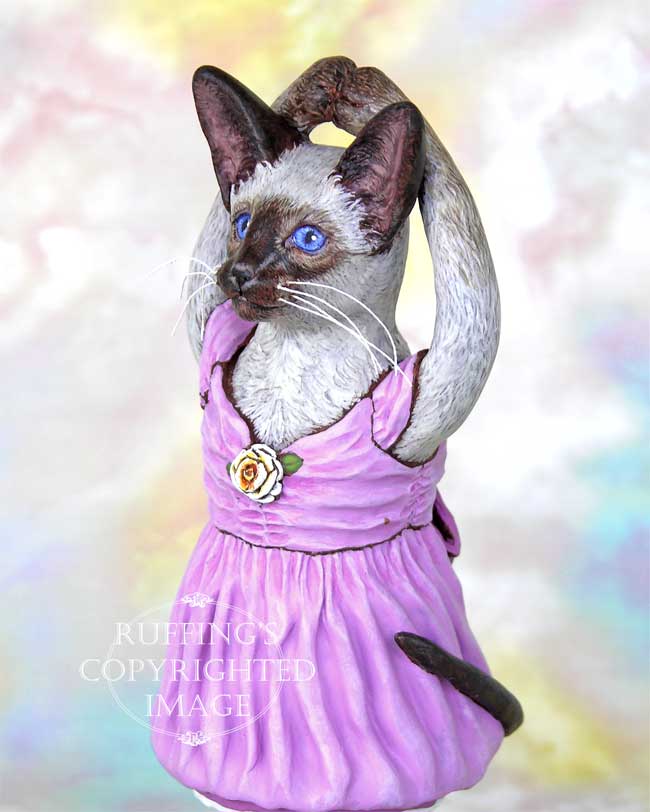 When Jazzie is too dizzy to continue, she stretches out on the floor and watches the ceiling go around. She imagines she can hear the audience loudly applauding. The curtains part for the fourth curtain call. There is Jazzie, the prima ballerina, at center stage, her paws extended high above her ears in that graceful ballerina pose. Bouquets of roses are strewn all about the stage. Jazzie looks down at the orchestra and sees her brother, playing first violin. He looks so proud of his little sister!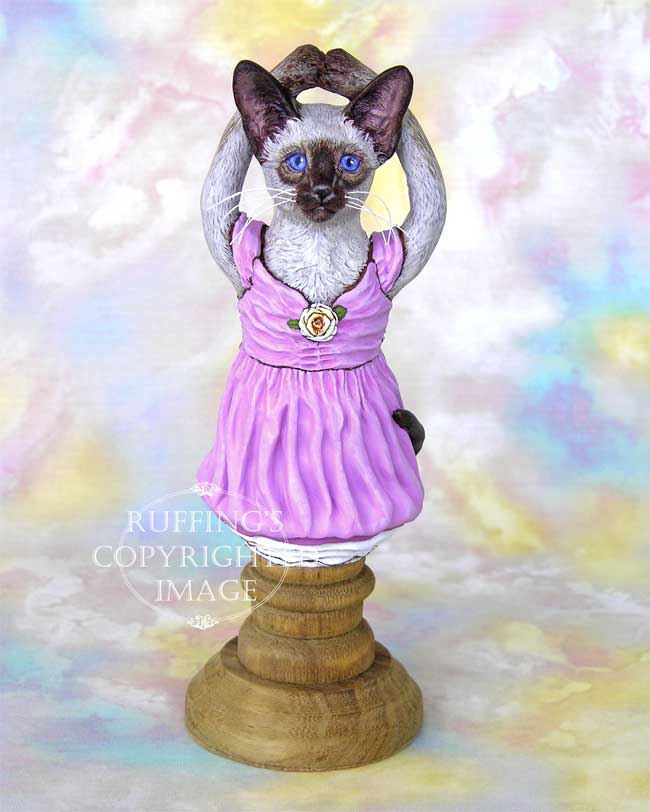 "Jazzie" is my new, original, one-of-a-kind art doll, and you can read all about her by
clicking here to visit Jazzie's own personal web page
. We are working on getting more doll photos and stories up in
our online doll gallery
...So be sure to come take a peek! There we have our currently available dolls, and some favorites who have already been adopted. I've been giving
Elizabeth
some sculpting lessons and we'll be unveiling her new kitten doll very soon. Elizabeth is a very gifted artist and doll maker. I'm sure you'll enjoy her new work. Check back soon!
Labels: original-one-of-a-kind-art