New Original One-of-a-kind Chihuahua Folk Art Dog Doll by Max Bailey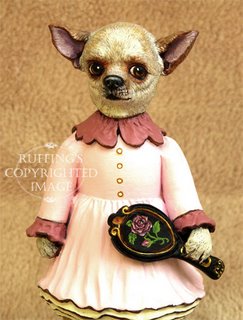 Every morning Trina holds her mirror up to her face and peers into it.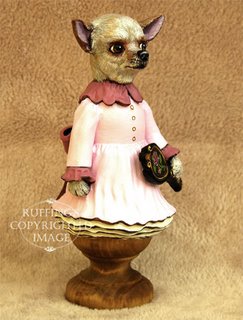 "Am I as pretty as I was yesterday?" she asks herself.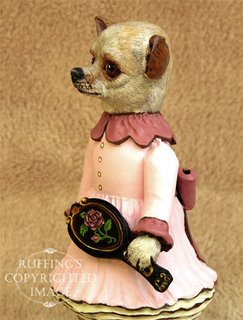 "Oh yes, much prettier", she decides.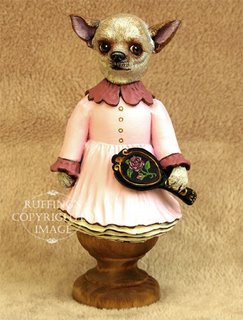 She picks out several dresses from her vast wardrobe, and tries on each of them.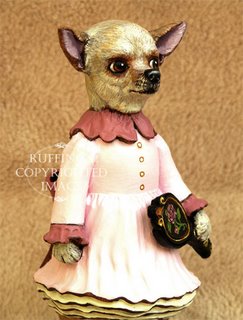 "This is my favorite today", she exclaims, and puts on the lovely pink dress with the mauve scalloped collar.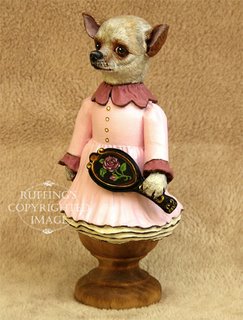 Trina is entirely pleased with herself. She can now go about her day with complete confidence.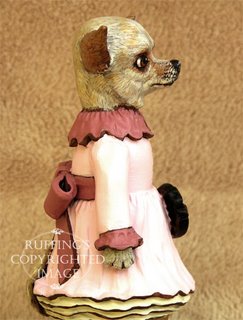 Trina's pale pink dress is set off by the ruffled collar and cuffs that match the sash that is tied in a big bow at the back. Ivory petticoats can be seen below the hemline. Her hand-held mirror is black, decorated with gold lines and pink roses.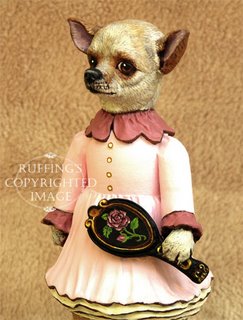 Trina is an original one-of-a-kind work of art, and she is meant for display only. No molds are ever used in my work. She and her mirror are hand sculpted from paperclay, and entirely hand painted using acrylic paints.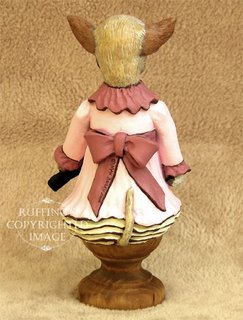 Trina is signed and dated, and sealed with matte varnish for protection and preservation. She rests firmly on a turned wooden base that is stained and sealed in golden oak. Trina stands 6 inches tall.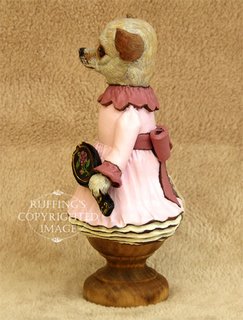 Please
click here to visit Trina the Chihuahua's web page
. Please visit
our online doll gallery
to see our currently available dolls, and our already adopted dolls.
Please click here visit Chi-Chi the Chihuahua
(left below) too.
Labels: art-doll-figurines, chihuahua-dog-art, folk-art, max bailey, max-bailey, original-one-of-a-kind-art