EMILY and EDWIN by Max Bailey and Elizabeth Ruffing
Back to Art Dolls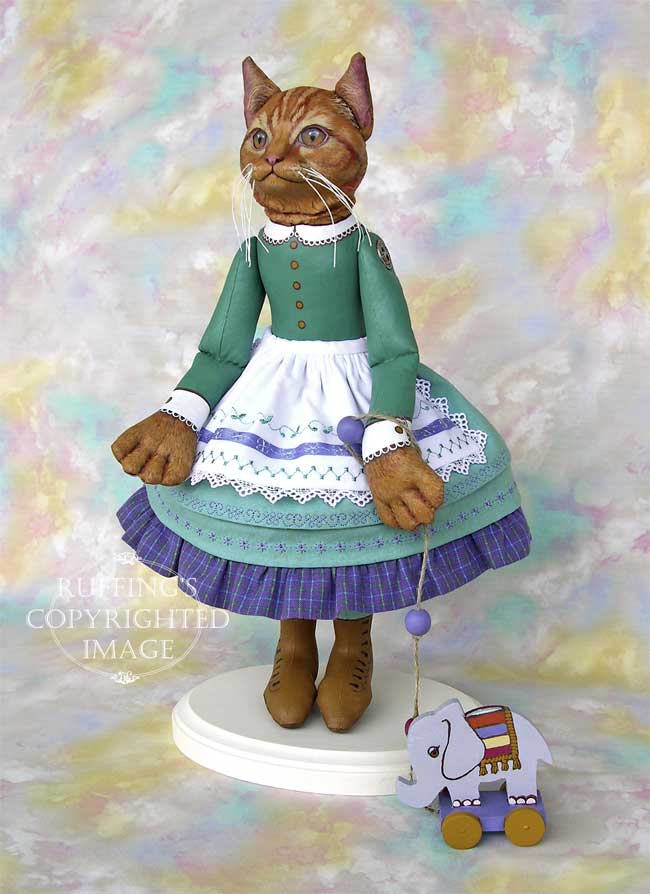 Emily is a ginger tabby cat with amber-colored eyes that reflect her very sweet personality.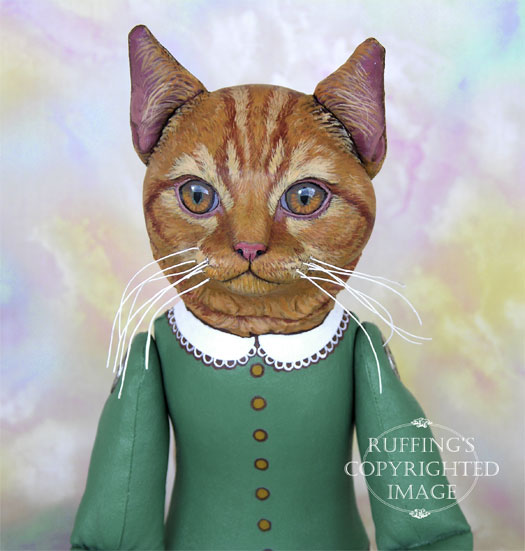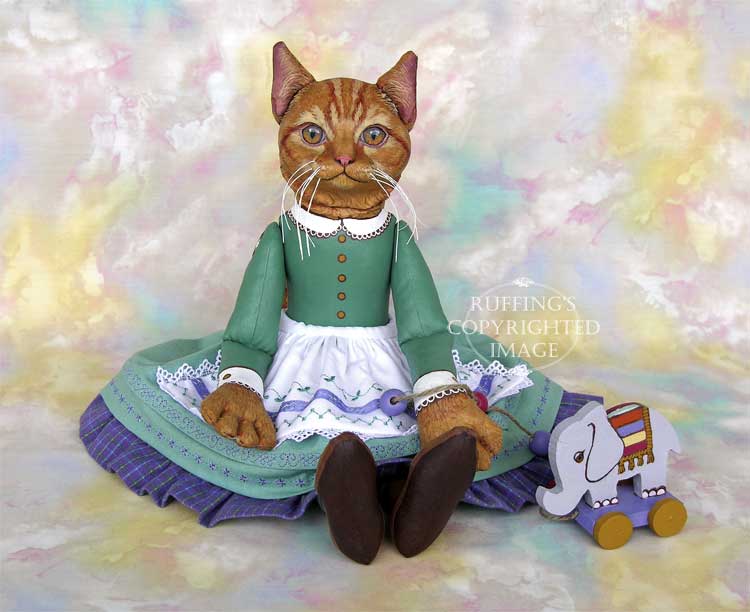 One of her favorite toys is a little gray elephant she calls Edwin.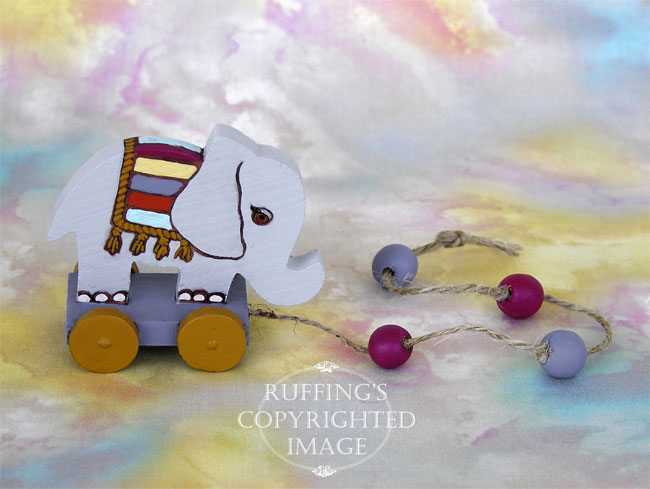 "Edwin, you need your exercise," she will say to the sleepy-looking elephant.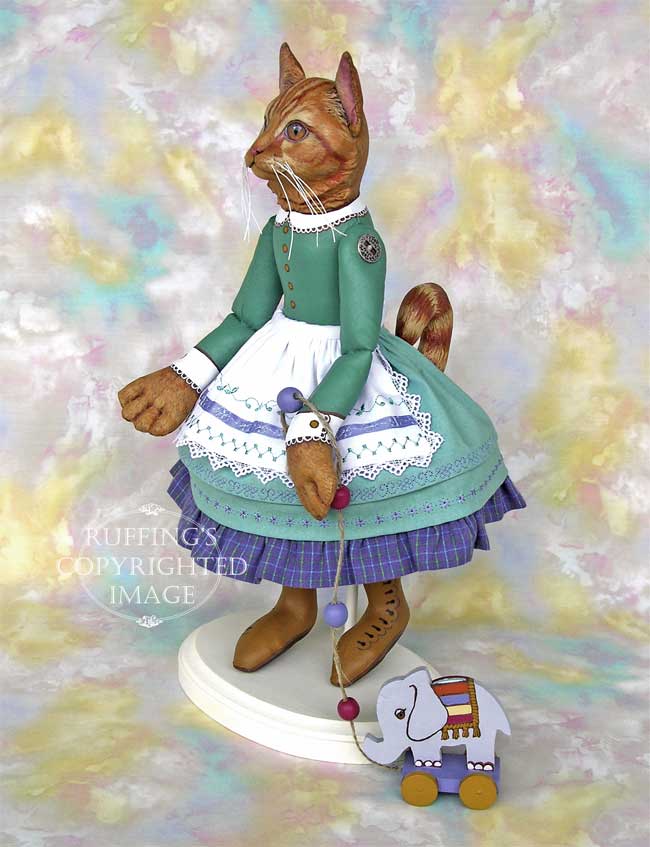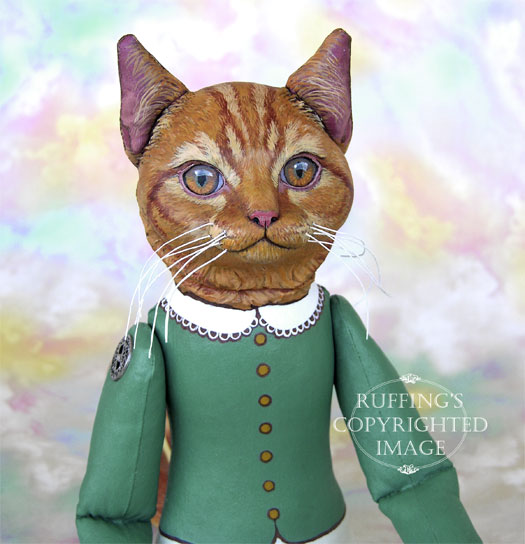 Emily then grabs his cord and goes tearing at full speed through the house. She likes to hear the clatter of his wooden wheels on the hard floors. She also likes the thumpity-bump sound he makes when she pulls him up the stairs, and the bumpity-thump sound he makes when she pulls him down the stairs.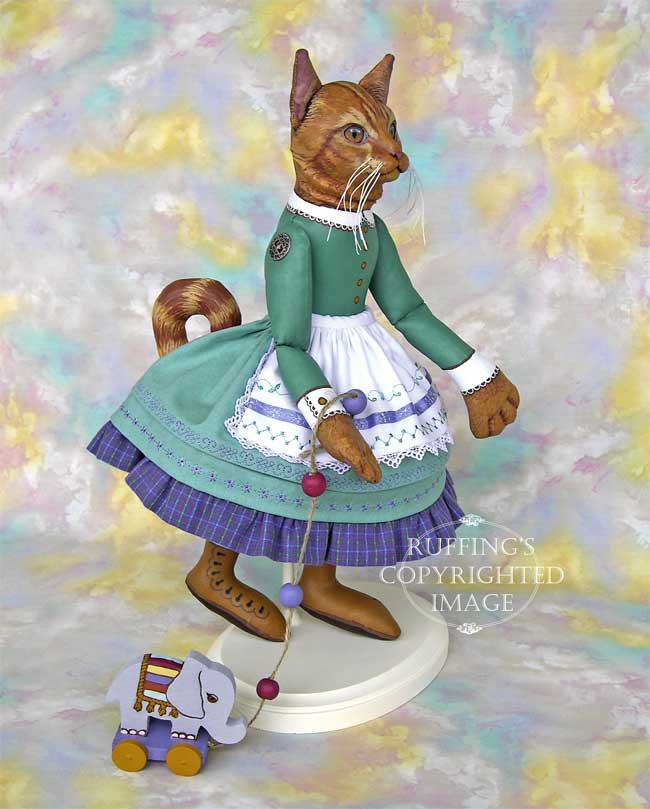 Edwin is endlessly entertaining, and, despite all the bumping and thumping, is none the worse for wear. He's made of painted wood. His base is country blue with golden wheels. His blanket has gold tassels and multicolored stripes. Emily pulls him by a hemp cord decorated with red and blue wooden balls. He's 3 inches long and 2 3/8 inches tall.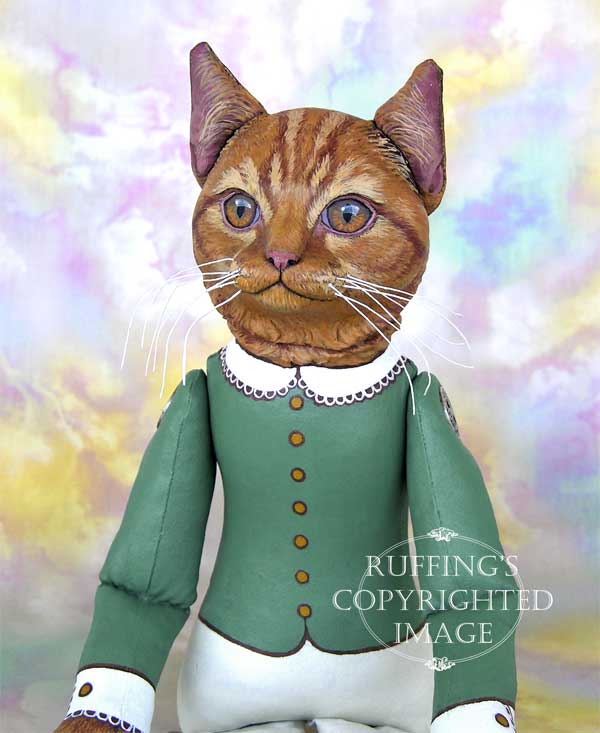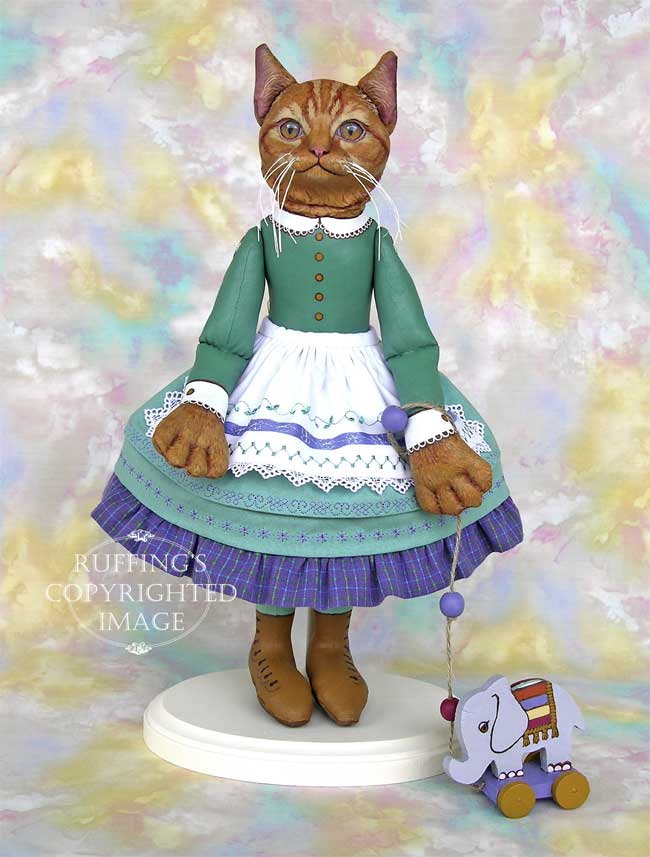 Emily is an original one-of-a-kind work of art, created from our own design and pattern. She is made from 100% cotton fabric which has been sewn, stuffed, and completely hand-painted with acrylic paints. She is 13 inches tall.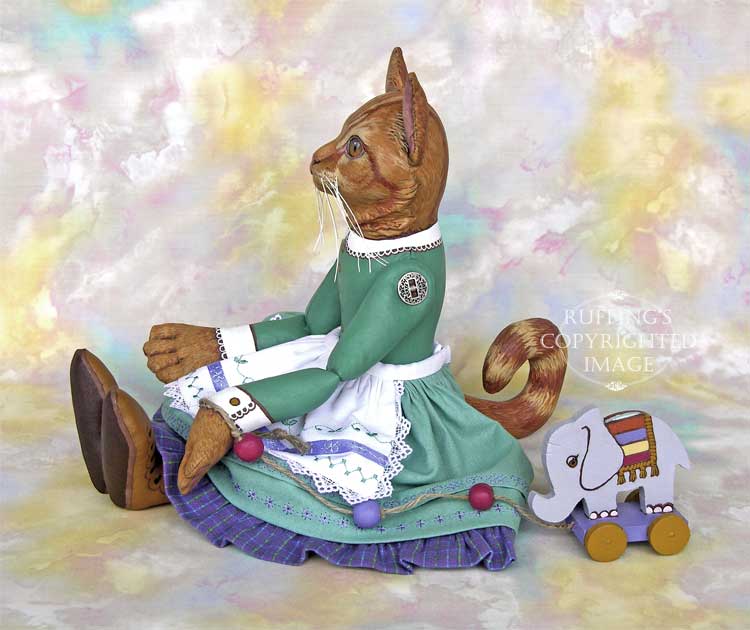 Emily's paws are needle-sculpted, and her arms are button-jointed with antique-looking buttons of filigreed silver on black, so she can easily pose. Her face was sculpted from paperclay smoothed into her fabric head, and her whiskers are made from stiffened cotton thread. Emily's curly orange striped tail helps her to sit perfectly upright all by herself on a shelf or a table, or in a cabinet. She will also sit nicely in a chair, or stand with a doll stand. (Chair and doll stand are not included.) Emily and Edwin are meant for display only.
Emily's green blouse, with its dainty white collar and cuffs, and gold buttons, is painted on. She has ivory bloomers and two-toned striped green stockings. Her fancy high-button shoes are golden brown with black buttons, and look just right on her little kitty feet.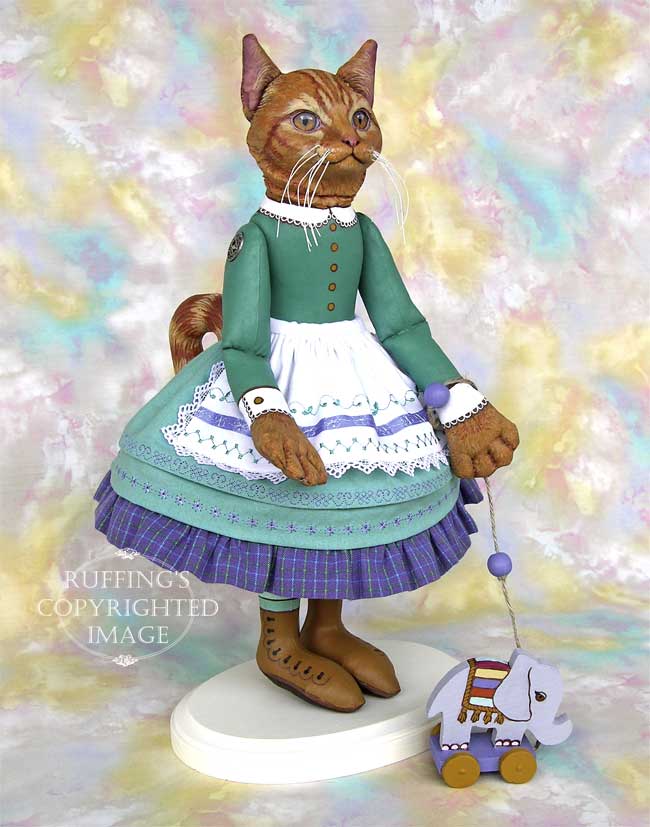 Emily's white apron is edged in lace and adorned with a country blue satin ribbon overstitched with a pattern of green flowers. A graceful line of green leaves is embroidered above the ribbon, and a green geometric pattern is embroidered below.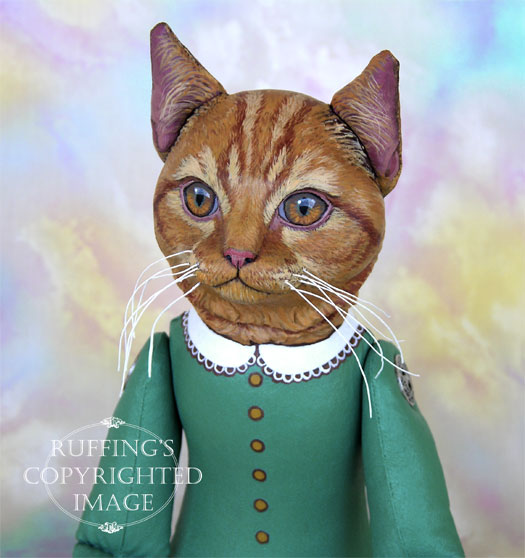 Emily's green skirt is beautifully decorated with embroidered linear patterns in country blue. A plaid ruffle that picks up all the fabric and embroidery colors is attached below the skirt.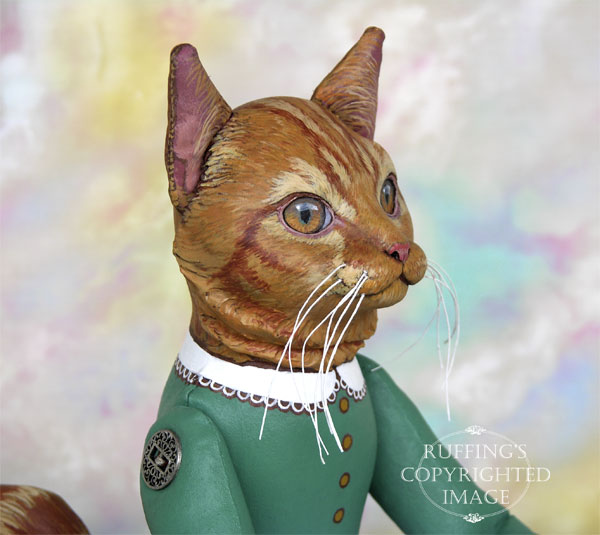 Emily is signed and dated, and sealed with matte varnish for protection and preservation. Emily comes with a hang tag, a certificate of authenticity, and a copy of her story.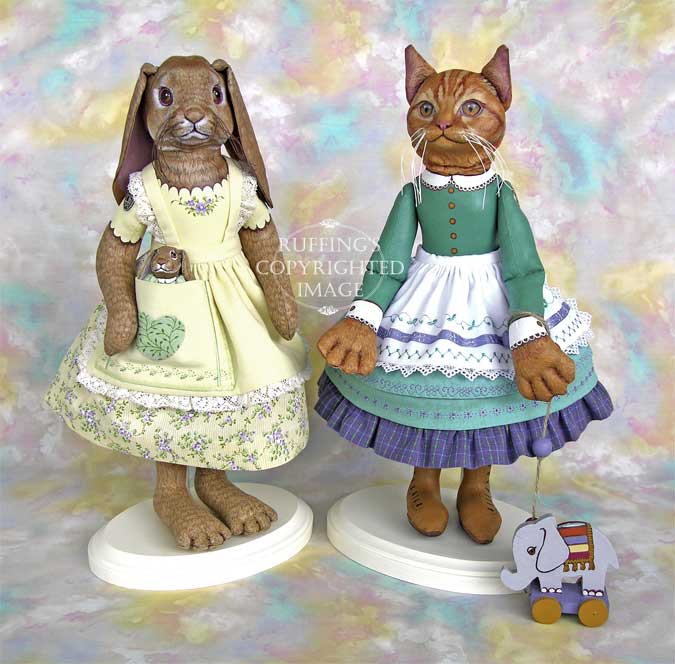 Many hours go into the making of each of our dolls. We strongly believe in fine craftsmanship and artistry, and we pay great attention to small details. Each doll is a unique work of art, and we are able to produce them in only a very limited number. We do our best to create little dolls with big personalities because that is what we love to do.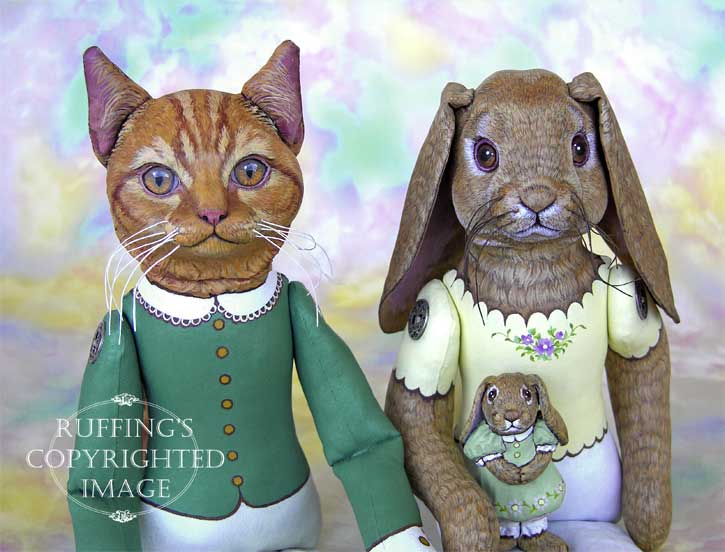 Emily and Edwin
are available for $650.00, with free Priority Mail, insured, shipping within the United States. Priority Mail International, insured, is available for $20 to Europe and Australia, and for $10 to Canada and Mexico. Please
inquire to
ruffings@ruffings.com
Please

click here to visit Beatrice's (above right) web page

.
Back to Art Dolls