Crystal the Siamese Pixie Kitten Original One-of-a-kind Folk Art Doll Figurine by Max Bailey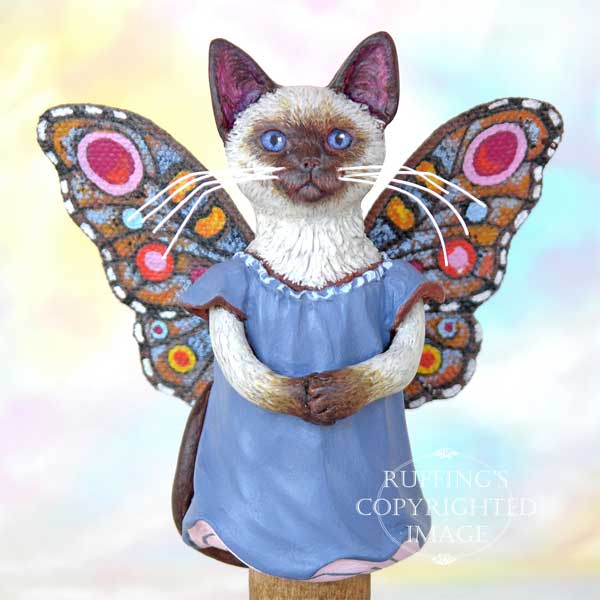 Crystal is a Siamese Pixie kitten with beautiful butterfly wings.
Little mythical pixies of folklore love glittery things, and Crystal is no exception. In the winter, she loves to look at raindrops, and she marvels at icicles.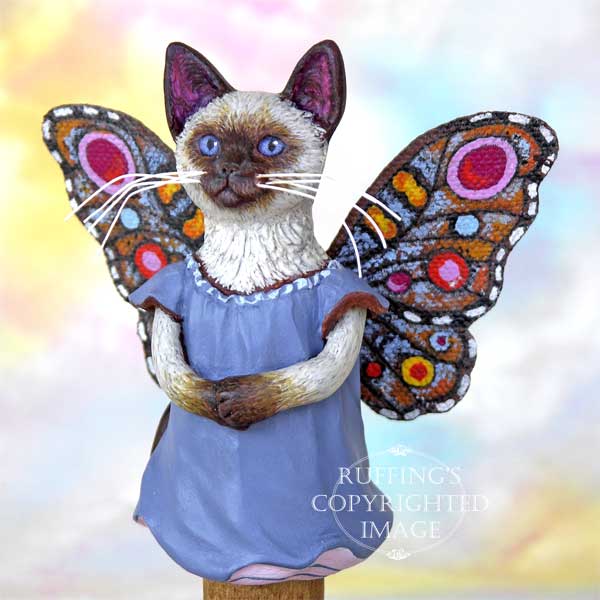 On warm summer nights, if you leave your window open just a crack, Crystal may fly into your house, especially if you have a crystal chandelier.
She might peek into your jewelry box. If you cannot find your earrings, don't worry. They'll show up. Crystal's been known to borrow shiny things, but always brings them back. They might turn up by the toaster, or on the hall table. She often can't remember where she got things from.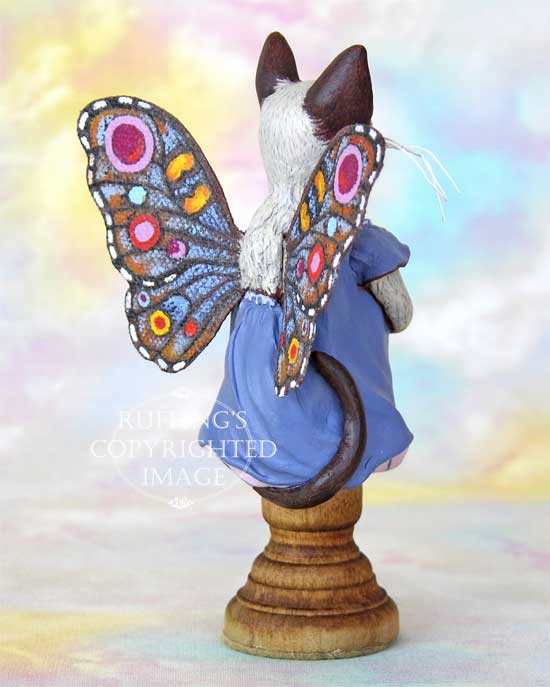 Crystal looks very innocent in her simple country blue dress with pale pink petticoats. She holds her tiny paws demurely in front of her, and her long dark tail curls around from beneath her petticoats.
Crystal is an original one-of-a-kind work of art, and she is meant for display only. No molds are ever used in my work. She is hand-sculpted from paperclay, and is entirely hand painted using acrylic paints. Please
click here to visit Crystal's web page and read more about her
.
A note to our readers
...We are in the process of moving of some things around, due to
some unexpected changes at Blogger
. Over the next two months, we'll be switching to
Wordpress
, as a blogging platform, and as a content management system for our web pages. We'll try to keep everything as organized as possible during the switch, but we may need to change our blog addresses. We will try to keep our blogs where they are, at the same addresses, but if there are any bumps in the road, please check the home page of either
ruffings.com
or
elizabethruffing.com
or our
Ruffing's Facebook page
for announcements. Hopefully everything will go smoothly, but some content may not be available temporarily during the switch. If that occurs, we'll try to get it all back in place as quickly as possible.
Labels: art dolls, elizabeth-ruffing, faery-art, fairy-art, fantasy-art, folk-art, max-bailey, original-one-of-a-kind-art, pixie-kittens, siamese-cat-art