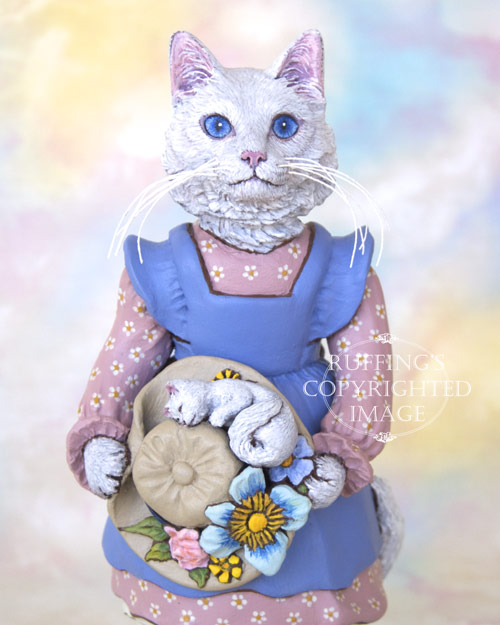 Larissa is a lovely white Turkish Angora cat who has three kittens and a nice little home business. She makes very fashionable hats.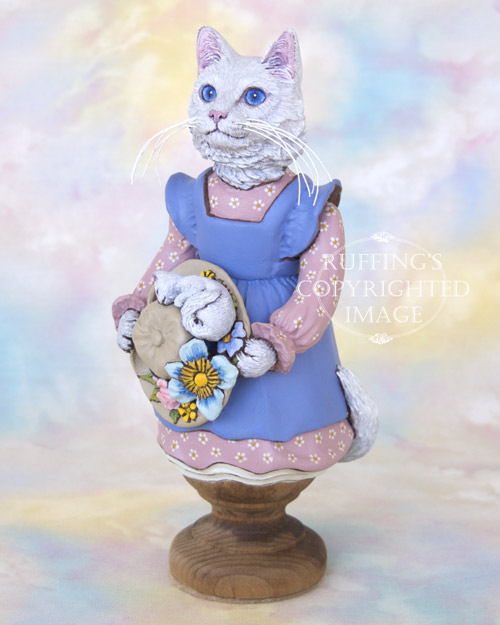 Ever since Larissa created her first hat, orders have been pouring in. All she did was wear it once, when she went to town. The ladies gasped! They each had to have one, and now Larissa's hats are all the rage.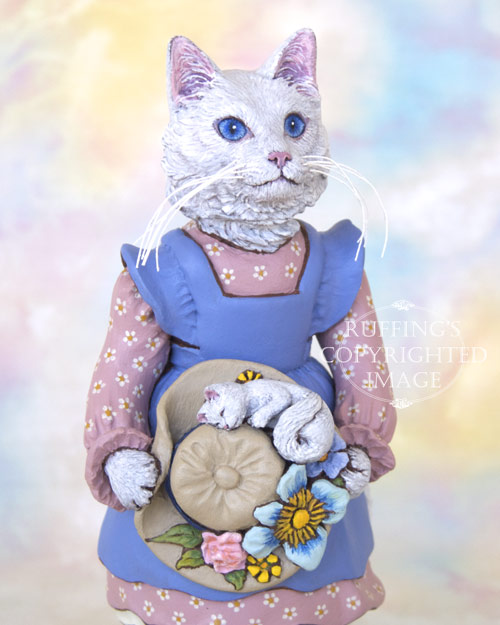 Larissa usually allows her kittens to participate in the making of her creations. They tunnel under the yards of felt, tumble through the cascade of pretty ribbons, and toss around the colorful silk flowers until they get suddenly tired, as kittens do. Little Piper has fallen asleep right on the brim of Larissa's latest creation, a tan felt hat with an artful arrangement of pink, blue, and yellow flowers, created just for Miss Sophia.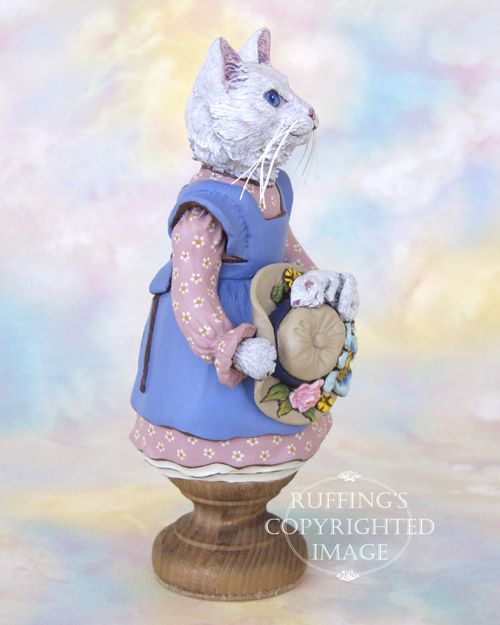 Soon the doorbell will ring, and Miss Sophia will arrive to pick up her new hat. Poor Piper. As sweet as she looks asleep on the brim, Larissa will have to carefully pick her up and put her to bed with her brother and sister.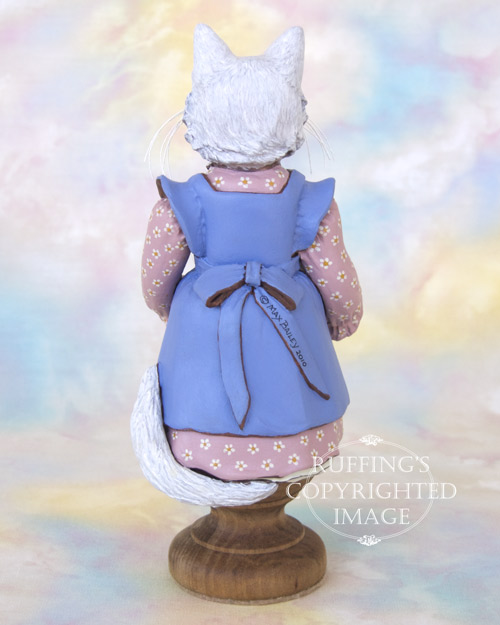 Larissa looks very pretty in a mauve long-sleeved dress dotted with little off-white flowers, over which she wears a country blue pinafore with a sash that is tied neatly at the back in a bow. Her fluffy white tail emerges from the off-white petticoats that show below her dress.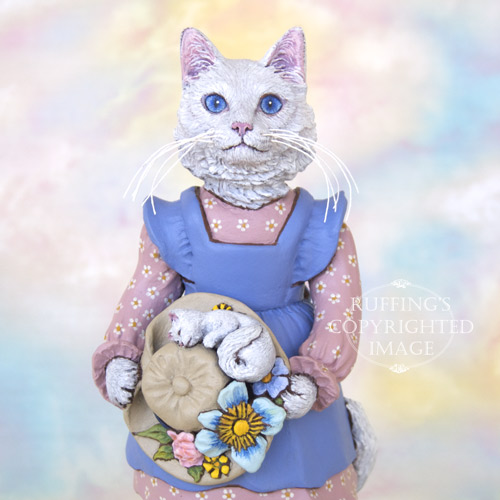 Larissa is an original one-of-a-kind work of art, and is meant for display only. No molds are ever used in my work. I sculpted Larissa, her kitten Piper, and the flowered hat from paperclay, and hand painted them with acrylic paints. Larissa's whiskers are made from stiffened cotton thread.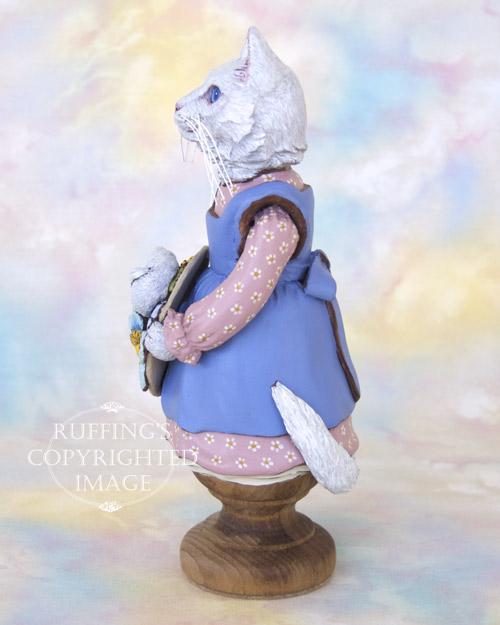 Larissa is signed and dated, and sealed with matte varnish for protection and preservation. She rests firmly on a turned wooden base that is stained and sealed in golden oak.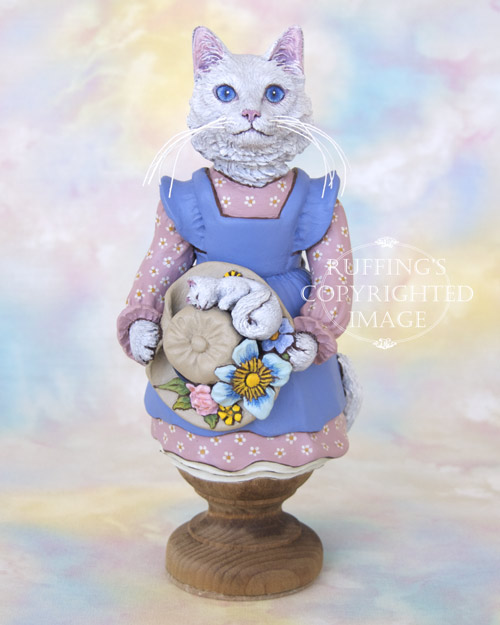 Larissa is 6 and 1/2 inches tall.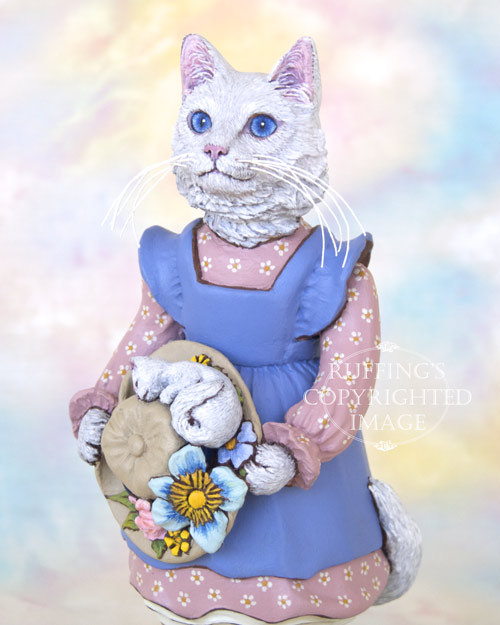 Larissa and Piper are available for $225.00, plus shipping. Please inquire to ruffings@ruffings.com or find her in our Ruffing's Etsy shop by clicking here.