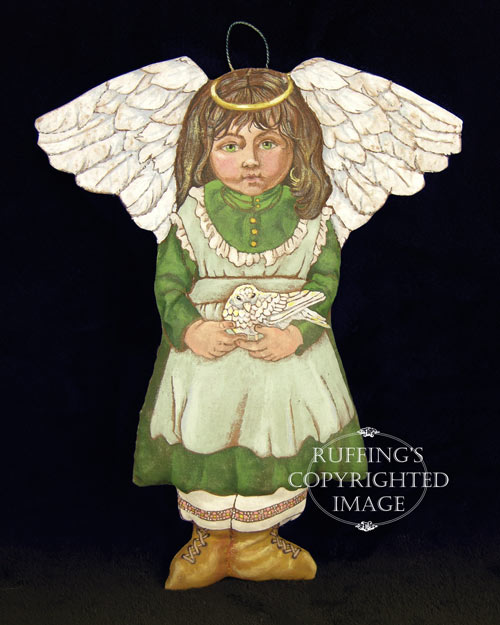 In creating "Patience", I was inspired by the beautiful dolls of the Victorian Age. Patience holds the symbol of peace, a white dove, in her hands. She has little flower-patterned bloomers, and golden lace-up shoes.
She wears a golden halo, highlighted with light tones to make it look like real gold. The golden light from the halo touches her long brown hair, and the top feathers of the dove. Patience has wing feathers that are detailed with soft blues to make them look feathery. She's needle-sculpted at the elbows to give her more dimension.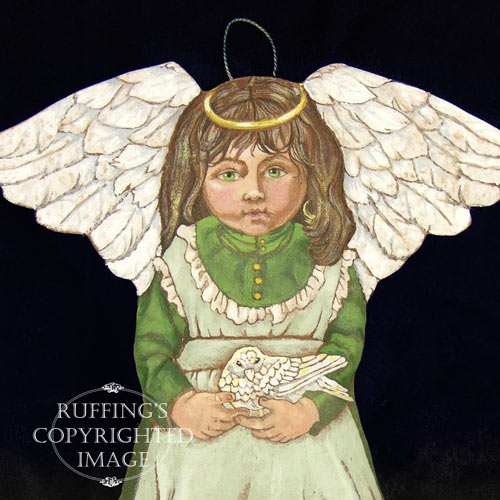 I'm especially pleased by the way her sweet little face turned out. Her green eyes have a direct and hopeful look, and her expression is a little wistful, but thoughtful rather than sad. She's what I imagine an Angel of Peace would look like, patient and hopeful.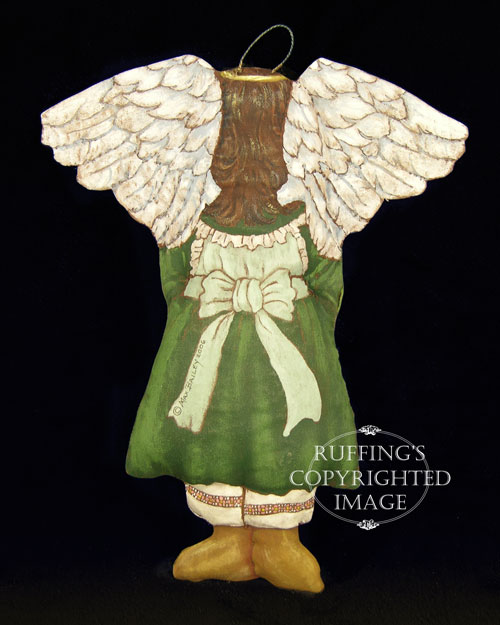 Her little white-laced apron ties in the back in a big bow, and is signed and dated by me, Max Bailey, on the sash. Patience is 9 1/2 inches tall, with a 7 1/2 inch wingspan.
The small loop at the top of her head allows her to be hung as an ornament, but she can also be displayed as part of a table centerpiece, or propped on the mantle with your Christmas greenery, or nestled on the inside of an indoor wreath. She is softly stuffed and very lightweight.
Patience is a true one-of-a-kind original work of art. I created her first in my mind, then from my own pattern. I painted her with acrylic paints (my favorite part), then sealed her with matte varnish to protect her.
Update: Patience has been adopted.