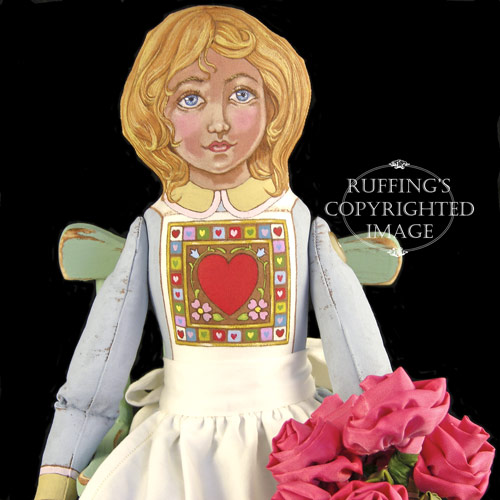 Every year on Valentine's Day, Rosie is invited to sell her roses at the general store in the middle of town.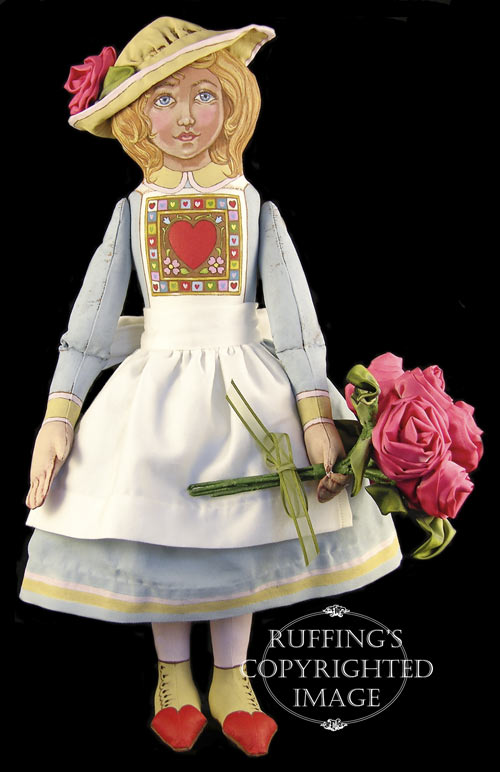 She's a country girl, tall and slim and pretty, with strawberry blonde hair, who arrives in a homespun blue dress, a colorful heart apron, and a fashionable hat with a rose.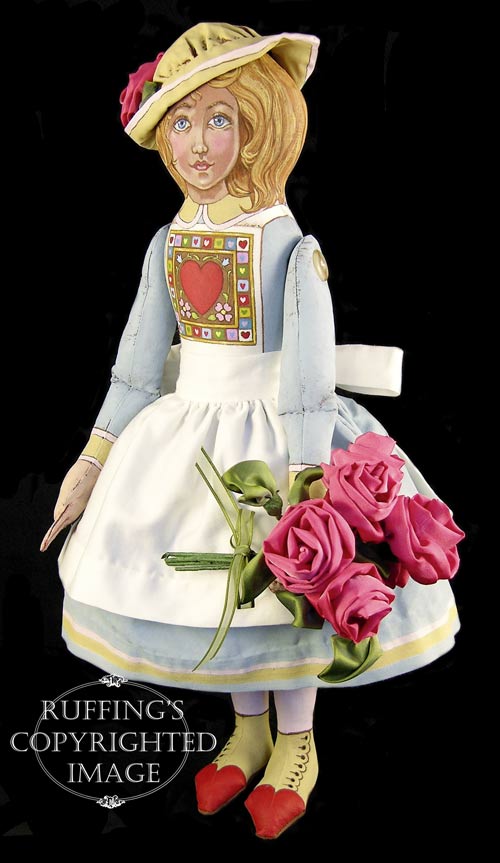 Rosie has the most beautiful roses ever seen anywhere, and nobody knows how she grows them. People whisper that she must have a secret garden.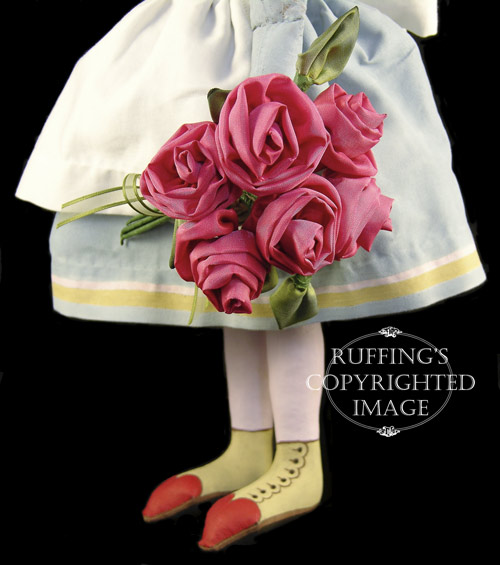 Only gentlemen with true love in their hearts dare come to Rosie to buy her roses, for it is generally known that she can look into their hearts and see if there is love there.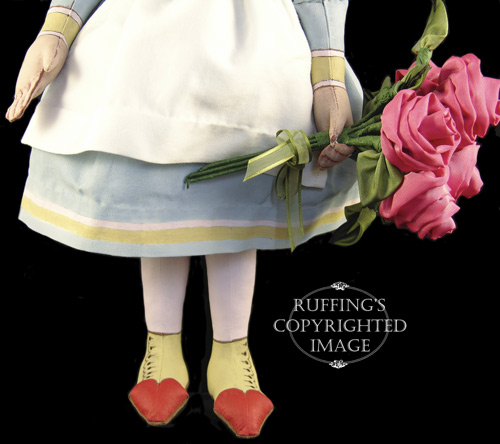 It is rumored that if she doesn't see love in a gentleman's heart, she will look at him with her clear blue eyes and say, "I am sorry sir, but you may not have my roses."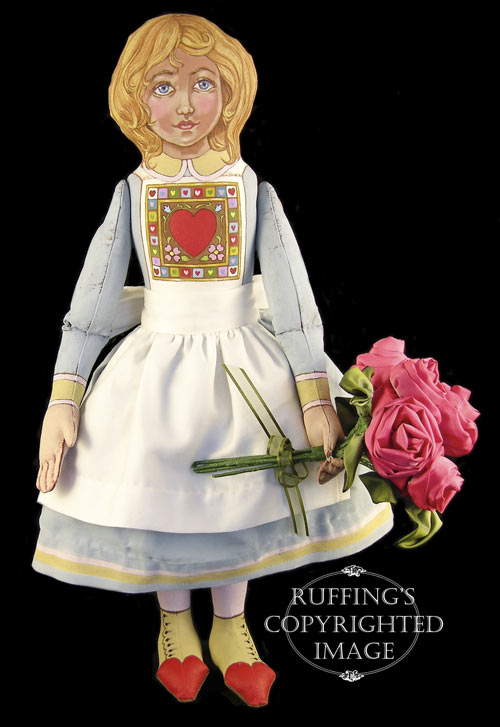 Yet if a sincere gentleman with empty pockets would like to buy her roses for his sweetheart, she will most often say, "Sir, you may have them for nothing."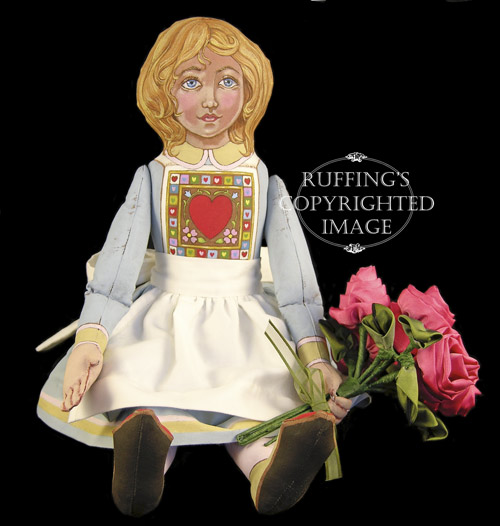 Rosie is an original one-of-a-kind work of art, conceived and created from design to last brushstroke by me, Max Bailey. She is 15 inches tall, and carries red ribbon roses with green ribbon leaves, which I made just for her. (The secret garden is in my work room.) Her body is sewn from cotton fabric, then stuffed and painted with acrylic paints. She has needle-sculpted fingers and button-jointed arms to make her easy to pose.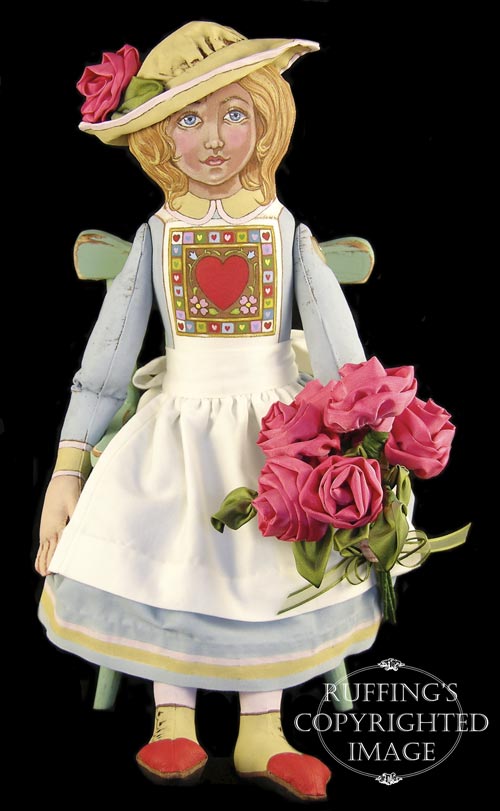 Her skirt is hand-painted blue gray, with decorative stripes of pink and gold. Her hat is removable and hand-painted as well, with a little pink stripe along the edge of the brim that matches her pink tights and the pink stripes on her collar and cuffs. Although you can't see it in the photos, I used the same pink to paint the ribbon on her pretty white pantaloons, which are painted on. Her fashionable high-button shoes are painted to match her outfit, and I added festive red hearts at the toes.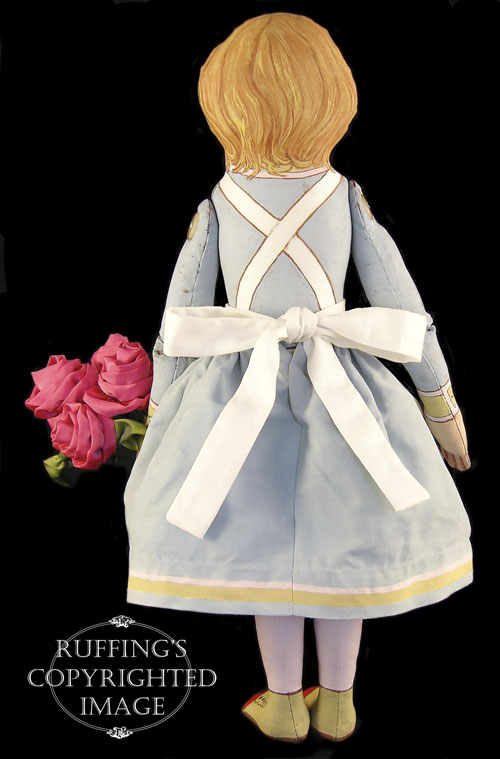 Rosie can sit in a chair or on a shelf, or stand with a doll stand (chair and doll stand not included). She is signed and dated, and sealed with matte varnish for protection and preservation. Rosie is an original work of art, meant for display only.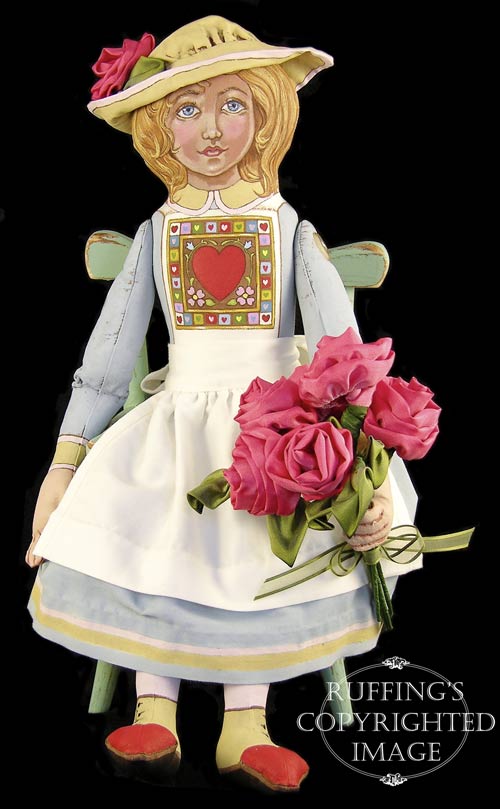 Update: Rosie has already been adopted. Thank you!