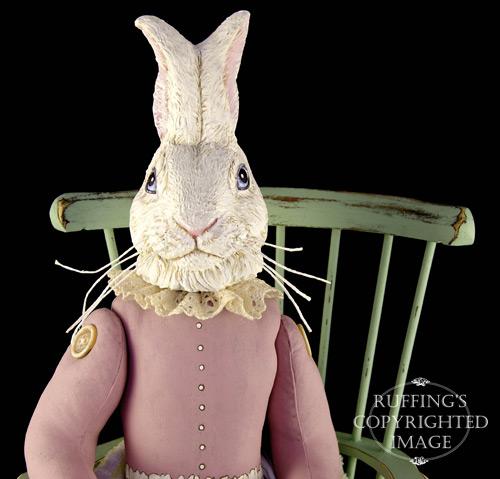 Lila Lovebunny loves pink. She also loves Valentine's Day, Easter, carrots, clover, and bright sunny days. Most of all, she loves love.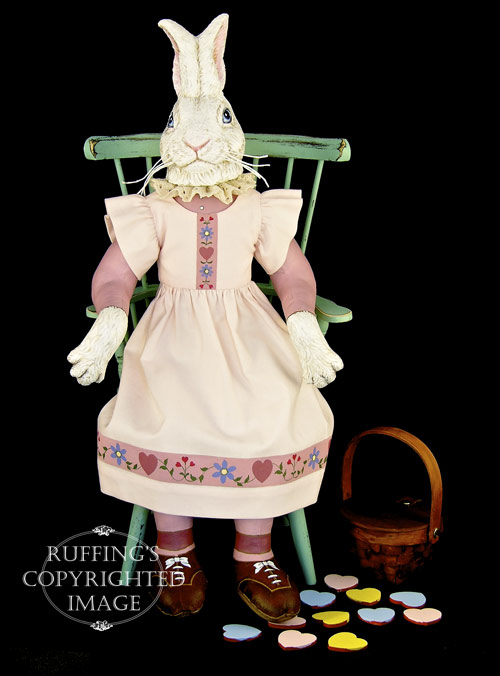 Lila is thought to be the prettiest bunny in the meadow. She has a special beauty, elegance, and dignity unmatched by any of the other lady bunnies, who love her just the same.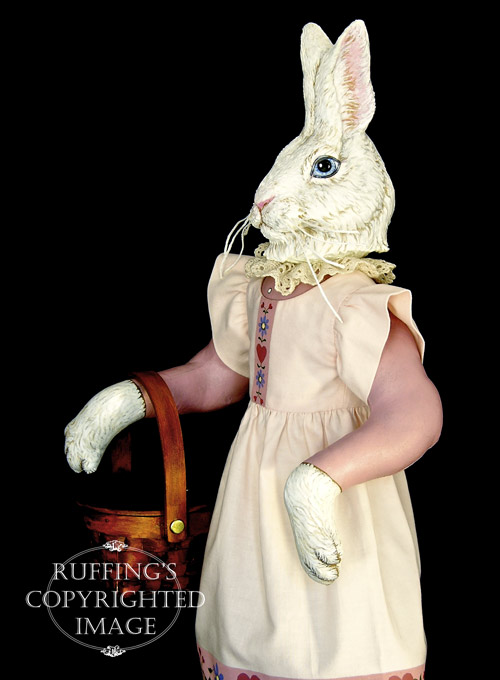 Every year, the president of the white chocolate factory in town asks her to pose for his spring line of Easter bunnies, and every year, she is most happy to oblige. She always looks straight ahead at the world around her, and the world admiringly looks back.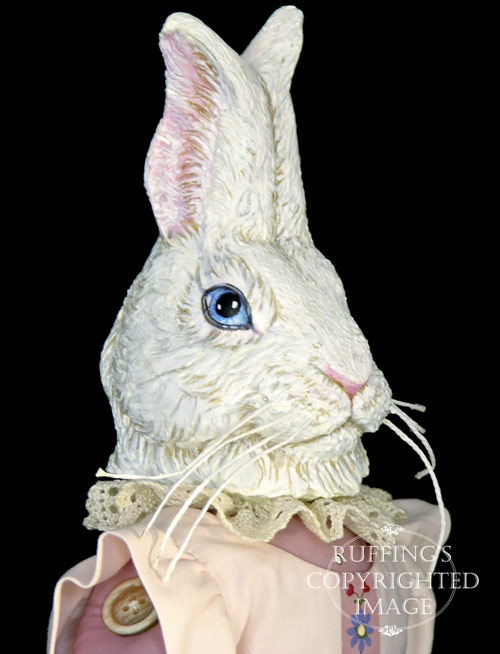 Today, Lila is all aglow with the fact that she's wearing her favorite pink dress, and the fact that she baked heart-shaped and frosted carrot cookies, no small task for a bunny. She carries them in a picnic basket, and offers one to each of her many friends.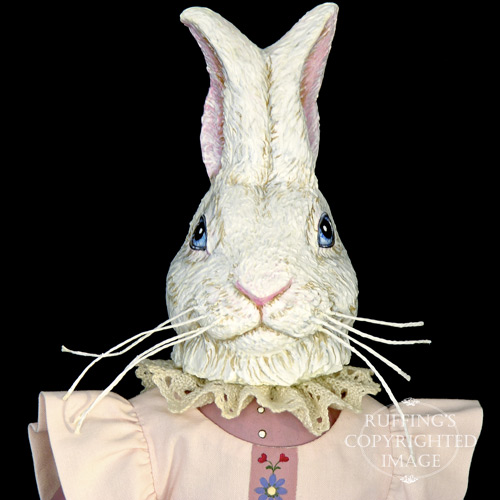 The gentlemen bunnies stand upright in the field when they see her approaching, and their bunny hearts beat a little faster. "It's lovely Lila Lovebunny," they whisper to themselves, in awe of her sweetness.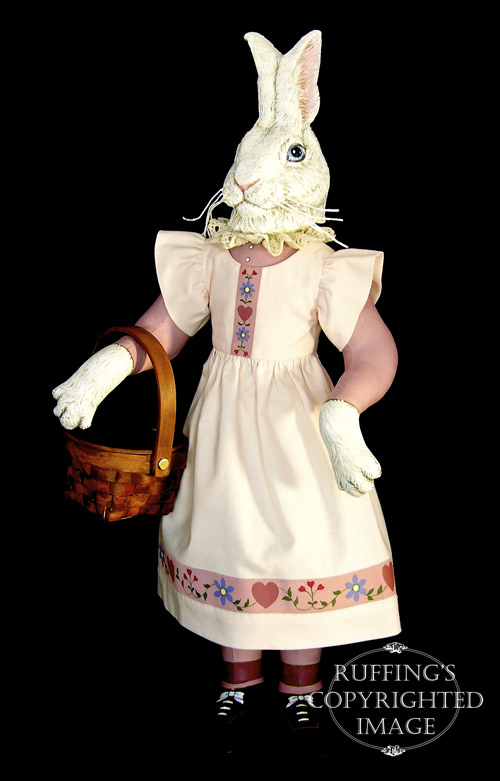 I think Lila is my most beautiful work to date, and she is certainly the largest, at 21 inches tall standing. She is approximately 14 inches tall sitting . She became more endearing in the process of creating her. I started with her head, an original sculpture I made from paper clay. At the point when I painted her pretty blue eyes, she seemed to take on a sweet personality of her own.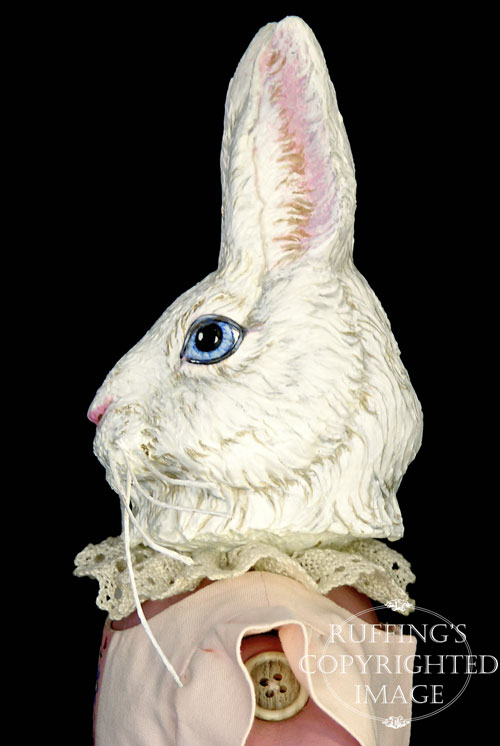 I then created the design for her body, which is made from cotton fabric, then stuffed and painted with acrylic paints.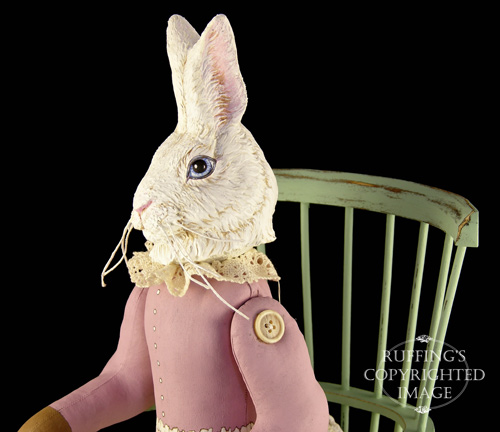 On spring evenings, there are often as many as three or four cottontail rabbits in my backyard. If they notice me watching them, they will sit up with their front paws bent, as Lila's are, and I wanted to capture that pose. It took a lot of trial and error to figure out how to create bent paws from sewn fabric and stuffing. They are button-jointed at the shoulders for flexibility.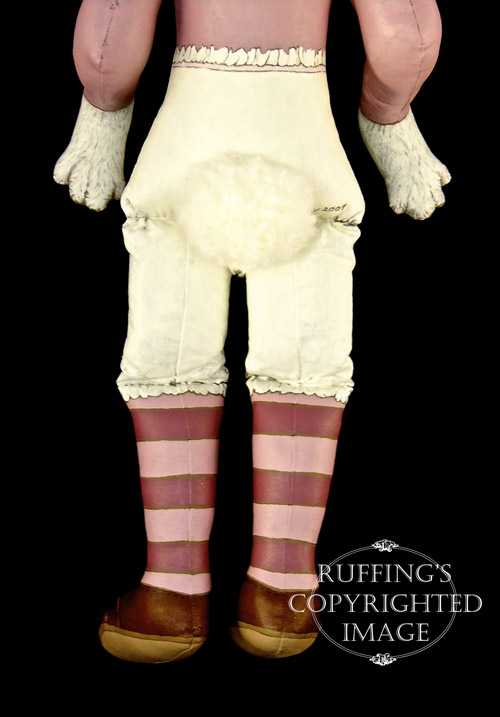 Ms. Lovebunny's pretty little tail was made from soft novelty yarn, and her whiskers, made of stiffened pearl cotton, were threaded through her head before the paper clay was dry.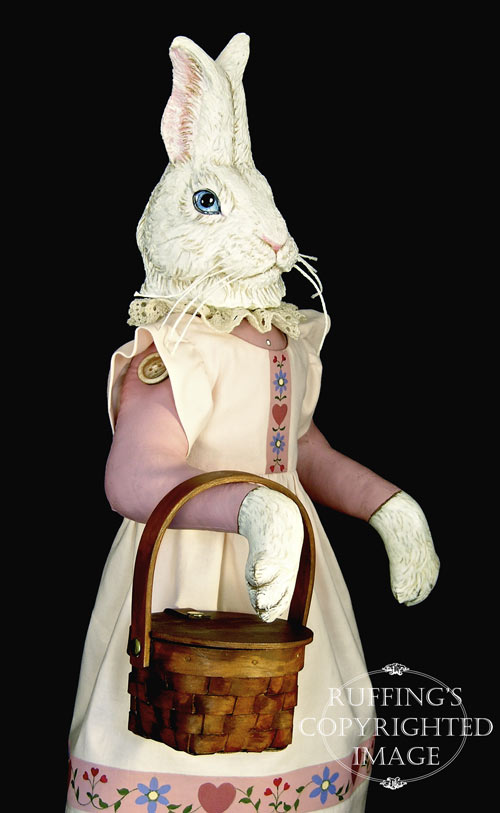 Her Sunday best dress is my original design, and is made from pink cotton fabric. I painted the heart-and-flower design down the front and around the hem, in tones of mauve, red, periwinkle blue, and green.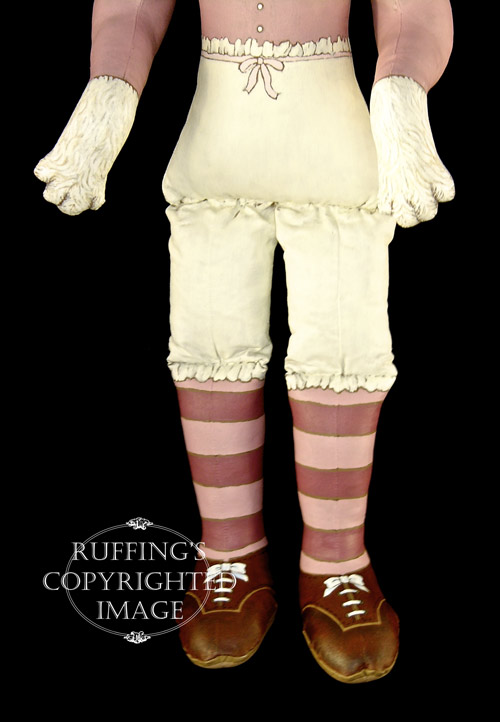 Her fashionable (but not exactly dainty) brown leather shoes, with their white bows and laces, are painted on, as are the striped stockings that match the colors of the design on her dress. The finishing touch was the ruffled collar made from cotton lace, which I think made her look even more feminine and old-fashioned.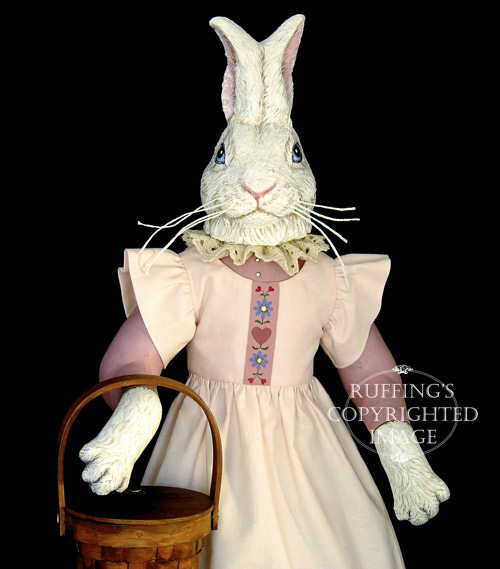 Lila's basket and heart-shaped cookies are made of wood, painted and varnished.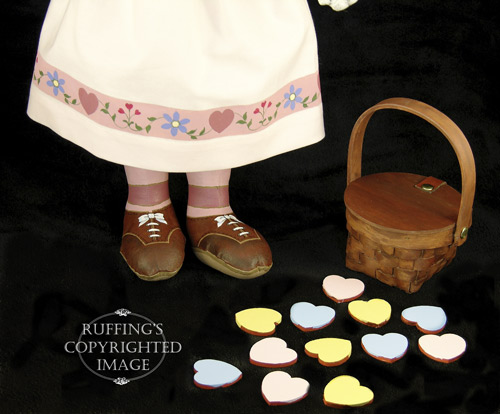 Lila can stand with a doll stand, or sit on a chair or a shelf (chair and doll stand not included). She is signed and dated, and sealed with matte varnish for protection and preservation. Lila and her basket of cookies are meant for display only. She comes with a hang tag, a certificate of authenticity, and a copy of her story.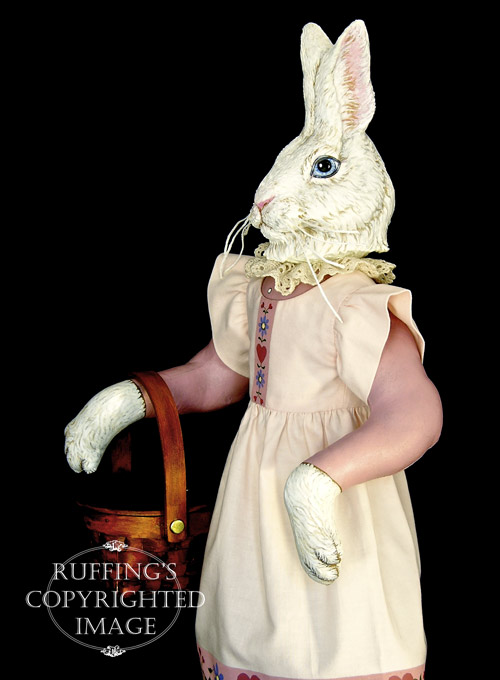 Lila is available for $750.00. Please inquire to [email protected]