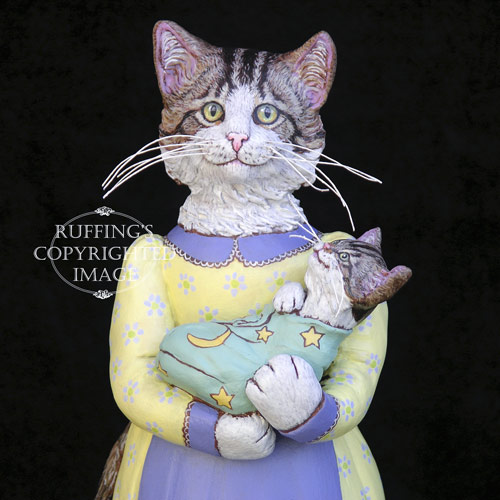 Every morning, Belinda bundles up her little baby boy, and takes him for a walk through the neighborhood. With the greatest pride, she shows him to her neighbors. She politely, and with much sincerity, asks for their opinions.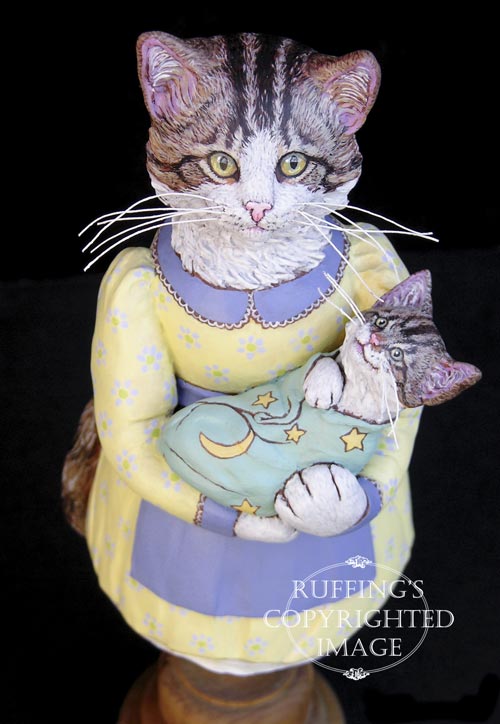 "Is he not the most beautiful baby you have ever seen? Is he not more beautiful than the moon and all the stars in the heavens?" Belinda asks.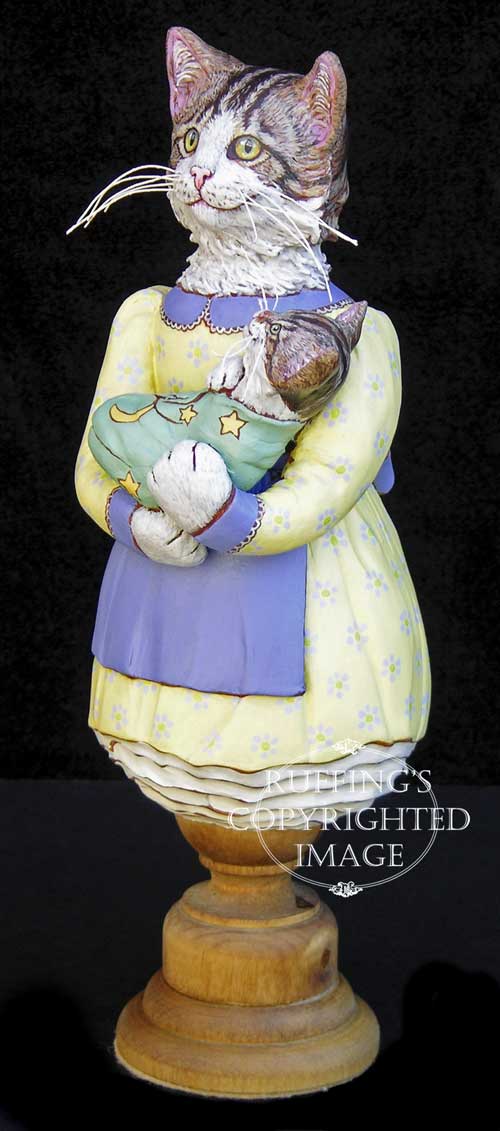 "Surely he is," they reply, and they nod and smile in agreement.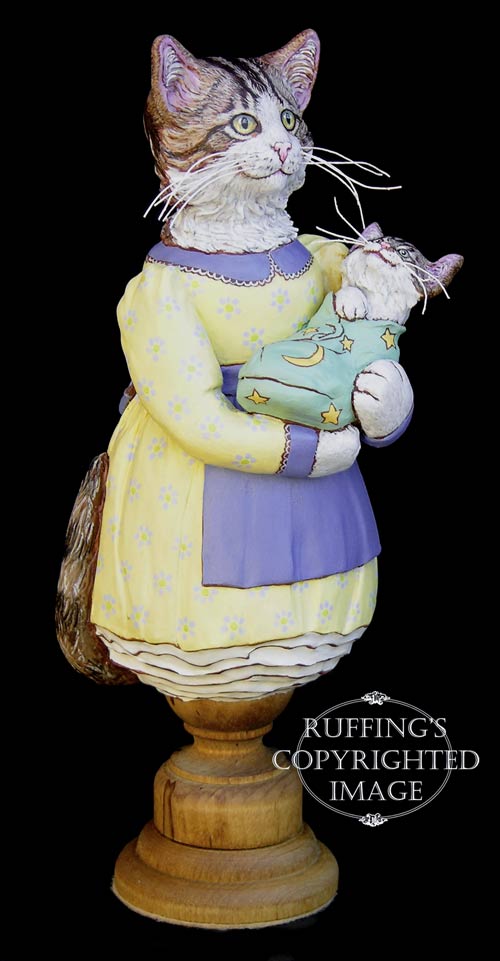 "Does he not have the brightest little eyes and the cutest little whiskers?" she asks.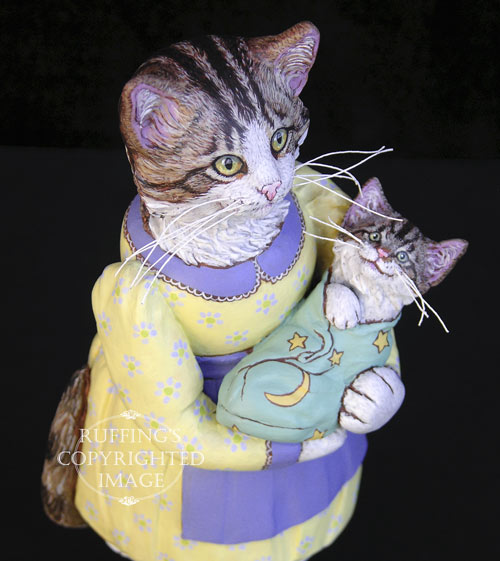 "Oh yes indeed, Belinda," they reply.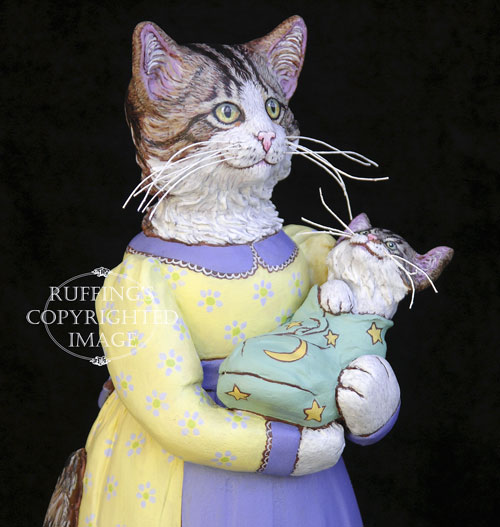 "Does he not have the prettiest little pink nose?" she wants to know.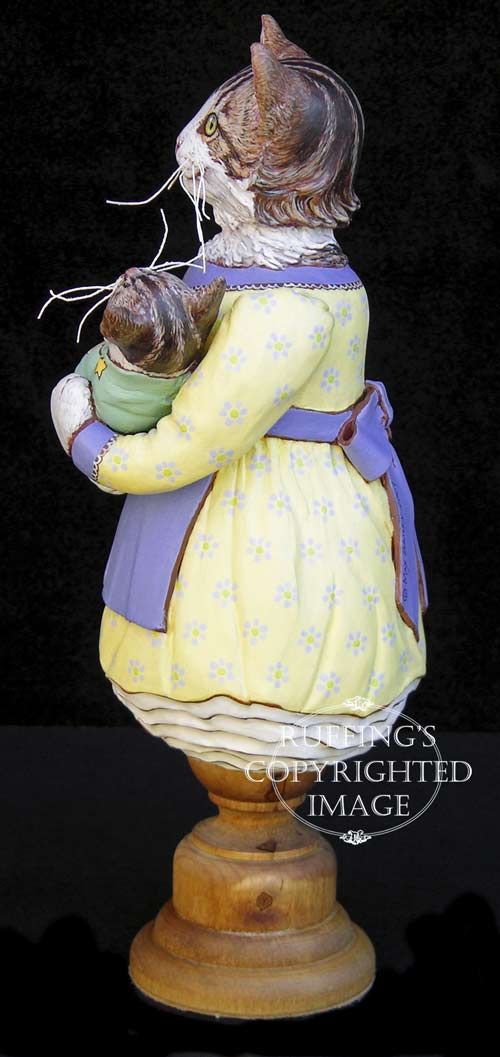 "Beyond any doubt at all," they answer.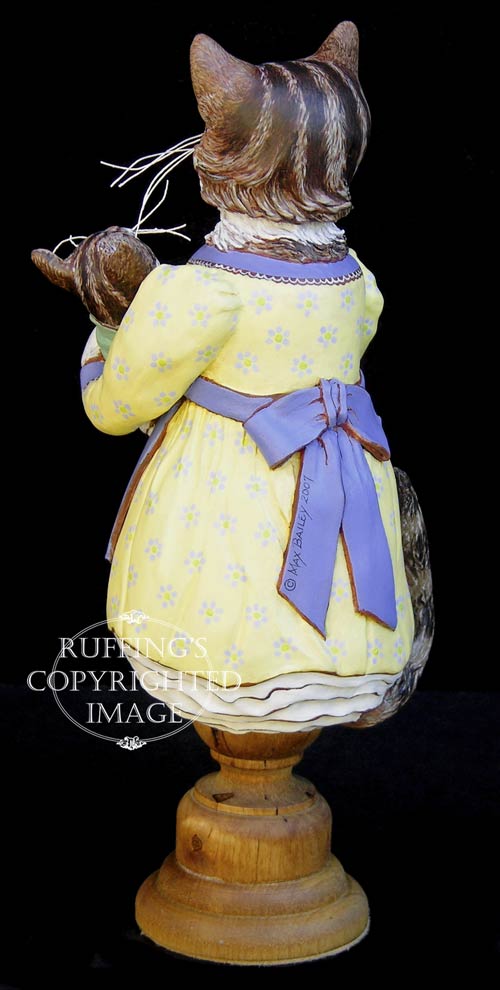 BoBo loves his morning walks. He basks in the sunshine, and in the compliments. If you look carefully, you might see his tiny smile. If you listen quietly, you might hear him purring.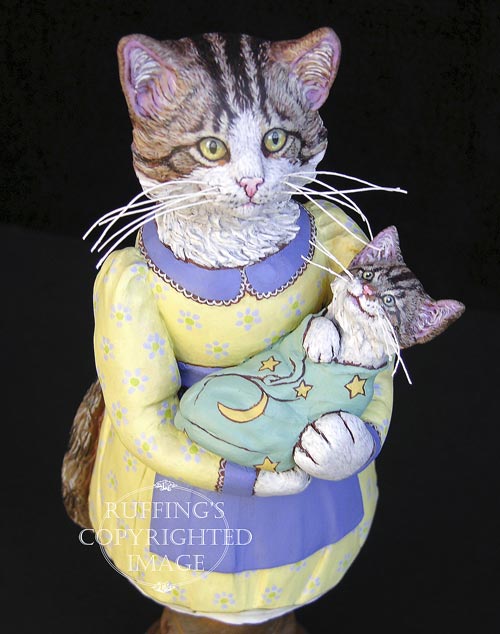 Belinda is a tabby and white cat, as is her kitten BoBo. They have yellow eyes with a touch of green. Belinda's old-fashioned dress is soft yellow with a pattern of pale blue flowers. The blue collar and cuffs with lace edging, match her blue apron, which ties in a big bow at the back. Her white petticoats swirl in a pattern beneath the bottom of her skirt.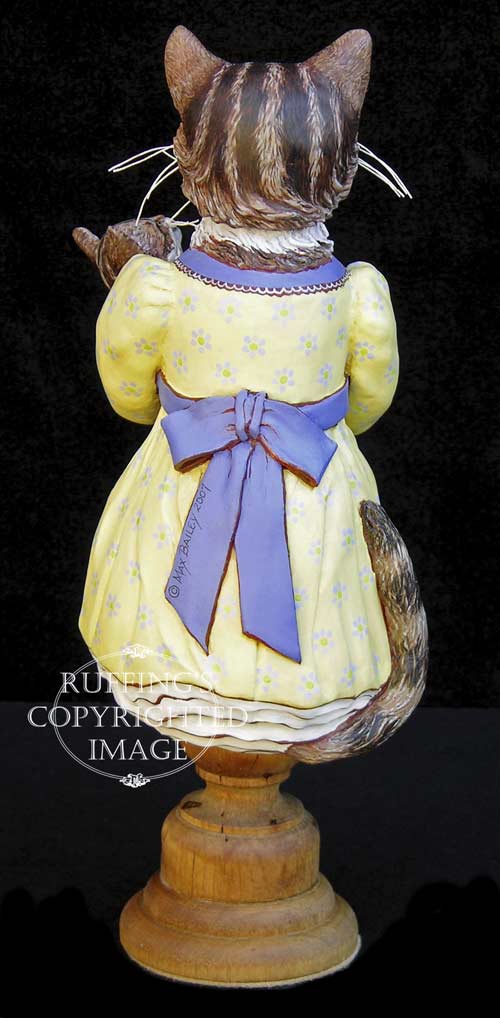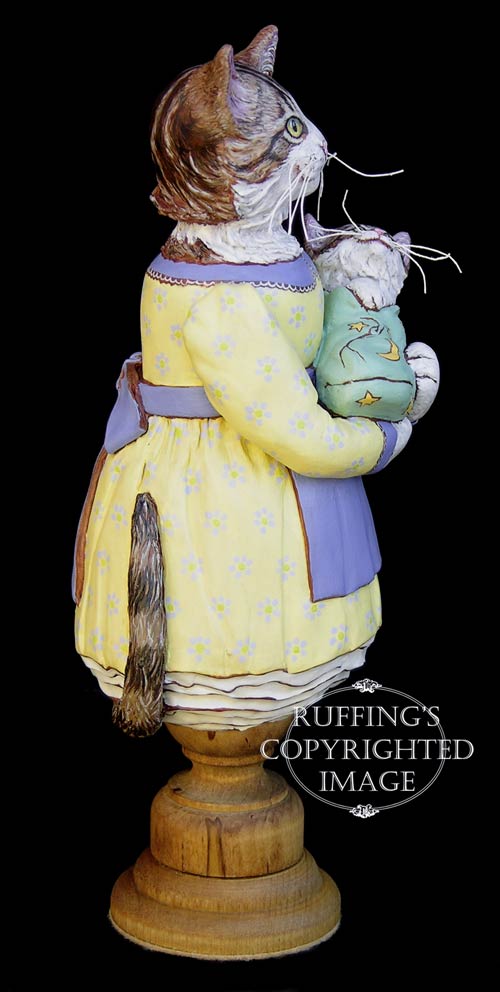 BoBo is tucked into a sage green blanket decorated with the moon and stars. Only his head and one little white paw are showing.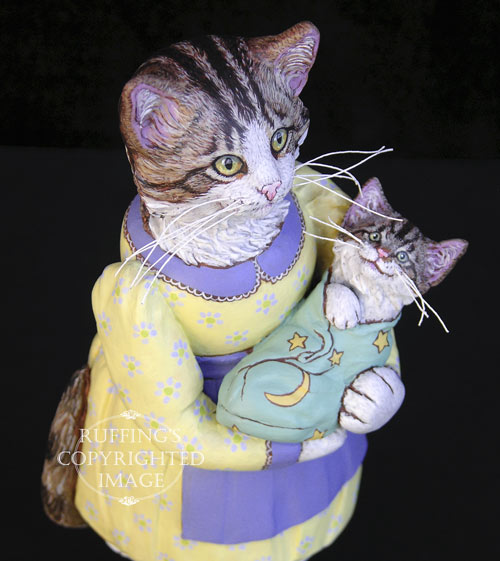 I hand sculpted Belinda and BoBo from paperclay, and used stiffened cotton thread for their whiskers. They are original one-of-a-kind works of art, meant for display only. No molds are ever used in my work. They are completely hand painted with acrylic paints, then signed and dated with matte varnish for protection and preservation.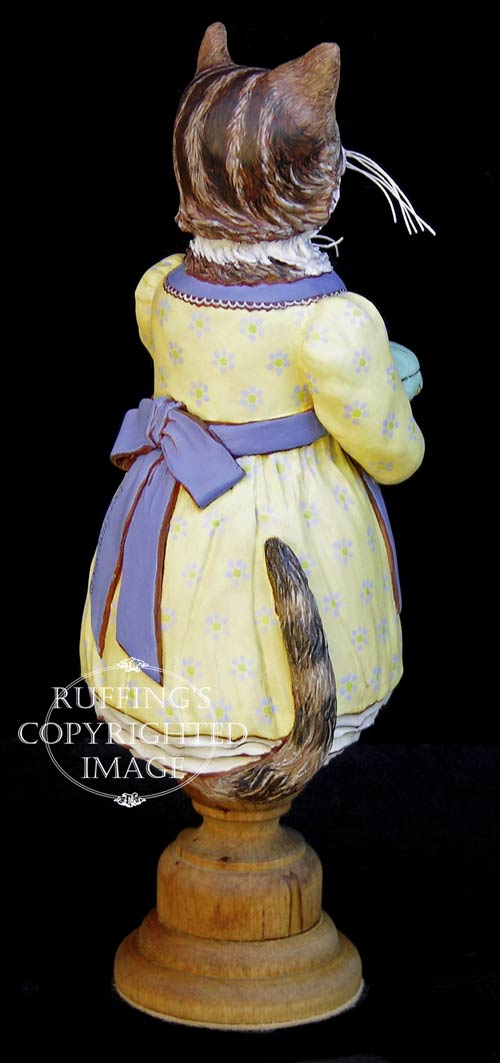 Belinda rests firmly on a turned wooden base, with a rustic wood grain, which has been sealed in golden oak. She stands 9 1/2 inches tall.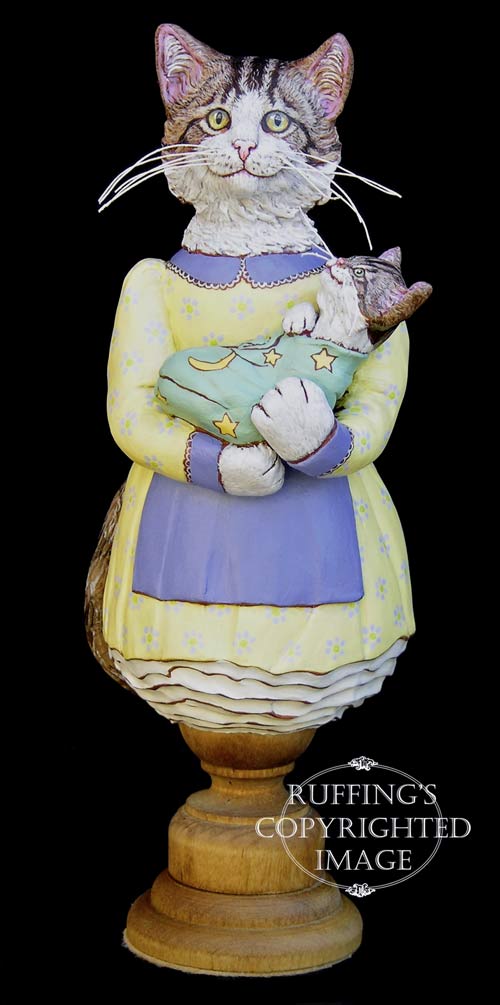 Update: Belinda and BoBo have already been adopted. Thank you!
Bobo's older sibling, Crybaby (above left) has also been adopted.