Bleuette Doll with Bluebirds, Original Painting on Poplar Wood by Max Bailey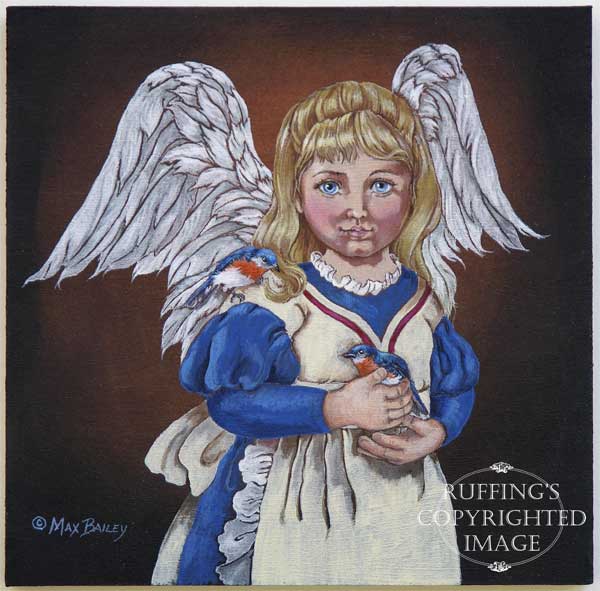 I'm so excited about "Bleuette"! I just finished her and she is gorgeous! Her big blue eyes and sweet smile were inspired by the ever popular Bleuette antique dolls who were first introduced in France in 1905 in La Semaine de Suzette magazine. Little French girls learned to sew making the patterns the magazine offered for Bleuette's extensive wardrobe. The premiere Bleuette was a Jumeau style doll, and was offered for free with a one year subscription to the magazine. Little Bleuette was so popular that she was offered in many, many incarnations until 1960. Today, she is still incredibly popular, and both the original dolls and their reproductions are widely collected.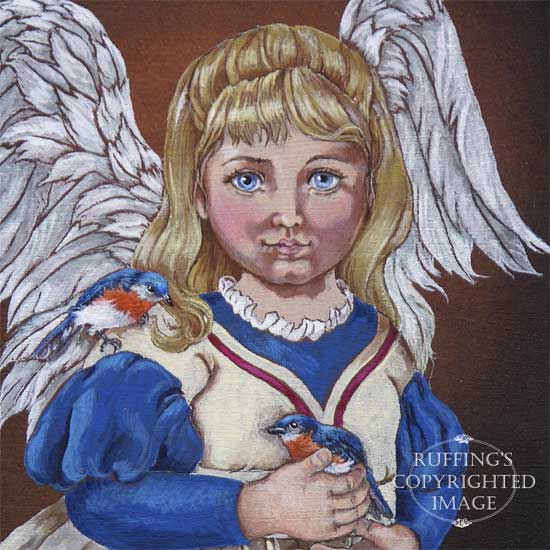 This is an original painting done in the American folk art portrait style, with Bleuette emerging from a warm dark brown background that blends into black at the edges. Here Bleuette is shown as an angel who watches over bluebirds, two of which rest calmly in her hands and on her shoulder. She wears an old-fashioned blue dress with lace trim, and an ecru apron with a burgundy stripe.
angel-art,bluebird-bird-art,max-bailey,original-one-of-a-kind-art