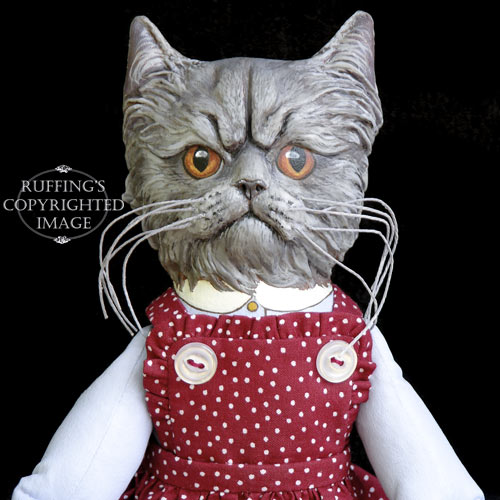 Crabby Alice is a very sweet-tempered Blue Persian cat.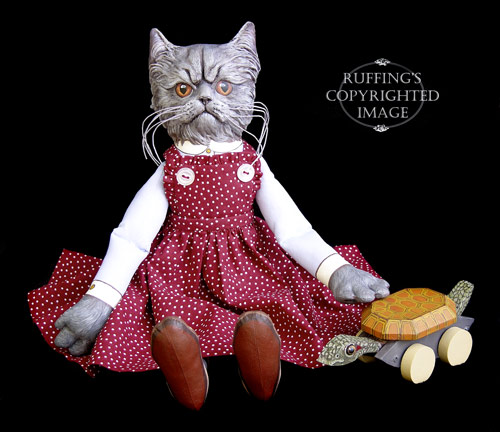 She isn't really crabby at all, but she likes to look that way. It makes people say "Oh, poor kitty. Are you having a bad day?" Then she gets extra pats on the head, tickles under the chin, and sometimes special treats. She likes that a lot.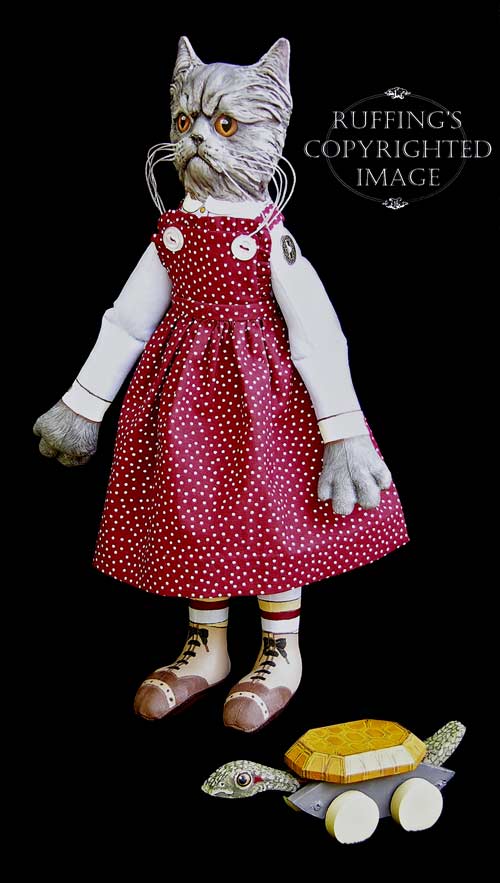 She shares the treats with her friend Ruthie the turtle, and they giggle together as they eat them, making funny little muffled noises. When the treats are gone, they think up ways Alice might arrange her face to look even a little crabbier.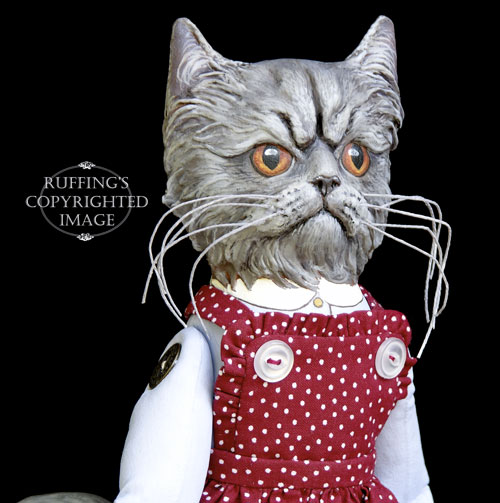 Crabby Alice wears a pretty red and white polka dot pinafore, with a ruffled bib and straps that crisscross in the back. Her blouse is a soft lilac blue with ivory collar and cuffs, painted on like her striped gold, blue, and red tights and laced up old fashioned shoes.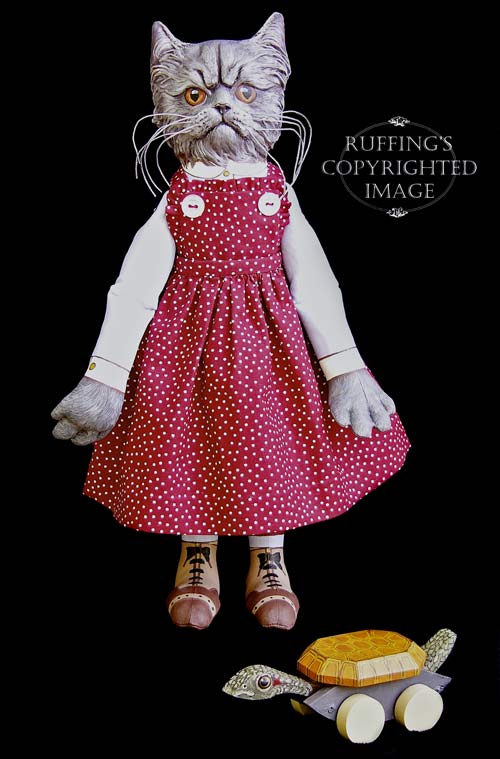 She's an original one-of-a-kind work of art that I created from my own design and pattern, then made from 100% cotton fabric which I sewed, stuffed, and completely hand painted with acrylic paints.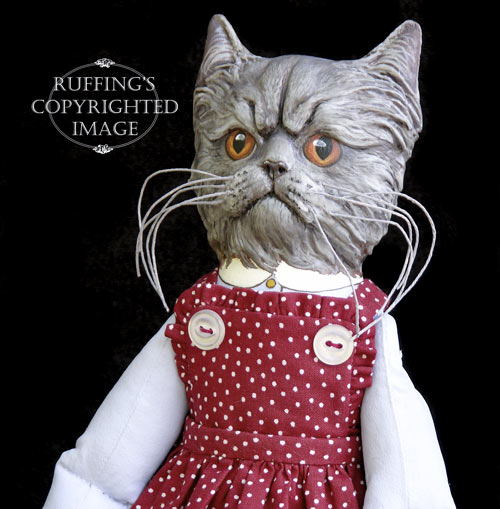 She is 13 inches tall.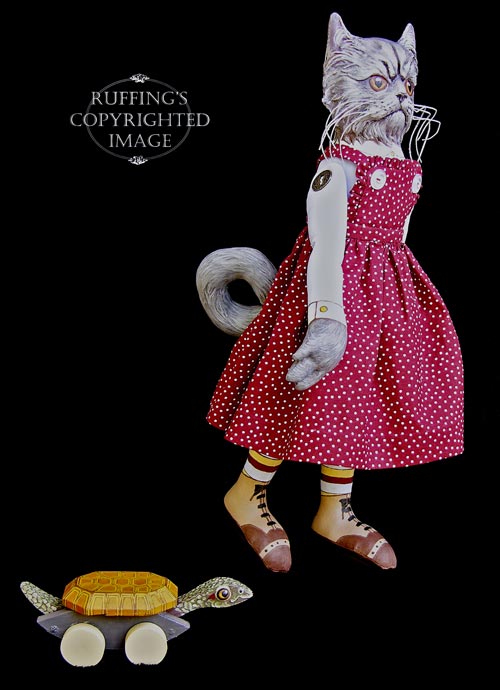 Alice's very crabby expression was created from paperclay smoothed into her fabric head, and sculpted in three different stages of hardening.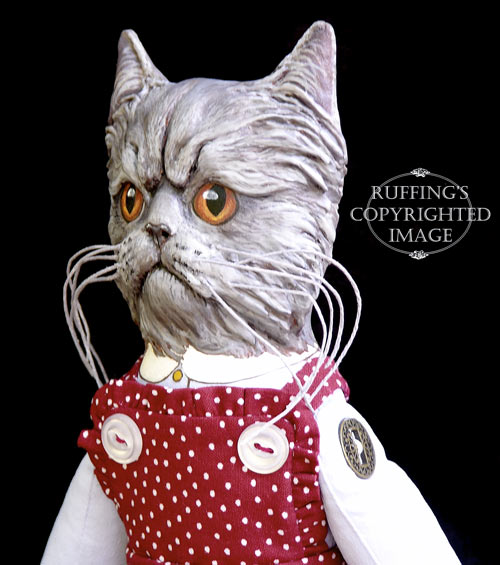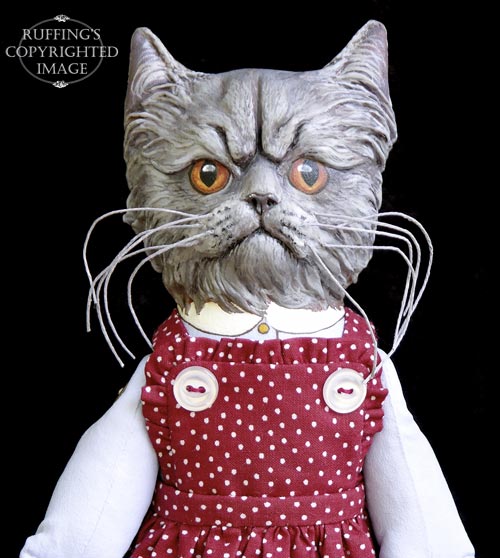 Even her gray and unruly whiskers are grumpy. They are made of stiffened pearl cotton that I threaded through the paperclay before it dried. I made her 100% cotton pinafore from my own design and pattern.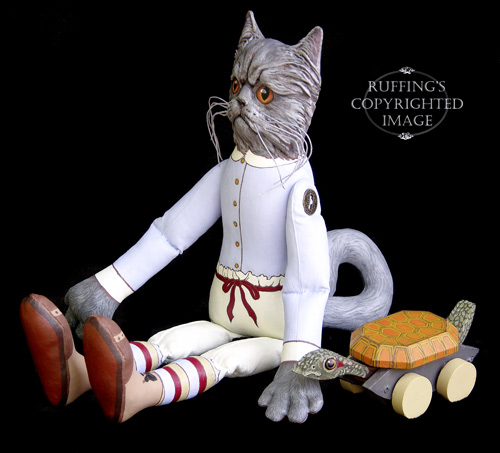 Crabby Alice, though she may not look it, is very obliging. She has a curly tail that allows her to sit up and glare at you all by herself from a shelf or a table, or in a cabinet. She can also glare at you while sitting in a chair or standing with a doll stand. (Chair and doll stand not included.)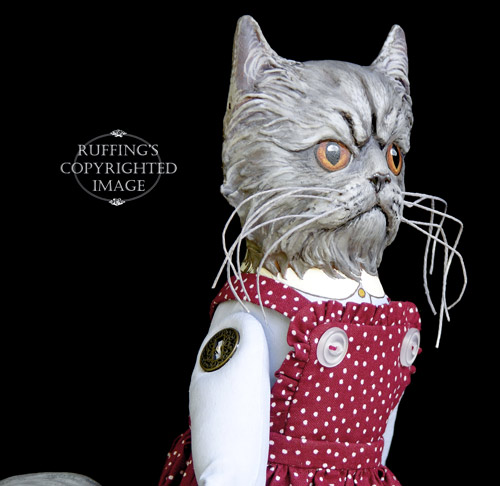 Ruthie the turtle is made of wood, and doesn't glare. She looks quite friendly and happy, probably because she gets so many treats. I painted her shell in brown, orange, and gold, and the rest of her in gray green and brown turtle colors. She's about five inches long and two inches wide.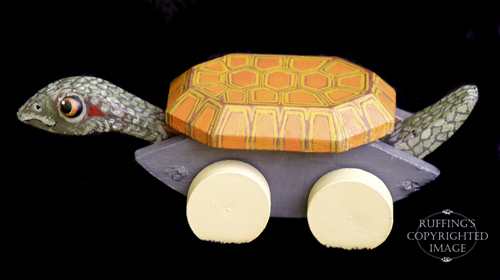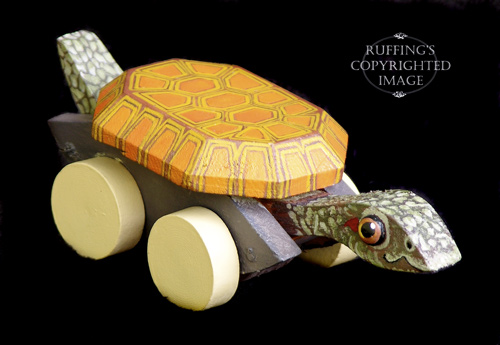 Crabby Alice is signed and dated, and sealed with matte varnish for protection and preservation. She and her friend Ruthie are meant for display only.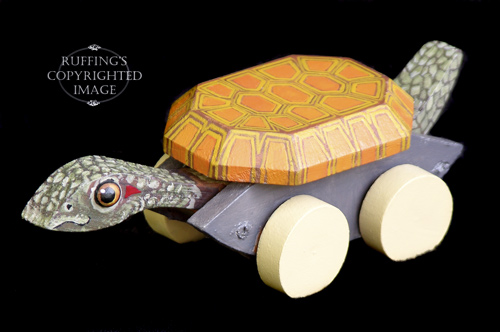 Update: Crabby Alice and Ruthie have already been adopted. Thank you!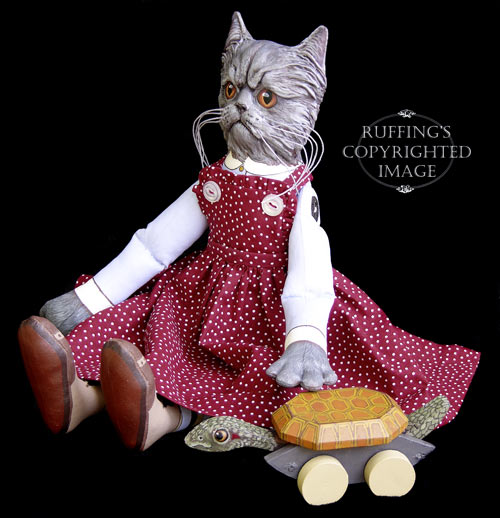 Crabby Alice and Ruthie's friends are Ginger and George (lower left) and Hedda and Hopper (lower right).