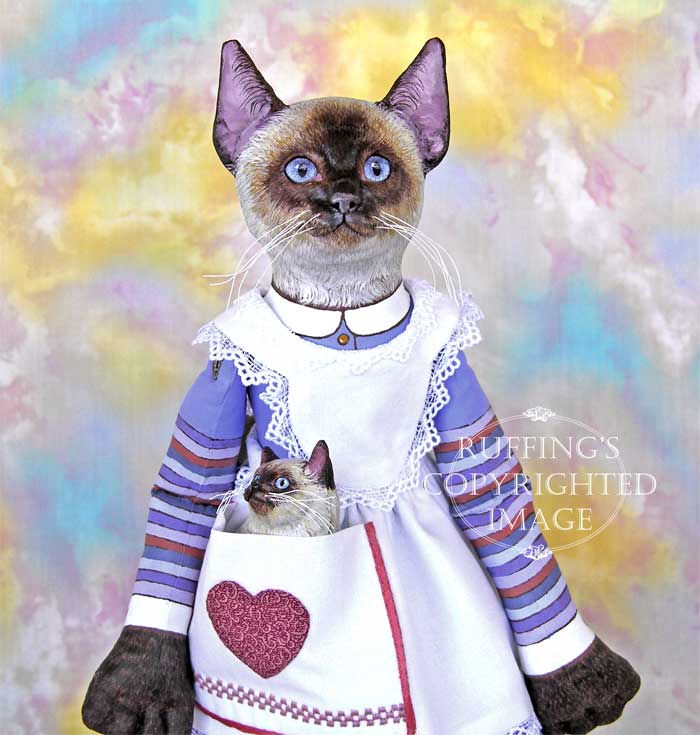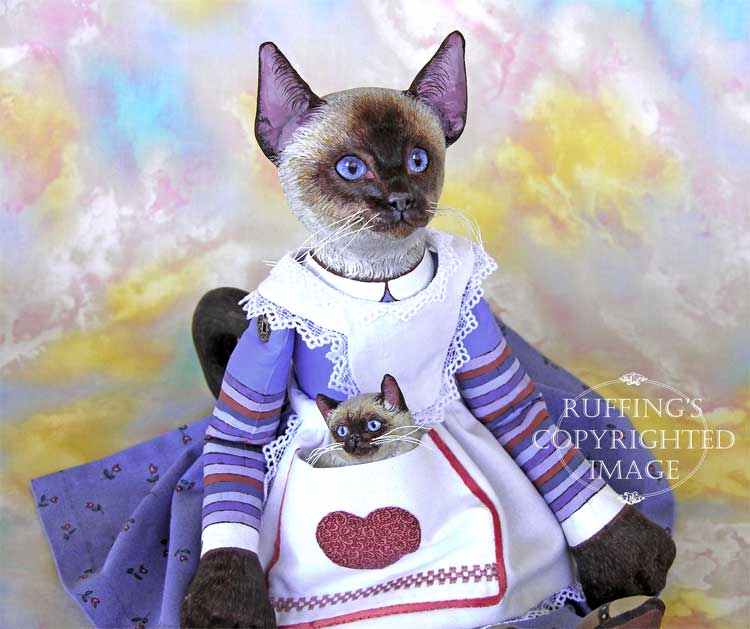 Loretta is a patient and loving Siamese mom who is sincerely dedicated to being the best mother she can be.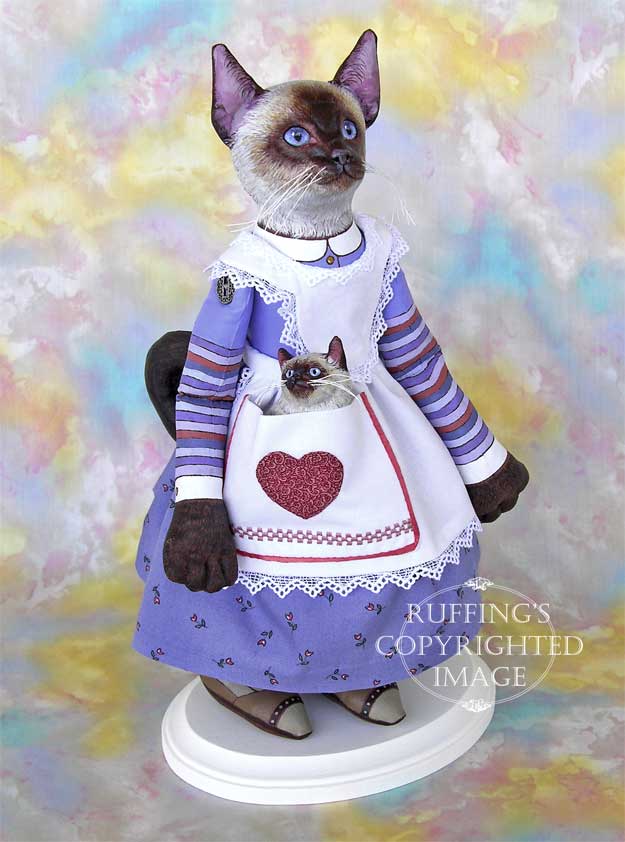 When her kitten Lulu has her worn out and frazzled, Loretta tucks Lulu safely into her apron pocket to keep her from running and jumping in every direction. Then Loretta breathes a sigh of relief.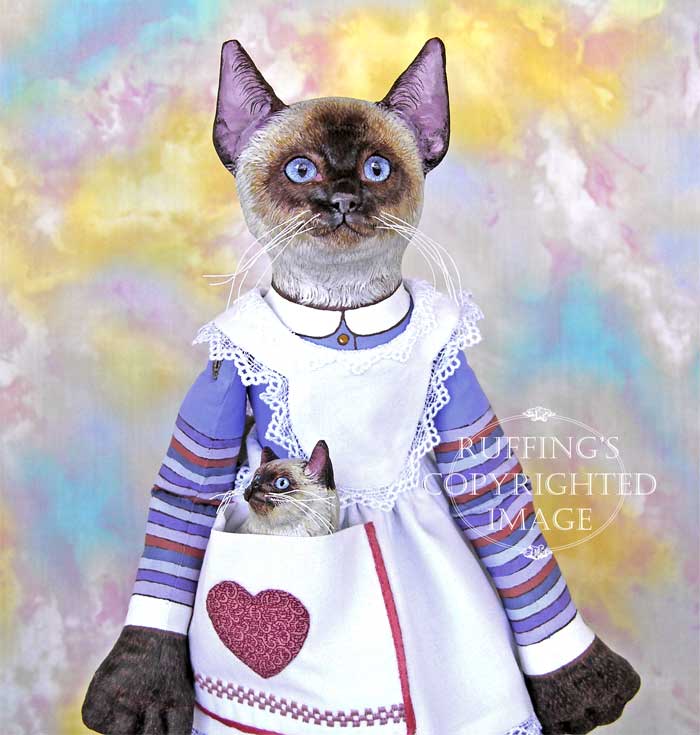 Lulu remains wide awake, peeking over the pocket at everything around her, and planning her next great adventure.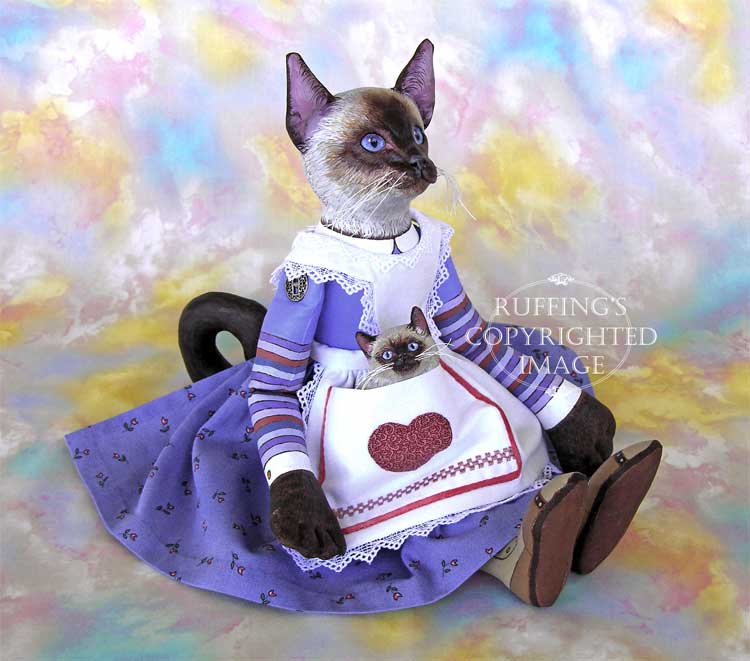 Loretta and Lulu are original one-of-a-kind works of art, created from our own design and pattern. They are made from 100% cotton fabric which has been sewn, stuffed, and completely hand painted with acrylic paints. Loretta is 13 inches tall, and Lulu is 3 inches tall.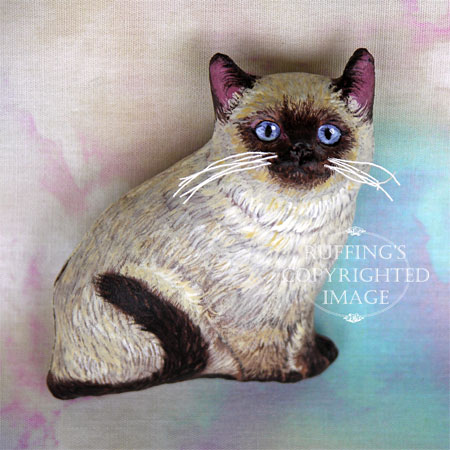 Loretta's paws are needle-sculpted, and her arms are button-jointed with antique-looking buttons of filigreed silver on black, so she can easily pose. Loretta and Lulu's faces were sculpted from paperclay smoothed into their fabric heads. Their whiskers are made from stiffened cotton thread.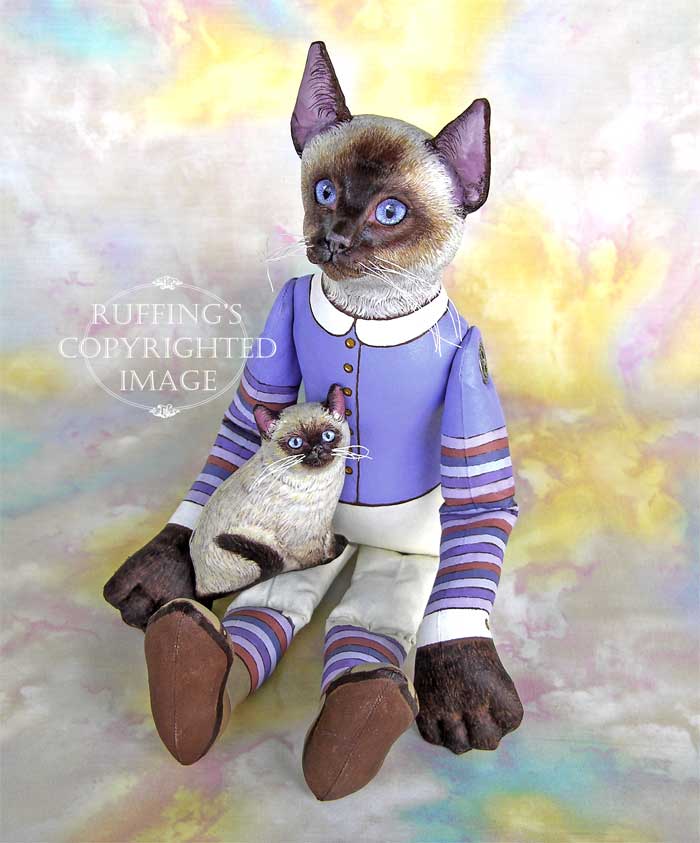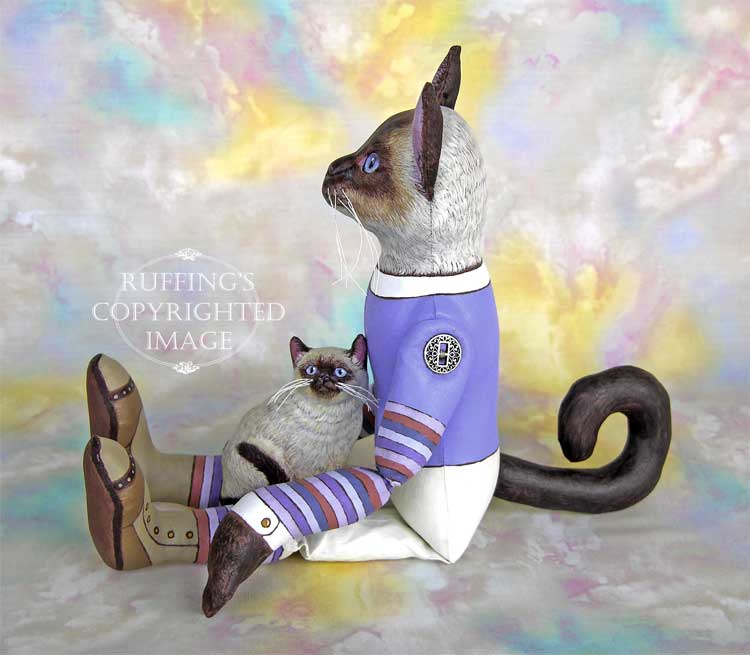 Loretta's curled tail supports her so that she can sit prettily all by herself on a shelf or on a table, or in a cabinet. She can also sit in a chair or stand with a doll stand. (Chair and doll stand are not included.) Loretta and Lulu are meant for display only.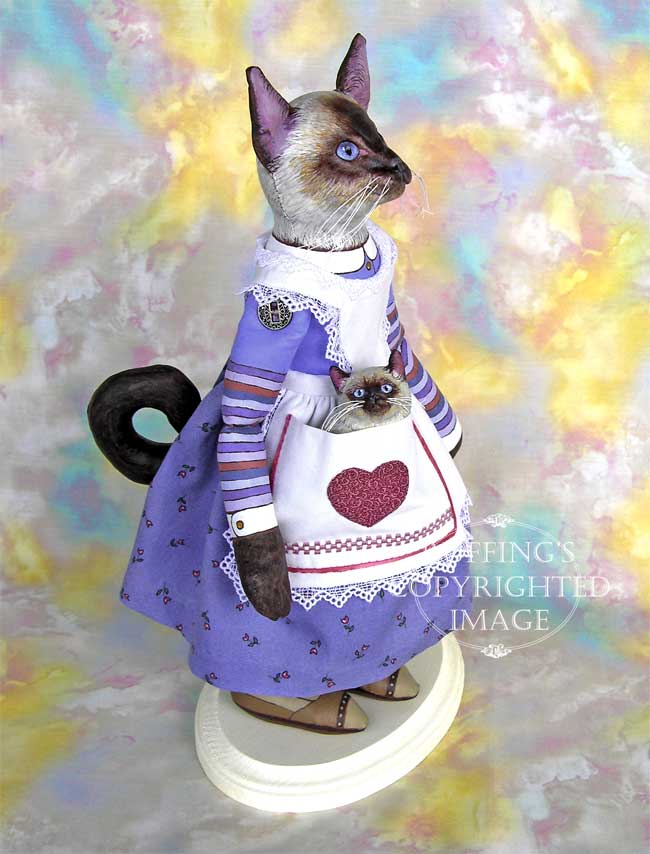 Loretta wears a periwinkle blue blouse, with a white collar and cuffs, and gold buttons. Her sleeves and tights are striped with purples, lavenders, blues, and burnt orange. Her kitty feet are covered by fancy two-toned high-button shoes with gold buttons.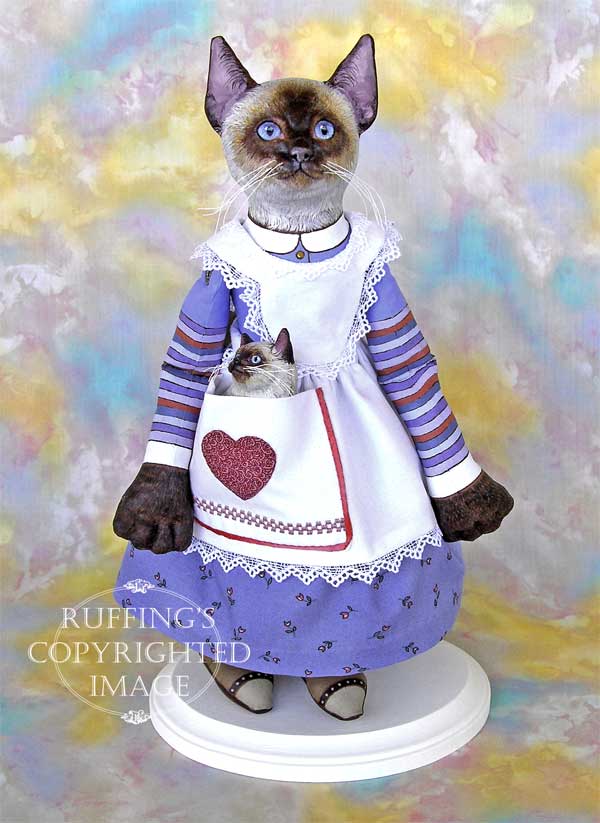 Loretta's charming little blue skirt has a pattern of pink heart-shaped flowers. The attached apron with its gracefully curved top is white, and trimmed with lovely white lace. The pocket in her apron, made especially for Lulu, has an appliquéd heart, satin trim, and decorative embroidery stitching.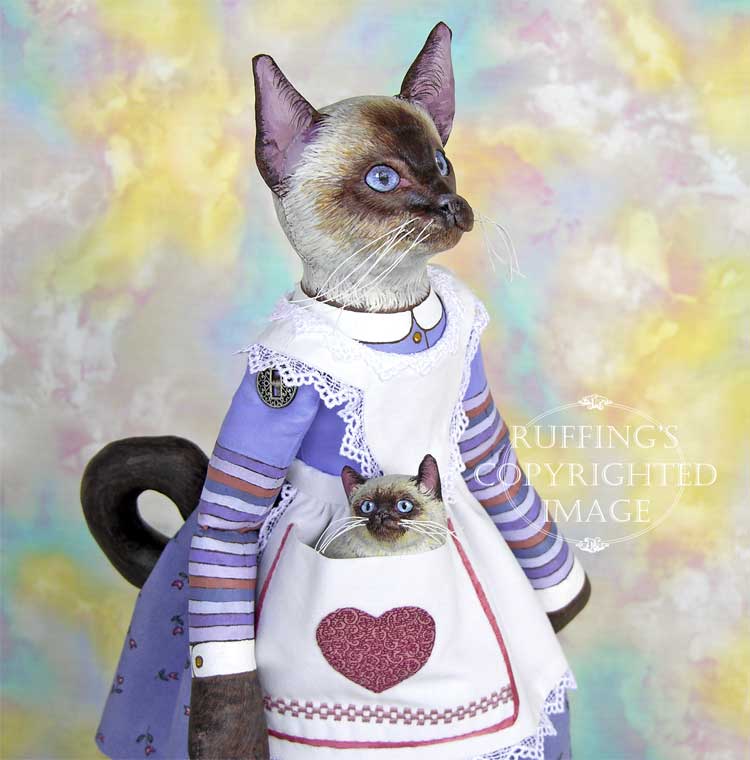 Loretta and Lulu are signed and dated, and sealed with matte varnish for protection and preservation.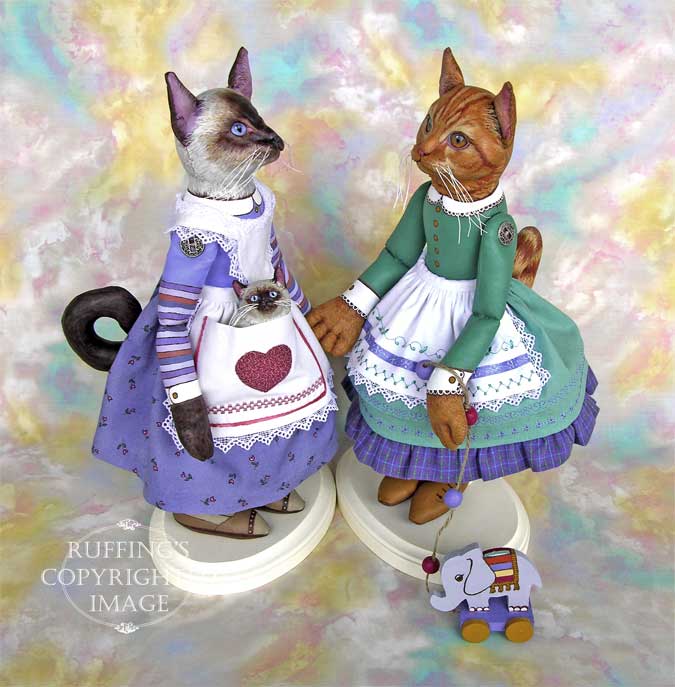 Update: Loretta and Lula have already been adopted. Thank you!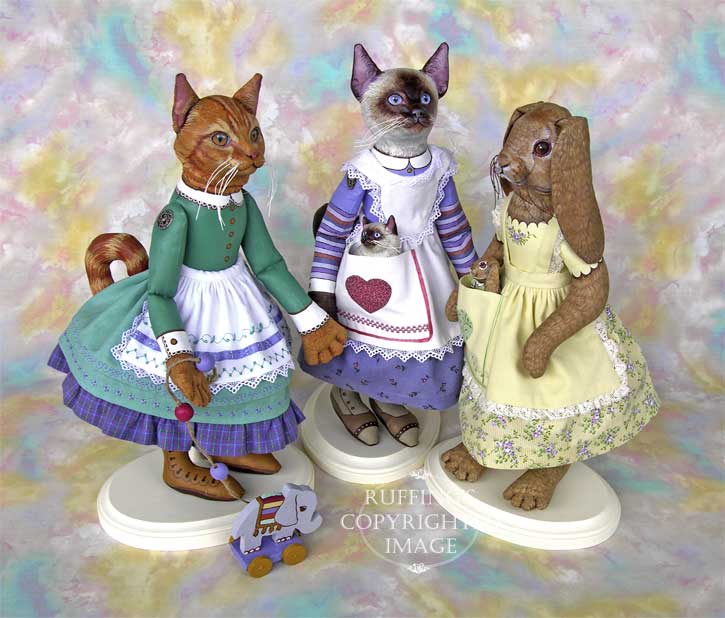 Loretta and Lulu's friends are Emily and Edwin (above left) and Beatrice and Beulah (above right).