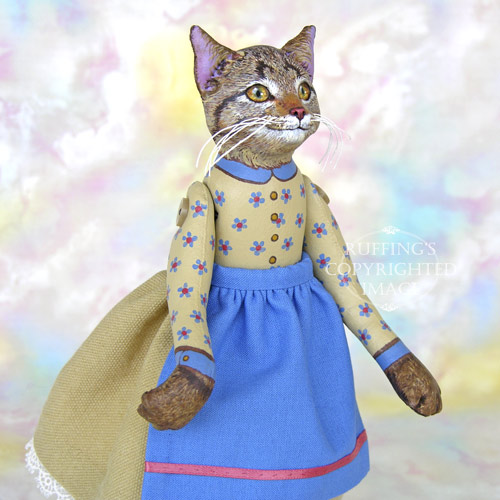 When she was born, her mother gave her the name Minerva, but only her mother ever called her that. Everyone else called her Minnie.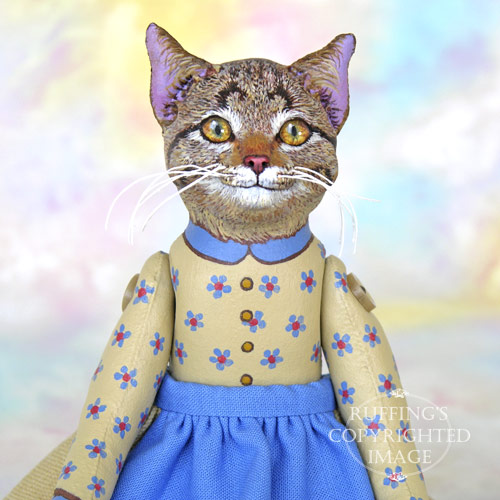 Minnie grew up to be a lovely tabby. Her fur is a mix of tabby colors…silver gray, buff, ivory, gold, and black.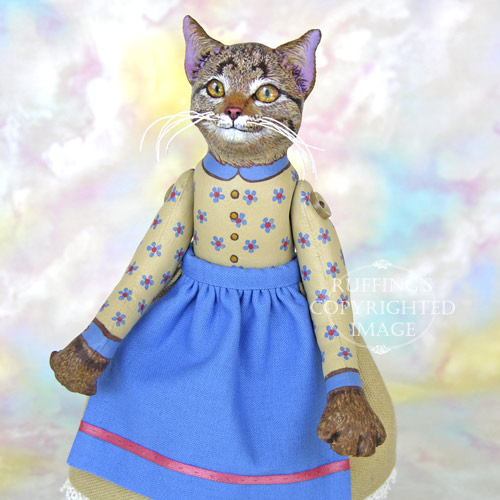 Minnie extends a warm welcome to everyone who comes calling. In the afternoon, she sits on her porch and waits for the children to walk home from school.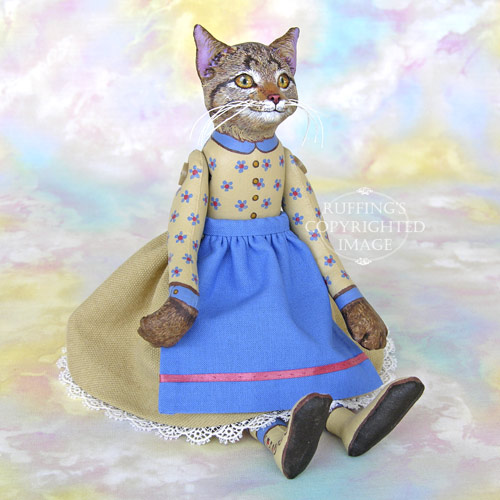 They wave to her as they pass by, and she lifts her paw to greet them. Sometimes they stop by to visit with her, which makes Minnie very happy. She purrs loudly.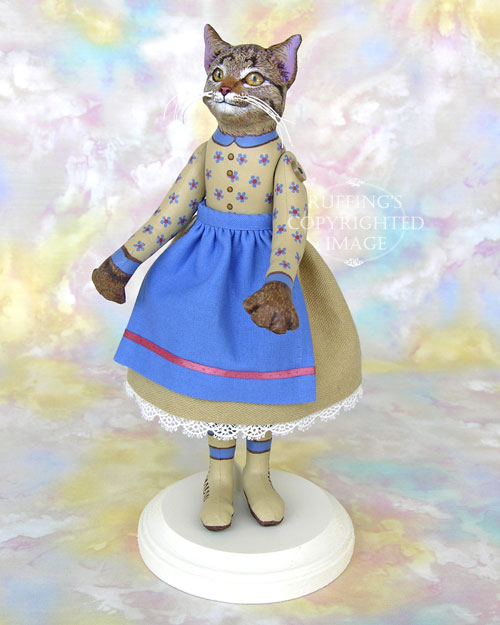 Today, Minnie is wearing a tan blouse patterned with blue flowers with red centers. It has a blue collar and blue cuffs.
Her tights have matching tan and blue stripes. The high-button shoes she wears have red buttons down the sides.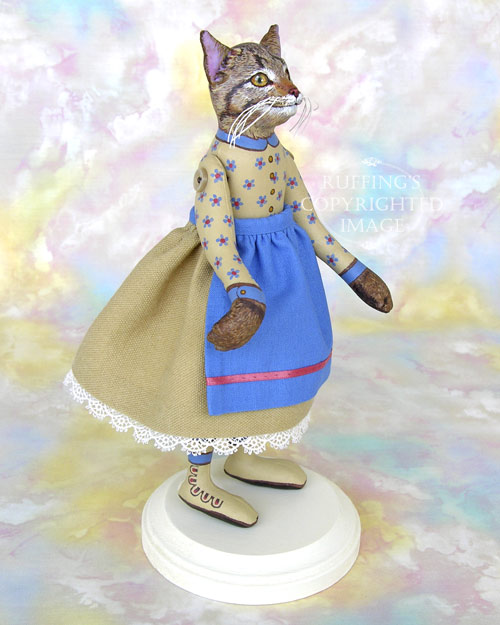 Minnie's tan skirt has delicate white lace around the hemline.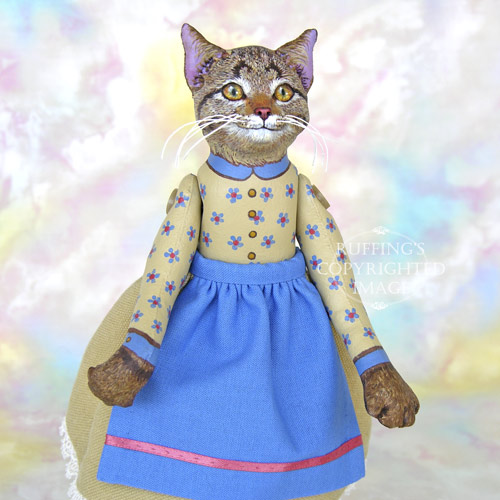 Her blue apron is decorated with a line of red ribbon. Her skirt and apron were designed and created by artist Elizabeth Ruffing.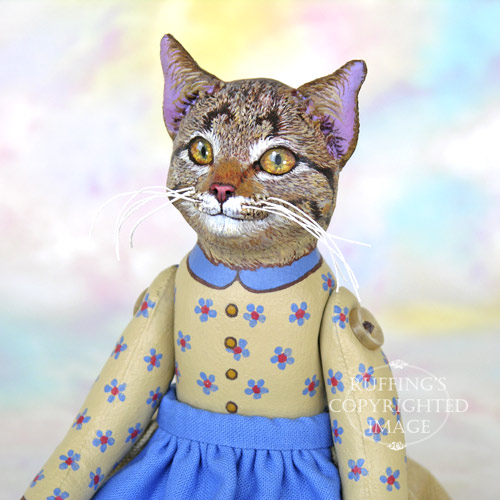 Minnie is an original one-of-a-kind work of art, created from my own design and pattern. She is made from 100% cotton fabric which has been sewn, stuffed, and completely hand painted with acrylic paints. Her whiskers are made from stiffened cotton thread.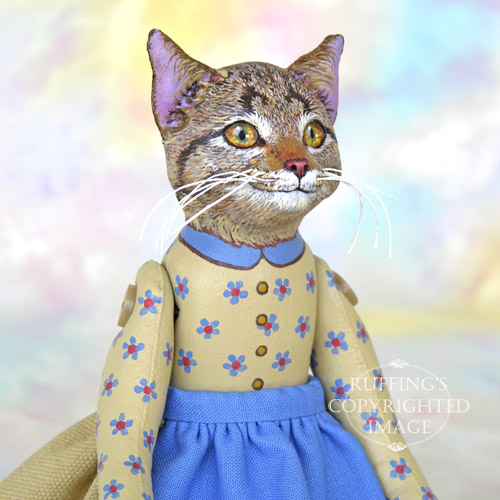 Minnie's paws are needle sculpted, and her arms are button-jointed so that she can pose. Her face was sculpted from paperclay smoothed into her fabric head. Her curled tail enables her to sit by herself on a shelf or a table, or in a cabinet. She can also sit on a chair, or stand with a doll stand. (Chair and doll stand not included.) Minnie is meant for display only.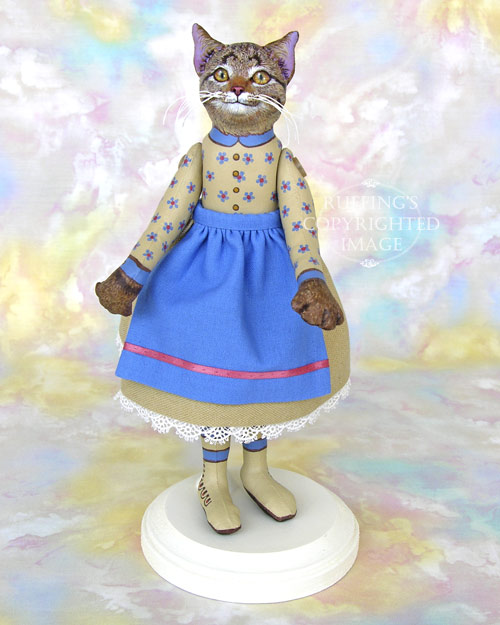 Minnie is signed and sealed with matte varnish for protection and preservation. She is 8 and 1/2 inches tall.
Update: Minnie has been adopted. Thank you!