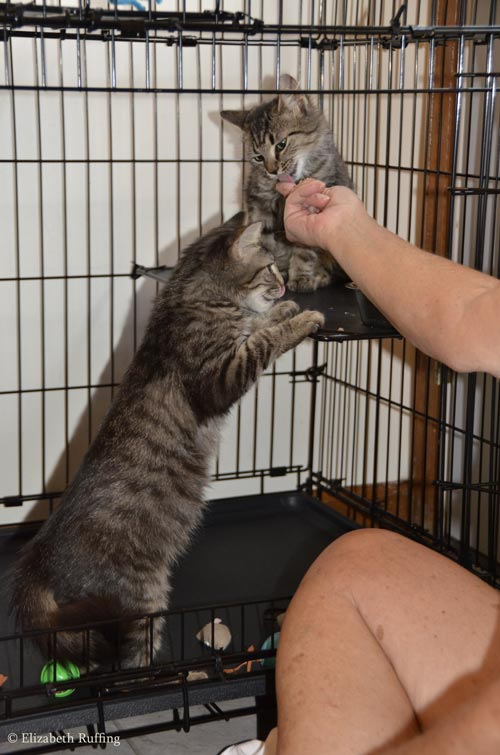 I moved Phoebe and Bertie indoors, into the laundry room, and they are continuing to make progress. Bertie is making great strides, and Phoebe is still the more skeptical kitten. They have been a tremendous amount of work, but seeing each breakthrough is very rewarding. I am so glad to have them out of the rain, and away from the bugs. We've had so much rain this past month, which is unusual for us, and cleaning a cage outdoors, even one tucked under a tarp, was no fun at all. They seem to like being inside now.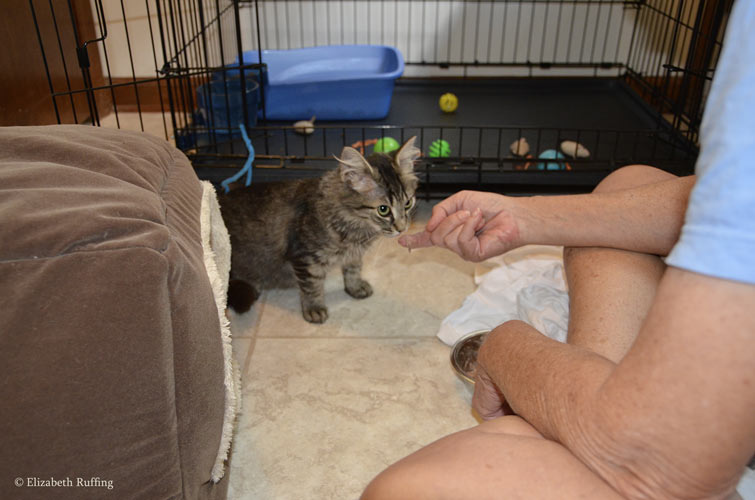 We got them a bigger cage, a "Cat Playpen", and they took to the idea of climbing, in a short period of time. My dad helped me put casters on this two-story cage so I can move it around, and I put zip ties all over it to make it secure, so they won't get their paws caught in any connecting areas. They venture in and out at will now, to explore the room, play, and lounge. These are some photos from today, of my mom feeding them baby food mixed with Fancy Feast. Gerber Chicken and Gravy 2 is indeed enticing to them. It just has chicken and water in it, no seasonings, and so it is safe for them.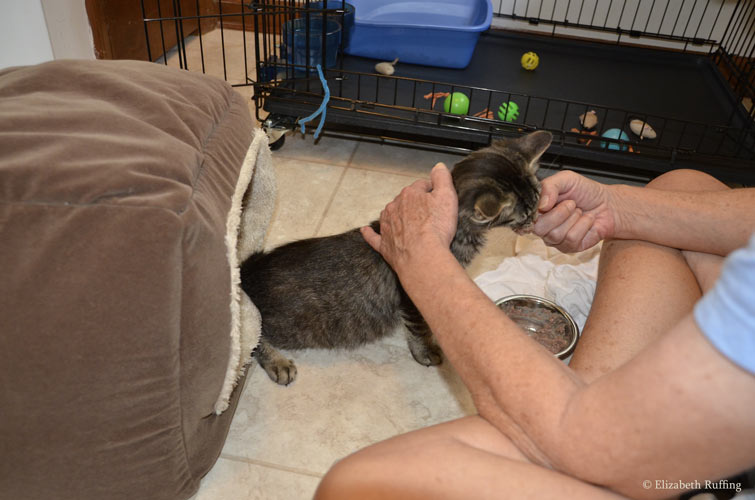 Bertie likes being petting and scratched, and I was able to pick him (or her…still can't get a look) up a few times today, only for several seconds at a time. Phoebe is much more standoffish. I am hoping she will see Bertie trying these things out, and give them a try herself. We aren't pushing her though We are just letting each one of them learn to trust us, a little at a time. We try each new thing briefly, until they get used to it.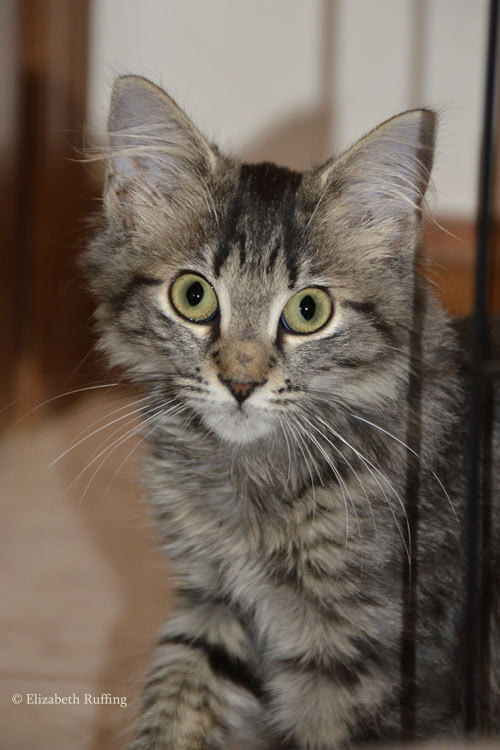 Bertie has been more open-minded all along, and more interested in interacting with us. They both like to play with a feather toy with us, and both kittens get very excited when they see our adult cats. Once they can be checked out by a vet, as long as they each have a clean bill of health, they will enjoy being able to finally reach them and play with them.
These videos (there is a set of three parts on YouTube) have been very helpful! So have the tips from the same incredibly patient man in the videos, Mike Phillips, on the Urban Cat League site.
There are more of their tips on socializing feral kittens here. A big thank you to them for this information! It has not only made a big difference for these kittens, but it made me feel like I could do this. I appreciated the reassurance and the advice. It helps to know that each kitten is different, and that there is no schedule to worry about, if one is slower than the other to want to socialize. They decide on their own what they want to do.
I have also just begun getting back to getting some work done. These are two custom, two-tone Hug Me Slugs, made of coordinating quilting cottons.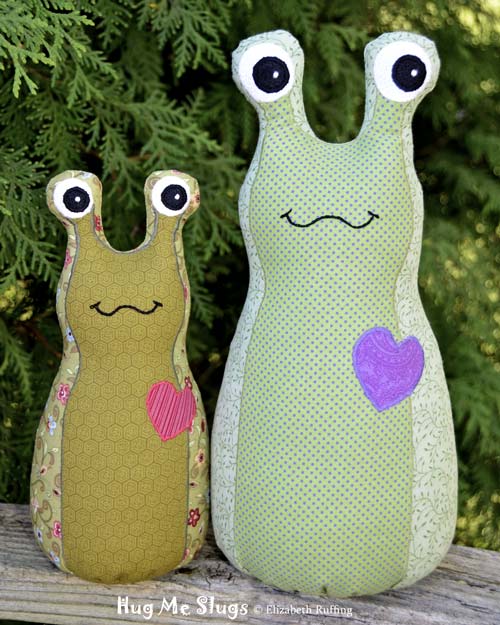 I don't normally do these anymore as they are very difficult to do with my sewing machine. It has "fast" and "stop", which makes machine appliqué into more of a roller coaster ride. In spite of that, I think they came out nicely. I have some Hug Me Toads waiting to be finished up, and many other art toys, waiting for me. We also have lots of original, one-of-a-kind cat art dolls to photograph. We'll be posting our new original one-of-a-kind cat art dolls in our Ruffing's shop.