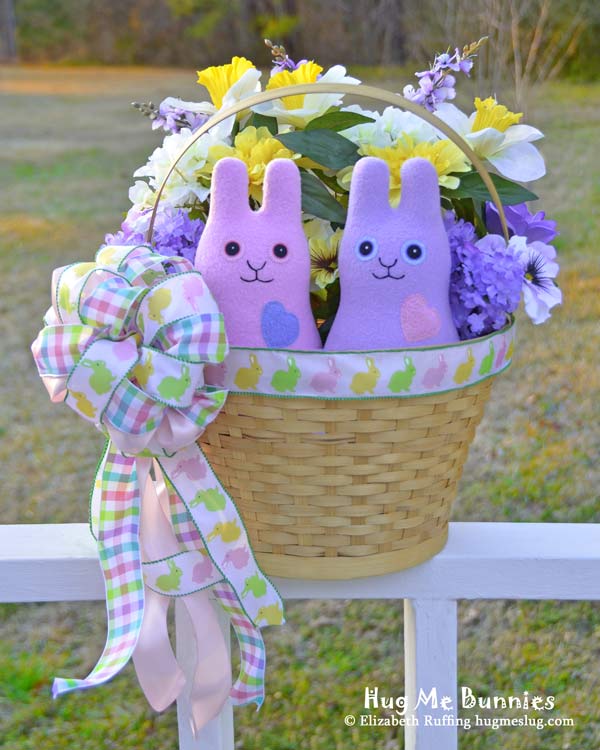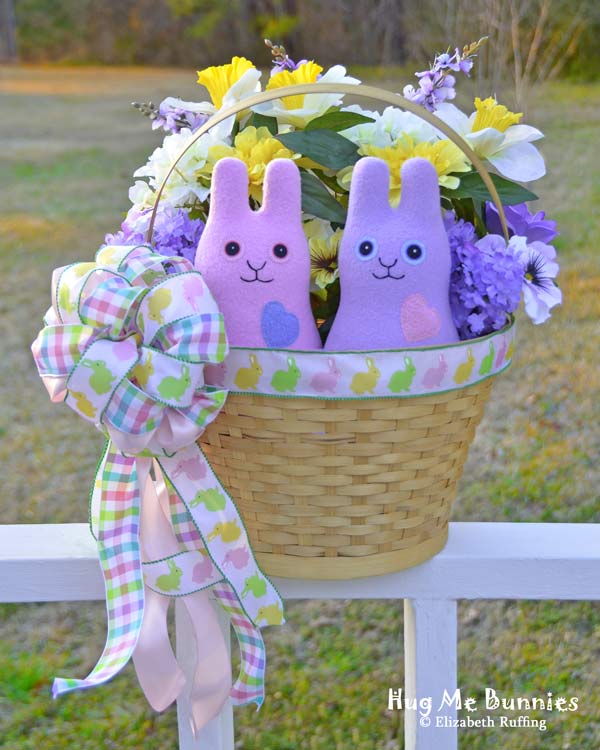 Happy spring and happy Easter! To celebrate, I have a whole colony, or fluffle, of Hug Me Bunny stuffed animal bunny rabbits! I have Hug Me Bunny and Wonder Bunny plush toys in lots of colors. You can hop on over to adopt one or two in our Ruffing's shop.
Hug Me Bunny Easter basket ideas are further down in this post.
I love bunnies. They are sweet, intelligent, lovely animals. Please don't give real bunnies as gifts for Easter! Having a rabbit as a pet is a big commitment and a lot of work. They are definitely not "starter pets." They need lots of love and attention, like Oliver Bunny does.
The House Rabbit Society is a great resource for information about their needs and care.
Hug Me Bunny stuffed toy bunnies, however, are very easy to take care of, in addition to being cuddly.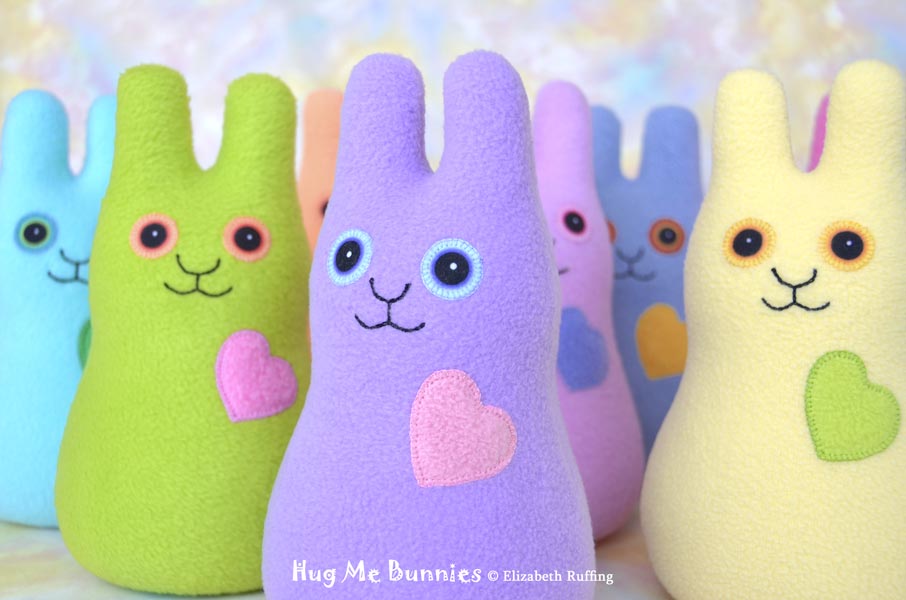 I brought some Hug Me Bunny plush toys to Rabbit Day this year, and two of them were adopted by Louise and Arthur, two real bunnies.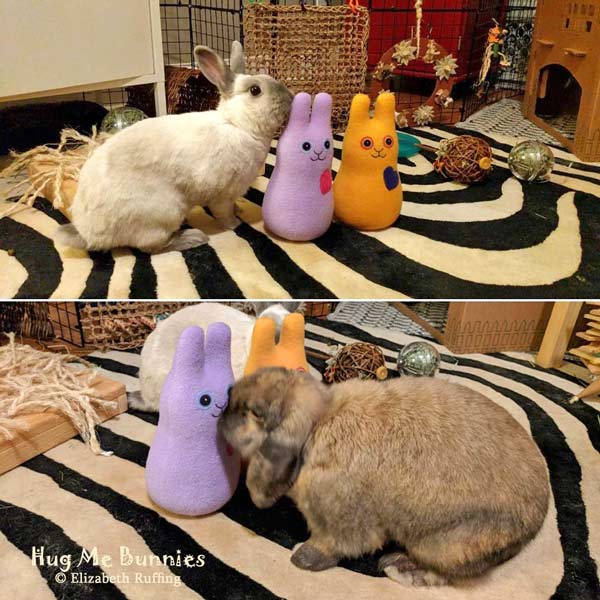 Hug Me Bunnies stuffed animal bunny rabbits come in all colors, even apple green. They have hand-stitched fleece hearts in pretty colors. I love combining colors. I like to use my custom-printed colored eyes on them to make them even more colorful.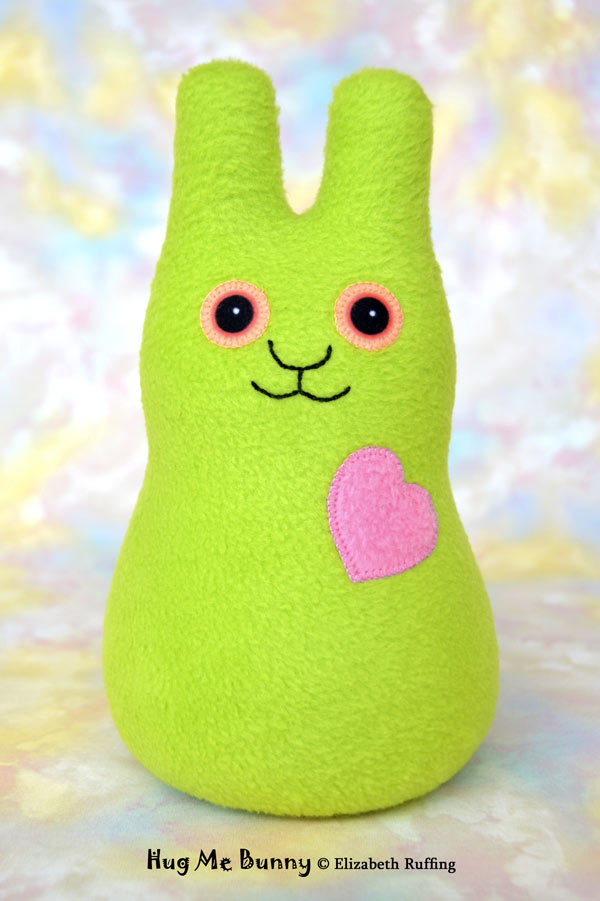 I started an Instagram page, for our stuffed animal art toys and original art dolls, if you would like to follow me there. I'm on Pinterest too. I started a Ruffing's mailing list as well, so I can send out updates when we have something new.
Hug Me Bunny Easter basket ideas.
If you would like to make an Easter or a spring basket, like the one I made, shown at the top of this post, here are some instructions.
I got package of floral foam, which you can find in a craft store, or craft department, or online. I happened to get "wet foam", because it was the best size for my basket, but that wasn't necessary because I used pretend flowers. It's called wet foam, because it is used for fresh flower arrangements, to keep them hydrated, but I didn't wet it!
I set my basket on top of the foam, for size, and carved away the excess with a knife. It was very easy to cut. Then I put the block into a leftover plastic shopping bag, so the bits wouldn't get everywhere, and I sealed the bag.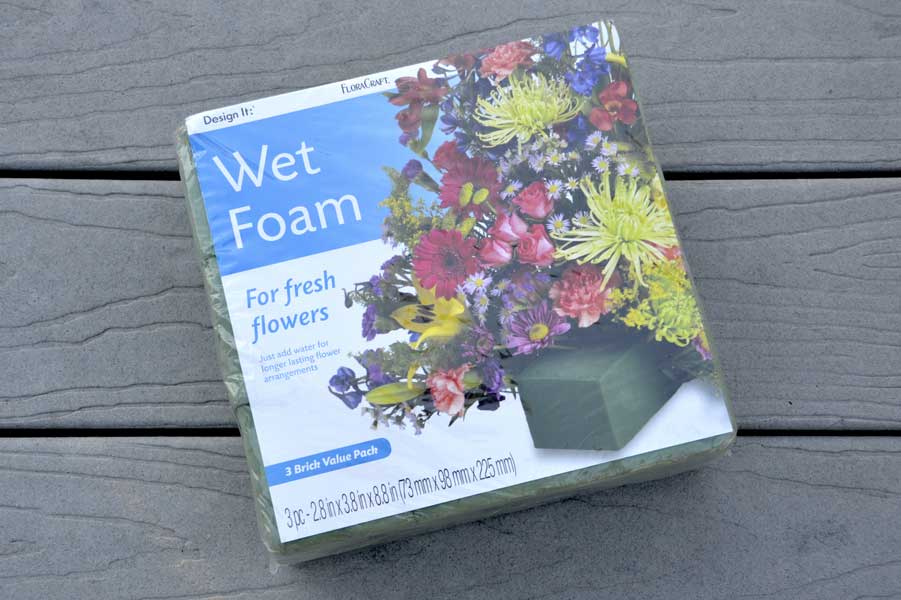 I cut my flowers away from their central stem. Silk flowers are wired, and so you will need a tool that cuts wire, like a pair of side-cutting pliers or wire cutters. I tried to cut them at an angle, to make it easier to insert them into the foam.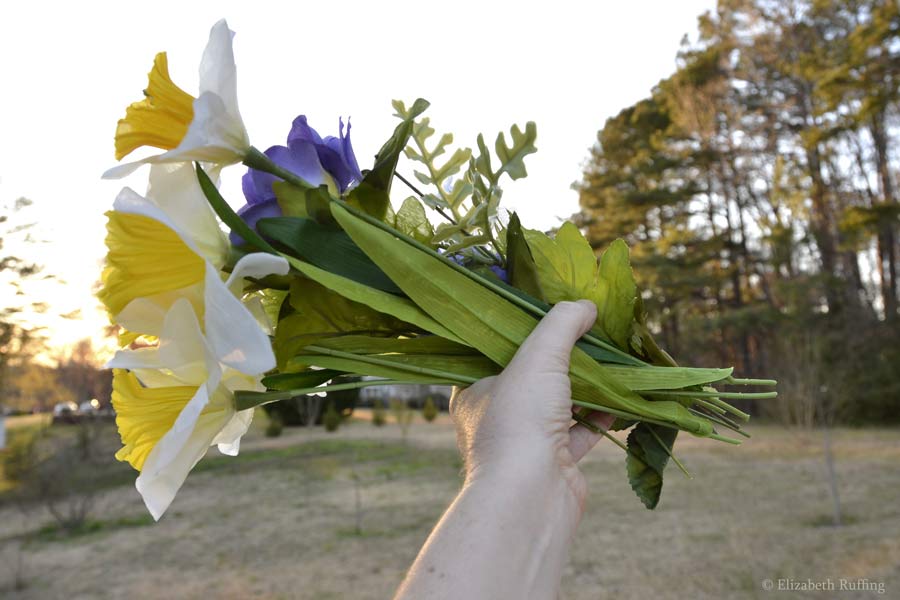 I put my bag of floral foam into my basket, and poked my flowers right into the foam through the bag. If you need to pull them out to reposition them, just poke a new hole.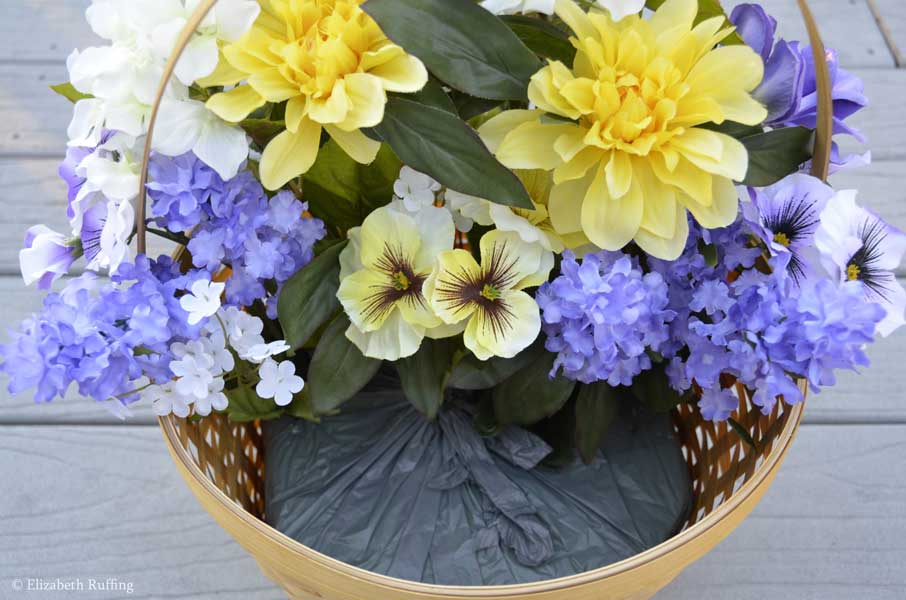 I left some space in front of the flowers for my stuffed animal bunnies. The bow is made from wired ribbon that was made into big even-sized loops, and then pinched together in the center with a big pipe cleaner. The ribbon could be wrapped around a big tube or jar to get the loops even, with the tails hanging free. The loops are pulled into shape and arranged as desired.
I added a bunny ribbon around the rim of the basket. I set two Hug Me Bunny plush rabbits in the basket, and I was all ready for Easter.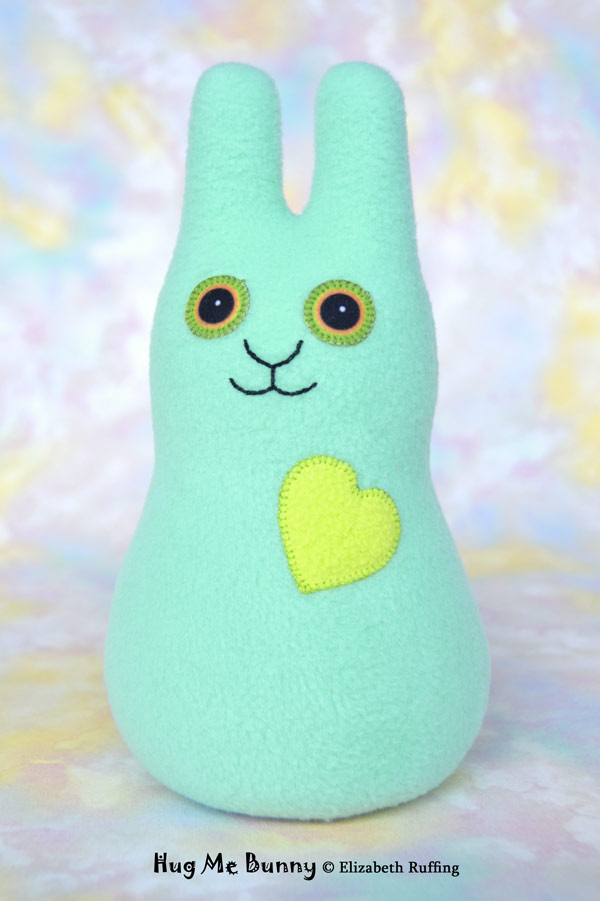 Please join our Ruffing's mailing list for updates when we have something new to share.