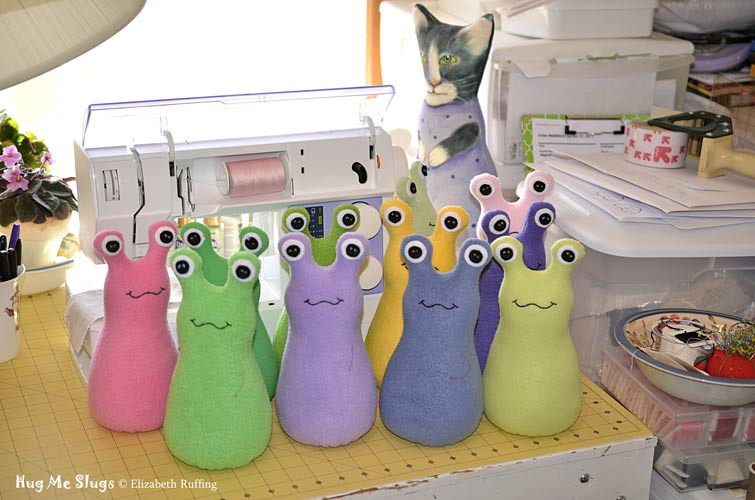 This is a small peek into my workroom today, and these are a small number of the Hug Me Slugs and other art toys, waiting for me. This is the time of year when I get very nervous and try very hard to get as much as I can get done, done.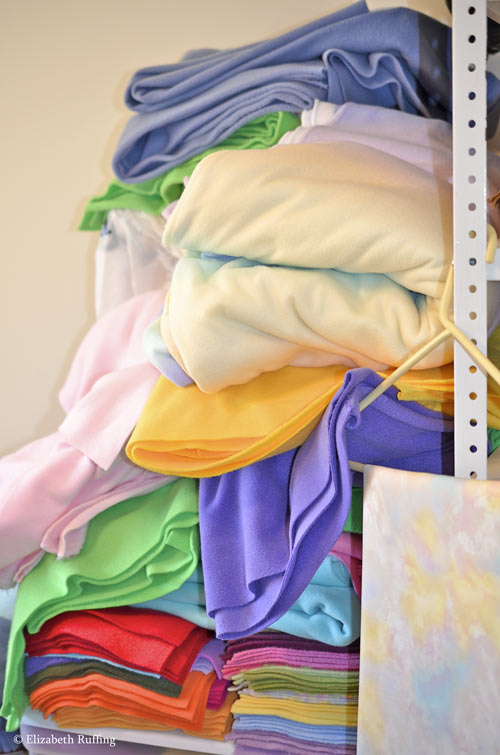 Piles of fleece are cascading from the tops of shelves and other piles of fleece.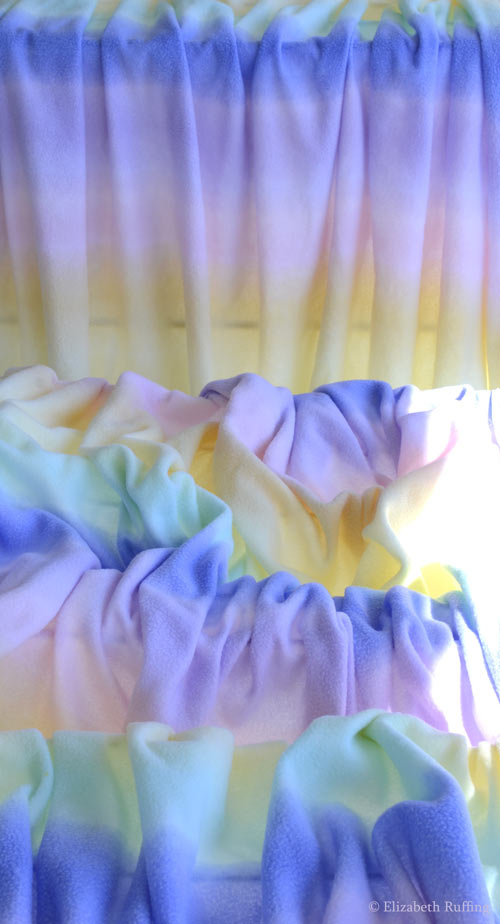 I've prewashed yards and yards of fabric.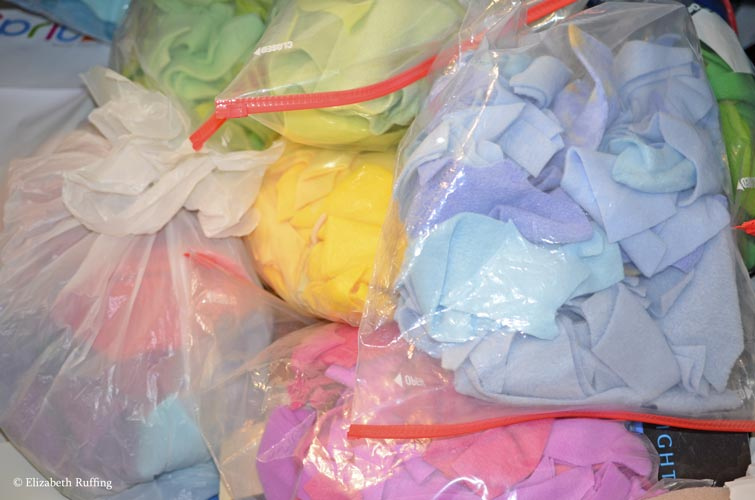 Scraps are organized by color so I can find them for hand-sewn hearts. In between, I tweak my patterns, and try some new things too. This is a new character, my Hug Me Bug. I have to draw his picture for his hang tag.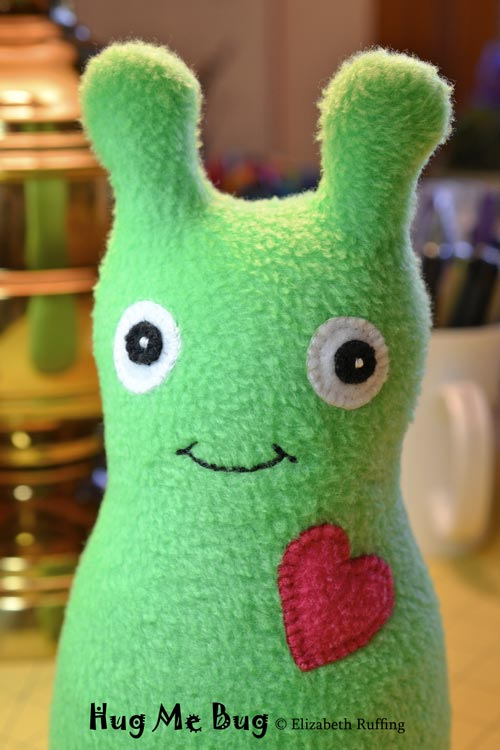 I received these fantastic photos of my beautiful Hug Me Toad collector, Emily. Emily drew this great family portrait of her Hug Me Toads, all with their names above their heads. I just loved seeing these, and I love that all the Hug Me Toads have their own slippers to nap in.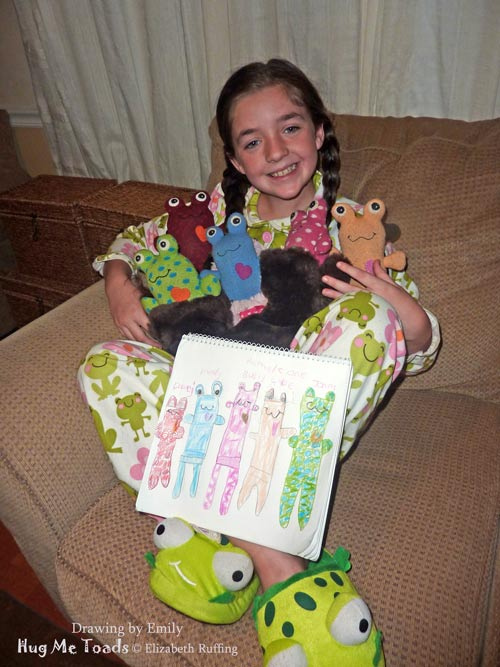 Emily's PJ's and her slippers are perfect too. Those Hug Me Toads are in good company!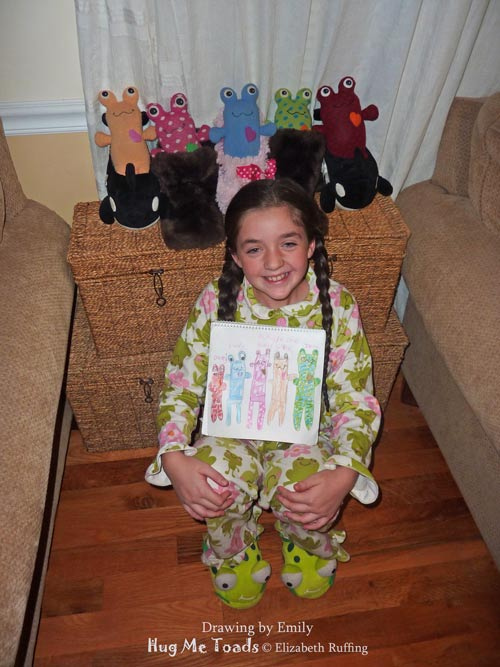 I love Emily's portrait. Look how she got all the details. I just love it. Thank you Emily! Say hello to Davey, Mary, Chloe, and company for me! 🙂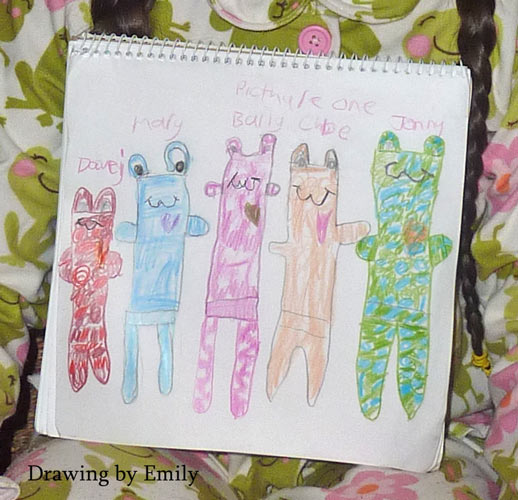 The kittens are now out into the bedroom adjoining the laundry room, during the day. They were excited to discover carpeting, and they love galloping around. They are just finishing up some medicine for Giardia, which they probably got from drinking yucky water when they lived outdoors.
Soon they can go mingle with the other kitties. Phoebe and Bertie both went to the vet and had their vaccines. Phoebe got her blood test and doesn't have either leukemia or FIV. They didn't like their vet visit at all, but they seemed to forget all about it in no time, once they were back home.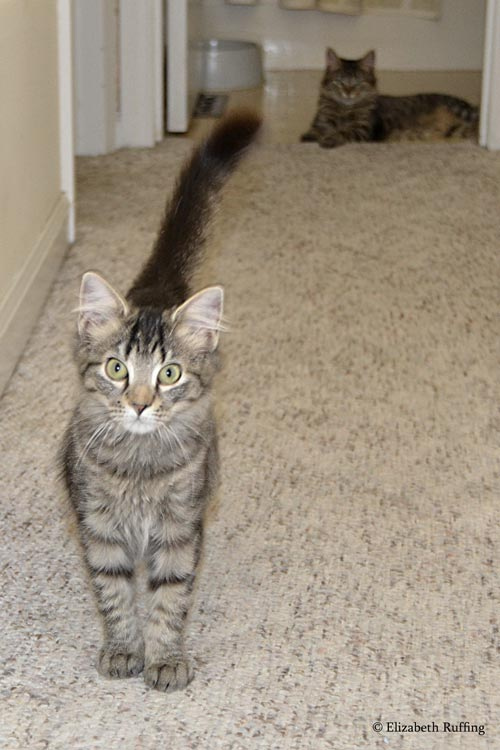 Phoebe (below) is looking contented now. She doesn't look like a scared kitten anymore, most of the time. She still doesn't like to be petted, but she looks happy to see us, and likes to watch us. Bertie (above) is friendly and sociable. She isn't keen on being picked up, but she loves to sit in my mom's lap.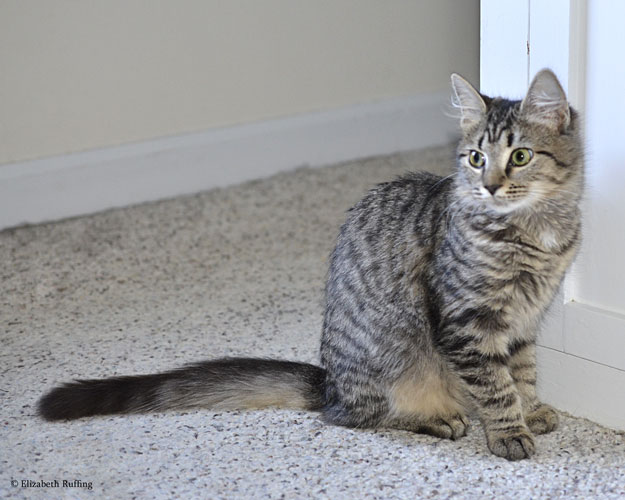 They are wonderful at playing together. They will each take one end of this string and pull on it. They've been having lots of fun, trying out new things, like sitting on the bed. They'll get spayed and microchipped later this month. They'll get their second booster shot then. Soon they will be running all over the house.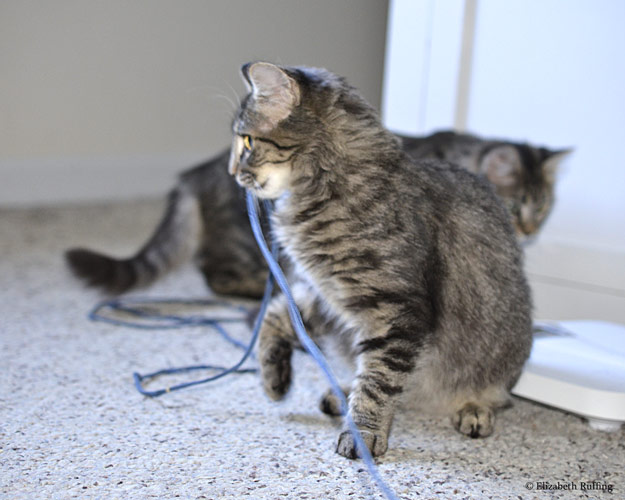 Josephine has been waiting for the kittens to come out and play. She has plans, I'm sure, to show them her own games. Josephine has always been an enthusiastic computer-helper, and now she has discovered she likes to help me with my crafts projects too. In addition to stealing ballpoint pens, she now attempts to steal the sports tape I use to protect my fingers when I sew. I won't let her have it, no matter how cute she is.