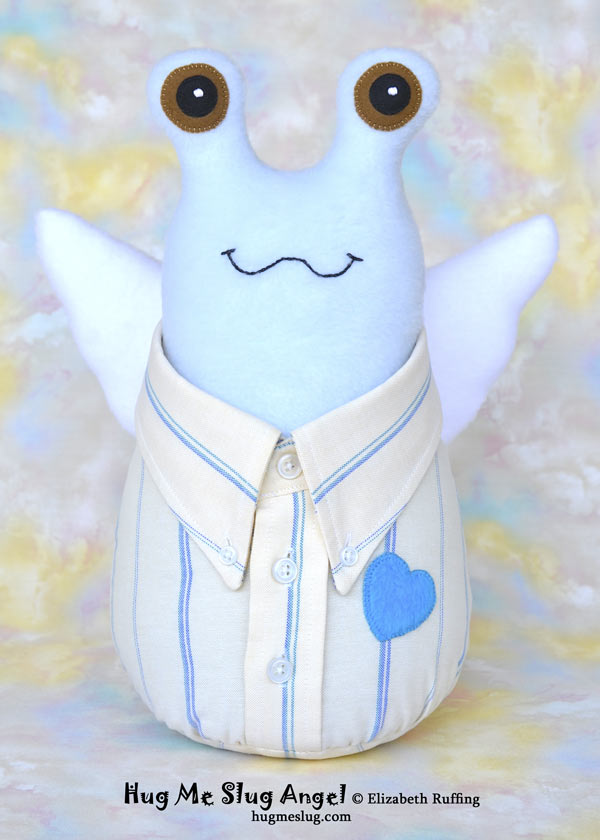 Last month, I received a special request from an especially nice, long-time Hug Me Slug adopter. She sent me a photo of her collection of slugs and told me, "Their wiggley smiles always remind me that no matter what is going on, good or bad, there's always something to be thankful for and smile about."
She had even gotten a pale lavender slug for her mom.
She shared the sad news that her father had recently passed away, and asked if I could make a Hug Me Slug Angel as a companion for her mom's Hug Me Slug. She asked if I might use part of one of her dad's shirts for the heart and the bottom. Her parents' anniversary was just coming up. I said sure.
She sent me a family photo of her parents and herself, together, and told me what a wonderful man her dad was, and how the world is a little better a place because of him. I could see he was a kind man, just like she is. She struck a chord when she shared, "If you make people's lives that you came in contact with through the years a little easier, a little more joyful, more peaceful, more loving, maybe that's living a full life. Maybe that's the true 'success in life'."
She sent me his shirt in the mail, and when I unfolded it, I remembered another photo someone sent me, of his Hug Me Slug wearing his shirt. I wrote to her and told her I had a semi-crazy idea. I knew it would take some fiddling, but I was certain I could fit the shirt to the slug. I used to make my own clothes, after all.
I had to remove the collar to fit the side seams and get rid of the shoulders, and I needed to move the collar buttons. I also added a new buttonhole in the front. I think he came out looking sharp. I added a heart on the outside of the shirt.
I made a personalized tag for him, with "Birth" and the date, and "Received Wings" and the date, on the back, at her request, which I thought was just right.
I sewed his puffy white wings to the back of the shirt, so the top could still be opened and pulled down, to make caring for him easier. I weighted his bottom with a pouch filled with Poly-Pellets, to keep him from tipping. I hope she and her mom will love him, and that he will provide some comfort and some smiles.
Update: Please visit my next post to see this angel in his new home with his adorable owner!
I also finished three little Hug Me Slugs and put them up over in my toy shop. My two most recent orders were for little pink slugs, both going to the United Kingdom, to different addresses. I always check my international addresses online, because USPS doesn't automatically verify them when I purchase my shipping. I like to be sure I have the city and province in the right order. I checked the most recent address, and found this lovely English manor house. What a lucky slug. She will have a beautiful view. My slugs get to go to the nicest places.
Pictured below is one view from my back door, not as glamorous, but with two cute members of my kitty fan club. These are two of the neighboring guys I was worried about last time I wrote. That is Scooter to the far left and Trouble to the right, sitting on my bags of garden dirt. He moved to the hood of the car shortly after. They made sure to come right over and let me know they were fine. They wait for me to come out in the evening.
Scooter wanted me to know he appreciated me and he gave me lots of rubs and head bumps.
They were closed up for a couple of days this past weekend too, and came running over as soon as they got out. It is sweet that they miss me.
Coming over to say hello has become part of their routine.
Trouble really, really wants to get some pets too, but he is shy about it. He gets close and meows and stares at me. He let me pet him in his garage, where he feels more secure, when I used to cat sit for them, and when I stepped in to do it when no one showed recently. Maybe someday he'll get the nerve to let me pet him outdoors too.
He likes me to tell him how handsome he is. He always comes running. So, he must like that a lot.