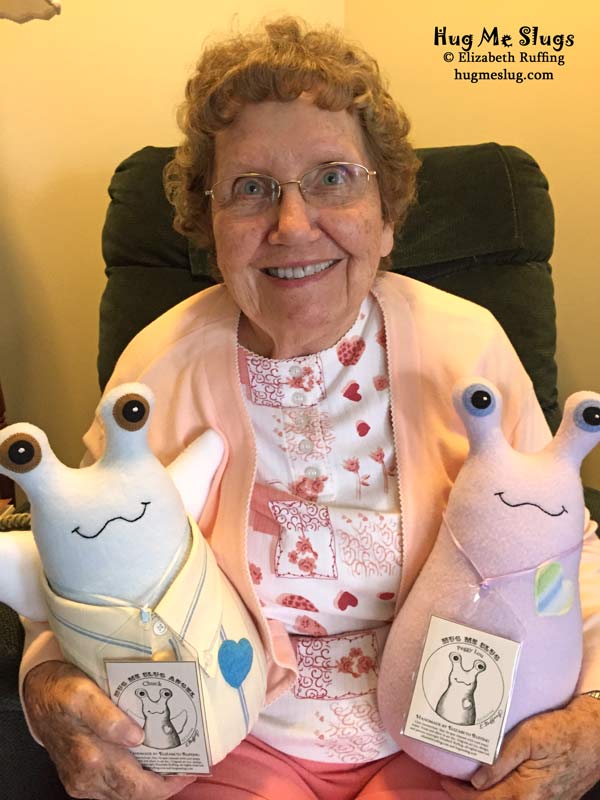 I was trying to decide whether I should add this photo to my last post about this special Hug Me Slug Angel, but since it made me so happy, I decided to share it on its own post. Here he is, united with his companion Hug Me Slug, and their mom, or my customer's mom. They were both gifts for her. She wrote to tell me her mom loves her Hug Me Slug Angel, who was made in memory of her dad, who passed away last Christmas. Their 57th wedding anniversary would have been this month. She says her mom is enjoying her new independent living apartment. She told me her mom has her slug angel in her living room there, but will likely be taking him out to share with other residents in the community. I hope he makes everyone smile. I enjoy thinking about the conversations with this adorable lady about her slug and the story behind him.
This is what toy making is all about, spreading some joy and some comfort, making someone feel good. That makes my day.
This is how my day begins, with these characters. Oliver Bunny waits for me to get up so he can have his veggies and his banana slice. Sometimes he gets super excited about this. Here he is, with his lips around the bar of his pen, letting me know he needs immediate attention. He was really taking a break from chewing on his litter pan, which is does to make a point. He turns to look at me, to make sure his efforts are effective. He gets what he wants, and then he comes out for the day to hop around.
And this lady below is usually asleep when I wake up, even though she has been yelling during the night lately. I am pretty sure she has hyperthyroidism, since our cats keep coming down with it as they age. I need to make an appointment to take her in for a blood test. I got an iodine test that people use on aquariums, but I don't know if there is anything to be done if I find iodine in anything, or what the safe levels are. It isn't regulated in water and no one I've asked has had much information. And it isn't necessarily the cause. The vet and the person I talked to at the local public health department both said there seemed to be a lot of cases of hyperthyroidism in cats in this area. It's more of a mystery.
Cats have continued to show up here, popping out of the woods behind my next door neighbor's house in the evening, and then running back. He doesn't want us to trap there, and Santana, our other neighbors' cat chases them away from our house. I am hoping his owner can lure them over to her yard, since that seems to be our only option for catching them, to get them fixed. I count four adults so far, and surely one is a female, probably the mom of the kitten that showed up. If this goes on any longer, there will be more kittens and my neighbors will have a colony behind their houses. I don't have the funds to take care of that situation. They are going to have to come together. If the cats get fixed and vaccinated, it will be okay, but that has to happen.
I'm sewing through stacks of fleece, trying to get more colors of Hug Me Slugs together. I get sleepy when I sit at the sewing machine. Watching the needle go up and down is hypnotic. It is so much easier to stay awake with a movie to watch. I will be able to do that when I move on to stuffing and hand sewing. I also need to take my sewing machine in to be cleaned. I thought I was a year behind, doing that, but Facebook showed me one of those "4 years ago today" posts, and there was my machine, just back from servicing. Oops. There must be a lot of fuzz inside from sewing all that fleece!