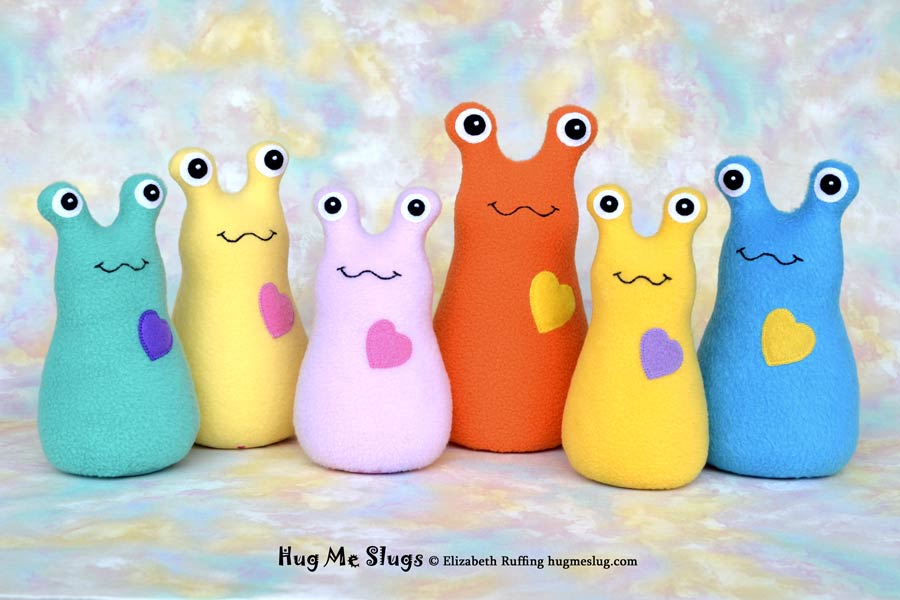 I have a new group of Hug Me Slugs over in my toy shop. These are 7, 8 and 9 inches tall, in more pretty fleece colors.
I've had a couple of very touching emails along with orders from repeat customers/slug adopters recently. I'll share one now and one next time. The mom of these three little boys is expecting another little boy. Her three sons all insisted that he needed a Hug Me Slug too, and so she ordered one before his arrival. Theirs is one of my favorite photos. She says they love their slugs. One slug looks good enough to eat.
Oliver Bunny prefers to eat carrots. He might lick a Hug Me Slug, given the chance. He loves banana slices most of all.
Carrots give him orange lips, like Popsicles, not that he eats Popsicles. He might, if I were to make one from a frozen banana.
When I am done sewing for the day, I take Jude for his evening walk. He whines incessantly, if I don't. He also cries when our cat neighbor friends don't come to visit. Right now, their owner is be away, and they are locked up. No one come has to look after them, either Friday or Saturday, which makes me worry. I offered to do it myself, as I used to look after them, but last time a kid from the neighborhood came eventually, for two minutes. Unfortunately, he was someone who, along with his family, were responsible for some very upsetting animal-related incidents, some that were personal to me. They don't care about animals. I care about the cats, and took good care of them, and I did it for free. I'm trying not to think about it, but I don't understand it.
Mr Santana, this big orange boy, another neighbor kitty, was all matted up. I was surprised he let me take a bunch of them out. He looked happy to be rid of them. I was glad I didn't get bitten this time around. He got himself into more trouble last Monday night. This time, he got a nasty bite, from another fight I guess, which looked terrible. Thankfully, it healed up on its own.
In more neighborhood kitty stress news, another kitten showed up across the cul-de-sac, which makes me feel extra bad about being unable to trap either of those boy cats last month, in case there is an unspayed female they showed up to visit. Kitty drop-offs seem to be an annual occurrence here, and a year-round occurrence in the area. Oliver Bunny was set loose by someone and found in our back yard last year.
These are Jojo and mama Bindi, who were abandoned here three years ago this August. As you can see, they are doing fine. They are much rounder than they used to be. They are indoor kitties, as all of ours are now, aside from Jude during his evening walks.
I wish people would be more responsible about animals and more helpful about getting them fixed. The cumulative effect is so distressing for the animals and the people who try to look after them. I've had at least two dreams, since the latest kitten showed up, where I've been searching for and finding a kitten. Once one gets dropped off, you hear them everywhere.
If you can, help out the rescues, and the rescuers. Please adopt, and spay and neuter. This year has been crazy for all the cat-helping people I know.
Update: After seeing no one come to take care of my neighbor's cats, I asked other neighbors, who also had seen no one, and then went to take care of them myself. They had no food, and the envelope with the payment for the kid who was supposed to be cat sitting was still under the clip holding the the food bag closed. So, he obviously hadn't stopped by. The water hadn't been changed and the litter box hadn't been cleaned. The cats were so happy to see me. I gave them food and pets, cleaned up a little, and went back the next morning with my mom and a neighbor who lives on the other side, while I cleaned up the rest of the way, which took a while since nothing had been done. The envelope was still there, and nothing had been cleaned any more than I had left it. I left a note saying what had happened, but never heard a word back, didn't even receive thank you, except from the cats, who were obviously grateful. The kid finally made an appearance, not long before my neighbor came back from a long weekend. I checked and he at least had the decency to leave the payment behind. All quite disturbing.