Description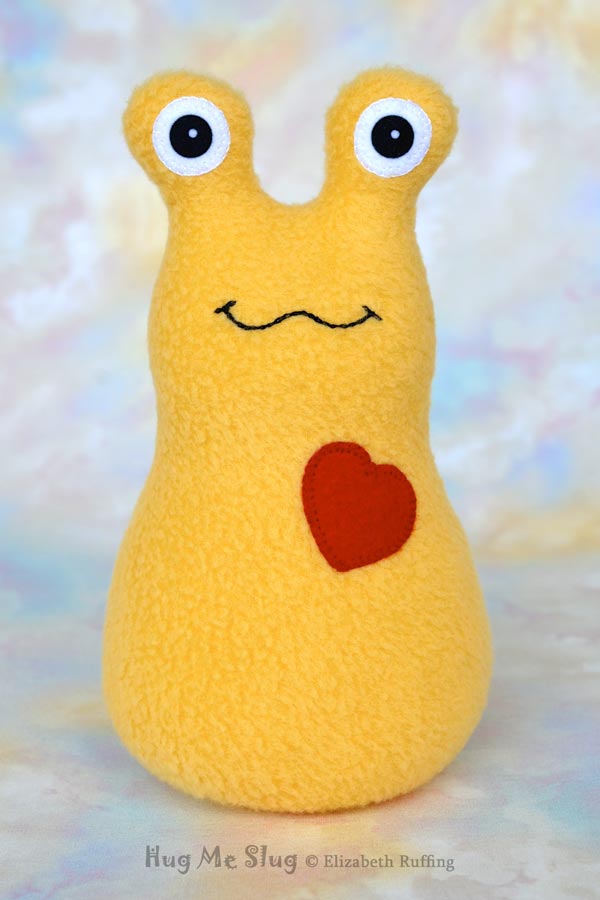 Hug Me Slugs have love to give. Lots. And they're always happy to give it.
Hug Me Slug stuffed banana slug plush toys are handmade by me, Elizabeth Ruffing.
Hug Me Slug stuffed animals are meant to be displayed, loved, played with, and most of all, hugged. Hug one, and you can't help but feel their joy. Their smiles are pretty contagious too.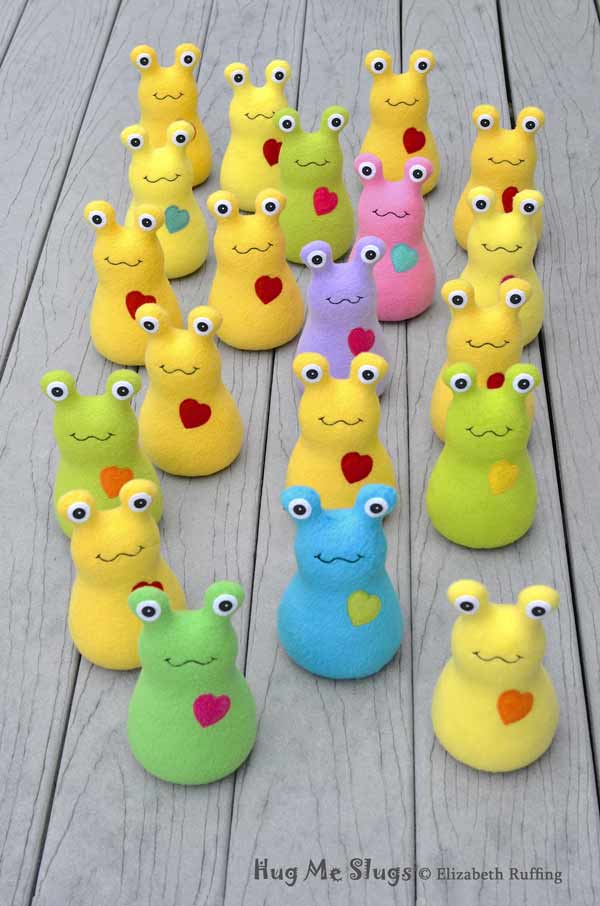 Hug Me Slug stuffed animals are created from my own original design and pattern. Their bodies are made of 100% poly fleece, which has been pre-washed and air dried.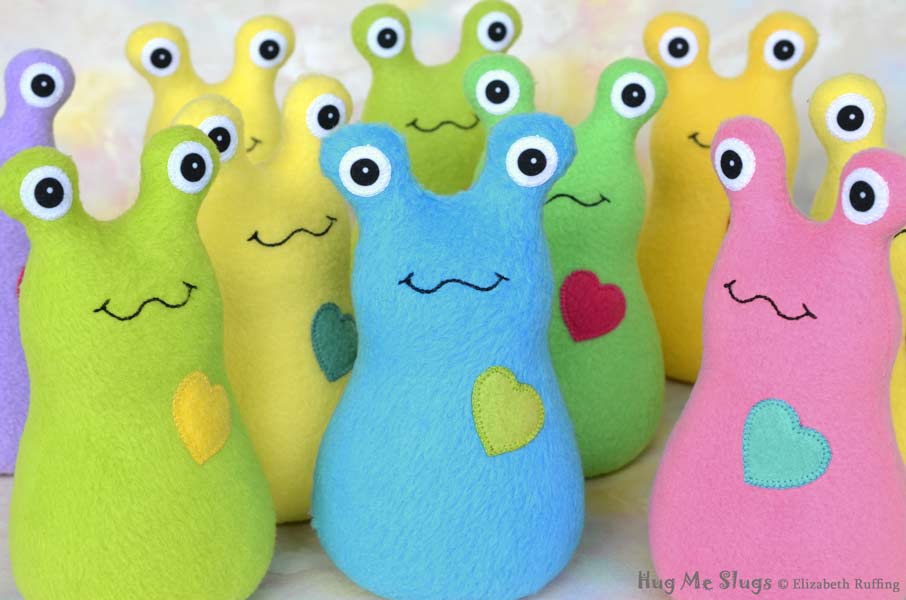 They have a circle of coordinating 100% cotton or cotton blend quilting fabric, which has also been pre-washed, on their bottoms.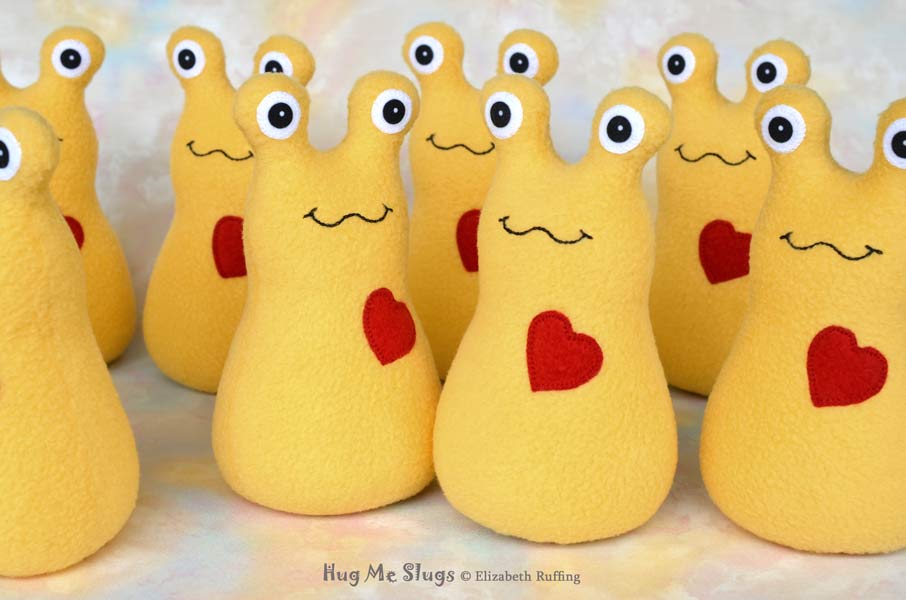 Each Hug Me Slug is hand signed on his or her bottom. That tickles!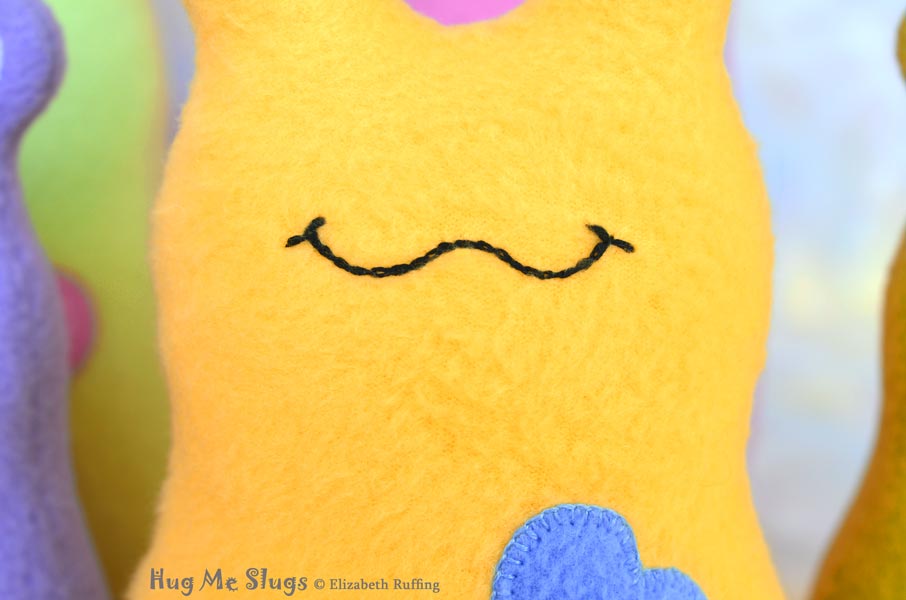 My fleece Hug Me Slugs have hand-embroidered smiles, sewn with a needle and embroidery floss, to make a chain stitch.
Their eyes and hearts are sewn on by hand, using embroidery floss, to form a blanket stitch around their edges.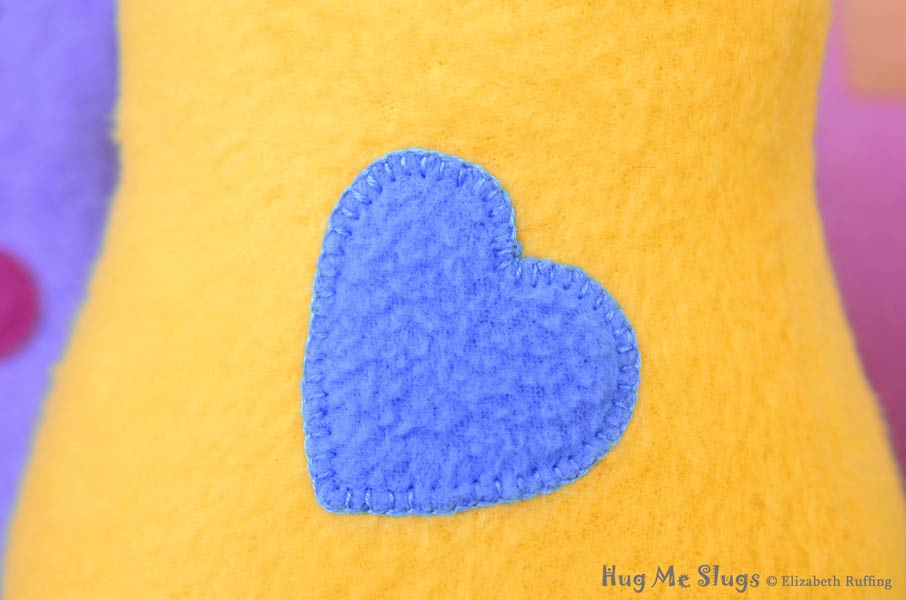 Their eyes have been custom-printed from my design, onto fleece, and individually sealed by hand with nontoxic Liquitex Fabric Medium.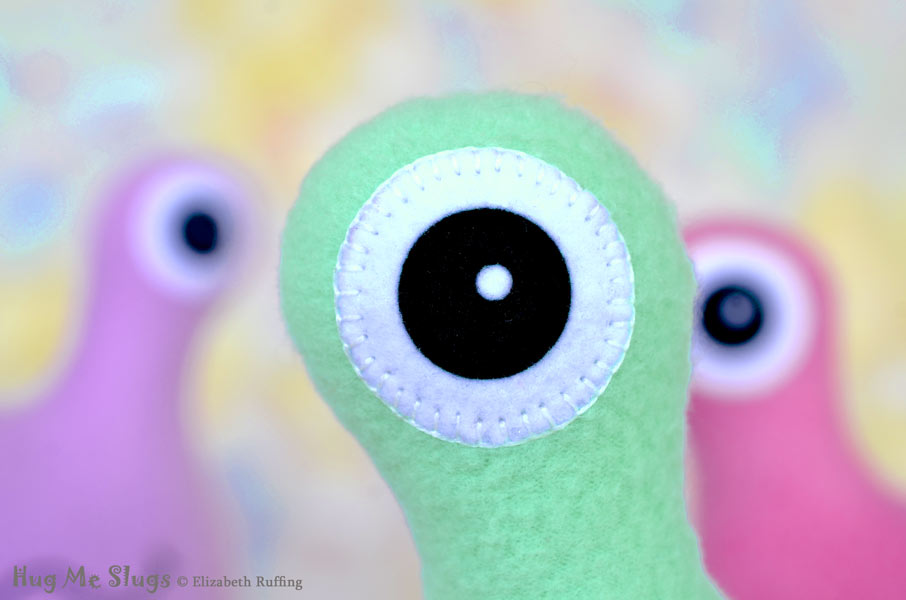 Hug Me Slug plush toys are stuffed with polyester stuffing. A doll needle is used to carefully move their stuffing around to form their sluggy shapes.
Each Hug Me Slug stuffed banana slug comes out a little different. Some are a bit chubby, and others more svelte. Each one is unique.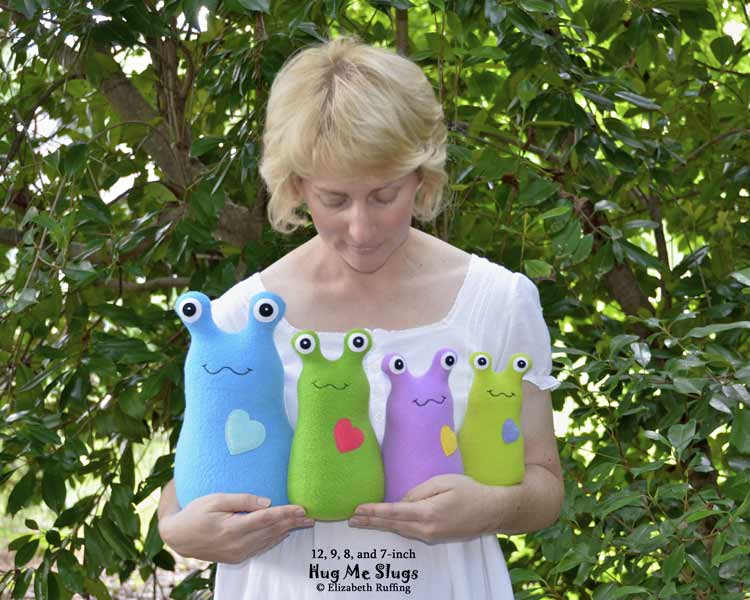 Hug Me Slug plush toys are quirky, fun, unique gifts for people of all ages.
Hug Me Slugs have welcomed new babies, celebrated birthdays, anniversaries, graduations, and all kinds of special occasions. They have also comforted and cheered people who needed someone to hug. Hug Me Slugs make great friends.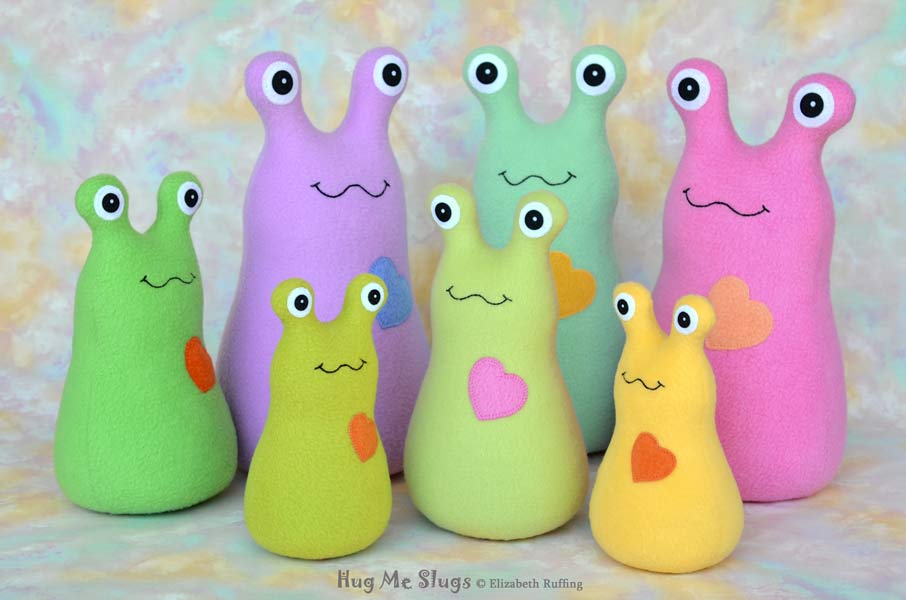 Hug Me Slugs are cute, sweet, whimsical additions to a baby's nursery, a child's bedroom, a college student's dorm room, or any room in the house where you'd like to have a happy slug smiling back at you.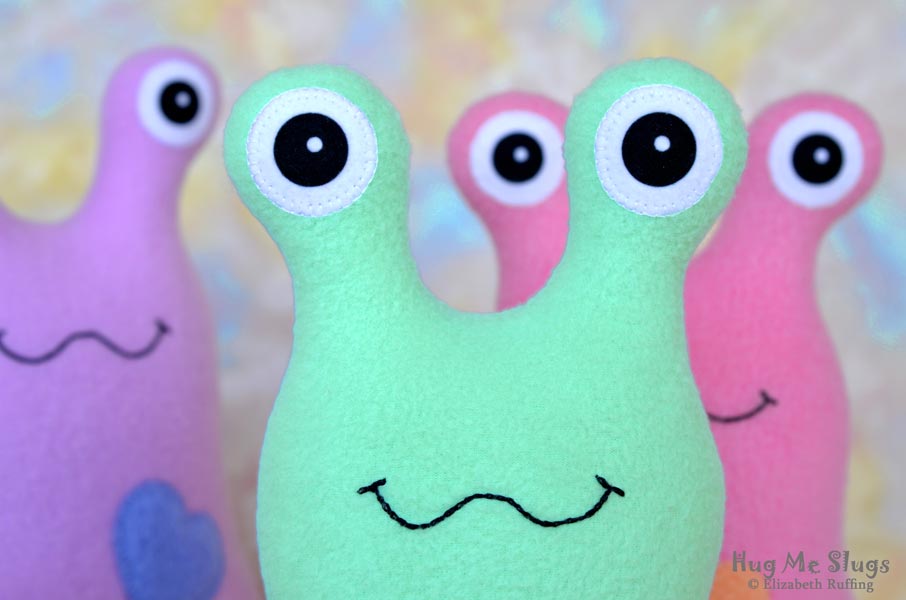 Photos of my 7-inch Hug Me Slug stuffed banana slugs in their homes, shared by their adopters.
If you have adopted one or more of my Hug Me Slugs, please send photos. I love to see them in their new homes!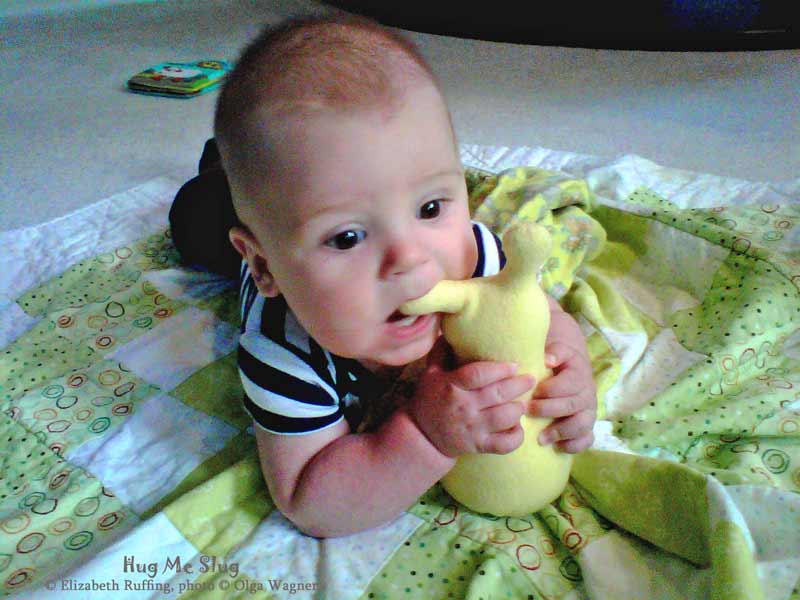 Hug Me Slugs have been loved by babies. I've been told their eye stalks are nice for chewing. My 7-inch fleece slugs are a good size for grabbing.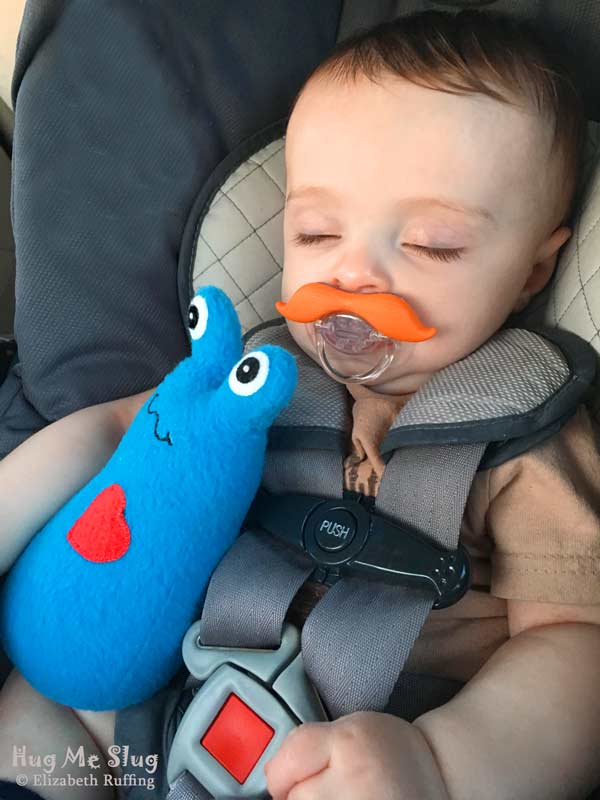 They make excellent napping buddies and comfort toys.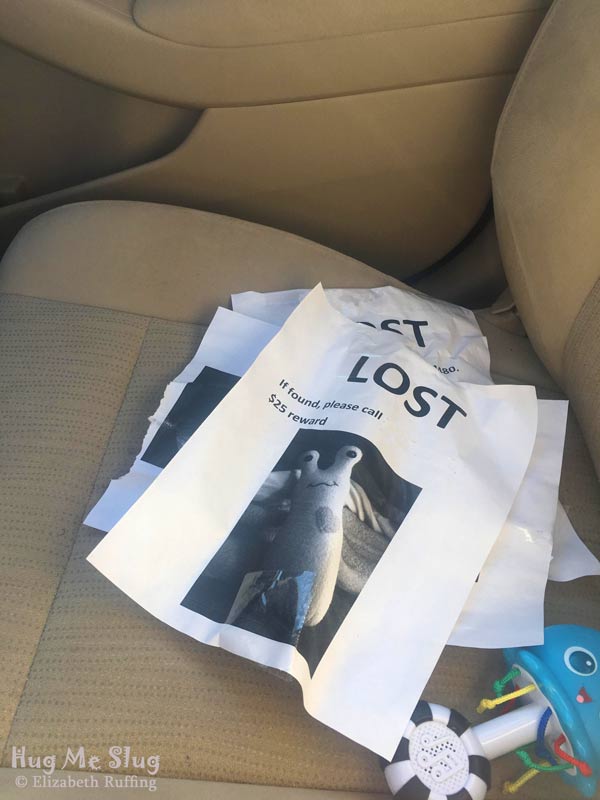 A couple of times, people have contacted me because Hug Me Slugs went missing, and they were very much missed. One customer put up signs all around her neighborhood, trying to locate one. Luckily, the Hug Me Slug was found.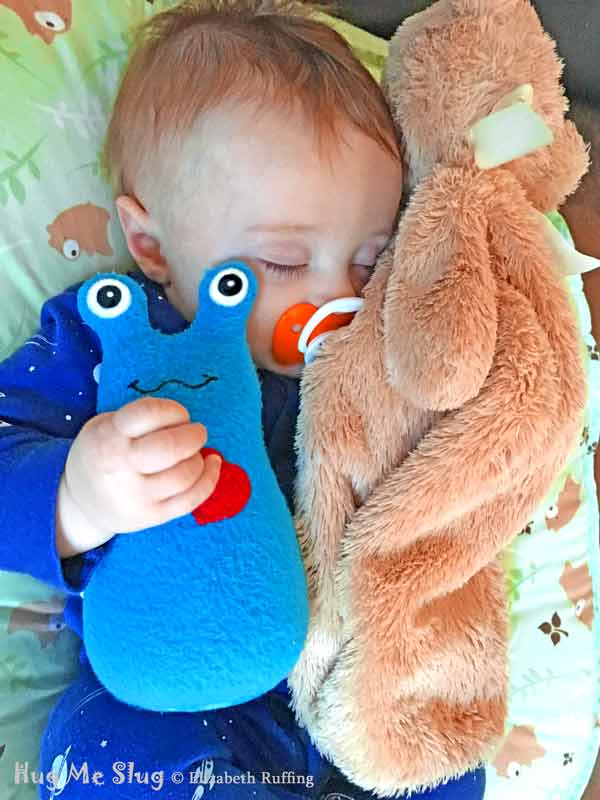 Once I made a new Hug Me Slug, to look like a missing one, because the Hug Me Slug was so missed. I believe that one turned up as well and then they had two slug friends.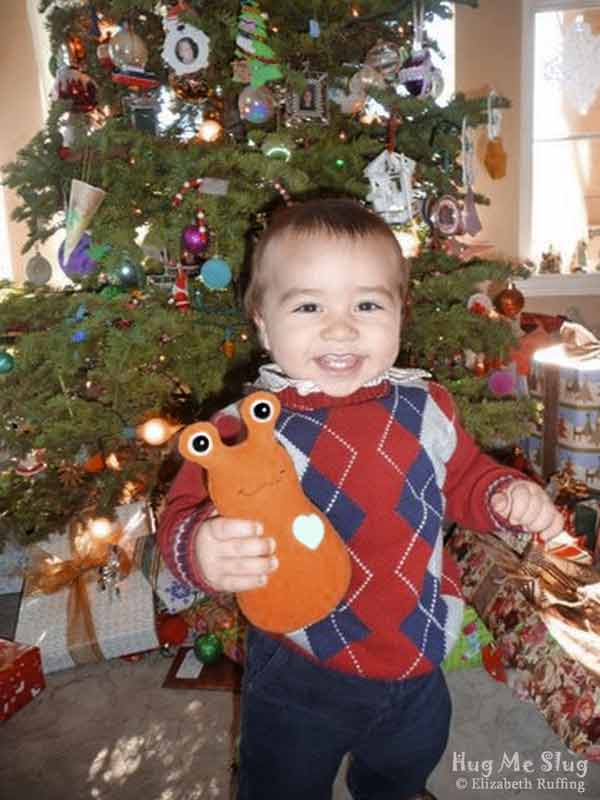 Hug Me Slug stuffed animals have been given as gifts to people of all ages. This joyful toddler looks super excited about his orange Christmas Hug Me Slug.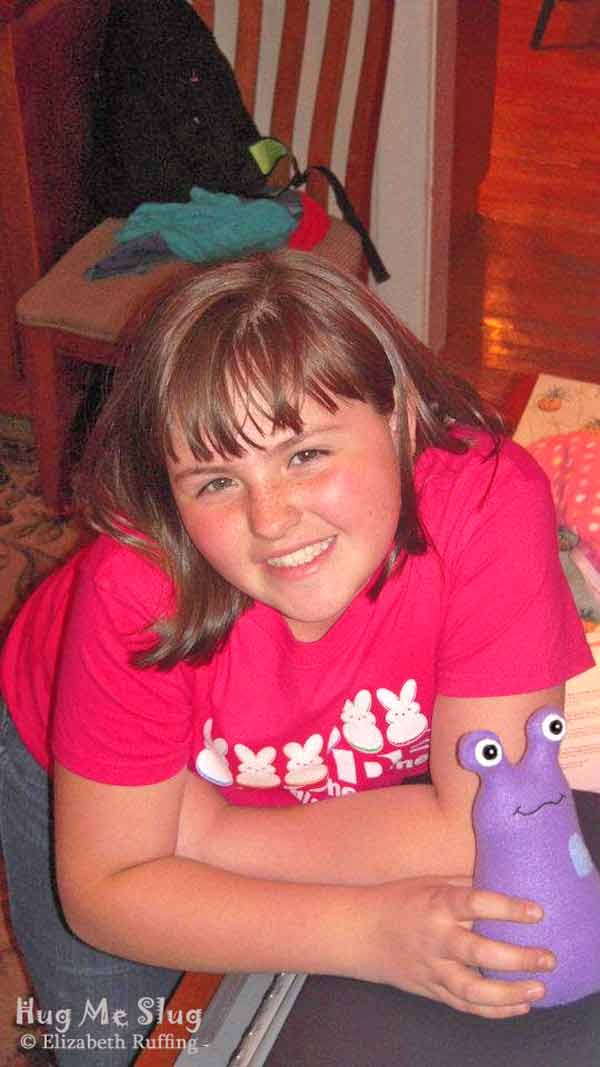 Hug Me Slug stuffed banana slugs have been given to boys and girls, who have loved their sluggy friends.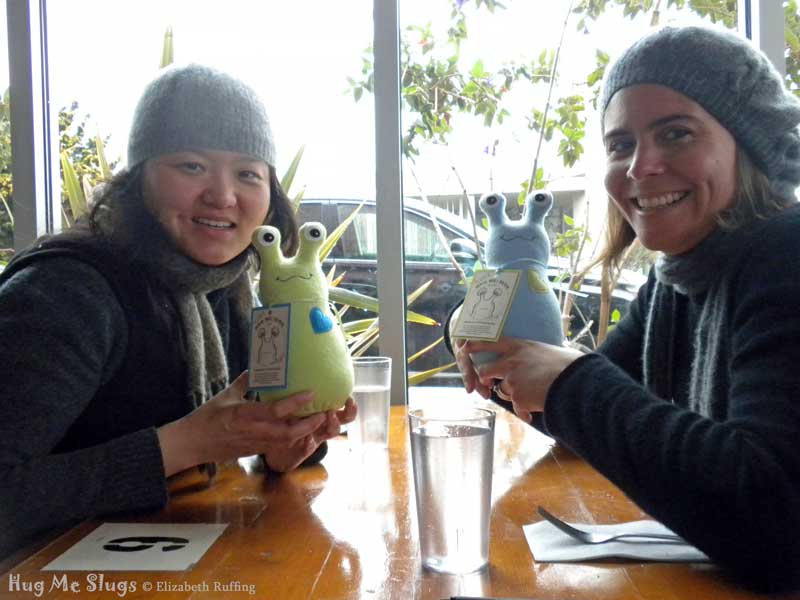 These two architecture students exchanged Hug Me Slugs, as gifts, and took them out to celebrate, after taking their "SLUG" exams. I was told those are a series of difficult tests they took over four years. Getting through any big exam is well worth a celebration, but a series of them…whew. I was happy to see my Hug Me Slugs got to celebrate with them.
Tips for caring for your Hug Me Slug.
Hug Me Slugs plush toys may be gently spot cleaned, rinsed with cool water, and set out to air dry. I use a wash cloth, or a good-quality paper towel, with a small amount of soapy water, to gently wash spots on them, if needed. Then I use a wet cloth or paper towel to rinse the spot, or if necessary, I hold them under a running faucet to rinse the surface with cool water.
Hug Me Slug stuffed animals are carefully soft sculpted with a doll needle, to achieve their shape, and so I avoid putting them in a washing machine and I avoid squeezing them to remove excess water. I let them sit on a counter to air dry, with a towel under them, if there is any excess water. If they look like they would like some grooming, once they are dry, a toothbrush has worked nicely for me.
Read about artist Elizabeth Ruffing here.
Find us on Facebook, Instagram, and Pinterest.
Hug Me Slug Stuffed Banana Slug Plush Toy by artist Elizabeth Ruffing, 7 inch
Average rating:
2 reviews
Feb 16, 2019
Hug Me Slug Stuffed Banana Slug Plush Toy by artist Elizabeth Ruffing, 7 inch