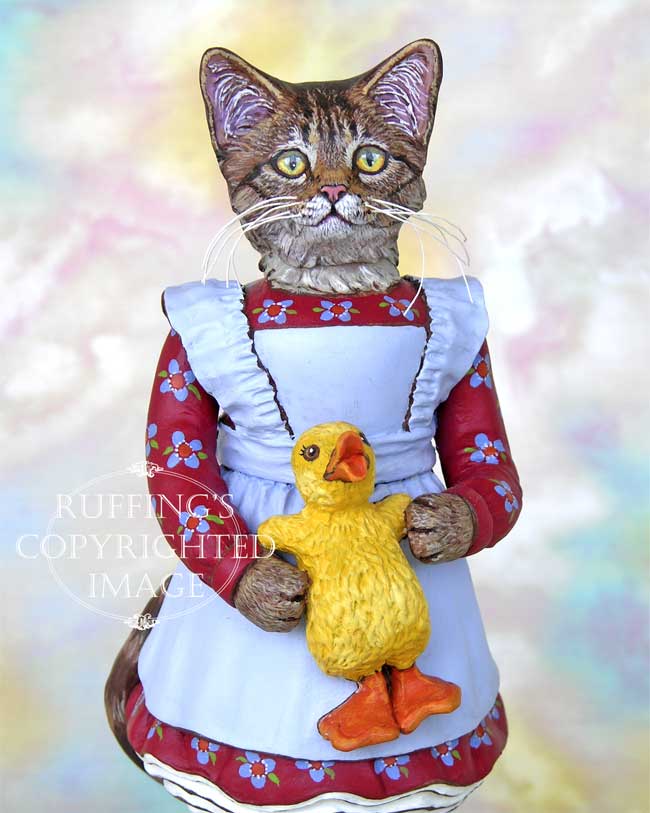 Christy is a sweet little tabby cat with a mischievous side.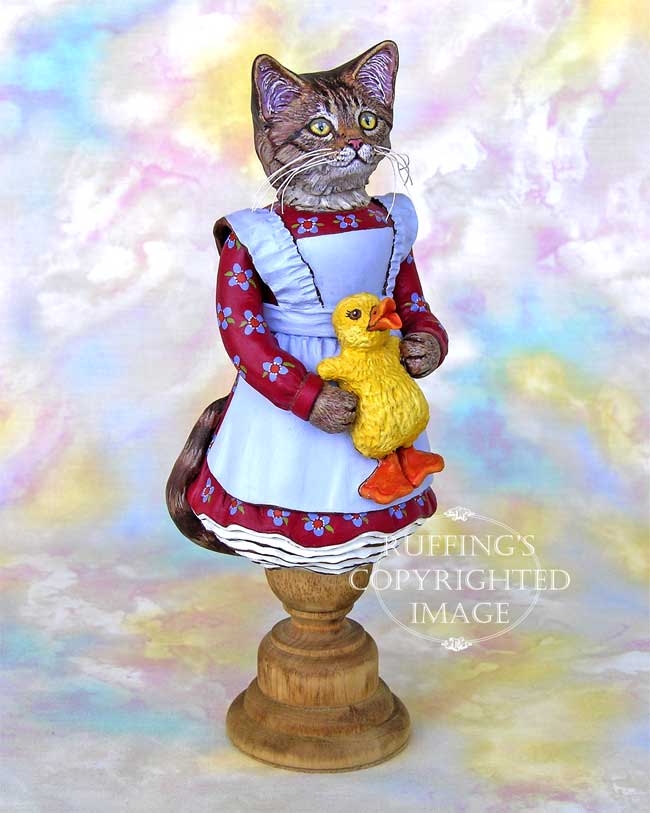 Her favorite toy is a yellow duck.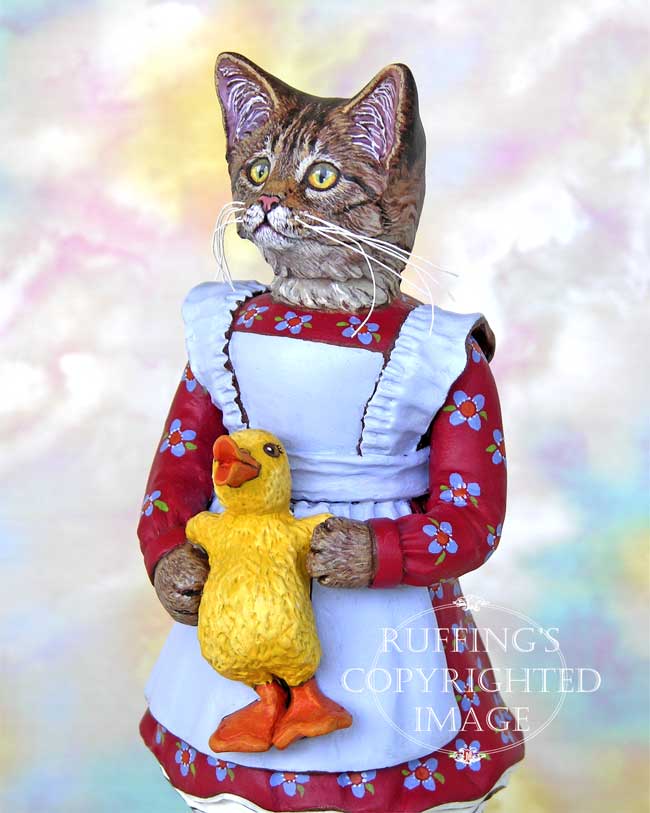 When she squeezes his tummy he makes a startling noise halfway between a quack and a cackle, and so she calls him "Quackle".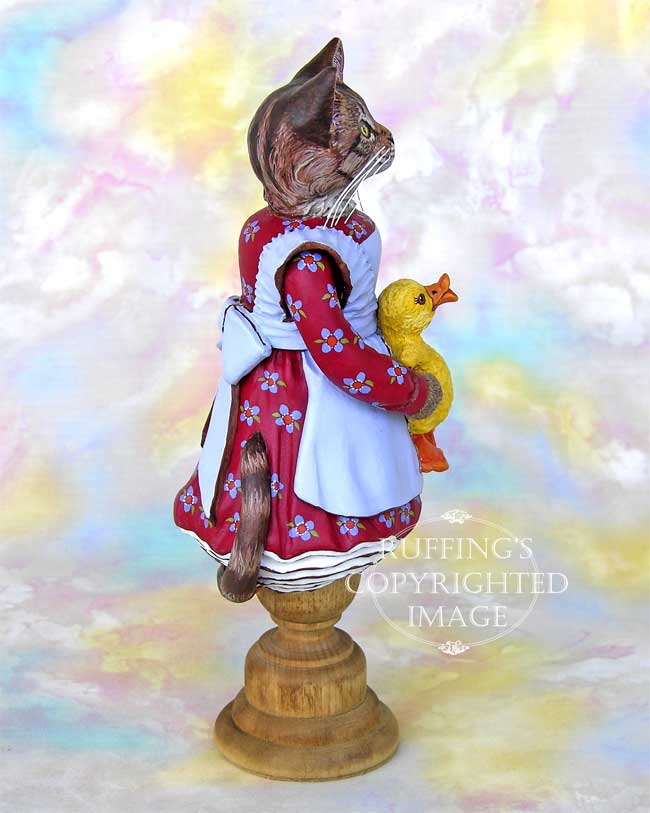 Christy has heard that ducks like water.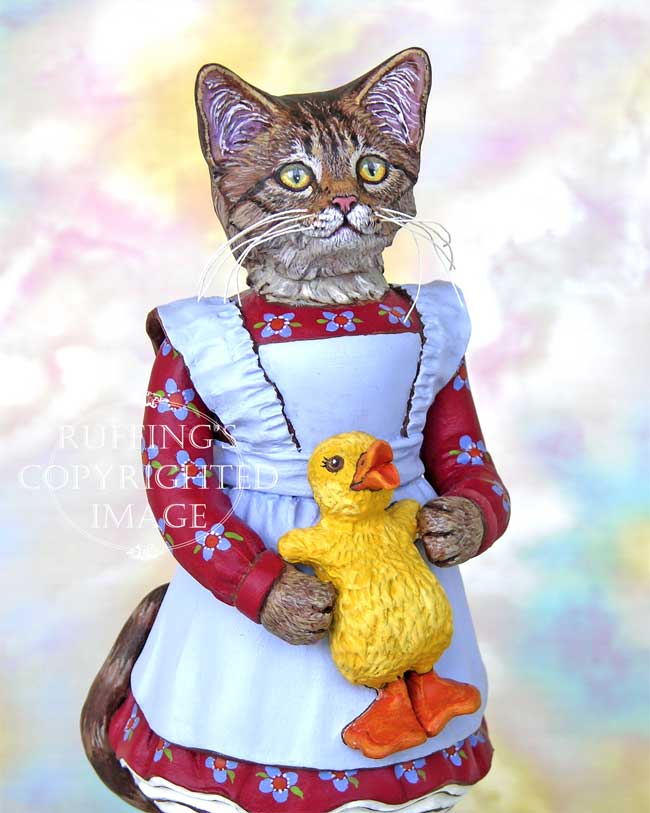 She's taken Quackle down to the pond a few times, but doesn't dare put him in the water. She's afraid he might float away.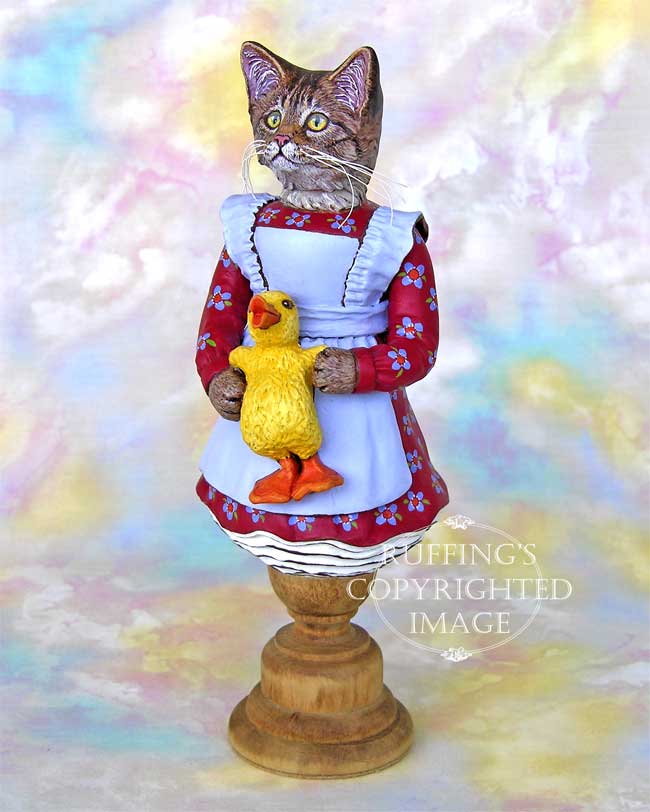 Christy 's friends wish he would float away.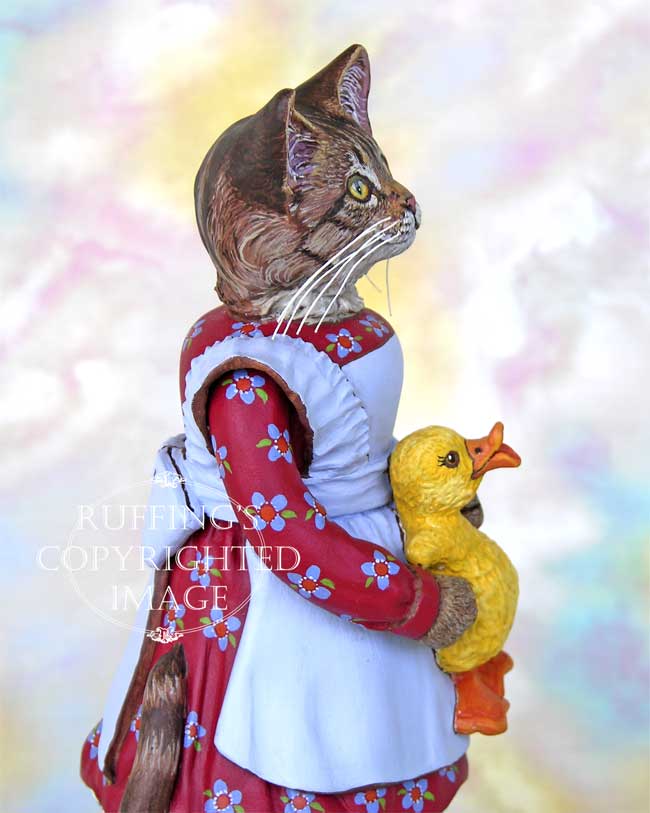 Christy thinks it's very entertaining to sneak up behind them and squeeze Quackle. They don't think it's at all amusing.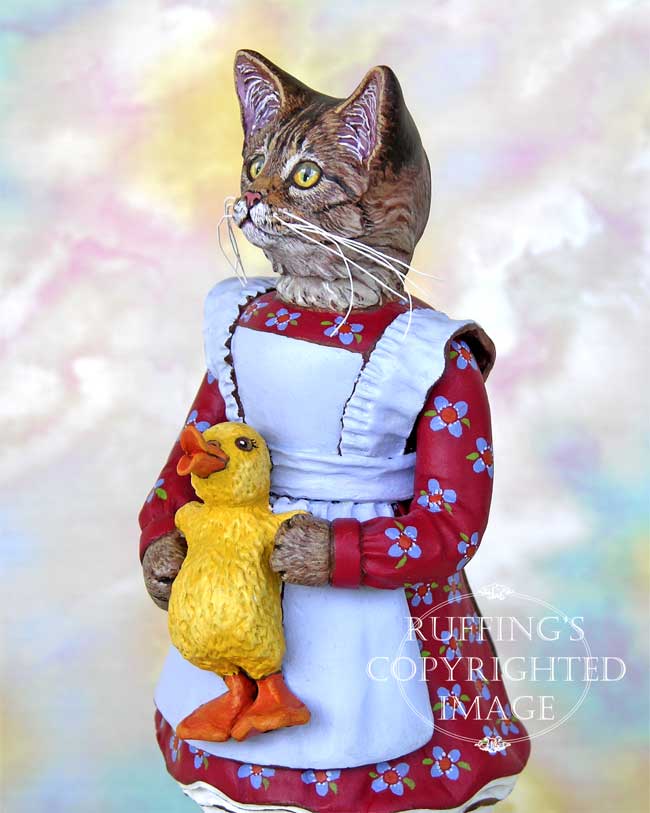 Christy's friends are going toy shopping on the Internet. They are going to order a dog that barks, a lion that roars, and a parrot that shrieks.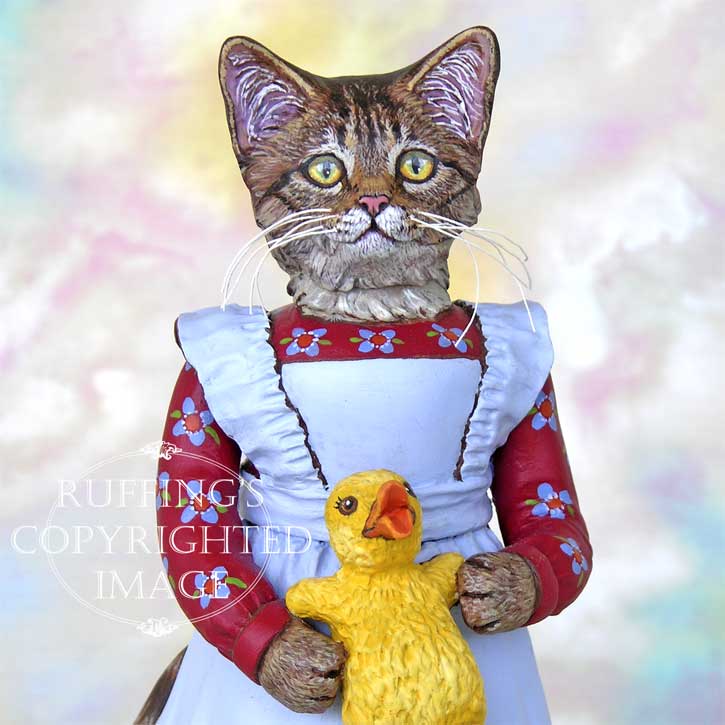 Christy's fur is painted in a multitude of tabby colors…silver gray, buff, ivory, and gold, with black stripes. Her yellow eyes have a touch of green, and her pretty white whiskers are made from stiffened cotton thread.
Christy's dress is country red with a pattern of blue flowers with orange centers. The dress is set off by a pale blue pinafore that ties in a big bow at the back. Her striped kitty tail emerges from the ruffled white petticoats that can be seen below her dress.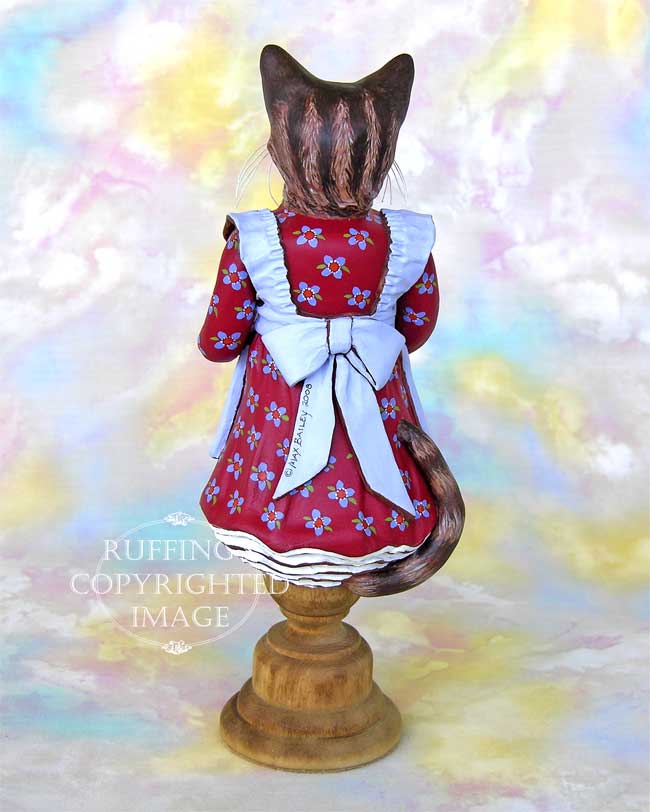 Christy is an original one-of-a-kind work of art and is meant for display only. No molds are ever used in my work. She and her toy duck are hand sculpted from paperclay, and she is entirely hand painted using acrylic paints. She is signed and dated and sealed with matte varnish for protection and preservation. Christy rests firmly on a turned wooden base that is stained and sealed in golden oak. She stands 9 1/4 inches tall. She comes with a hang tag, a certificate of authenticity, and a copy of her story.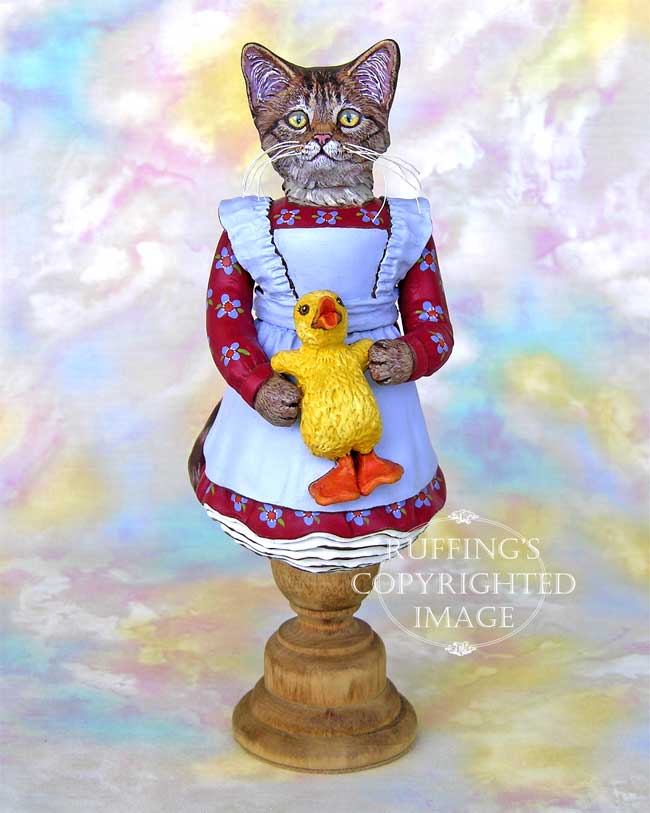 Christy and Quackle are available for $300.00. Please inquire to [email protected]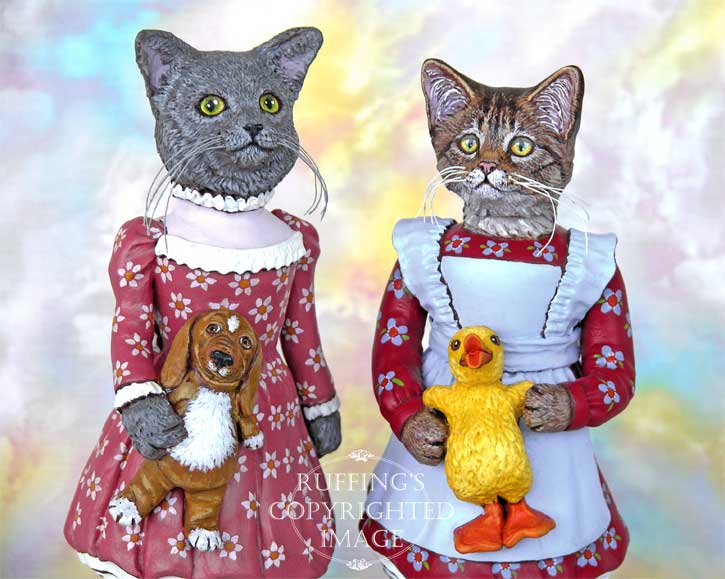 Christy and Quackle's friends are Natasha and Ivan (left).