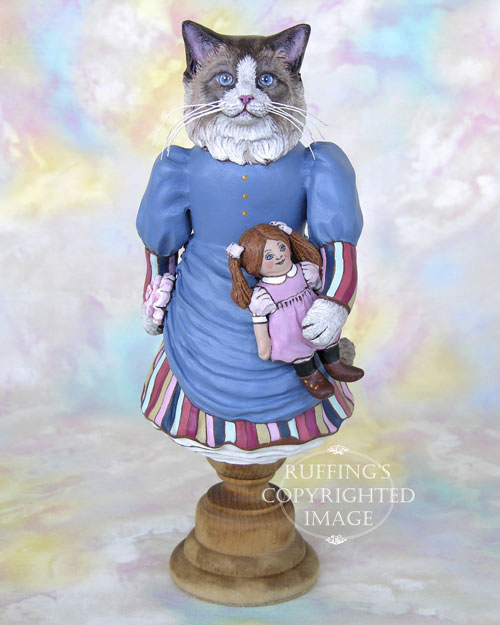 "What am I?" Maryanne asked her mama one day.
"You are a Ragdoll, my dear," her mama replied, looking fondly at her little daughter.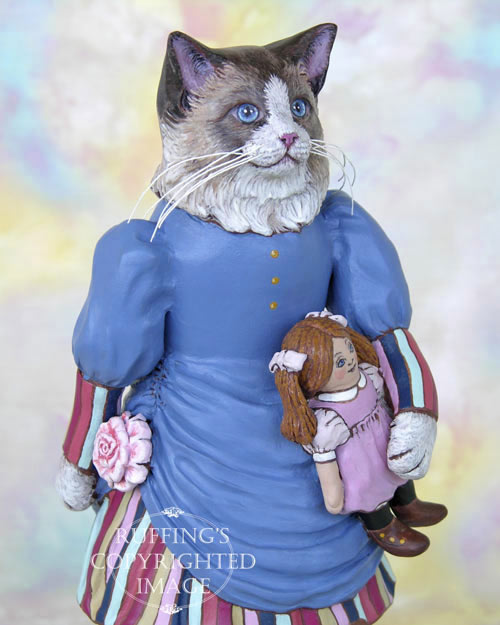 Once in a while, Maryanne wished she had someone to play with, such as a little sister. So when her mama asked her what she would like for her first birthday, Maryanne said "I would like a Ragdoll, Mama."
"I will see what I can do," her mama answered thoughtfully, which to Maryanne was a very good sign.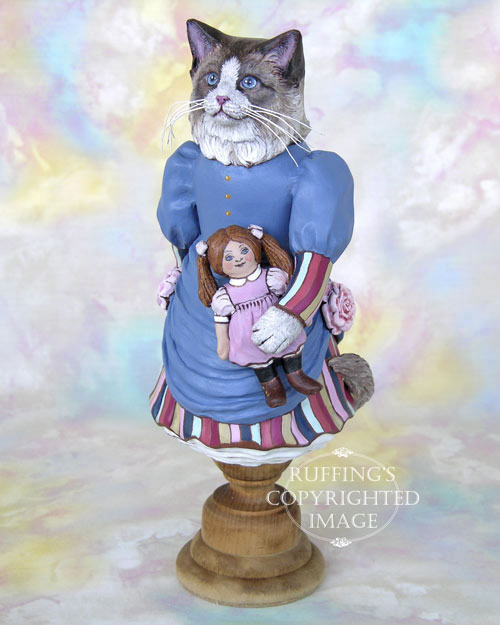 For the two weeks before her birthday, when Maryanne had gone to bed, she could hear her mama's foot on the treadle of the old Singer sewing machine, late into the night. She wondered if perhaps her mama was making her a special dress to wear on her birthday.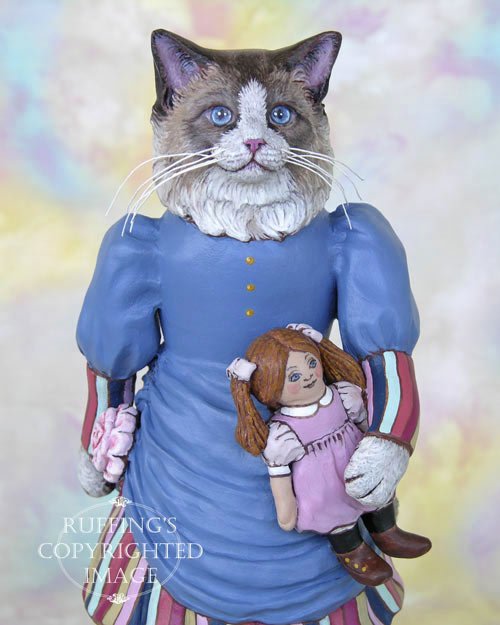 When the big day came, Maryanne's mama presented her with a large birthday box, which thrilled Maryanne to no end. Surely it was the Ragdoll she had asked for.!
"Her name is Margie," said Mama, as Maryanne took the lid off the box. "She is your very own rag doll."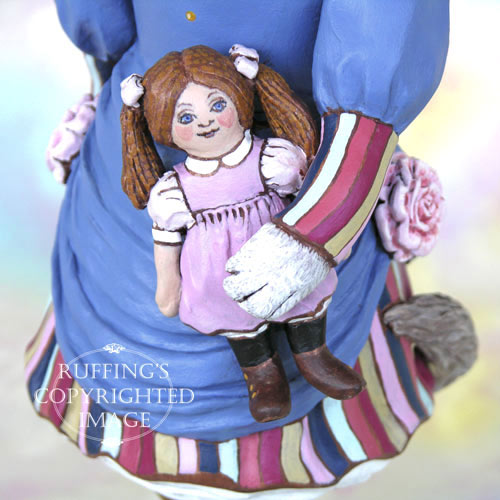 Because she was such a kind and considerate daughter, and because she knew her mama had worked so very hard, Maryanne hid her disappointment. Margie was not the little sister she had expected, but she said thank you and gave her mama a big hug.
Before long, Maryanne came to realize that her rag doll Margie was in great need of her assistance. The poor thing had no whiskers. And how was she to hear with those big long ears that were tied at the top with bows? Worse than that, Margie had no tail!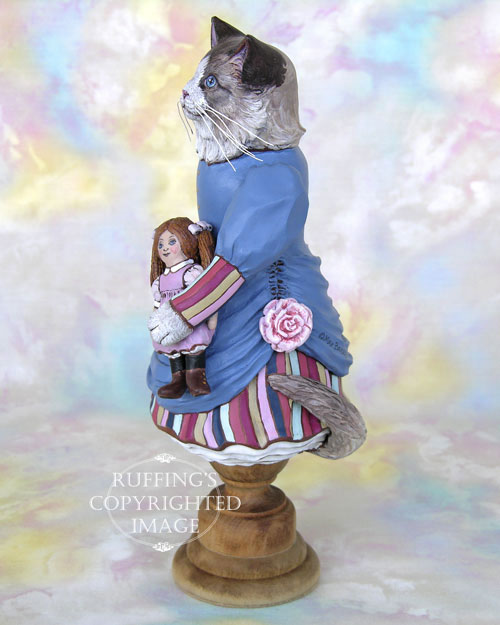 Maryanne took good care of Margie. She took Margie everywhere she went, and grew to love her quiet ways. Indeed, they became inseparable.
That is how Maryanne came to be known as the Ragdoll with a rag doll.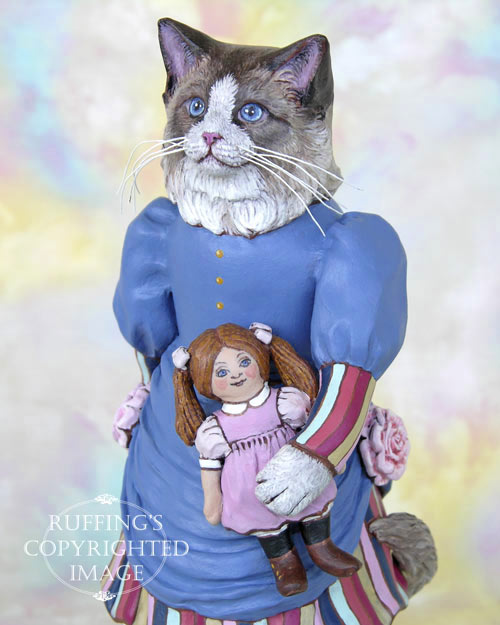 Maryanne is a beautiful bicolor Ragdoll cat with China-blue eyes that reflect her sweet disposition. She wears an old-fashioned blue dress gathered up at the sides. It drapes softly over a skirt striped with many colors to match the lower sleeves of the dress. Three gold buttons accent the front, and a large pink peony adorns either side.
Margie wears a pink jumper over a lighter pink blouse with a white collar. She has black tights and brown high-button shoes with gold buttons. Both Maryanne and Margie have white petticoats.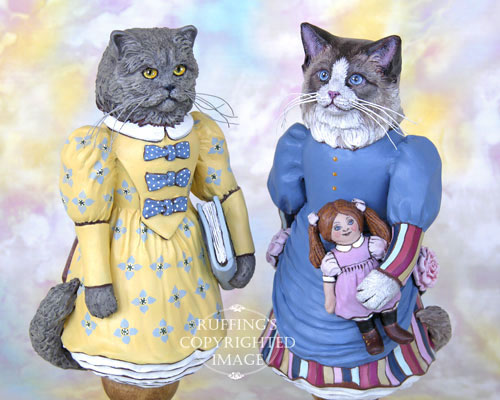 I hand sculpted Maryanne and Margie from paperclay, and they are original one-of-a-kind works of art, meant for display only. No molds are ever used in my work.
Maryanne's whiskers are made from stiffened cotton thread. Margie, of course, has no whiskers.
Maryanne and Margie are completely hand painted with acrylic paints, then signed and dated and sealed with matte varnish for protection and preservation. Maryanne rests firmly on a turned wooden base that is stained and sealed in golden oak, and she stands 9 inches tall. She comes with a hang tag, a certificate of authenticity, and a copy of her story.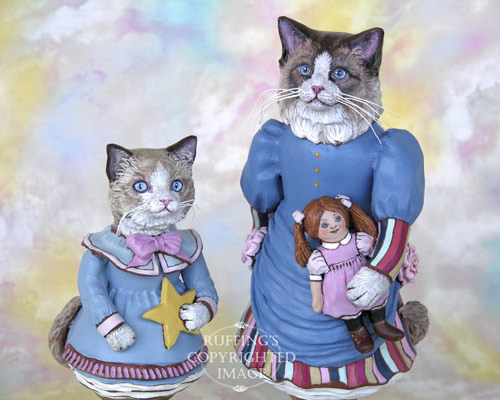 Please click here to visit Maryanne's adoption page.
Maryanne's kitty friends are Hyacinth the Blue Perisan, and Felicity the Ragdoll Kitten. They are not included.
We can be found on social media here: Facebook, Instagram, and Pinterest.