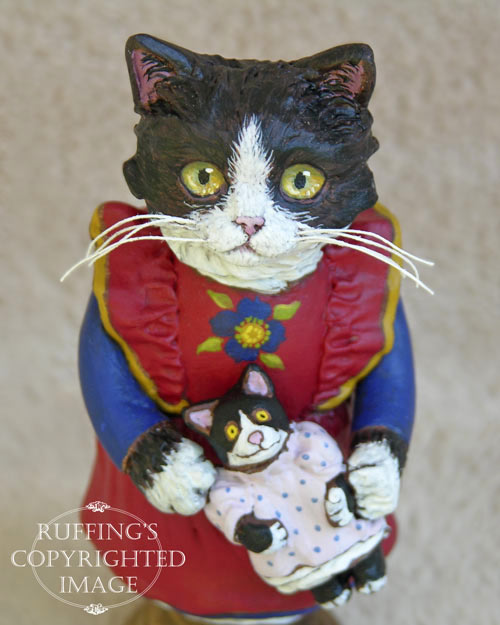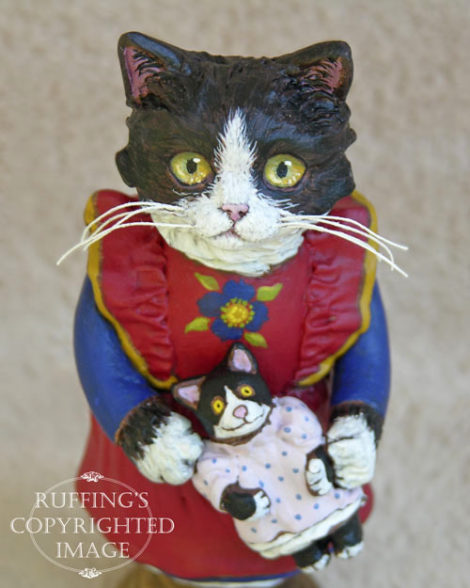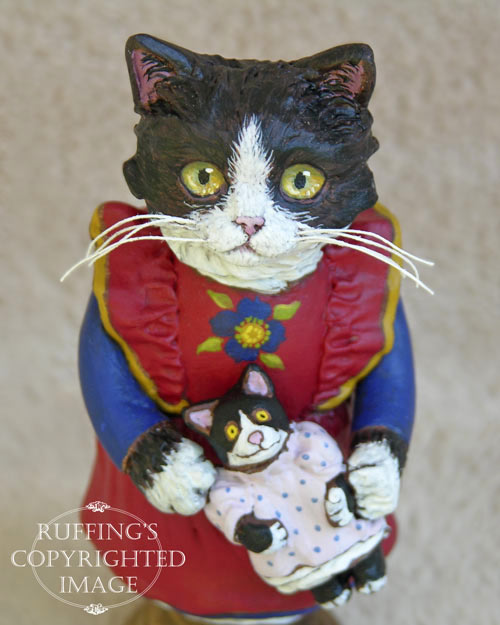 Emmy is an original, one-of-a-kind anthropomorphic black-and-white tuxedo cat art doll figurine, hand sculpted in paperclay and hand painted by artist Max Bailey. Emmy stands 4 1/4 inches tall.
Emmy's story:
This is Emmy, and she's a tuxedo kitten.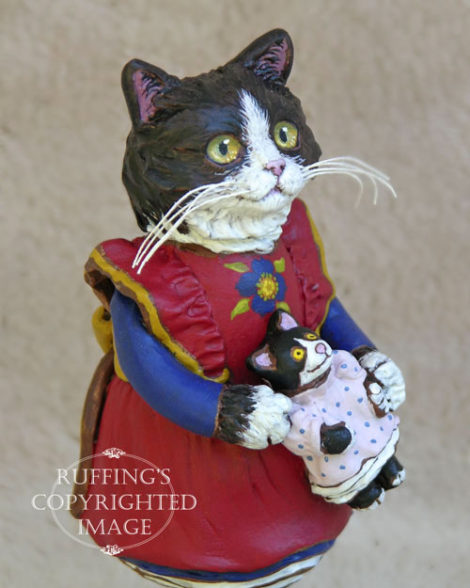 Emmy's eyes are big and yellow and filled with awe and wonder at the world.
Early every morning, Emmy takes her little kitty doll and rushes to the window to watch the sun come up, and another new day begin.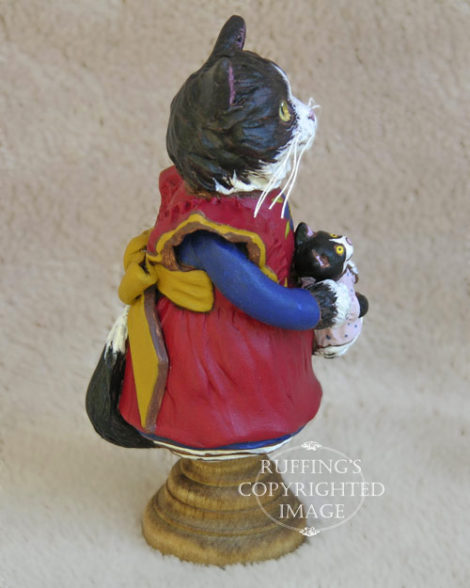 They listen to the birds singing in the trees, and watch the puffy white clouds drift by.
"This is going to be a great day!" Emmy tells her doll, who always agrees.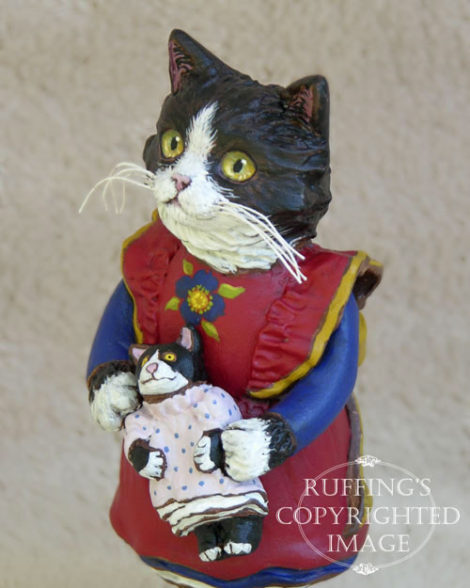 Emmy is dressed in a country red pinafore banded in gold, with a big gold sash that ties in a bow at the back. There is a pretty dark blue flower on the front of her dress that matches her sleeves. Blue and white petticoats show beneath her hemline. Emmy's little tuxedo cat doll wears a pink dress with blue polka dots, and she has white petticoats.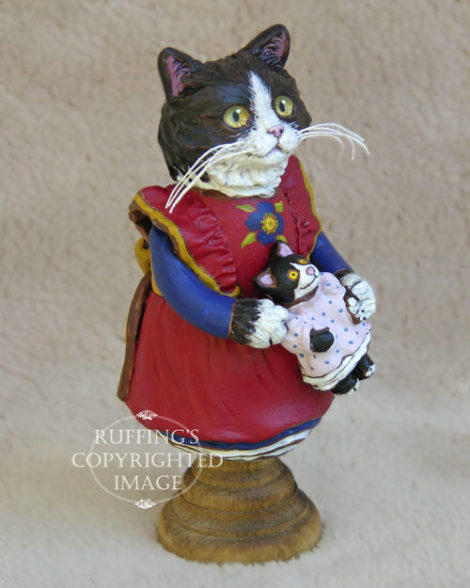 Emmy is an original one-of-a-kind work of art, and she is meant for display only. She has been free sculpted, and no mold was used to make her. She and her doll are hand sculpted from paperclay, and entirely hand painted using acrylic paints. Emmy's whiskers are made from stiffened cotton thread.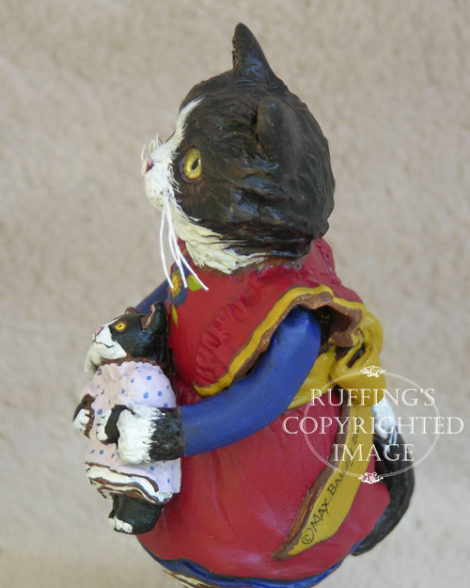 Emmy is signed and dated, and sealed with matte varnish for protection and preservation. She rests firmly on a turned wooden base that is stained and sealed in golden oak.
Emmy is an itty bitty kitty. She stands only 4 and 1/4 inches tall.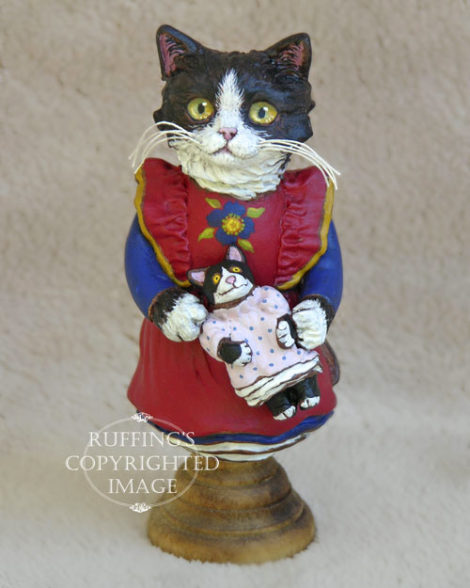 Update: Emmy has already been adopted. Thank you!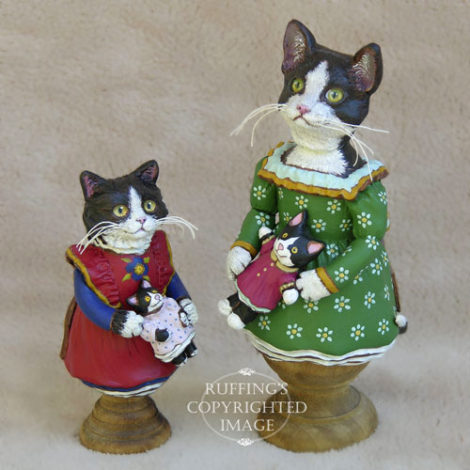 Emmy's kitty friend is Wanda the Tuxedo Cat.