My "Rabbit Dances" print was included in this "Cool Artists and Snowflake" Etsy Treasury today. Thanks, Iris, for including me!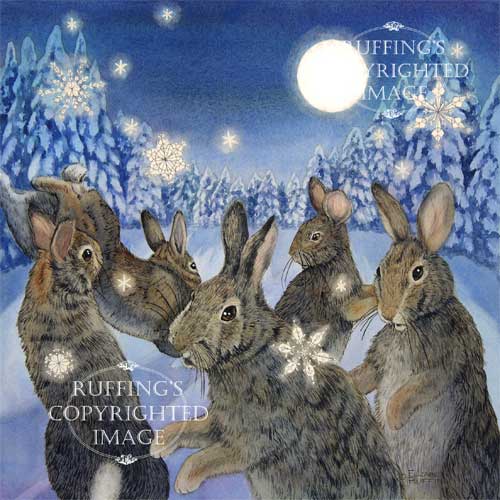 I'm thinking of adding some more print sizes over on
our website
, so that there will be more options to fit standard-sized frames. We stopped at
A C Moore
yesterday so I could see which sizes were more popular, or available. The most popular smallish sizes are always 8 x 10 and 11 x 14 inch frames. I've made the smaller prints on 8 1/2 x 11 since that can easily go in either an 8 x 10 or an 8 1/2 x 11 mat and frame set. I may add an 11 x 14 paper size, and possibly 12 x12, and 12 x16 paper sizes. We have some prints that will fit 10 x 20 as well. I'm still fixing the pages that are on the site, but if anyone is interested in other paper sizes for prints,
just contact us
.
Today I went down a list of miscellaneous things I needed to do that I hadn't gotten to yet, including cleaning up and vacuuming my workroom. Believe it or not, the above picture is the "after" photo. I should probably invest in a snow plow so I can clear a swath to get in there from time to time. After cleaning, washing, packing, shipping, and I can't remember what else, I felt the need for some cookies.
Fortunately, "make some Toll House cookies" was also on my list of miscellaneous things I meant to do that I hadn't gotten to yet, which meant all the supplies were ready and waiting. So, I took care of that too 😉
Oh, and by the way, when I went to pick up that Interlibrary Loan book that
I thought was never to be
, it was the wrong book! Too funny. I thought I might be in trouble when I wrote out the title and the author and she said, "Which one is the title?" But then, maybe it was another library that sent over the wrong book. Maybe next time.