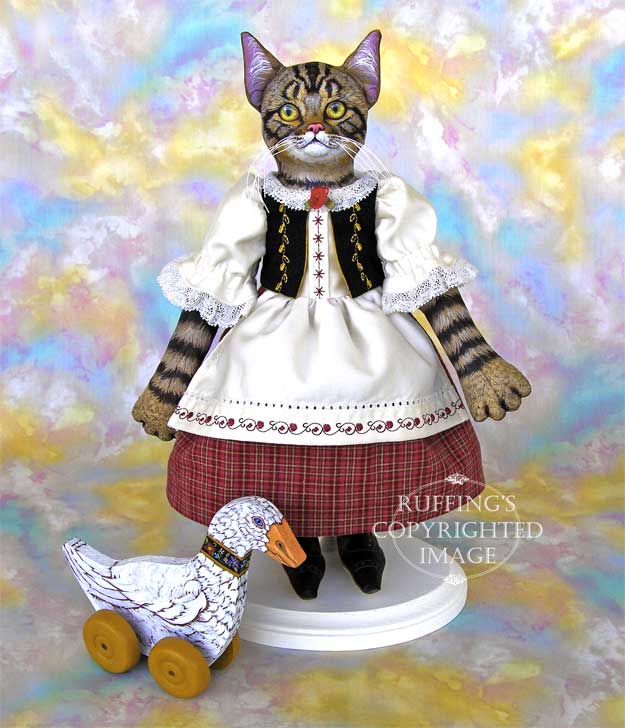 This is Heidi, a very determined tabby cat who lives in the Swiss Alps with her good friend Helga. Helga is Heidi's white goose, and her very best friend.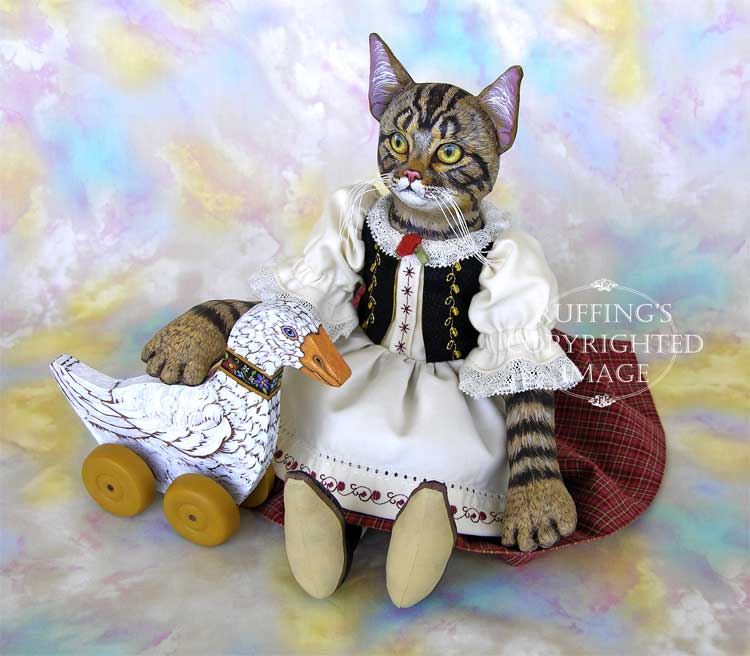 It is spring in the mountains, and the flowers are beginning to pop out of the earth. It's a good time for singing, or in this case, for yodeling. Heidi's dream is to win the championship trophy at the annual yodeling contest. Helga has agreed to be her partner and lovely assistant.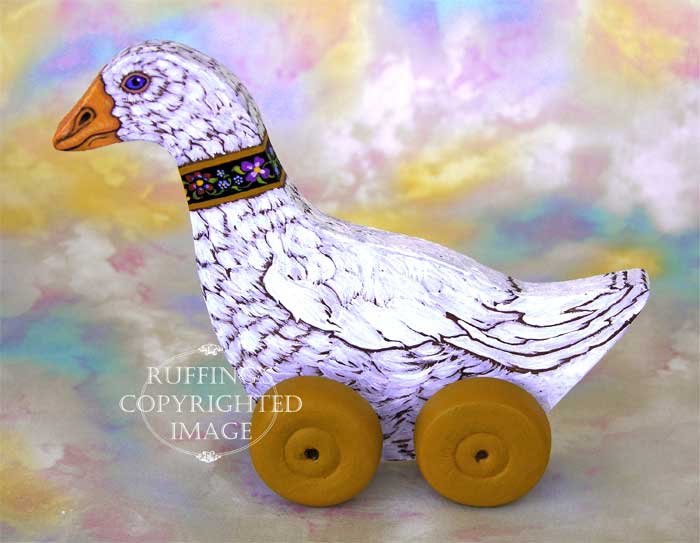 Every morning the two venture high into the mountains to practice. They love to yodel on the very top of the mountain. Their seemingly melodious sounds echo back at them a hundred times or more.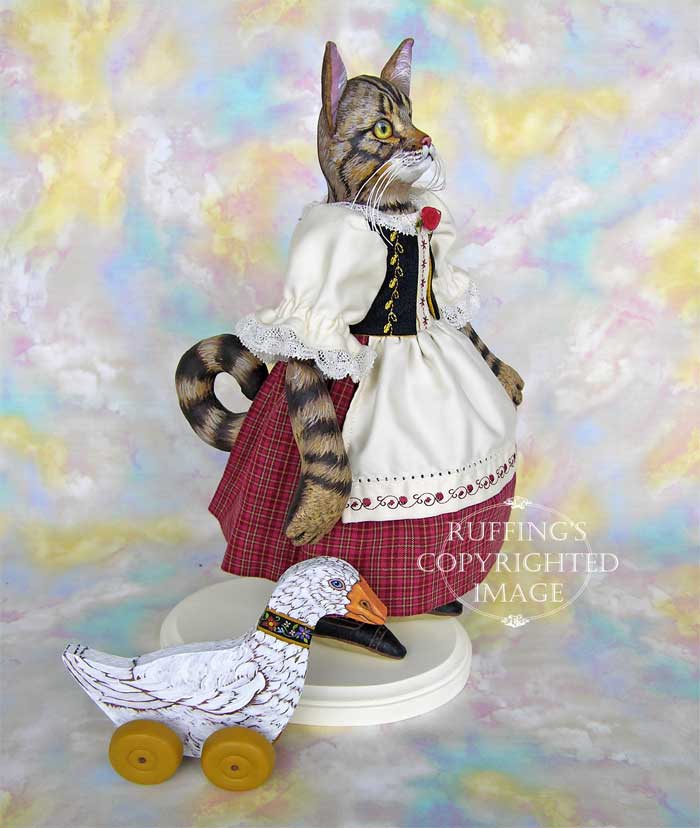 "We are getting very good at this," Heidi proclaims. Helga nods happily.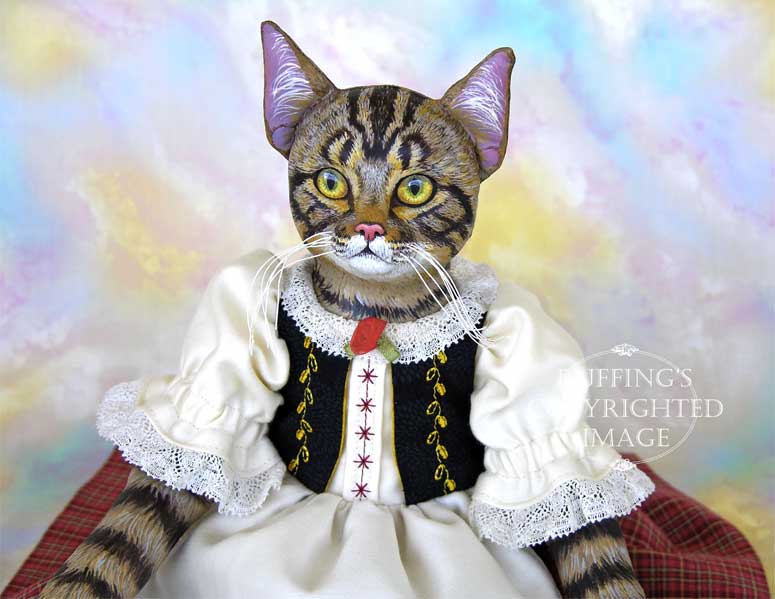 Down in the valley, the townspeople come out of their houses into the square.
"What is that terrible howling-honking noise?" they wonder. They put their hands over their ears, and go back inside, slamming the windows shut.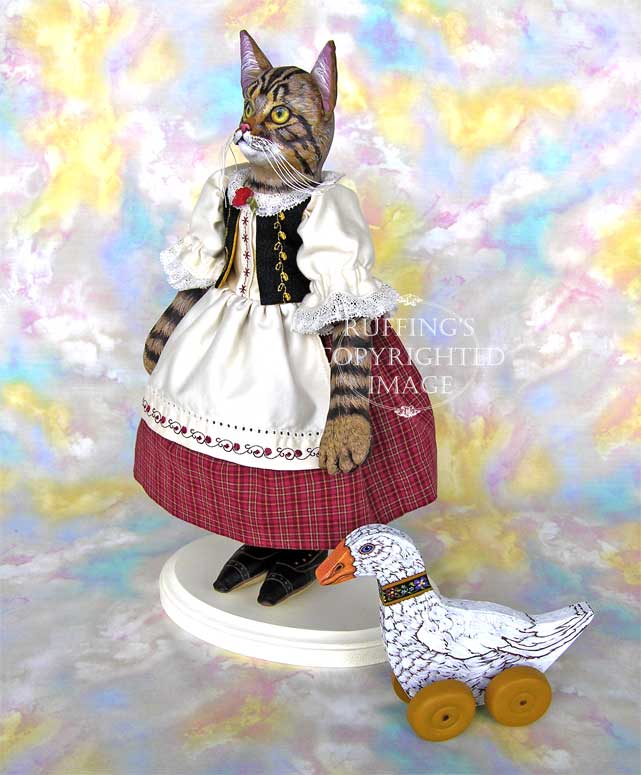 Heidi is an original one-of-a-kind work of art, created from our own design and pattern. She is made from 100% cotton fabric which has been sewn, stuffed, and completely hand painted with acrylic paints. Her face is sculpted from paperclay smoothed into her fabric head. Her whiskers are made from stiffened cotton thread. She is 13 inches tall.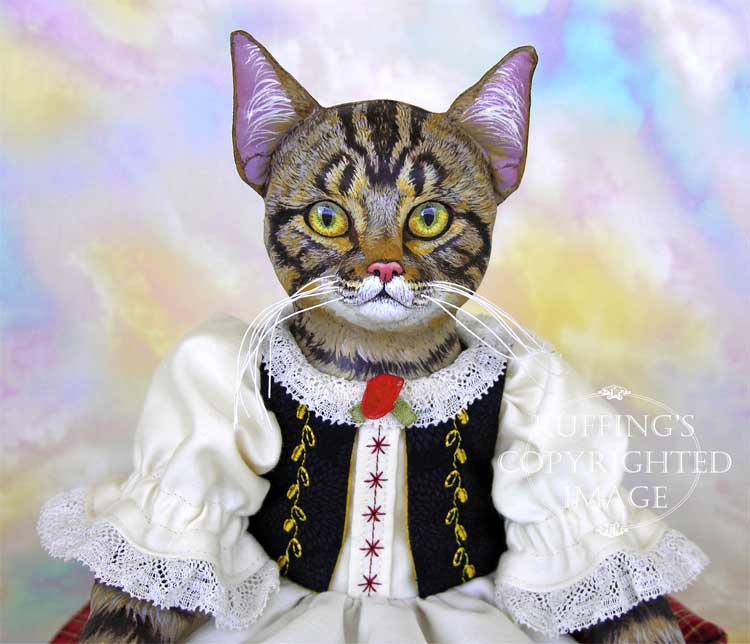 Helga the goose is made of wood. She has blue eyes and lots of painted white feathers. Her collar is black with gold bands, and is covered in a delicate pattern of little flowers and leaves. Her wheels are gold. Helga is 5 inches tall and 6 inches long.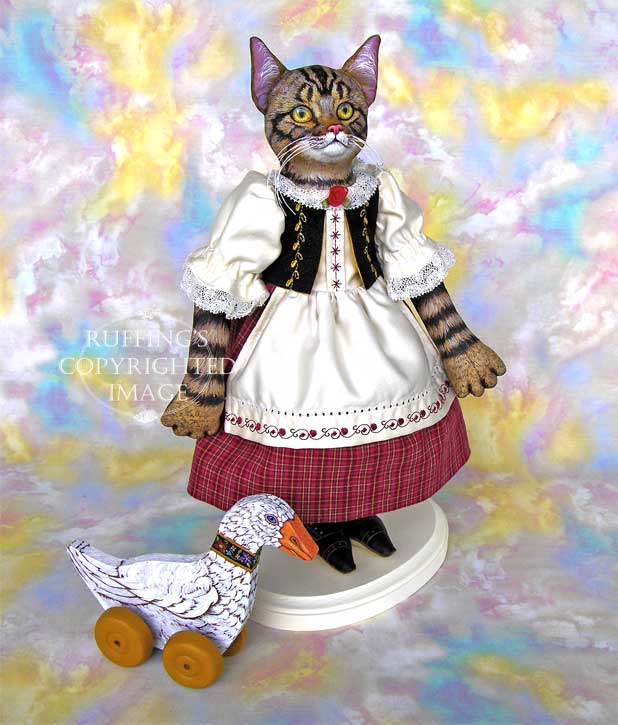 Heidi is painted in a multitude of tabby colors…silver gray, buff, ivory, gold, and black. Her paws are needle-sculpted, and her arms are button-jointed with antique-looking buttons of filigreed silver on black, so she can easily pose.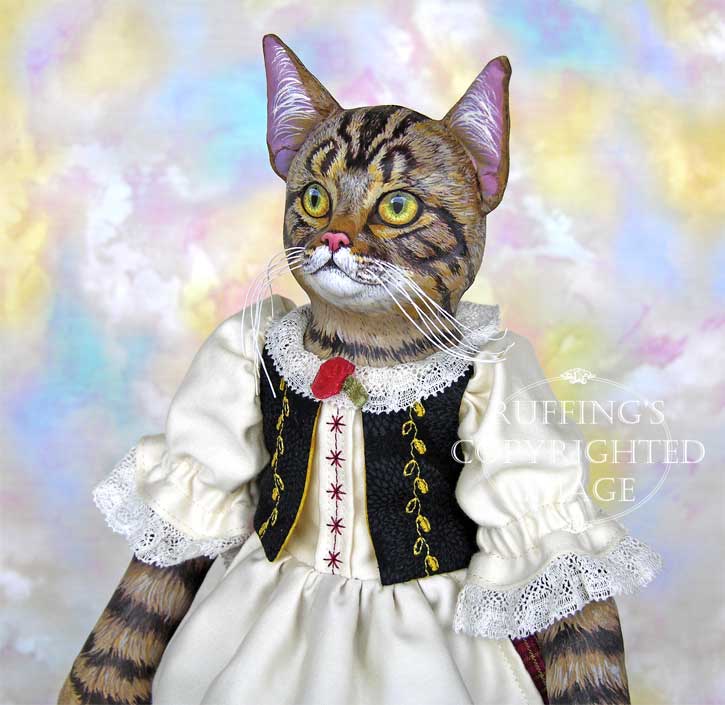 Heidi's curled tail enables her to sit prettily all by herself on a shelf or on a table, or in a cabinet. She will also obligingly sit on a chair, or stand with a doll stand. (Chair and doll stand are not included.) Heidi and Helga are meant for display only.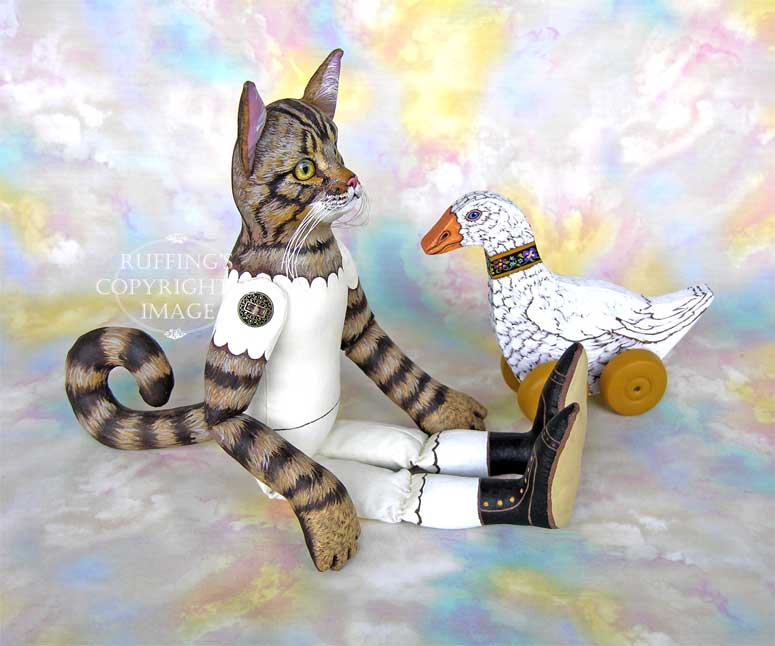 Heidi's painted underblouse is ivory, with a scalloped neckline and sleeves. Her bloomers are painted in matching ivory. She wears white tights and black high-button shoes that look just right on her little kitty feet.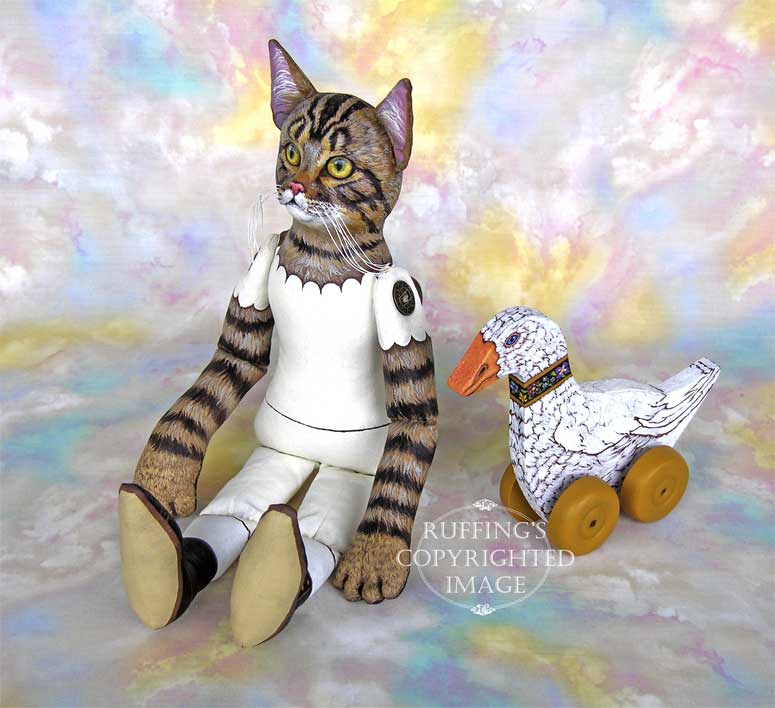 Heidi's pretty Swiss dress features an off-white bodice and puffy sleeves edged in lace, with a tiny red rose at the center of the collar. Delicate patterns of red embroidery run down the front of her bodice and set off the wide hem of her apron. Her black vest has gold embroidery to match its gold lining, and her dress has a full red plaid skirt.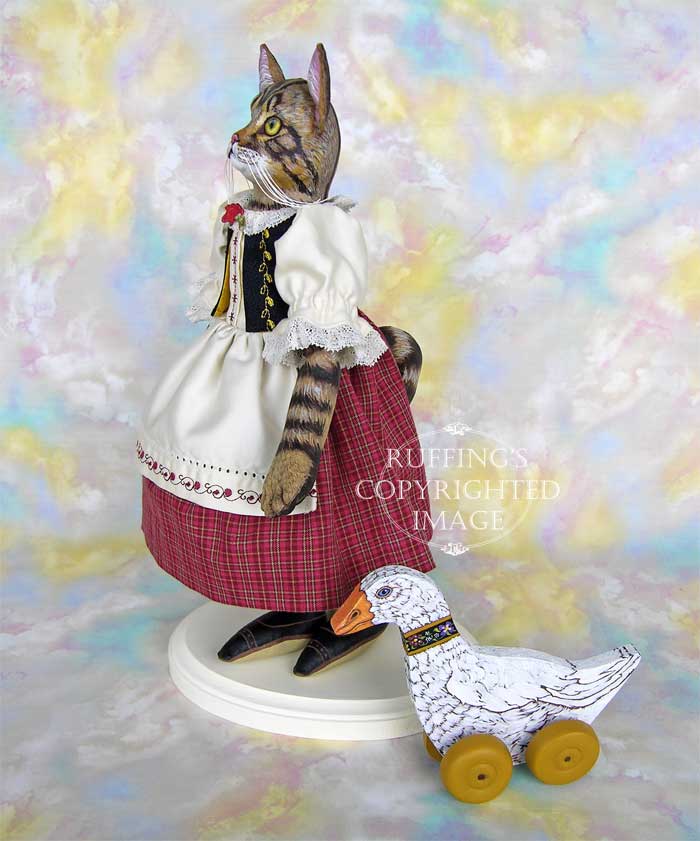 Heidi is signed and dated, and sealed with matte varnish for protection and preservation. They come with a hang tag, a certificate of authenticity, and a copy of her story.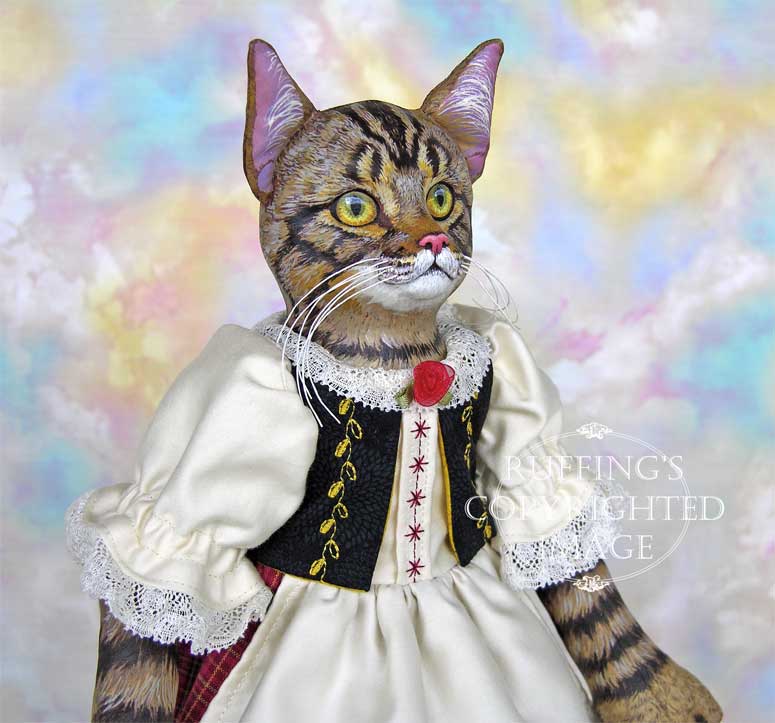 Update: Heidi and Helga have been adopted. Thank you!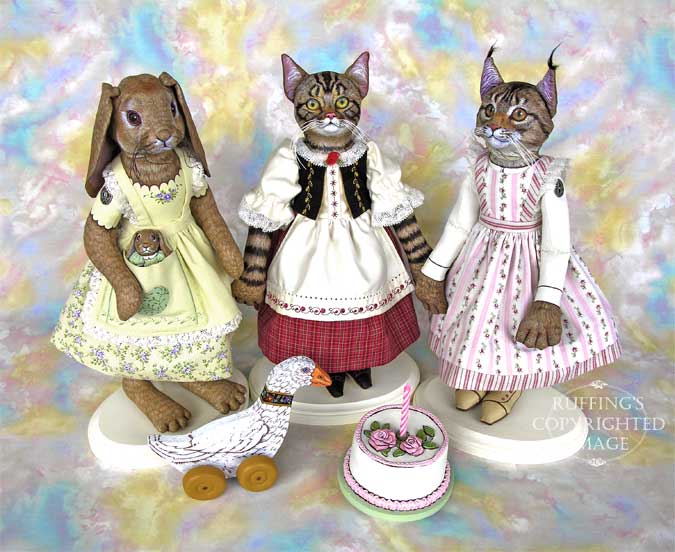 Heidi and Helga's friends are Beatrice and Beulah (left) and Chelsea the Maine Coon Cat (right).