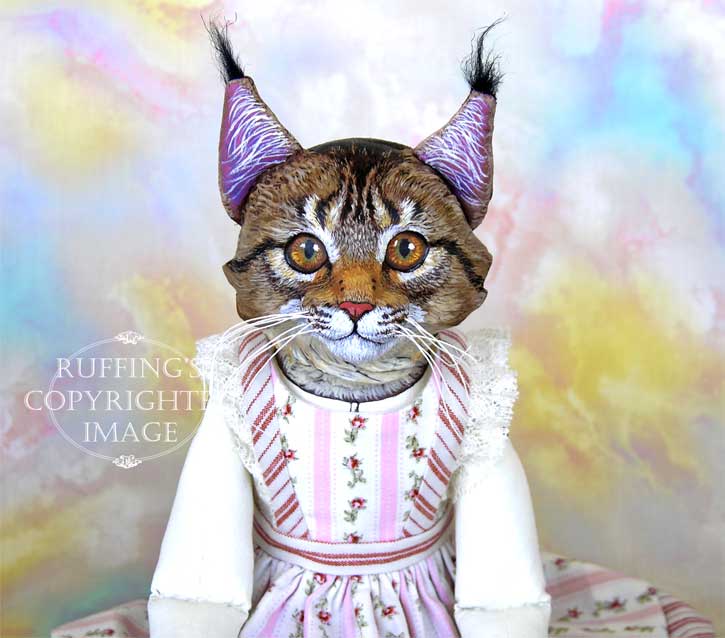 Chelsea is a Maine Coon cat with big amber eyes and tall tufted ears. She is very sociable, very charming, and very much loved. Today is her first birthday.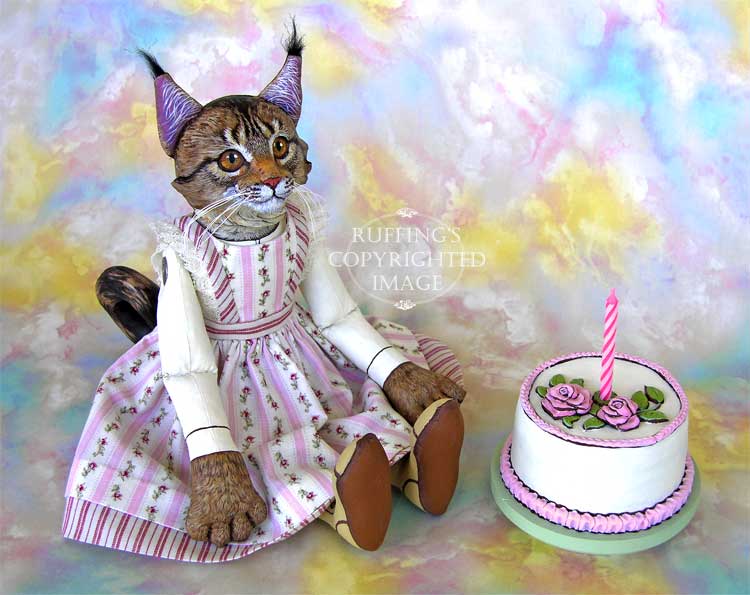 In just a few minutes, her party will begin. As she waits for her guests to arrive, she is so excited she has to remind herself to breathe. She sits very still so as not to wrinkle her new party dress, and looks in awe at the beautiful cake with the pink roses on top. She hopes there will be some left over for later. It looks yummy.
Chelsea's first guests arrive!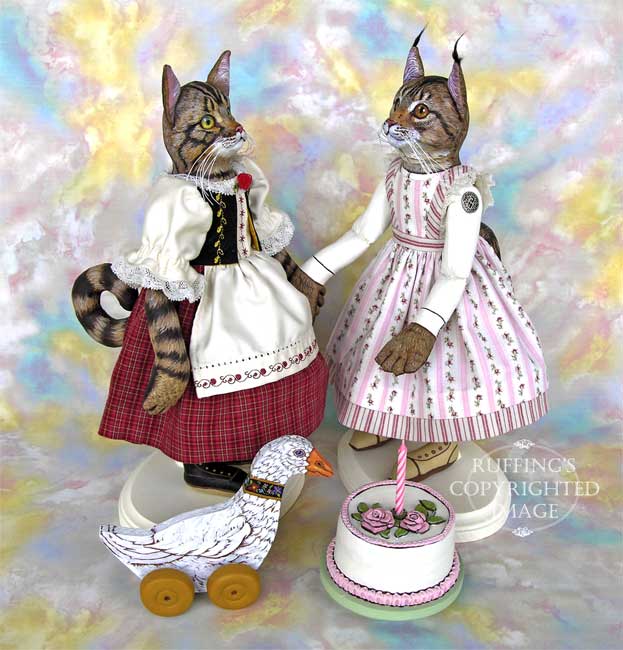 And more guests!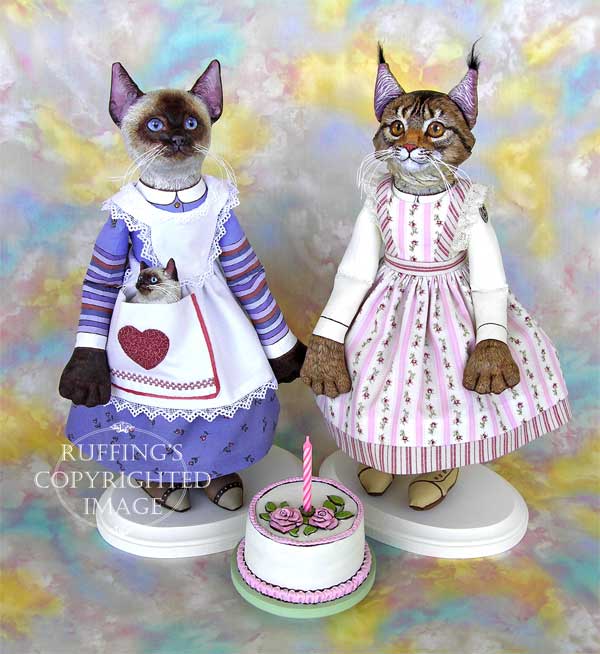 They all admire the cake, trying to wait until everyone arrives. It's so tempting to just stick one little paw in the frosting…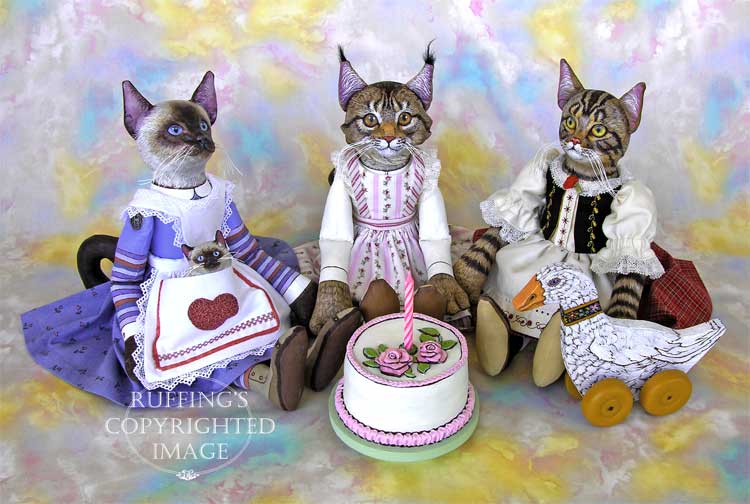 Chelsea is an original one-of-a-kind work of art, created from our own design and pattern. She is made from 100% cotton fabric which has been sewn, stuffed, and completely hand painted with acrylic paints. She is 13 inches tall.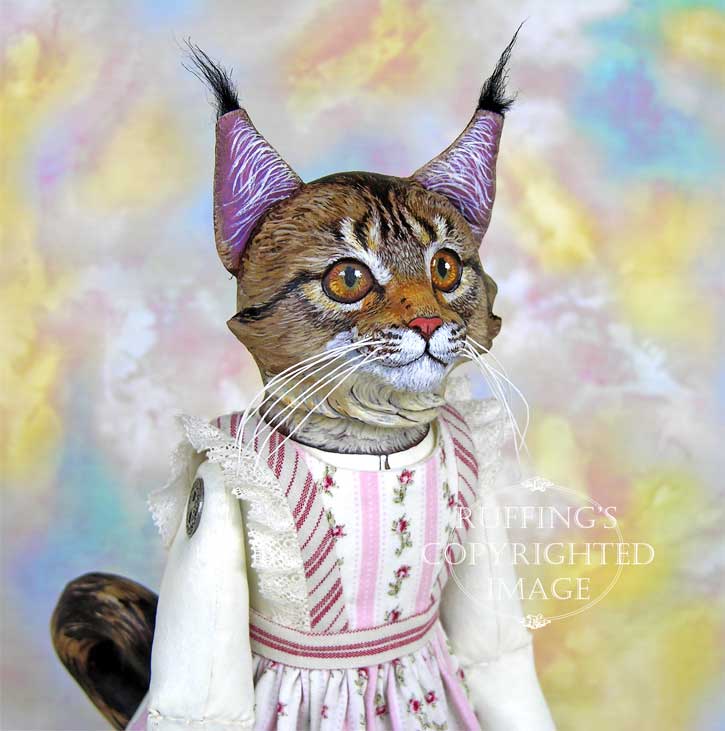 Chelsea's paws are needle-sculpted, and her arms are button-jointed with antique-looking buttons of filigreed silver on black, so she can easily pose. Her face was sculpted from paperclay smoothed into her fabric head. The tufts on her ears are sewn-in fake fur, and her whiskers are made from stiffened cotton thread. Her curled tail enables her to sit prettily all by herself on a shelf or on a table, or in a cabinet. She will also happily sit on a chair, or stand with a doll stand. (Chair and doll stand are not included.) Chelsea is meant for display only.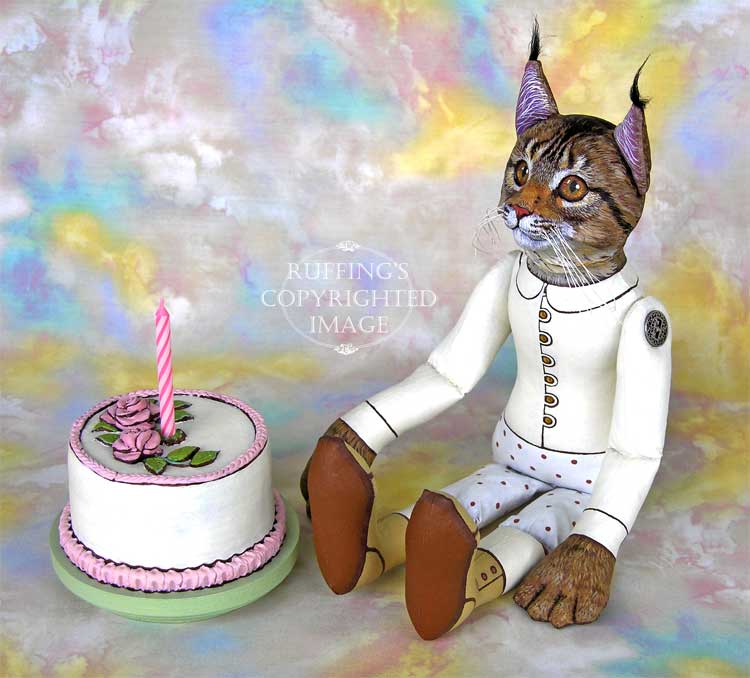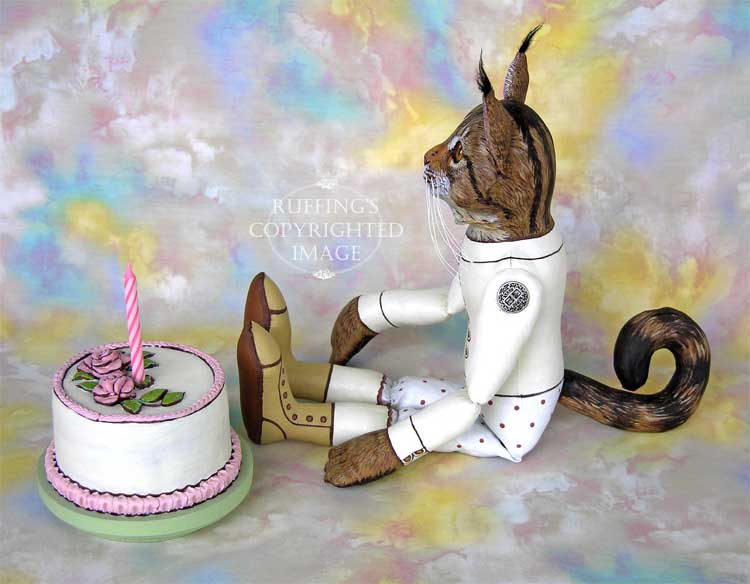 Chelsea's pink and white birthday cake was sculpted from paperclay, and has a removable wax candle. It rests on a round wooden base, painted green.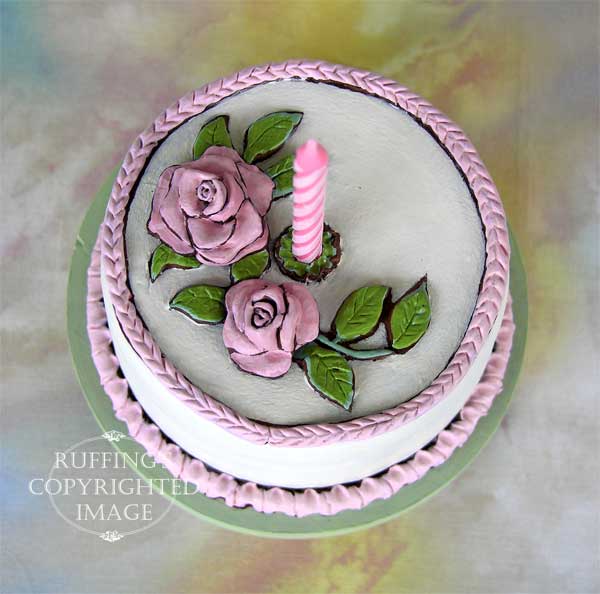 Chelsea wears an ivory blouse with gold buttons. Her bloomers are painted white, with rose polka dots. She has ivory-colored tights and high-button shoes that cover her little kitty feet.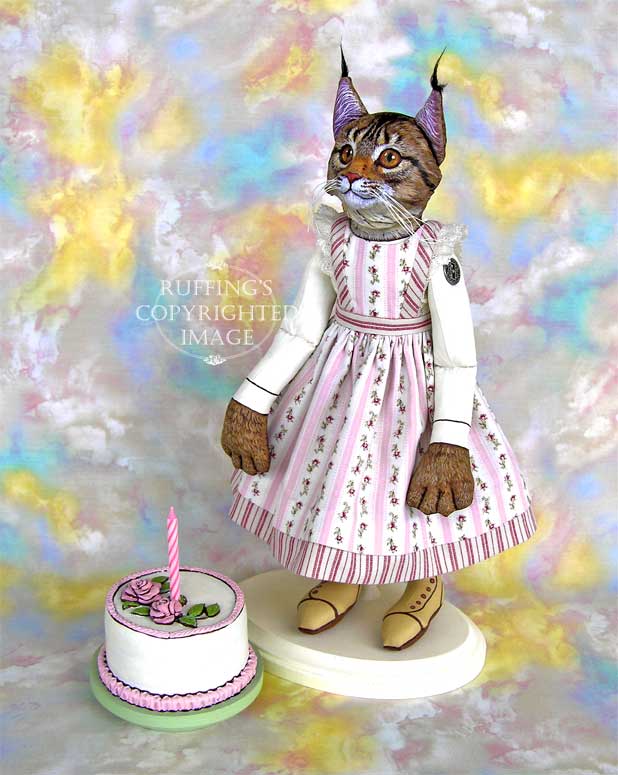 Chelsea's party dress is pale pink and ivory, with a dainty striped pattern of darker pink roses and green leaves. The trim and underskirt are of striped tan and dark rose fabric. A touch of ivory lace adds even more femininity.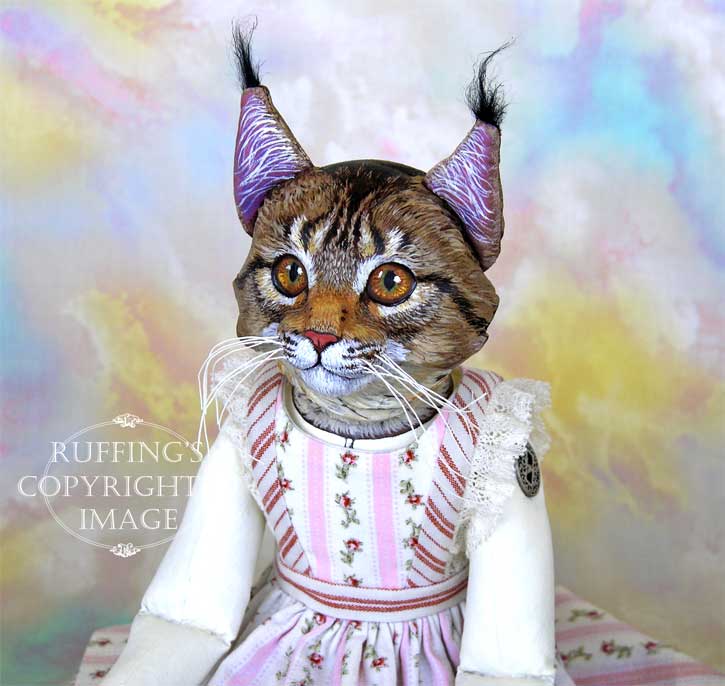 Chelsea is signed and dated, and sealed with matte varnish for protection and preservation. She comes with a hang tag, a certificate of authenticity, and a copy of her story.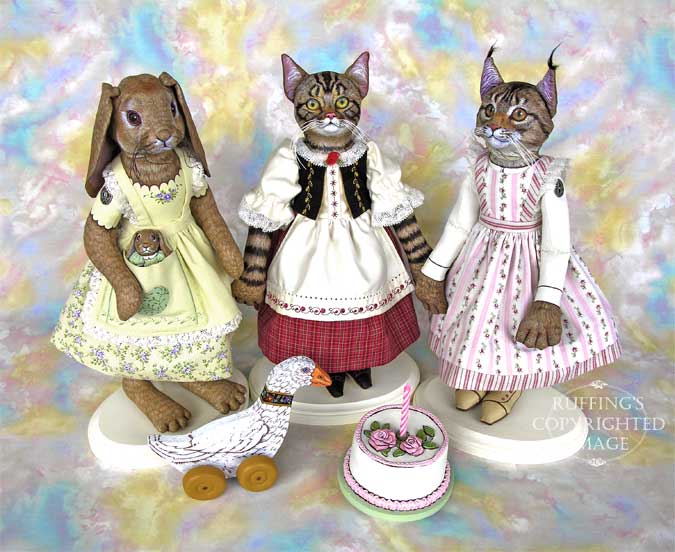 Chelsea and her birthday cake are available for $650.00, plus shipping. Please inquire to [email protected]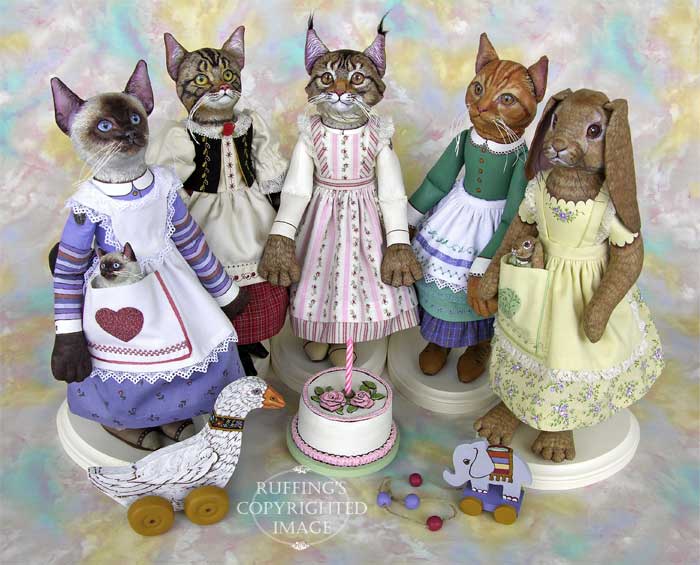 Chelsea's birthday guests, as pictured above, from left to right, are "Loretta and Lulu", "Heidi and Helga", "Chelsea", "Emily and Edwin", and "Beatrice and Beulah".