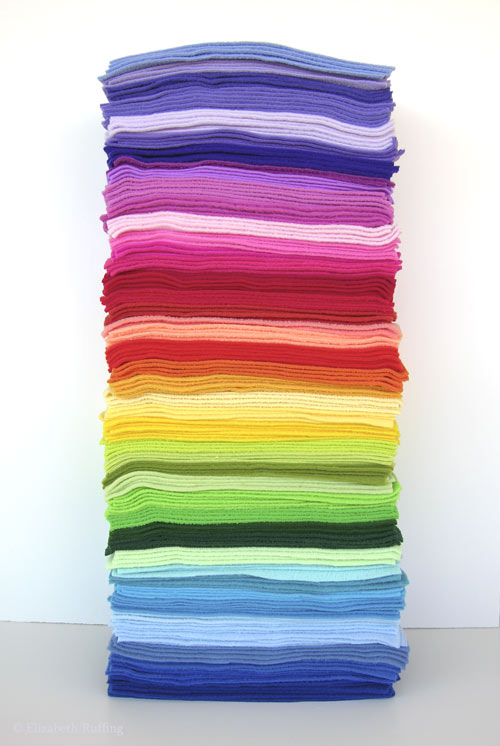 I cut out a gargantuan pile of fleece over the past two days. I'm not sure how long it will take me to turn this into toys, maybe a couple of years! And that isn't all of it.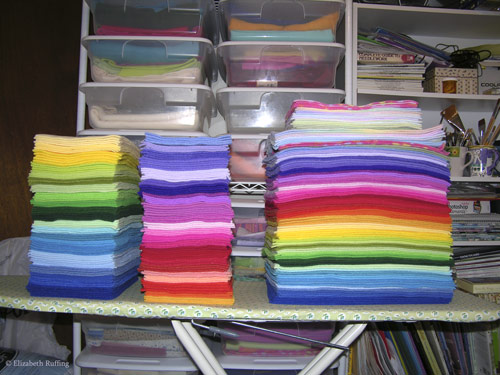 I cut out fleece in two sizes. I think I have plenty now.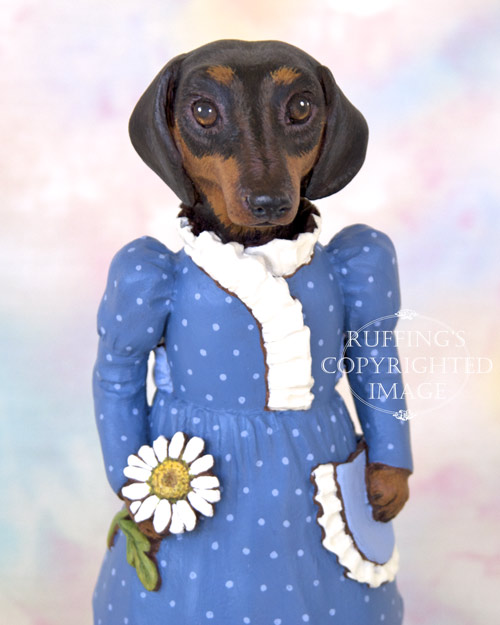 I also got Daisy the Dachshund's web page up today. Daisy is one of Max Bailey's original, one-of-a-kind art doll figurines. To me, her eyes look very soulful, just like a real Dachshund's eyes. There is a little Dachshund who lives near us who likes me to rub her belly. She looks just like Daisy, only she doesn't wear dresses, which is good because she would look very undignified rolling on her back with her paws up in the air, while wearing a dress.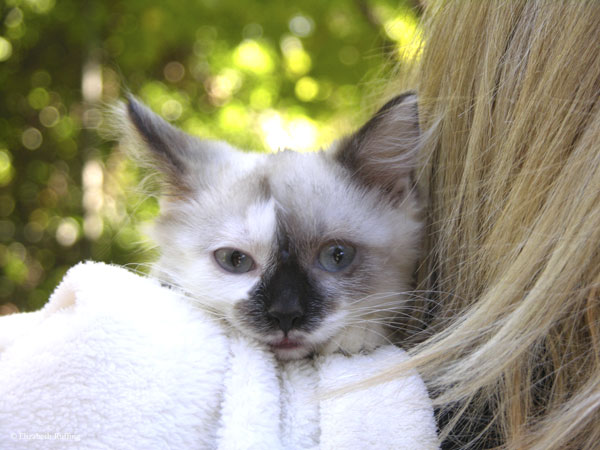 I got to pet some kittens last weekend too. Marie's camera has a broken part, and so I went over with mine. It's easier for me to get a clear photo, the more light I have, and so we tried stepping out the back door for some. These are indoor-only rescue kittens. Sunny didn't care for the great outdoors at all. We couldn't blame her, since she had had a bad head wound from an animal bite. It has healed up amazingly well with all the care she has gotten through the rescue group. She is one lucky girl.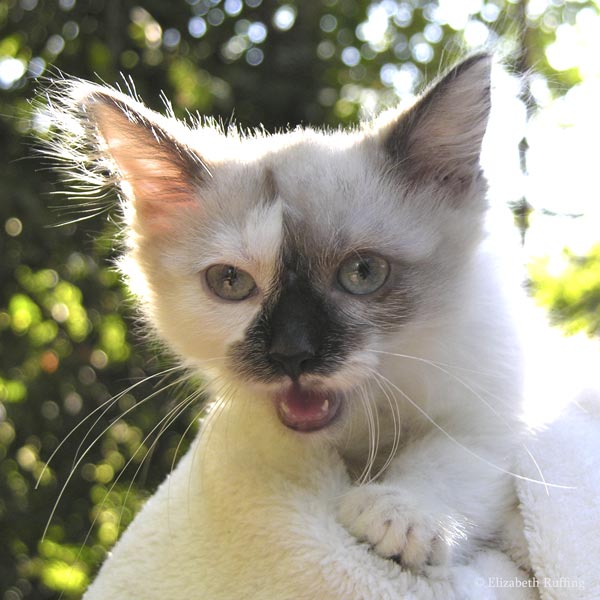 Once we went back inside, she was happy again, and got right back to playing.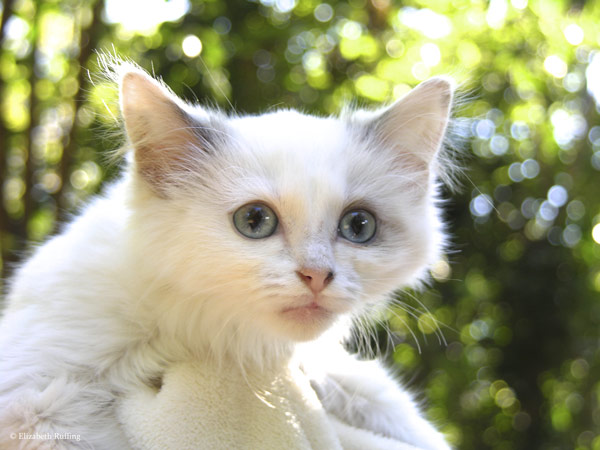 This is Frosty (Update: Frosty is now our very own Josephine!), Sunny's little sister, from another litter with the same Shoeshoe father. She'd only had human contact for a few days, but you'd never know it. She was very cuddly and sweet. I sat and held her for a long time. Her blue eyes are so sad and beautiful.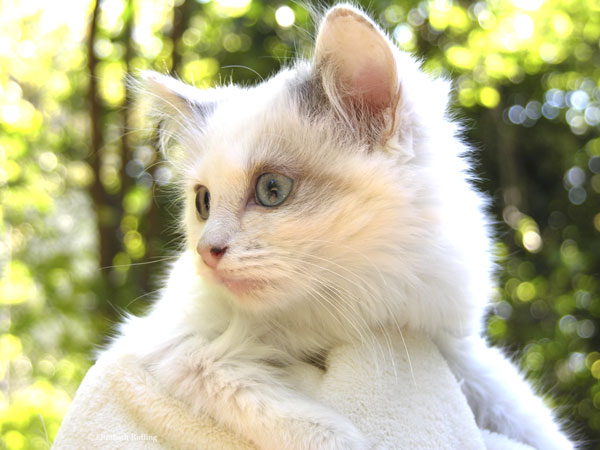 Windy, Sunny's sister, below, was the only one of our subjects who actually enjoyed the sun on her face. She turned into a purring puddle o' Windy. Frosty started to doze off a bit too. Maybe it was the fuzzy blanket.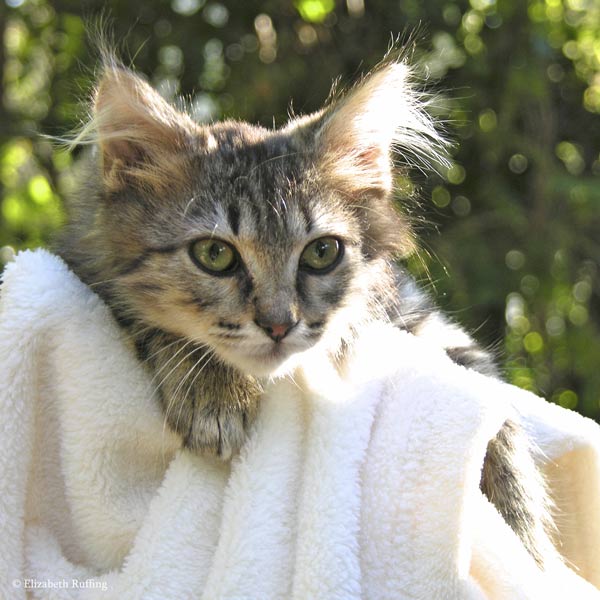 We got them back in the house as soon as we could, and they all got Trader Joe's Bench & Field Holistic Feline Treats. I'd never seen these before, and they all went cuckoo for them, chasing them across the floor, and hunting them down. I picked some up later, and our kitties went crazy for them too. Windy and her other sister, Cloudy, stopped to play with a stray litter pellet while hunting for cat treats. Marie says those are their favorite toys, even though they have bunches of cat toys.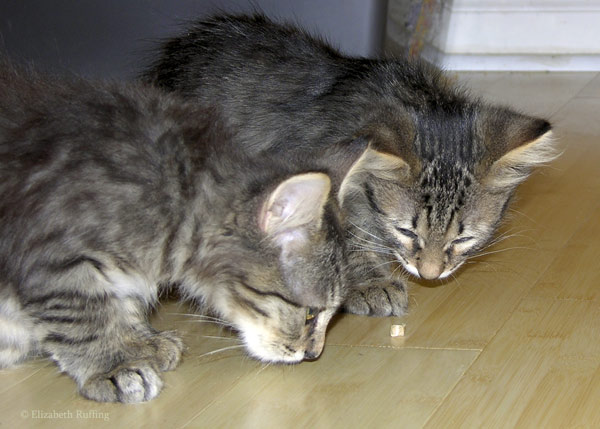 They must have thought I was a giant cat toy. They all checked out my sneakers, very thoroughly. Sunny also inspected my camera. I kept getting "camera shake" only to discover her swinging from my lens cap. She is definitely going to be a helper cat.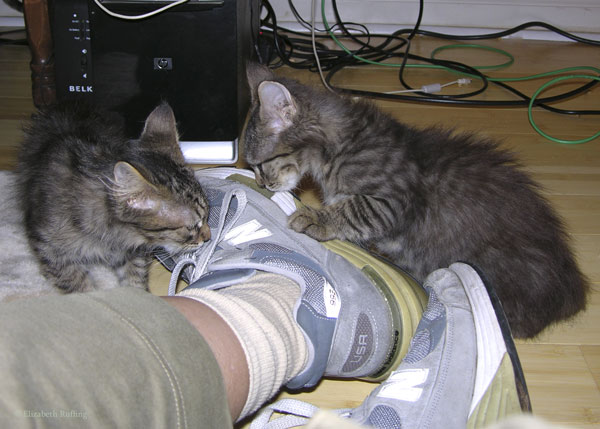 Stormy, from the same litter as Sunny, Windy, and Cloudy, was very timid, but she still came out for treats and toys. She wanted to select one of her own from the toy bag. All the girls were really sweet, and I had a lot of fun visiting. Marie is really nice too. I put more kittens photos up on my Flickr page.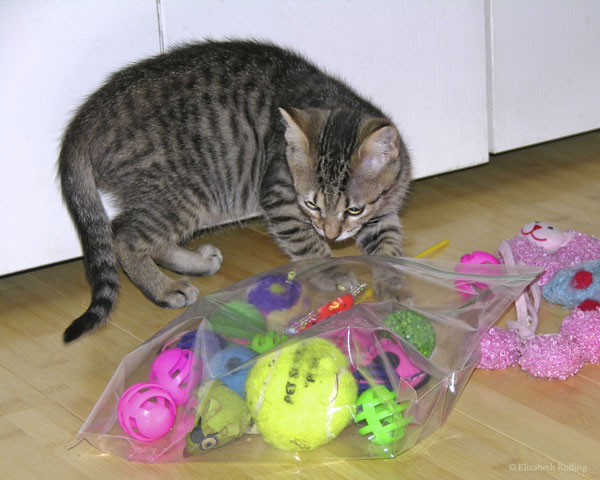 After playing, and petting, and cuddling with kittens, it's a wonder I didn't take them all home with me, but we do have a full house here too. My kitties wanted to know where I'd been. My sneakers were probably thoroughly sniffed on my return too.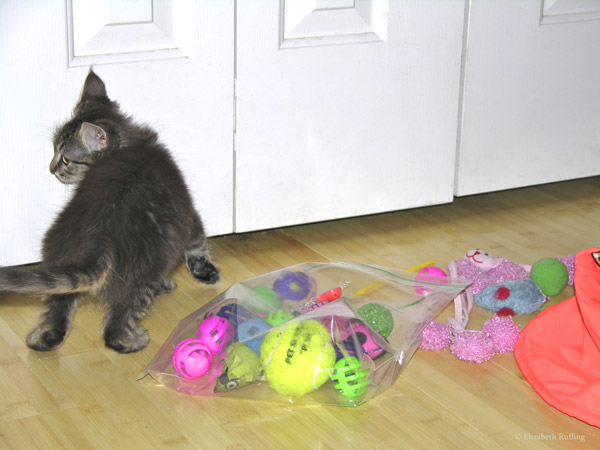 These kittens will be adopted out when they are old enough to be spayed/neutered and vaccinated. Please consider adopting a pet, and please spay and neuter your pets.