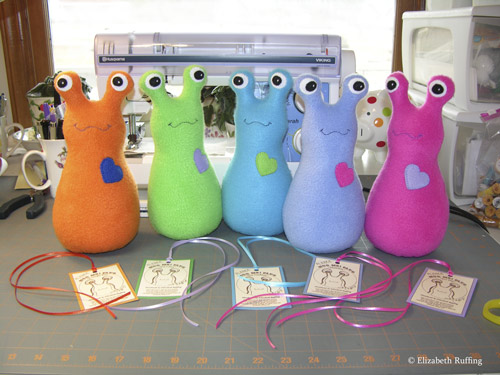 It was a big weekend for finishing up Hug Me Slugs and getting them ready for their trips to their new homes. I've been sewing most of the day and into the night, adding smiles and eyes and hearts, all by hand, with my needle and embroidery floss. The slugs shown here have all left since Friday.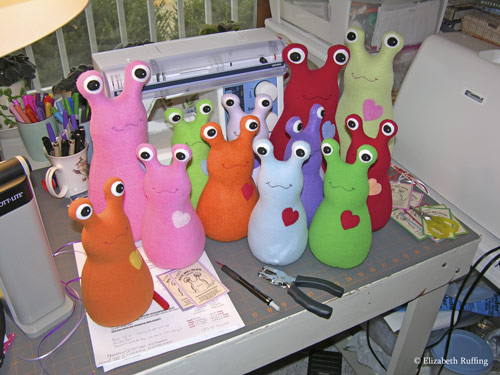 I will feel so relieved when all the slugs are on their way for the holidays. I worry each year that I won't be able to get them all done on time. I've got a few more to finish up, and then I will make some different characters, which will be fun.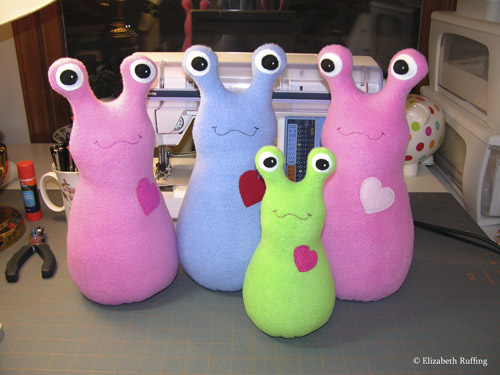 I packed today's shipment last night so I would be ready this morning. I felt happy, even though it was late, knowing I'd get these out today. We had to bring our printer in for some servicing too, and so I'm not adding any new toys until it comes back, ready to print hang tags. I need a little rest anyway.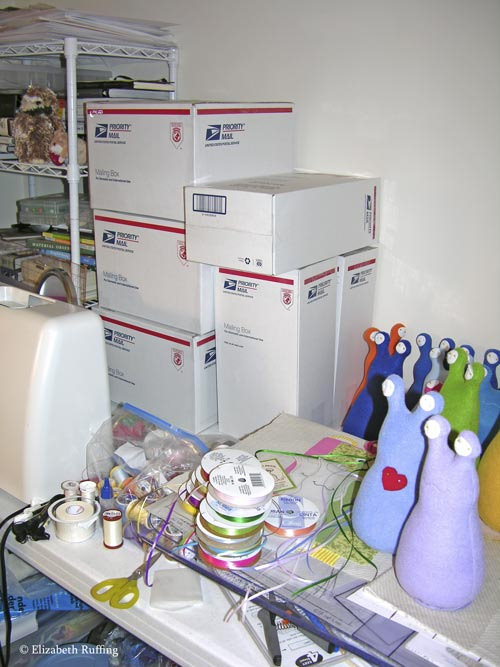 I also had a birthday on Saturday, and received some very nice presents, which were all carefully inspected by my kitty assistants.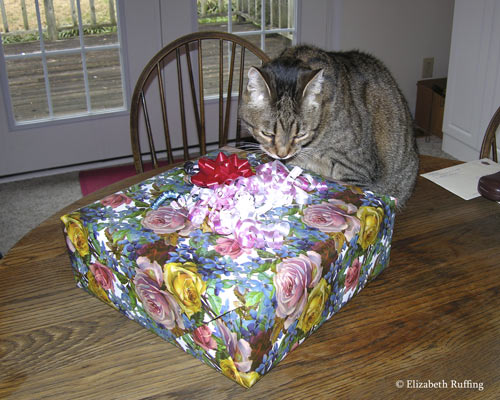 My mom and dad, in addition to helping me out by going to the Post Office for me, got me these pretty handmade bags from Janine King Designs. One is a camera bag, for the camera I don't have yet. I'm saving up for a DSLR. I have another bag made by Janine, and the workmanship is perfect on each of them. I also got a beautiful, and beautifully-made birthday card from my friend Jill. You can't see very well in this photo, especially with my cat sniffing it, but the flowers and the "Happy Birthday" are raised from the surface, and the petals all turn on their centers, all done by hand. And John sent me some more yummy gingerbread cookies from Germany too. Oh and my mom made me a cheesecake, and my dad picked up Chinese food for me! Thanks everybody!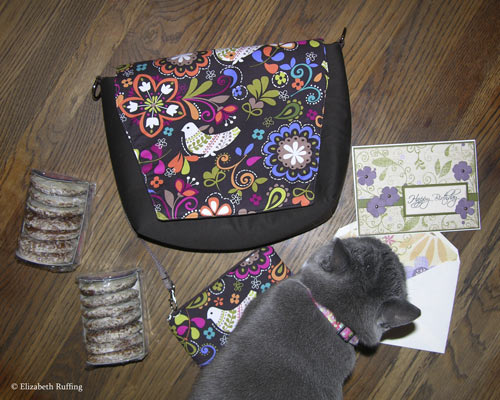 Tomorrow I will get back to my sewing, and then I think I will stop to look around before Christmas disappears again until next year!