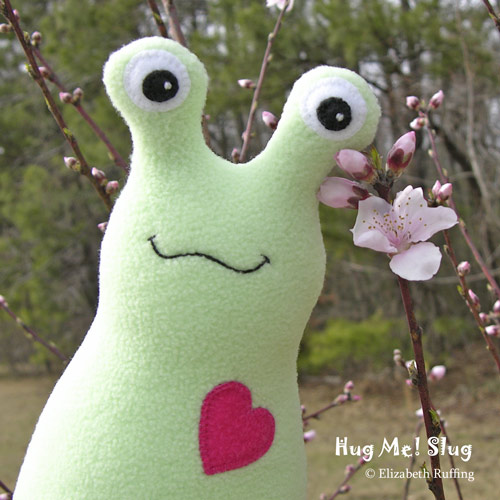 It has been a long time since I put any new ready-made art toys up. I will be posting my new handmade stuffed animal toys in our Ruffing's shop. I finished this 9-inch light mint green fleece Hug Me Slug. He (or she, I'm not sure) is posing next to our peach tree, which is beginning to bloom.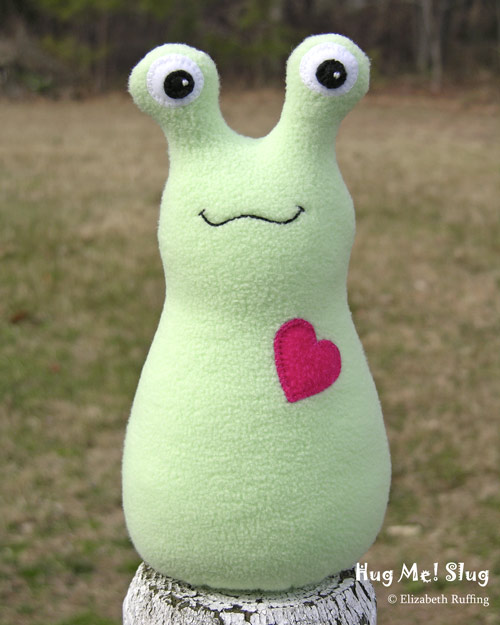 These three little slugs went out to their new homes this week.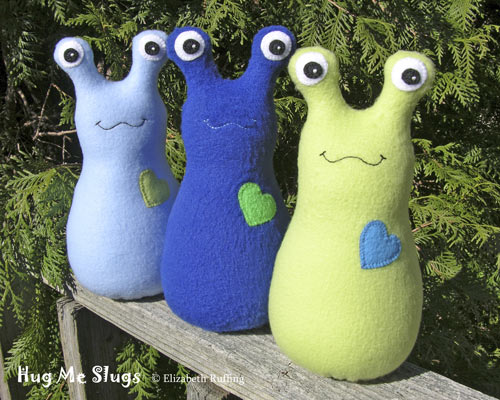 I had a challenge in getting them ready, as I had some booboo's on my fingers. I usually put sports tape on my fingertips to protect them from needles, but my Band-Aids kept making the tape fall off, which made me poke myself some more. I persevered and got the slugs stitched up anyway. My fingers are all better now.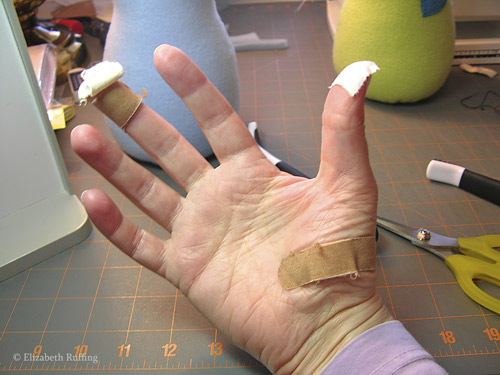 This morning, I drilled and glued and paperclayed some doll stands into existence. This is not my favorite thing to do, but I felt good about getting them ready. Max has some new, smaller sized art dolls we need to photograph, and we needed smaller stands for them. I like feeling productive.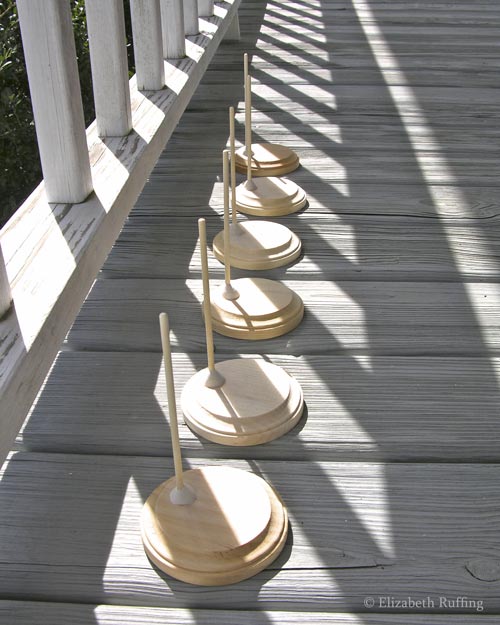 Among my many other projects I am in the process juggling, I am going to be making clothes for my sock kittens. I want them to fit the standard 18 inch, commercially-available dolls too. I had one Daisy Kingdom Pansy doll, in that size, from twenty years ago, the little girl doll on the right below, and so I went on eBay to collect her three sisters to model doll clothes for me.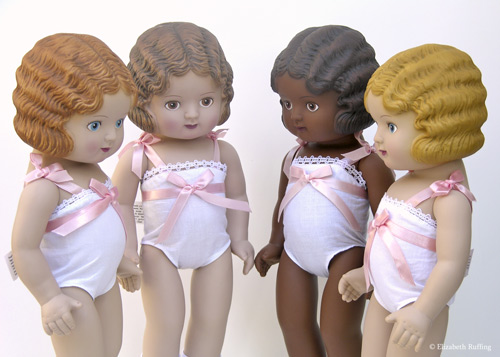 I like their vintage look.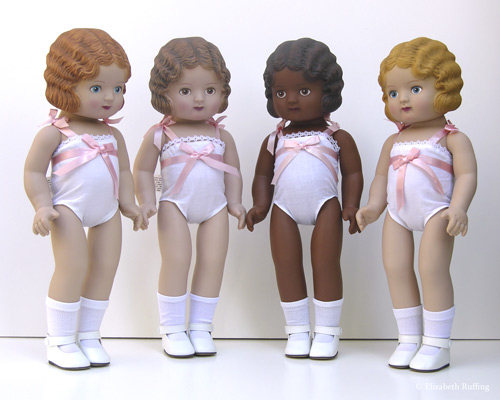 I also went on my first feral cat trapping adventure! I tagged along with Marie and took lots of photos of the Trap-Neuter-Return process, or the trapping and returning part. I put up a mini-photo-documentary on Facebook, showing the trapping and the returning, step by step. The rescue incorporated it into a PDF, which further explains TNR, and talks about the spaying and vaccinating of the cats as well.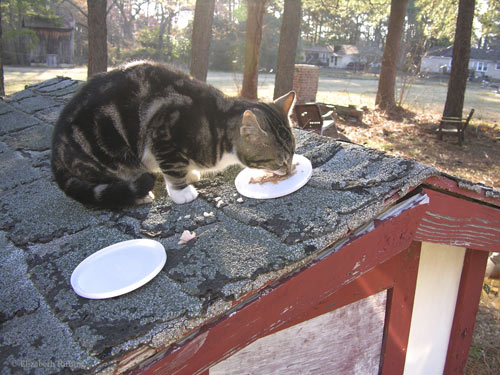 That's Gypsy above. I kept him occupied with food and attention, while Marie set up the traps. Gypsy is a stray, living with a feral cat colony, in a very nice senior lady's yard. She has possibly twenty feral cats living in her barn, and under her house that need to be spayed/neutered and vaccinated, which is more than she could afford to do herself, even if the cats were tame and she could catch them herself. Alley Cats and Angels is stepping in to get the situation humanely under control. As the cats receive vet care, they will be returned to their home, where they will no longer reproduce.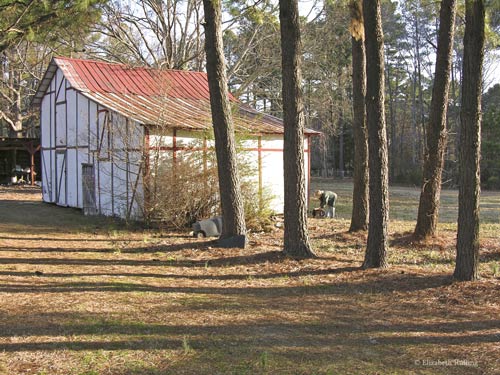 This is the safety trap, with food, and a feral cat inside. Marie put canned chicken inside, and once a cat steps on the trip plate, the door to the trap closes behind her. The first priority was to trap the female cats that were seen to have been in heat already.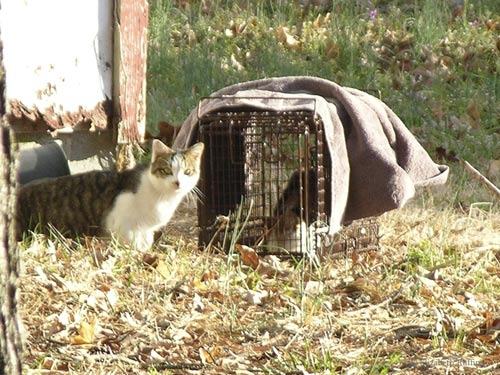 They are tricky to catch. When a cat won't go into the regular safety trap, a drop trap is used. This one is a wooden frame, covered with netting, with a door on one side. A stick props it up, and a rope is tied to the stick. A plate of canned chicken was placed inside.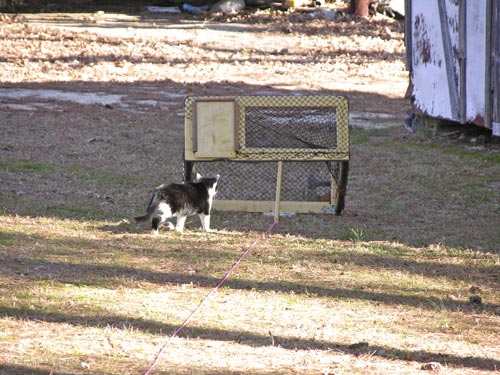 This is one of the high-priority girls entering the drop trap. Marie was on the other end of the rope, waiting.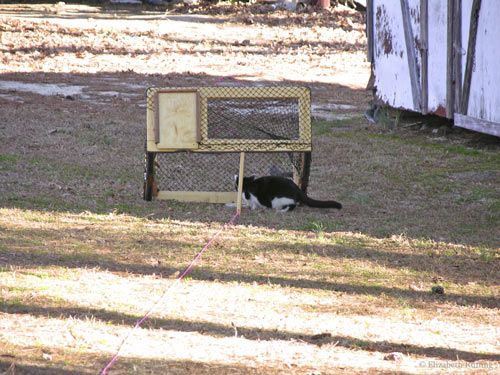 Once the kitty settled in for a snack, and was all the way under the box, Marie gave the rope a tug, and the trap came down, with our girl inside.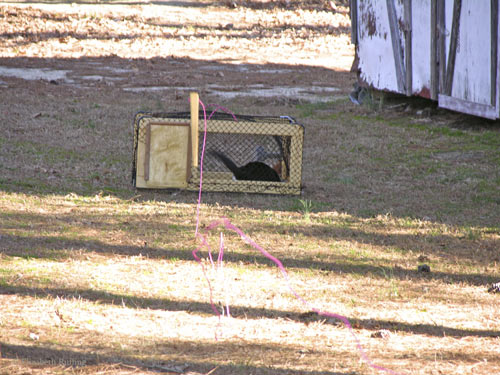 I ran over and held the trap down with my foot, while Marie covered it with a blanket to calm the cat down. She then put a regular safety trap butted against the drop-trap door, and opened both doors. Our girl walked into the safety trap and was ready for her trip to the vet. Both of the high-priority girls were captured using the drop trap. You can see more details over on the rescue page, where you can view the rest of my photos in a slideshow, by clicking on the first one and then clicking through to read the story.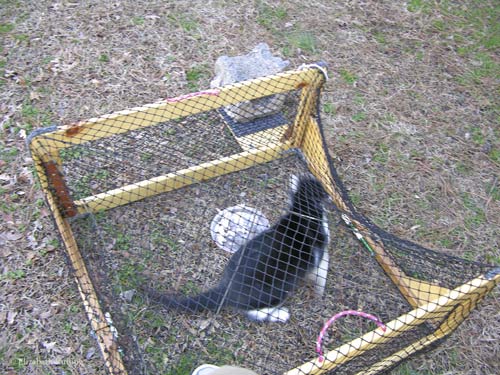 This is a short video of our returning the cats to their barn. They were happy to be home. Two of the girls waited for their friends to come out of the traps. They seem to look after each other.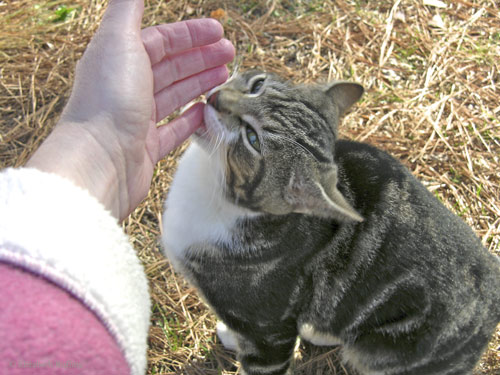 We'll be heading back for Gypsy. Since he is tame and friendly, he will have a separate vet day when he will be neutered and vaccinated and returned to his home as a pet.
I will try to keep getting more toys and art dolls up online. If you haven't already, please "Like" Ruffing's on Facebook to see updates. I've got a lot to do. I have some charity toys to make and I've been asked to contribute a Hug Me Slug or two for a counting book for children, by a professional photographer. I am looking forward to seeing them in some beautiful photos with kids. I'm not sure exactly when Cathie Fillian's new kids' craft show will come out, but they are supposed to make an appearance there, during the opening or the credits, as well. It's going to be fun to see them here and there.