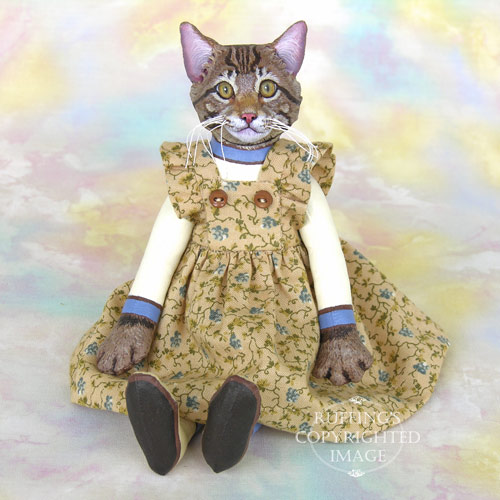 Marnie is a Maine Coon cat. She's not sure where Maine is, but she thinks it's probably very nice there.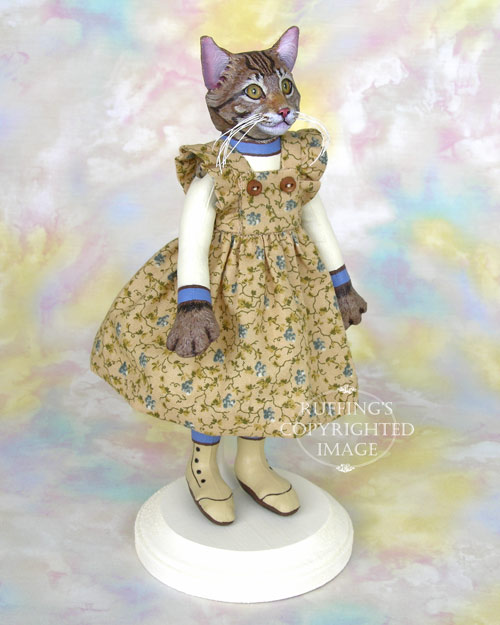 Marnie likes where she lives. In the winter, the snow doesn't get very deep, and it's only cold at night while she sleeps in her warm little bed. In the spring, she tends to her catnip garden and sits on her porch reading about places where she's never been.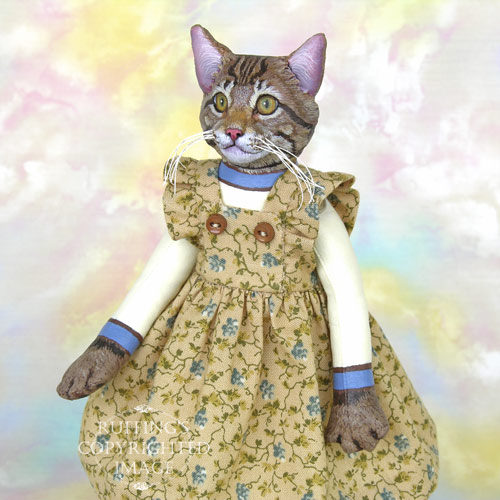 "I could go water skiing in Maine," Marnie announced to her friend one day. "I could go fishing too, and catch lots of great big fish."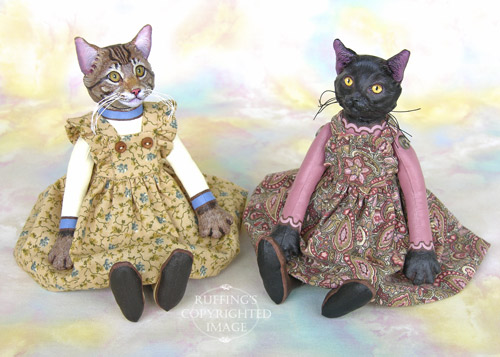 "You would get all wet," her friend replied. "And besides, if you went to Maine, I would miss you."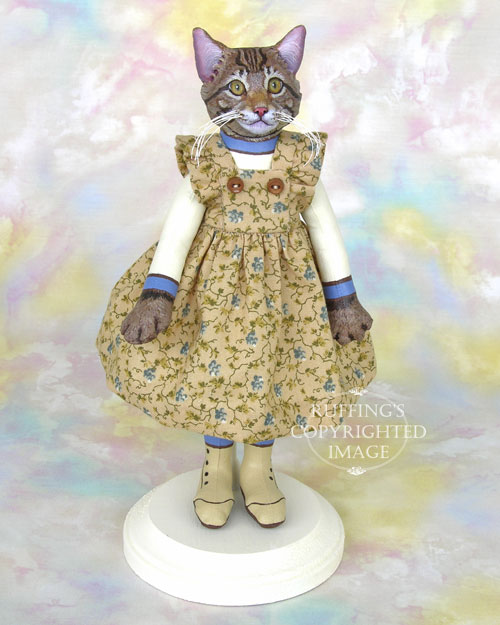 Marnie put her book down. "I would miss you too," she said. "I guess it's pretty nice here. I think I'll go make us some catnip tea."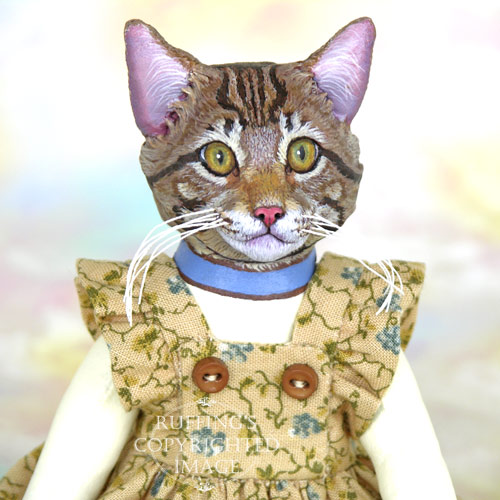 Marnie is wearing a pretty taffy colored pinafore with ruffles that go over her shoulders.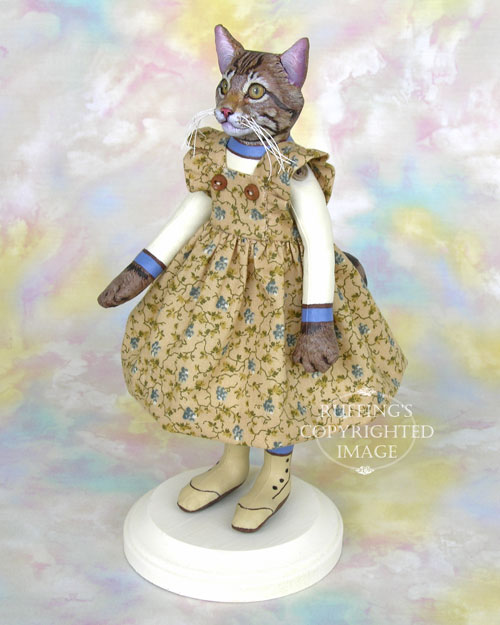 It has tiny blue flowers and green leaves, and looks just right with her cream colored blouse with blue bands around the neck, cuffs, and hem.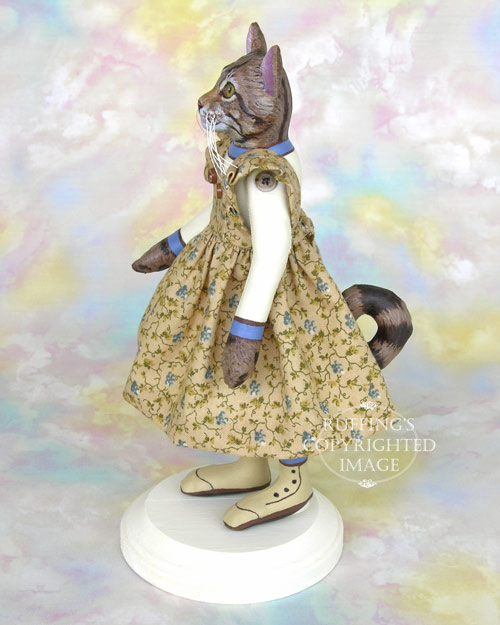 Her little kitty feet are covered by tan high-button shoes over blue tights. Under her dress are white pantaloons, from which her striped tail emerges.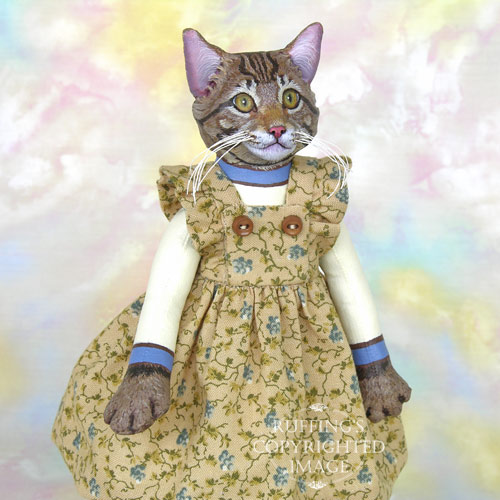 Marnie is an original one-of-a-kind work of art, created from my own design and pattern. She is made from 100% cotton fabric which has been sewn, stuffed, and completely hand painted with acrylic paints.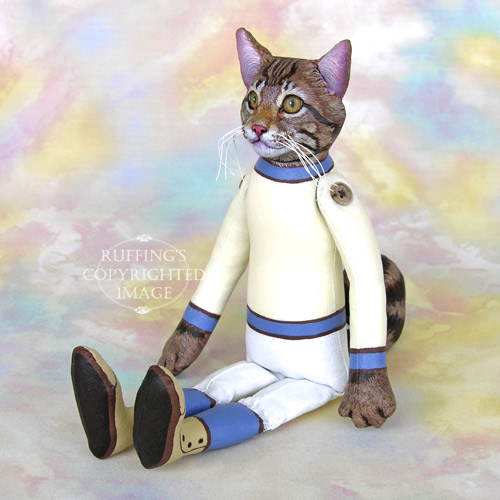 Marnie's curled tail enables her to sit prettily all by herself on a shelf or a table, or in a cabinet. She can also sit on a chair, or stand with a doll stand. (Chair and doll stand not included.) Marnie is meant for display only.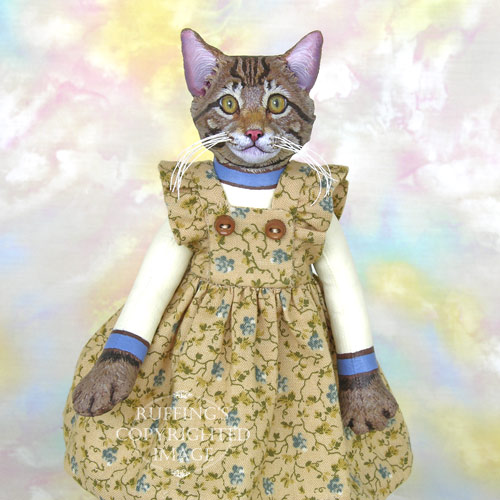 Marnie is signed and sealed with matte varnish for protection and preservation. She is 8 and 1/2 inches tall.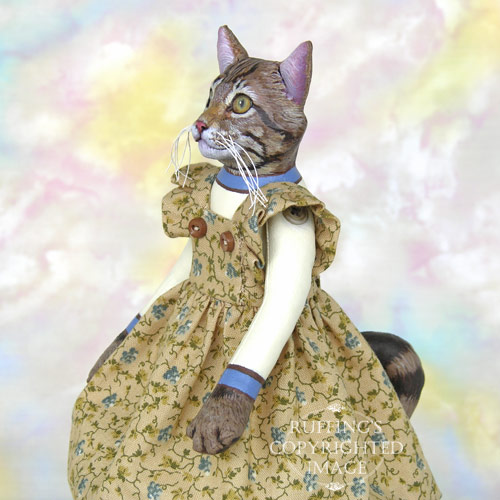 Update: Marnie has been adopted! Thank you!
Marnie's friend is Lucinda the black cat (coming soon).