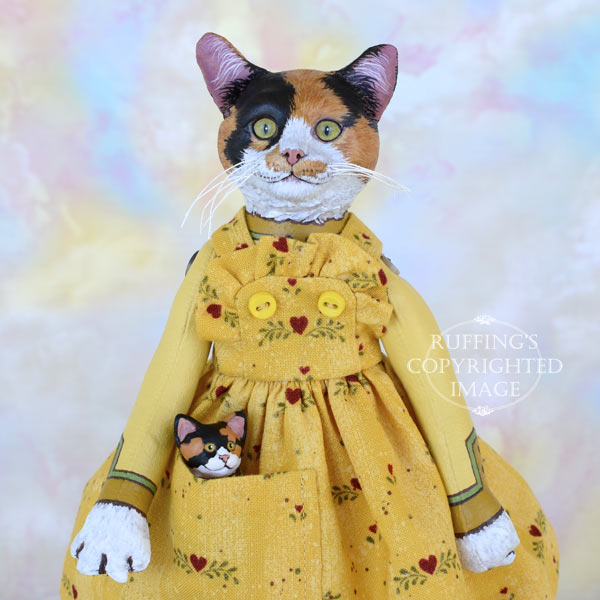 Haley is a calico cat, with a dramatic contrast of orange, black, and white fur set off by her pale yellow-green eyes. Haley's little doll peeks out of the pocket of her pinafore. Haley calls her Boo.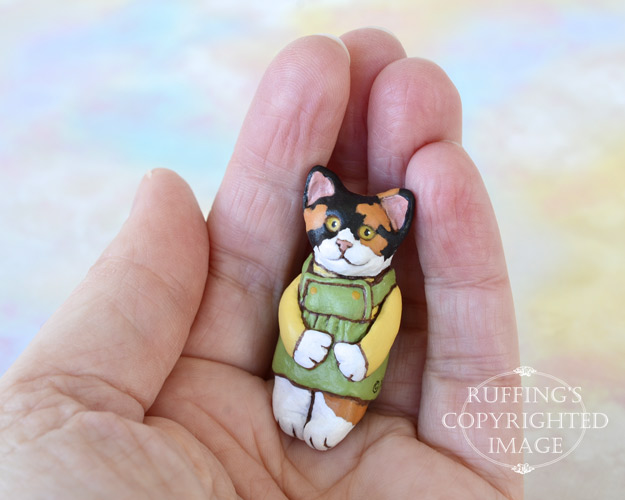 Until Boo came along, Haley sometimes felt lonely. She longed for a doll to be her companion, to share all her small adventures and big dreams.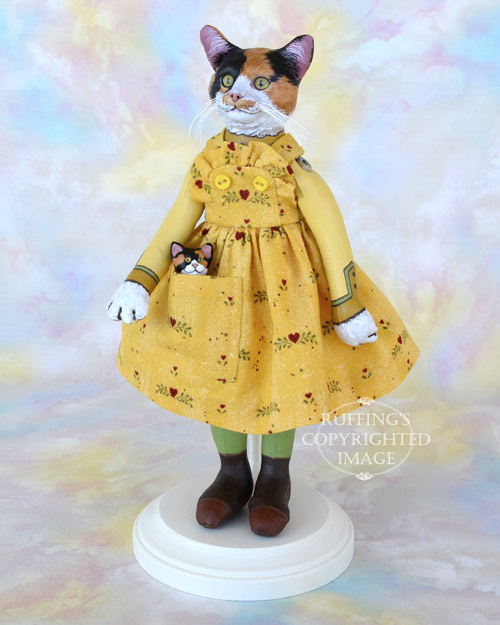 Haley and Boo are now inseparable. They go everywhere together during the day, and Haley makes sure Boo is tucked in next to her at night.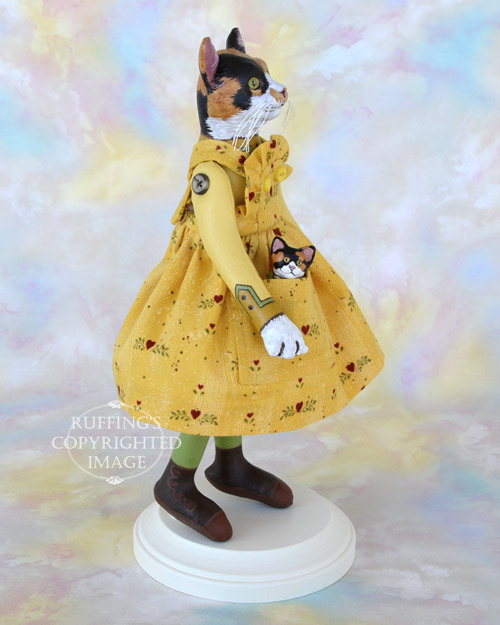 Today, Haley is wearing her pretty gold pinafore with red hearts and sprays of green leaves. It has a ruffled bib, yellow buttons, and straps that cross in the back.
Her soft yellow shirt is decorated with bands of gold edged in green. Her pantaloons are golden ivory, and from them emerges her black and orange tail.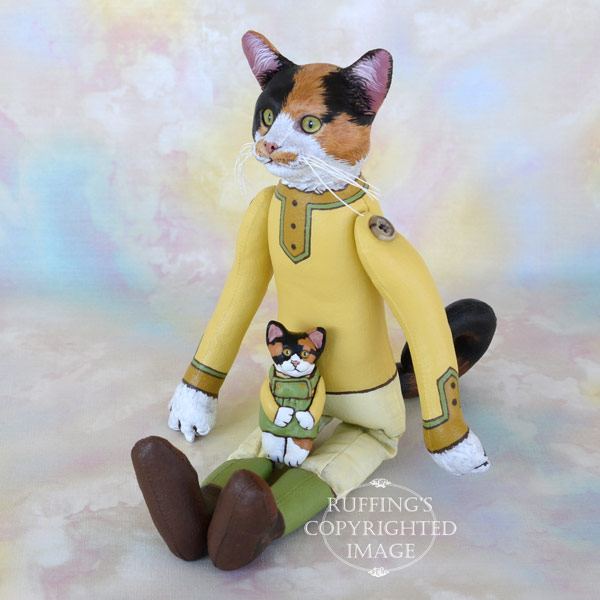 She's wearing green tights and two-tone dark brown and sienna brown high-button shoes.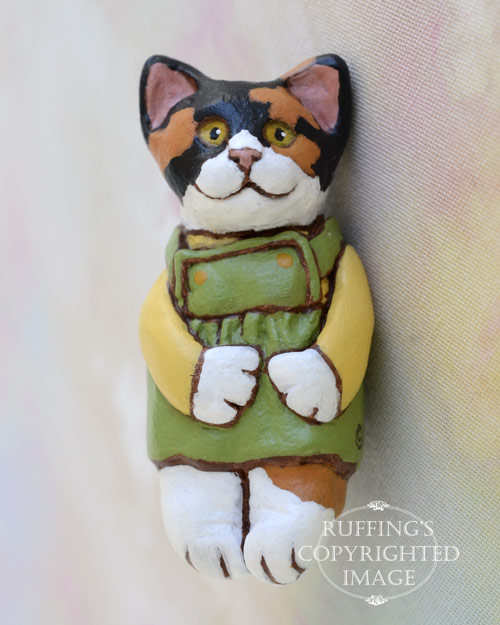 Boo is wearing a green pinafore with gold buttons over her yellow shirt. Like Haley, she's a calico cat with yellow- green eyes. She is 1 and 3/4 inches tall, and is sculpted from paperclay and painted with acrylic paints. She is one-of-a-kind.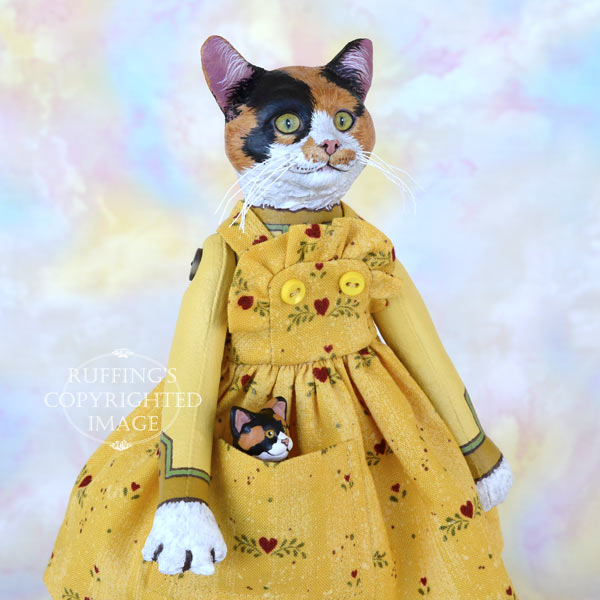 Haley is also an original one-of-a-kind work of art, created from my own design and pattern. She is made from 100% cotton fabric which has been sewn, stuffed, and completely hand-painted with acrylic paint.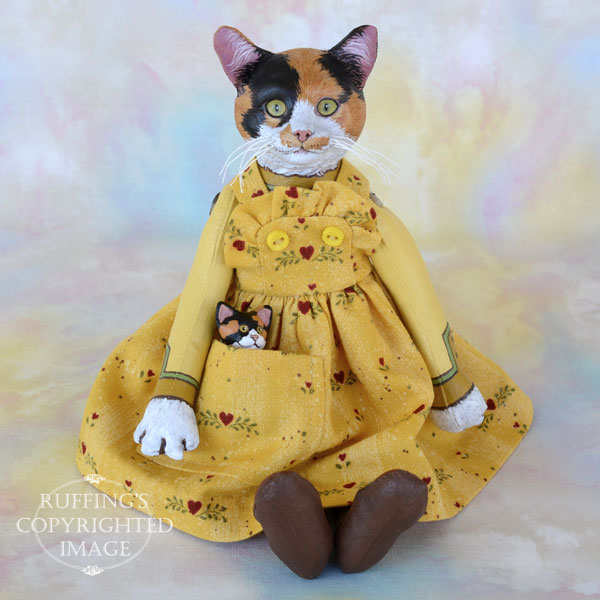 Haley's paws are needle-sculpted, and her arms are button-jointed so that she can pose. Her face was sculpted from paperclay smoothed into her fabric head, and her whiskers are made from stiffened cotton thread.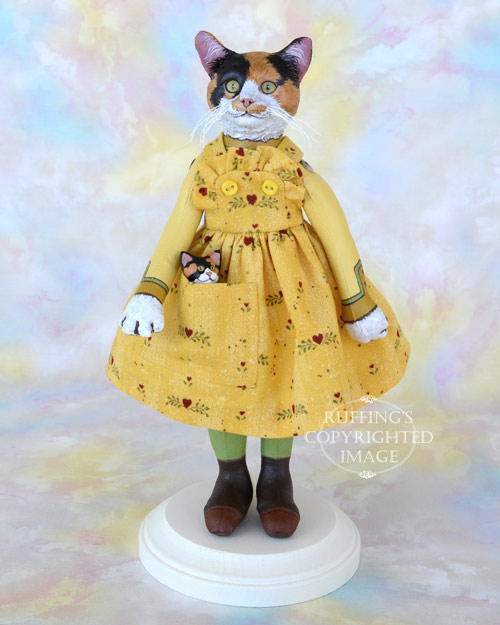 Haley's curled tail enables her to sit prettily all by herself on a shelf or on a table, or in a cabinet. She can also sit on a chair or stand with a doll stand. (Chair and doll stand not included.) Haley and Boo are made for display only.
Haley and Boo are signed and sealed with matte varnish for protection and preservation. Haley is 8 and 1/2 inches tall.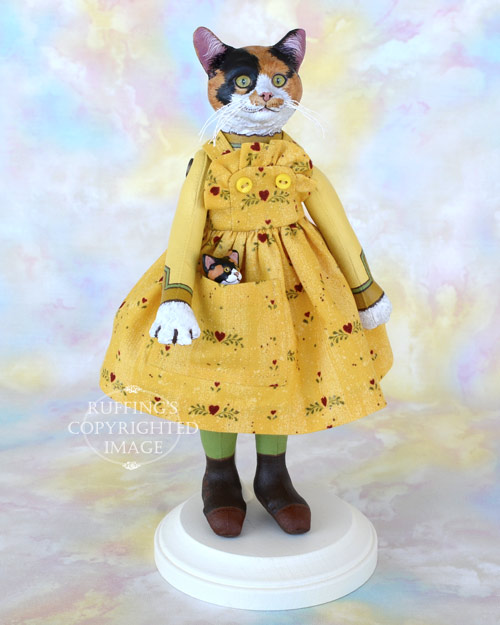 Update: Haley and Boo have been adopted. Thank you!