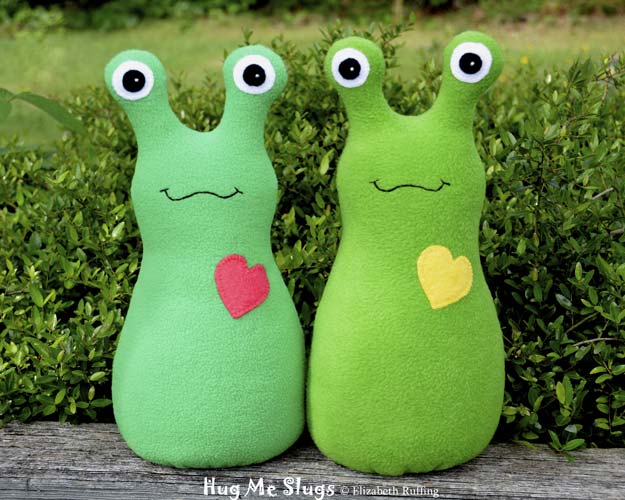 Here's a Hug Me Slug update. I will be posting my new handmade stuffed animal banana slug toys in our Ruffing's shop, along with new Hug Me Bugs too.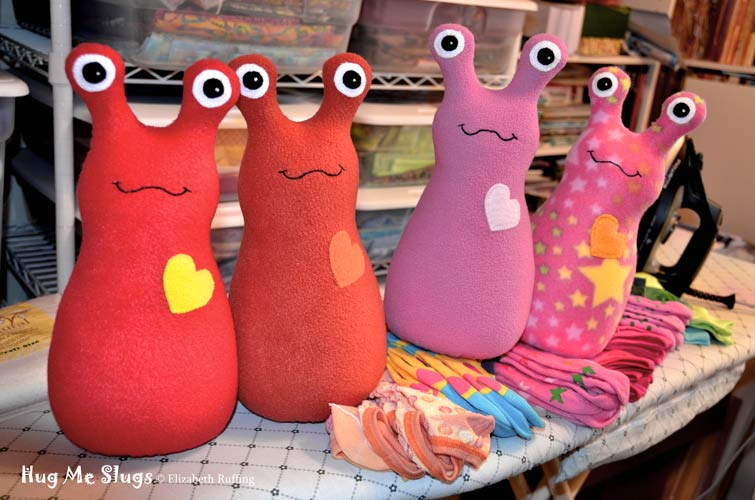 I have Hug Me slugs in bright red, burnt orange, mauve, pink with stars,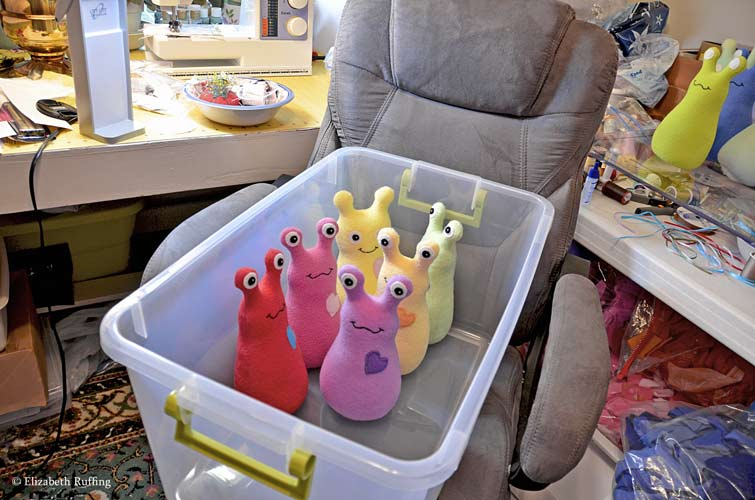 orchid, honeydew green, and two pretty, soft yellows.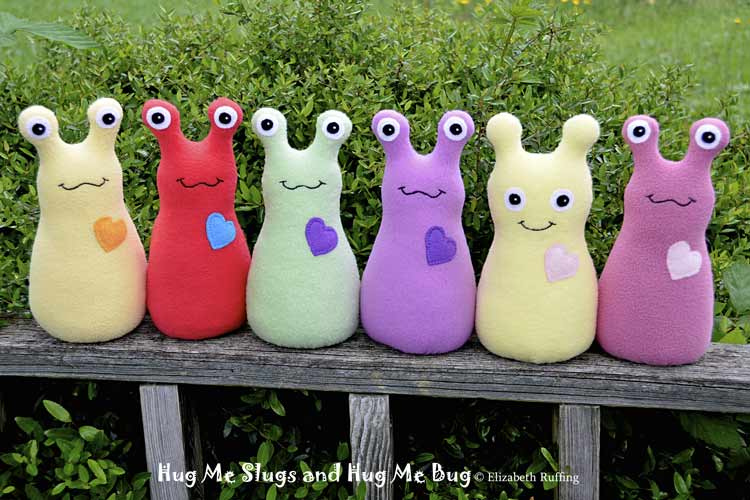 Below are orders waiting for Monday's trip to the Post Office. Some sock kittens and Hug Me Slugs found homes at the festivals they attended this weekend too. They were at Peak Fest in Apex, Meet in the Street in Wake Forest. and OutRaleigh in Raleigh. Thanks to everyone at Alley Cats and Angels for taking them along and babysitting them. I'll borrow some photos and post them next time.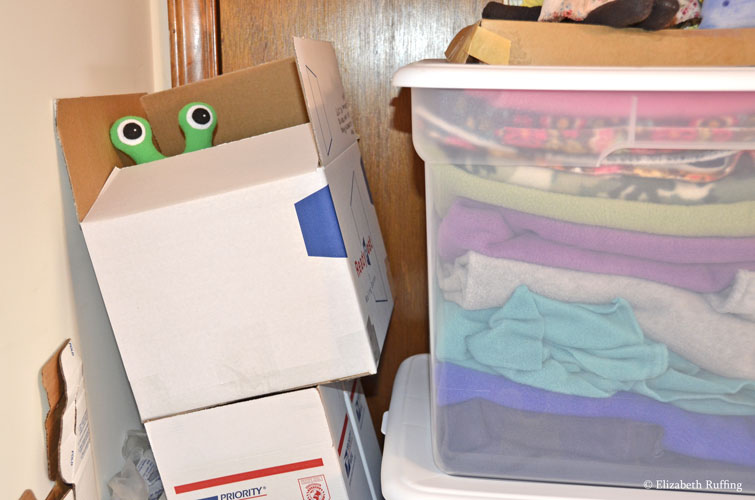 This is one of my tabby cat helpers with my fleece remnants. She's been keeping me company while I watch movies and hand embroider eyes, and hearts, and smiles on my toys.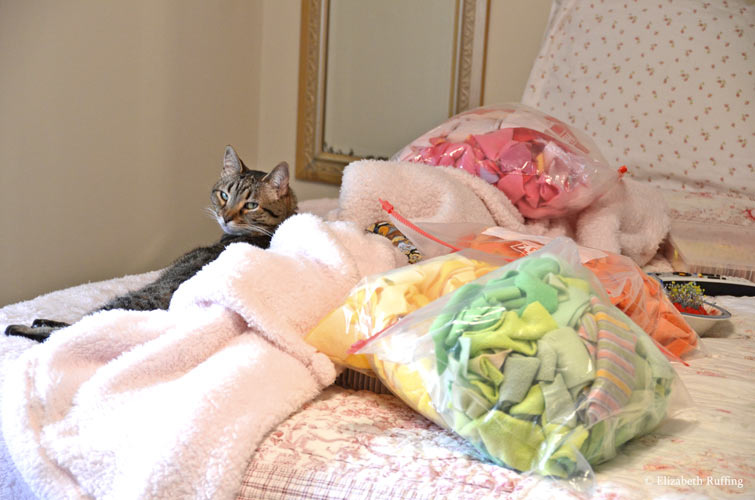 Bertie also likes to be helpful. She gets as close as possible to projects to make sure she is ready, if needed.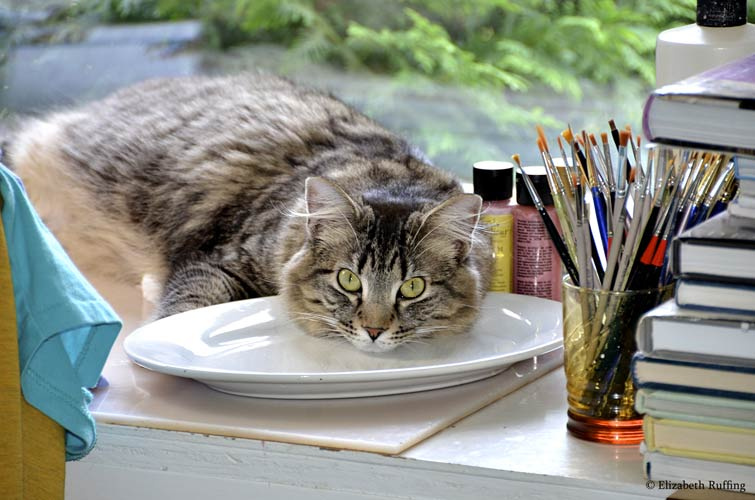 I made the girls some very easy cat toys this week. They have a favorite tattered scrap of fake fur they love to carry around, meowing, and sometimes putting it in the water bowl. I cut 2 1/2 x 3 1/2 inch pieces of fake fur, rolled them, and stitched across one end. They happily accepted them.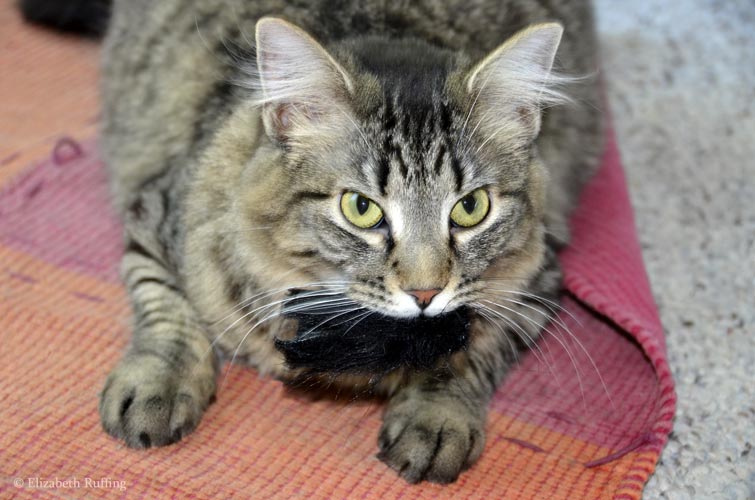 Below is the old one with Bertie. At least half the fur is gone off of it. They still play with it anyway.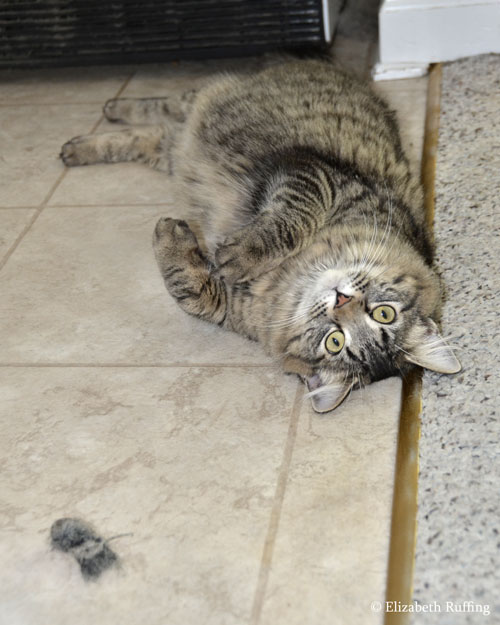 This is Phoebe waiting for her turn. Lately, Phoebe has been chasing the other cats. She thinks this is funny, but at least one older boy doesn't care for it. I joined in, to see what would happen, and Phoebe seems to like the idea of my chasing her around the house. I make sure not to scare her, and she seems to know it is a game. It's good to be able to interact with her, since she is too shy to be handled.