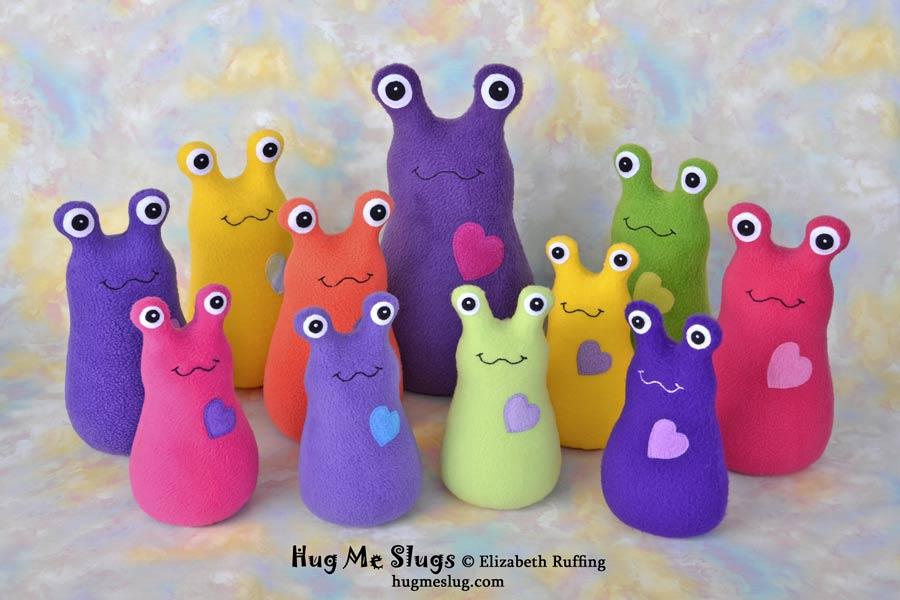 I have finally added some Hug Me Slugs to my Etsy toy shop. The 12 inch slug has been adopted, but the 9 inch and 7 inch slugs are currently in my toy shop. I am trying to restock, which has been a struggle for a long time. I have days when I want to stop altogether, because I feel like I am not getting ahead, but I am trying to hang in there.
A customer sent me this wonderful photo of her three boys with their Hug Me Slugs. This is the kind of thing that keeps me going. I love how the guy in the middle is trying to eat his. Another customer told me that slugs make good teething toys.
One of our kitties, Zoomie, has been wanting to cuddle and sit in our laps whenever he gets the chance lately. He even got into my lap with Oliver Bunny, who wasn't sure what to make of that.
Zoomie is 17 1/2 years old, which the vet says is the equivalent of being a 95 year old man. He didn't seem to be feeling well, and my mom noticed swelling on his chin. So, we took took him in to the vet right away.
He had an abscess in his mouth, of undetermined cause, which has now been drained. He also had some growths removed from his forehead and side. The vet removed some of the tissue around the growths, to try to be safe. We discussed this with the vet, and we opted not to find out if they were cancerous. At the beginning of last year, Mr Bear had a tumor removed from his neck, and we found out shortly after that he had more tumors, which were inoperable, inside. The vet said if anything else is going on inside, there most likely wouldn't be anything we could do. There was nothing that could be done for Mr Bear, as much as we tried. We are happy to have Zoomie with us, and were very much relieved that his condition improved with surgery and medication. The kitties and the bunny want to look at him, which bugs him a little.
We are home today, because we had to cancel my mom's eye surgery. We had ice this morning, and didn't want to try to get to the hospital, which is fairly far away, in the bad weather. She was very upset about this, as it is stressful gearing up for it at all. We haven't found out yet how long the wait will be to reschedule.
This is one of my neighbors' cats who comes to visit. I made catnip toys for Christmas for our cats and for our visitors. I also brought some over to the cats next door, who come to visit as well, but sometimes get chased off the porch by this orange fellow, Santana. I think they may be learning to play together. I hope they will.
I was working on a Christmas card of carolers, two of our kitty visitors, Santana and Trouble, and Oliver Bunny, singing. I didn't get it done on time for Christmas. I opted to work on the catnip toys instead, and not rush through the picture, which got more ornate than initially planned. I think I may need to go back to painting, to feel better, but I tell myself I need to use the fabric that is taking up my workroom. It has been awfully dreary here. I think we would all feel better if the sun were to come out again too.