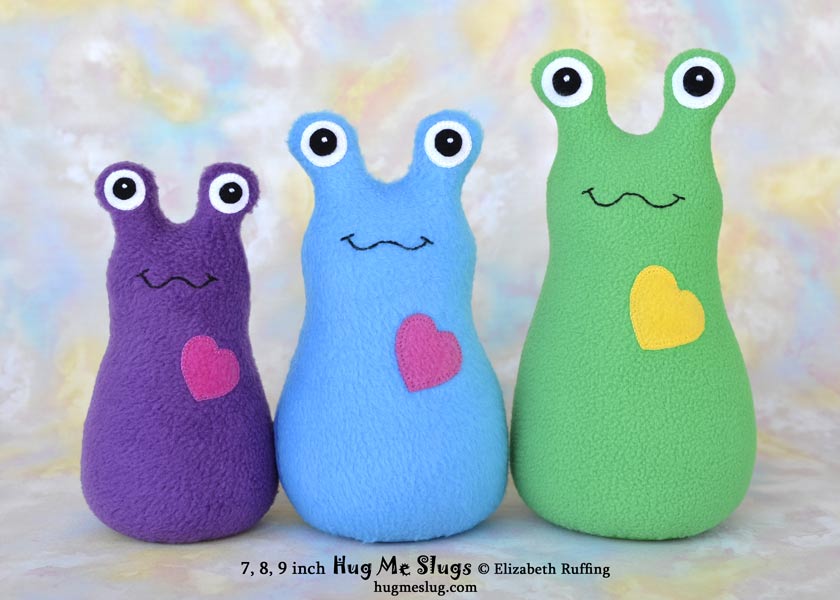 My title has my brain playing Feist's 1,2,3,4 now, even though the song is missing both a seven and an eight. The connection makes sense in my head.
There is also a Sesame Street version that only goes up to four.
Speaking of counting, for some time, I've been donating portions of my toy sales to help animals. I was curious to see what it amounted to. I added it up, and I've reached $597.60 so far. Some has gone to The House Rabbit Society, Alley Cats and Angels, Kitty Bungalow Charm School for Wayward Cats, The Whiskars' Syndicate, Protective Animal Welfare Society (P.A.W.S.) in Kansas, Care For Bear, and our friend Cheryl's feral cat fund to care for community cats here in our area of NC. It doesn't seem like a lot each time, and so it was nice to see that it adds up.
I'm adding back a size in my Hug Me Slug plush toys, for anyone who likes to make slug families, with little, middle, and big kids. Those are the 7, 8, and 9 inch Hug Me Slugs above. I have 12 inch ones too, or I usually do. I am making more. I've had people get those as parent slugs to the smaller ones. You can find my stuffed animal slugs over in my Etsy toy shop. Some of these have been adopted already, but I still have some available there at the moment.
These two 7 inch yellow Hug Me Slugs went out as gifts. They were named after their Girl Scout counterparts. One was called "Candy Corn" and needed a candy corn heart. I painted the heart with fabric dye. Since she was for a big kid, it was okay. Babies put my slugs in their mouths, and so I wouldn't do that for a baby, to be safe.
I had these up as Valentine's Day slugs, but they happen to still be around for now, waiting to be adopted. They are 9 inches tall.
These three above are the 7 inch size, and you can see I am adjusting the sizes of my patterns. Oddly, the purple and the light blue are the new size, from the same version of my pattern. The light blue guy got a little chubby instead of tall. That happens. He's already gone out as a new baby gift. Apologies for the redundancy in my photos between my blog and Facebook page. I'm behind with my blogging, as usual.
I just got through sewing 50!! of the new 7 inch slug bodies. Next up, they get stuffed, and then detailed. I'm trying so hard to get restocked, but it takes so long. I machine sew the first seam, and then it is all hand sewing from there. That seems crazy sometimes, but I prefer the way it looks. I've never been happy with machine-sewn details. I think the hand sewing gives them more character, makes them seem friendlier, and is more personal.
It gets overwhelming at times, trying to get toys finished in any number. We've also been running to doctors' appointments and more eye surgeries here, and doing rounds of eye drops, which I kept having to get up early to do for my dad. We'll be starting more for my mom. We have appointments and another surgery this week.
As you can see, I curled up in the middle of the kitty pile the other day. The weather has been cold and miserable, but I know, nothing compared to up north. I am relieved when the sun comes out. The drear is getting me down. I feel so sad sometimes. Today was at least warmer, but it went back to gray later.
Santana, our neighbor-cat, finally accepted my invitation to nap in Mr Bear's house. It has been unused for a year almost. Mr Bear would have wanted his friends to have it. I told Santana this, and he seemed to understand. I put a catnip pouch in there for him, and recycled a few more for the porch.