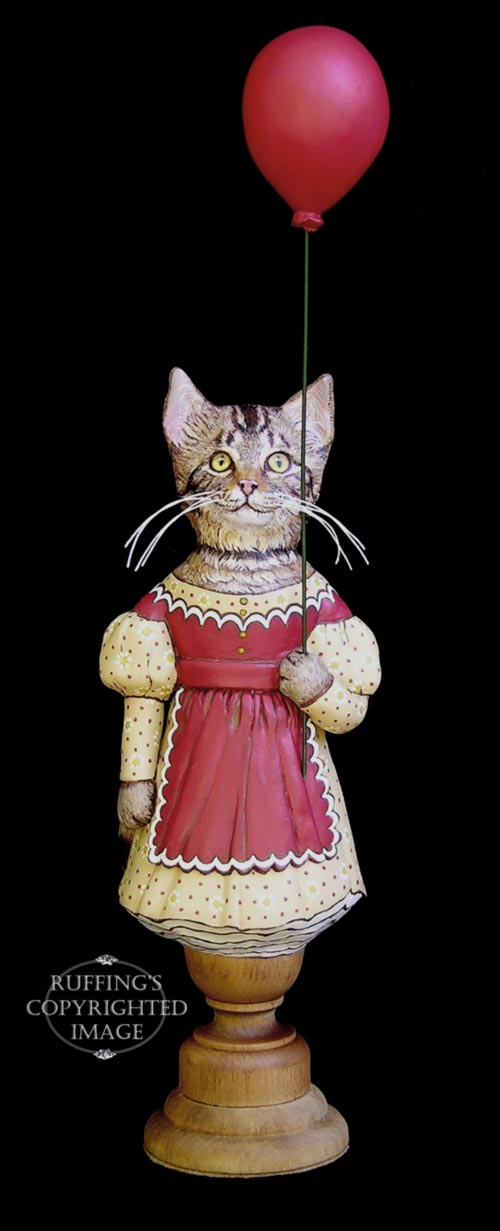 "What if I let go of my beautiful red balloon?" thought Frannie, the pretty little tabby cat. "The wind will take it up into the blue sky where it will soar above the puffy white clouds. The birds will be amazed at what a wonderful thing it is. People will see it and say, 'Isn't that Frannie's beautiful red balloon?' "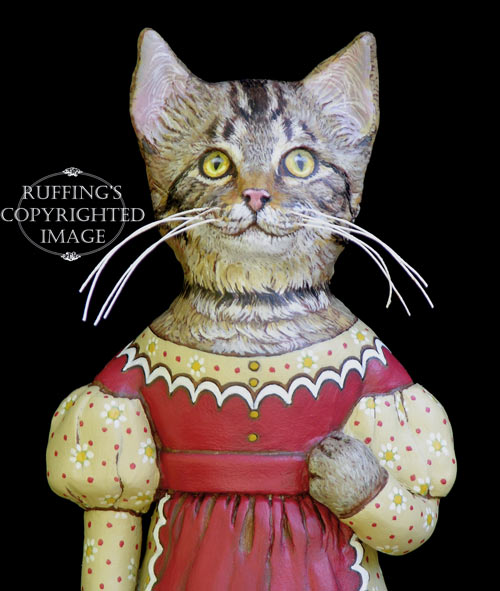 "Maybe it will glide over the hill, and when the wind dies down, maybe it will land in a tree in my friend Jessie's back yard. Maybe Jessie will climb up the tree and get it, and show it to her mother, and her mother will say, 'Oh Jessie, that balloon looks just right with your pretty dress.' "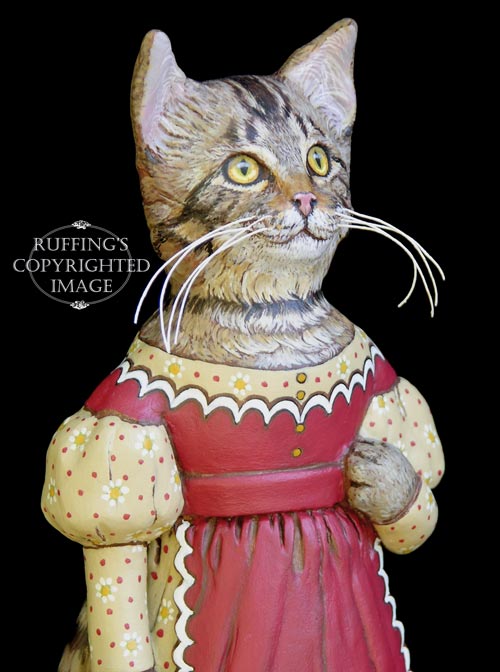 "No," thought Frannie, "I think I will hold on tight to my beautiful red balloon."
Frannie's fur is painted in a multitude of tabby colors….silver gray, buff, ivory, and gold, with black stripes. She has yellow eyes with a touch of green, a pink nose, and pretty white whiskers made from stiffened cotton thread.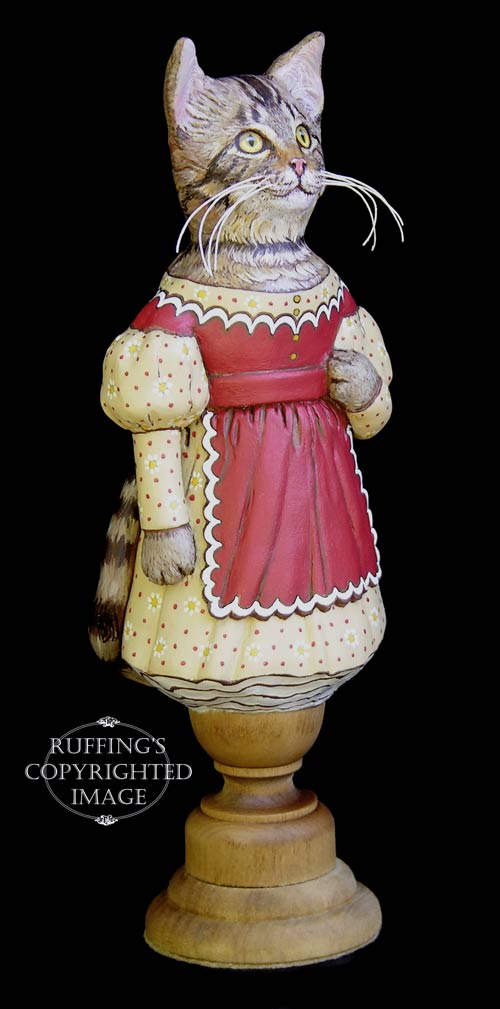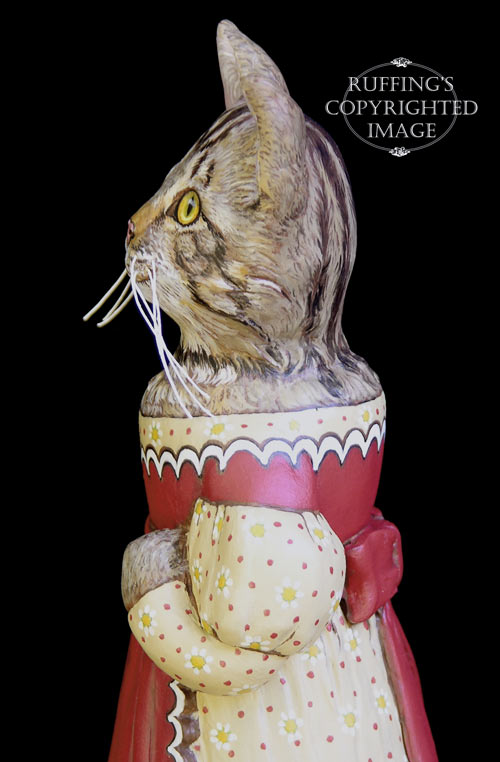 Frannie's old fashioned dress is soft gold, with little white daisies in a field of red polka dots. Her dress is set off by a red apron with a white scalloped edge tied in a big bow at the back. Her striped kitty tail emerges from the ruffled white petticoats that can be seen below her dress.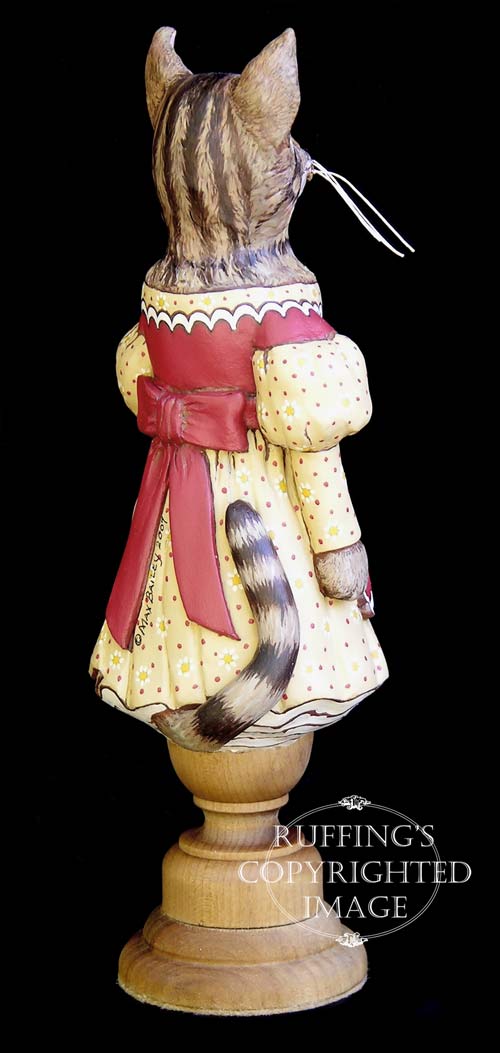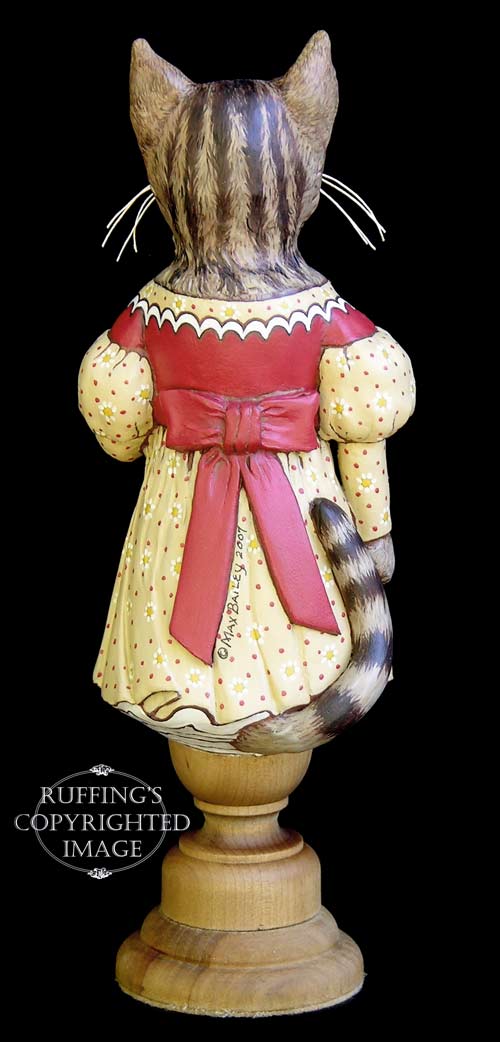 I hand sculpted Frannie and her balloon from paperclay. There is a little hole through her paw where the wire 'string' of the balloon can be inserted or removed. Her skirt swirls behind her as though a gentle wind is blowing. She stands firmly on a turned wooden base that is stained and sealed in golden oak.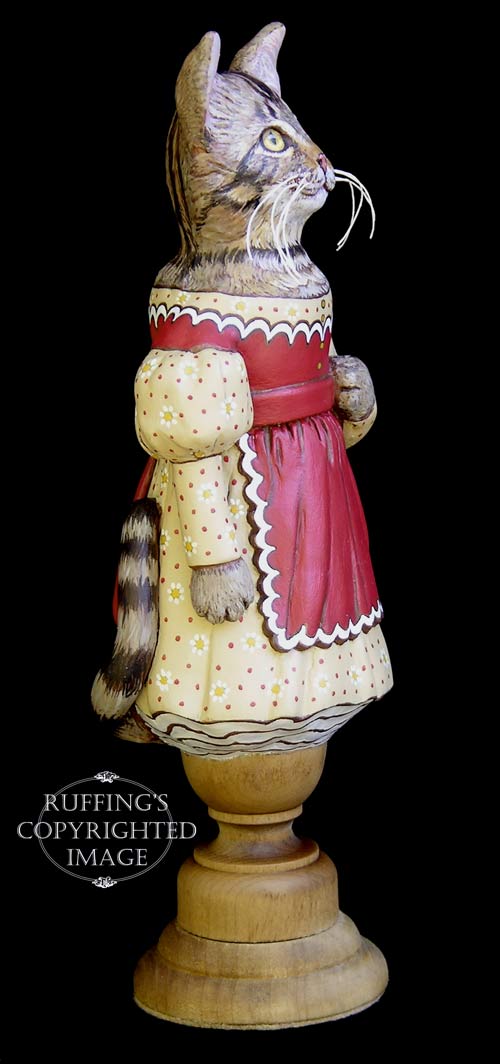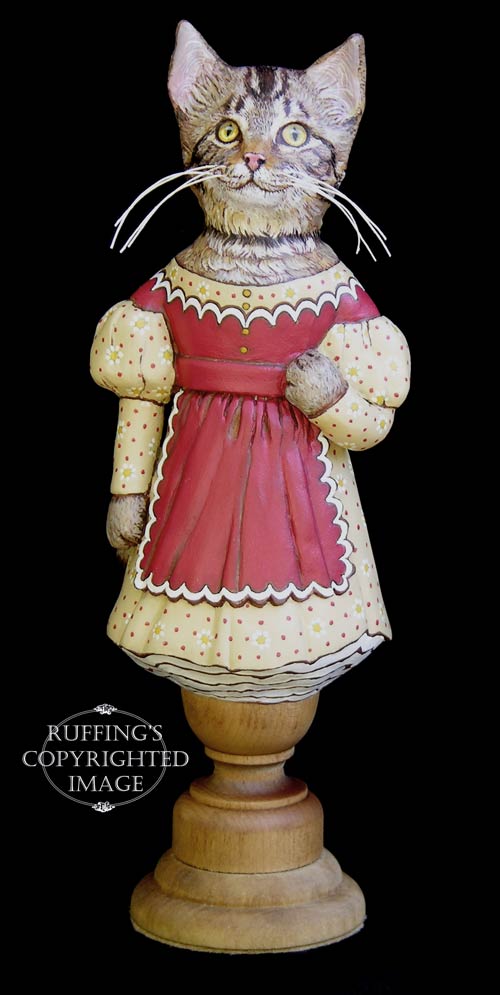 Frannie is 9 1/2 inches tall, and 13 inches tall when holding her balloon.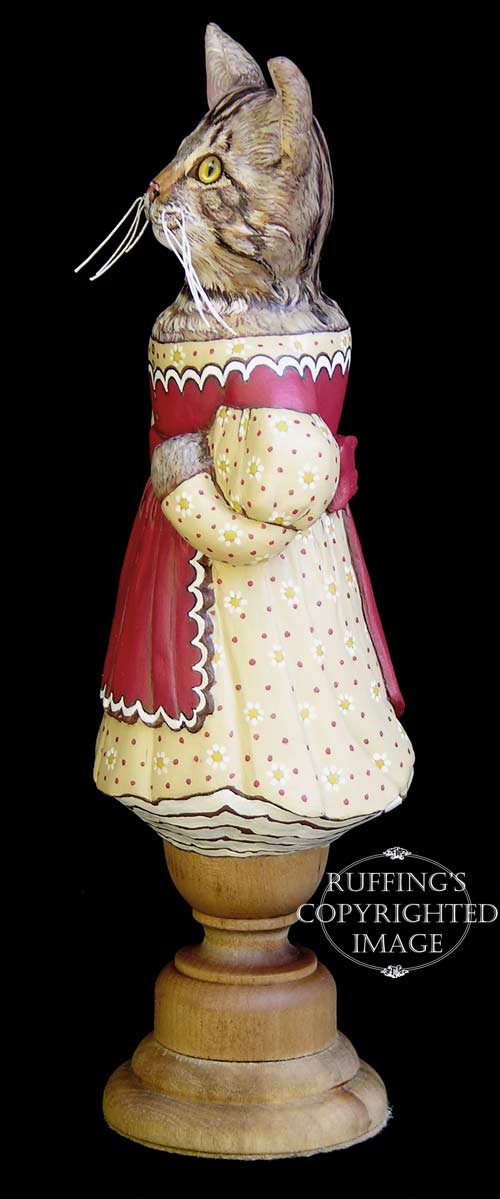 Frannie is an original one-of-a-kind work of art, meant for display only. No molds are ever used in my work. She is hand painting using acrylic paints, and is signed, dated, and sealed with matte varnish for protection and preservation.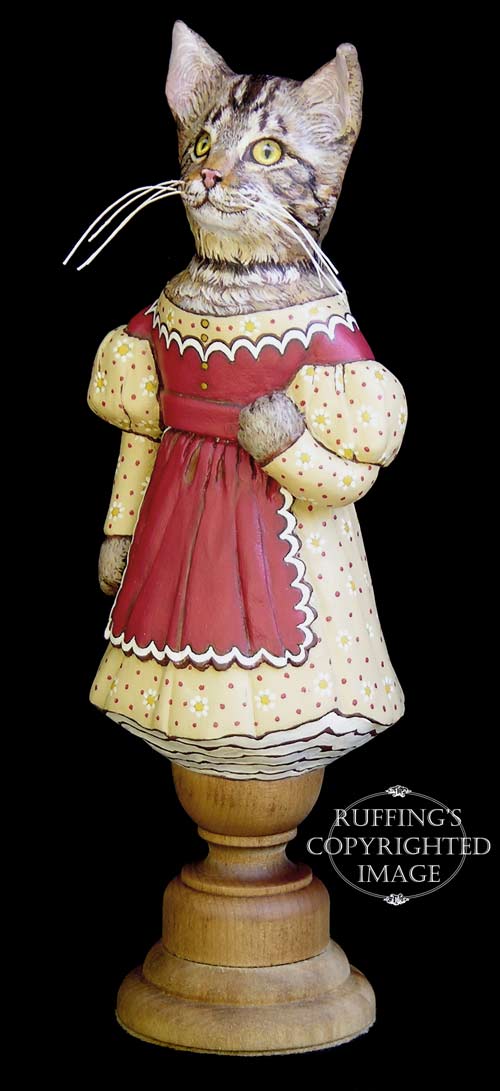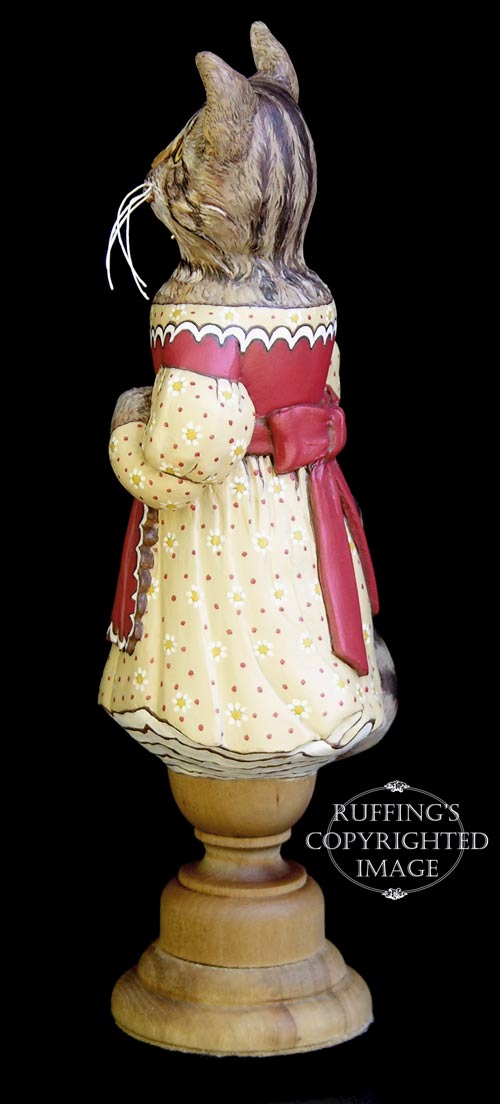 Update: Frannie has already been adopted. Thank you!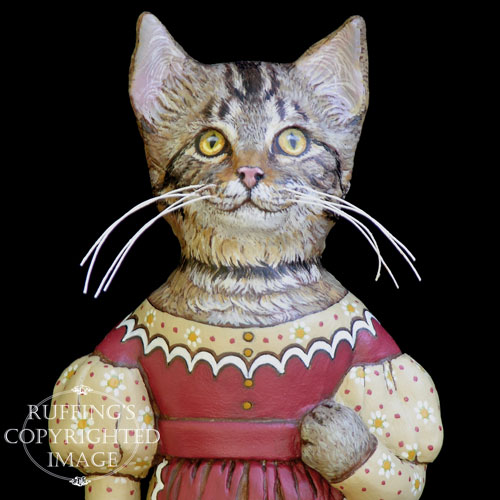 Frannie's friends are Crybaby (below left) and Millicent (below right).