The latest batch of slugs are on their way to their new homes today. They are probably driving off from the local Post Office right now, or at least riding in the back of the truck. I have some photos of them to share, but first I'd like to thank some of the people who have been featuring my work.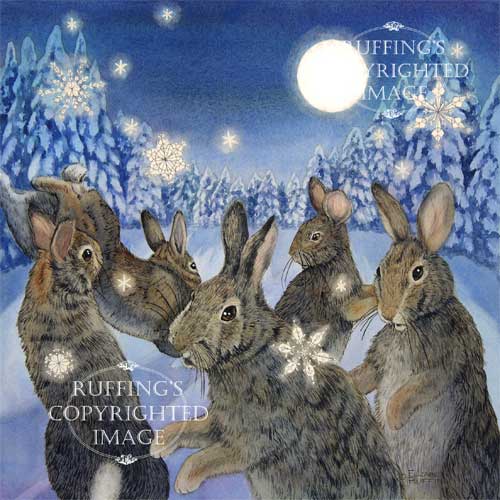 "The Rabbit Dances" makes an appearance on Annette's Etsy treasury this week. Annette is in Scotland, and her treasury is meant to help raise funds for the Buckeye House Rabbit Society, in Ohio, which is holding a holiday raffle where you can make a donation and enter to win an original rabbit painting. The details on the Buckeye House Rabbit raffle are here. Entries for that raffle need to be postmarked by December 1st, but Annette told me she also has a raffle of her own going on to benefit a rabbit and guinea pig rescue group in the United Kingdom. You can make a small donation for the rescue group, and enter for a chance to win one of several rabbit-themed prizes she has, that were made by various artists. You can check out more information on Annette's blog. It's open to anyone, and the artists involved are donating the shipping costs of the prizes, worldwide.
"The Frost Angel" was featured on another Etsy treasury by Christine.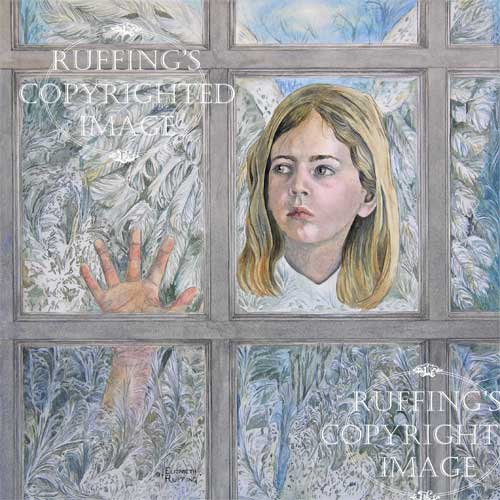 Christine picked out some very pretty winter images for her treasury. It hasn't snowed here (yet), and it is nice to look at frost without freezing!
And finally, my "Marmalade the Hug Me! Toad" was featured on the Found Handmade blog.
Thank you, Annette, Christine, and the folks at Found Handmade!
So, here they are…this Monday's postal travelers, plus…one "Name this slug" slug. Yes, I managed to get one done! I was pretty happy I was caught up with my custom orders, but that only lasted for about twenty-four hours!
This batch included a custom, small-sized "Super Slug". His name is Percy.
I think I'm going to make up an Etsy listing for more custom "Super Slugs". I always thought the idea of a Super Slug was funny, but I'd only made one large one before.
I'm still experimenting with his cape, with how full I want it to be. It is sewn into his back so it won't fall off while he's flying through the air, or just slugging along.
This is the "Name this slug" slug, in gold and orange. If someone doesn't grab her before I can list her, she (or he…not sure there) will be over in my Etsy shop soon.
I enjoy photographing the slugs in pairs. They seem to interact with each other, especially when they are looking in different directions.
Lots of people have wanted this royal blue color, and I'll try to find some more. (Update December 1, 2009: I did find some more at the store. So I do currently have it!) I have another appealing royal blue, but it isn't this dark. I have at least one dark royal blue small slug left.
I think Super Slug is checking out his friend Ludwig's heart here. He must like purple.
Okay…off to Slugland. By the way, I'd like to do some "Name your own" "Hug Me! Toads" too, but I'm not sure if I should try to show some of the socks I have to choose from, or if I should just make them and have them as "Name this toad" toads. Or both. Just thinking.
I also have some neutral fleece colors, like gray, darker charcoal gray, various tans, and brown, in case anyone happens to want a more masculine slug. I have some plans for the neutral colors. I'm going to try my earlier "Huggy Kitty" and "Huggy Bunny" using them. That might take some more experimenting….and more time, if I have some.