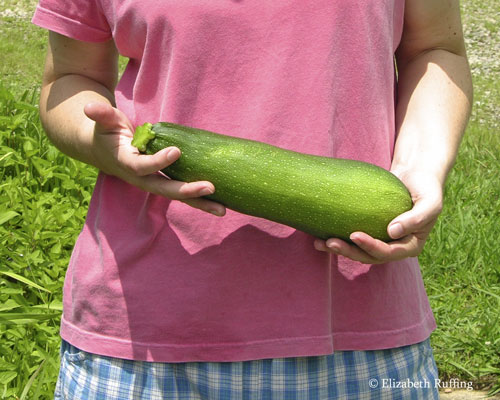 This is my very first harvest from our little vegetable garden…a big zucchini. I watched it grow, debating over whether or not it would amount to two cups of shredded zucchini for zucchini bread.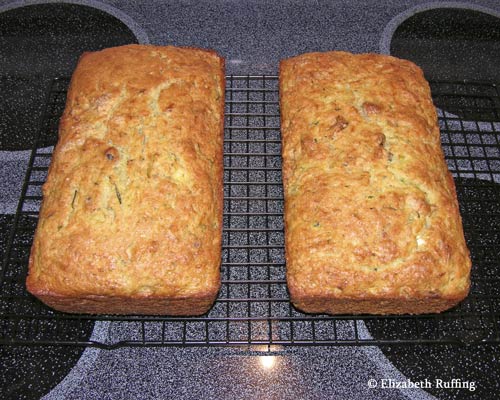 It did indeed, with a third left to spare. A friend suggested that someday, they will develop vegetables with a variety of easy-to-read measurements on them, or vegetables that grow to a programable size. Until then, I will have to hone my eye-balling-it skills.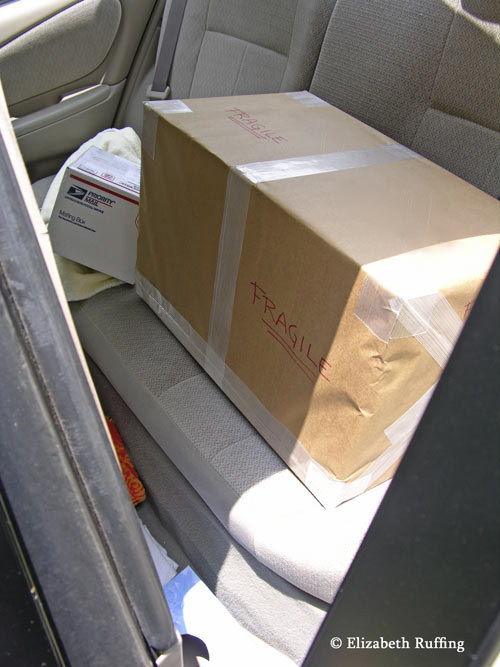 As much as I didn't even want to face doing this again, I packed up my Viking Platinum 775, and we hauled all twenty-two plus pounds of it to the Post Office. All week, I've been going through my usual, but completely pointless, "Why can't people just be decent? Why can't people just be honest?" ruminations, while looking back on the whole ordeal, along with any and all related ordeals that seem to bring up the same questions. I wish I could just accept one short answer and be done with this, and all related conflicts, forever: "Because that's who they are."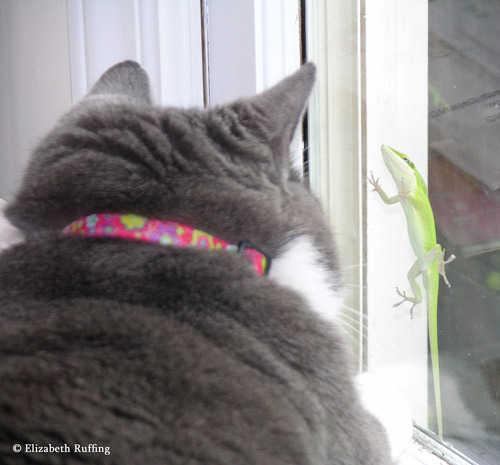 In contrast, here is a continuing display of devotion. Mr Anole has come to visit Mr Kitty almost every sunny day we've had. The two continue to stare at each other, while the anole does his tricks. He 's quite amusing.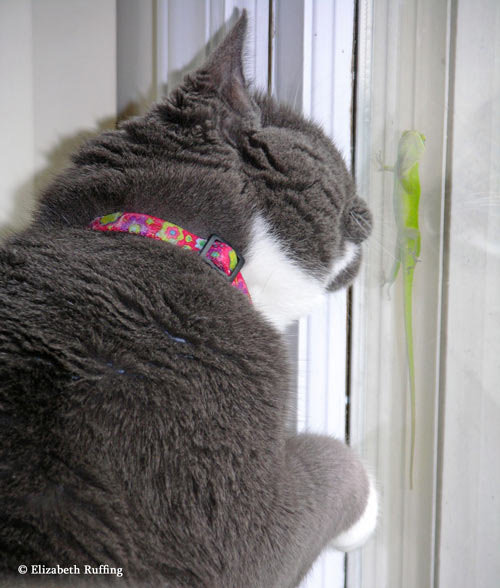 At one point, our kitty got so excited, he tried to paw his way through the windowpane. He purrs when I look over his shoulder at the anole. The anole is no where near as excited to see me though. His show is intended for an audience of one.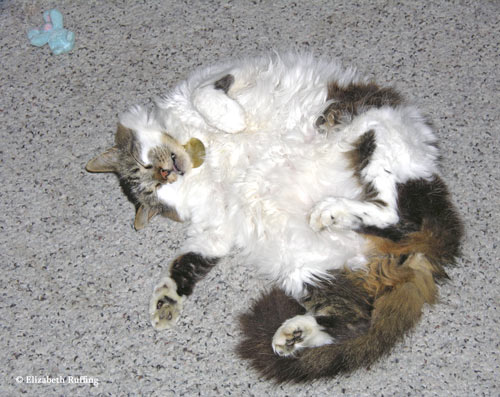 Some of us have been taking the weekends to relax. This is my model for relaxation. He's mastered the subject. I have much to learn from him. I'm still heading to Apple class too, and learning a lot there too, only about computers and programs.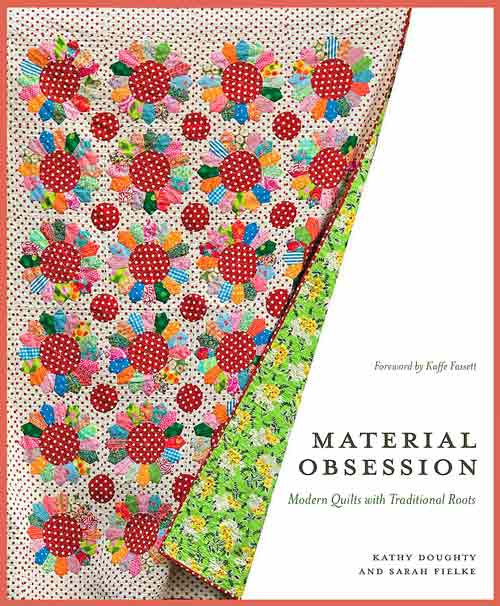 I picked up some non-software-non-computer-related reading material, for fun and inspiration too. Material Obsession, Modern Quilts with Traditional Roots by Kathy Doughty and Sarah Feilke seemed like the perfect book for me. I read the whole book when I got it home, over last weekend. I loved the combinations of fabrics and the quilt patterns. The authors own a fabric shop, and, as the title implies, they've used traditional quilts to inspire some modern designs. I really enjoyed it. It gave me ideas for combining fabrics for my toys too.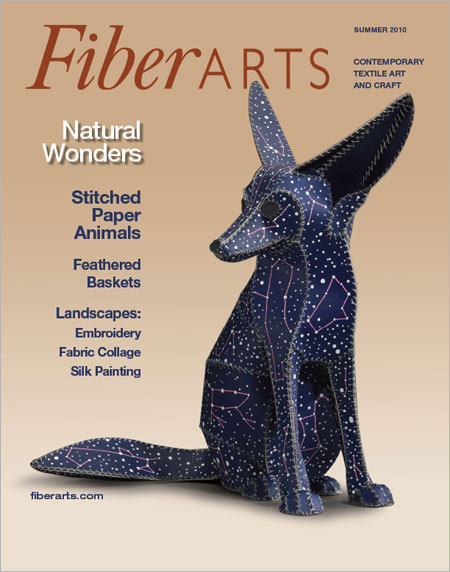 I picked up a couple of magazines too, Fiber Arts and Quilting Arts. I was taken with these hand-stitched animals like the "Fennec Fox" on the cover of Fiber Arts, and Quilting Arts had a good article on stabilizing art quilts and another on branding, I wanted to reread. As usual, I have more I want to learn, and more I want to do than I probably will be able to get to.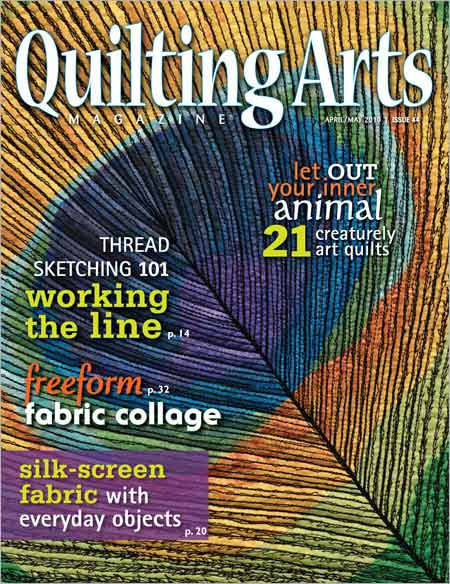 I've been wanting to explore art quilting much more, combining painting and fabric and sewing. I have so many ideas for projects. Of course, right now, my biggest project is redoing our Ruffing's site. I think that will be an all-summer project. I'm still excited about it, even though I don't want to relaunch it until it is organized enough to navigate. I'd also like to start adding more original art to the site, paintings and art quilts.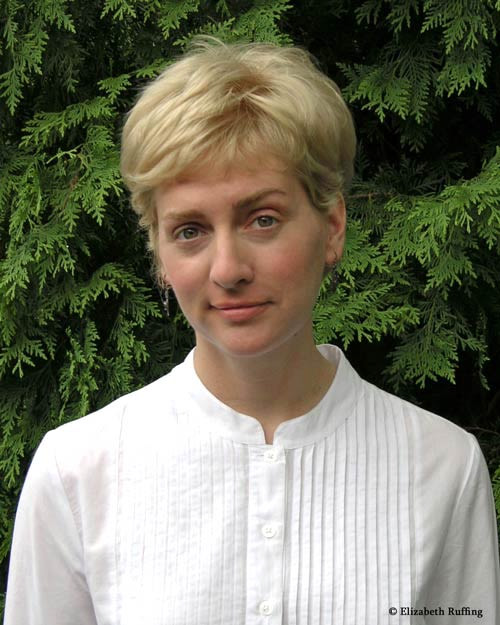 I've been fiddling with my hair again too. Even though this photo was taken just the other day, it has turned out to be a "before" photo, because I've just cut my hair again, in more of a Jean Seberg style, even shorter. It's been in the 90's this week, which is always good inspiration for a new haircut.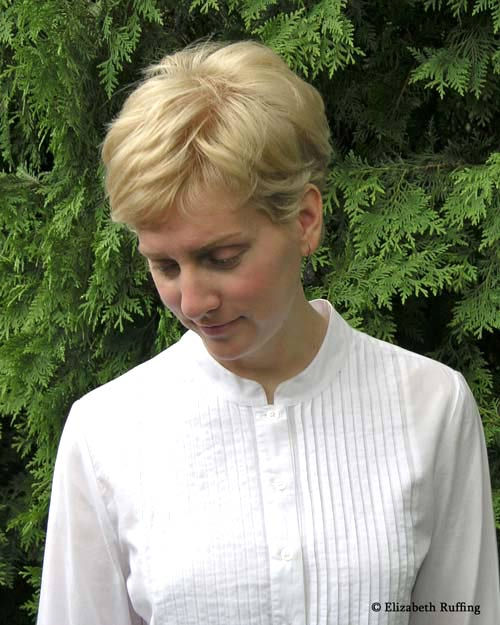 I've got to get some toys finished up and mailed off. I might even add a couple to my Etsy shop this week. If you haven't already, be sure to find us on Facebook, where I'll post the available art dolls and figurines as I continue to get their photos edited.