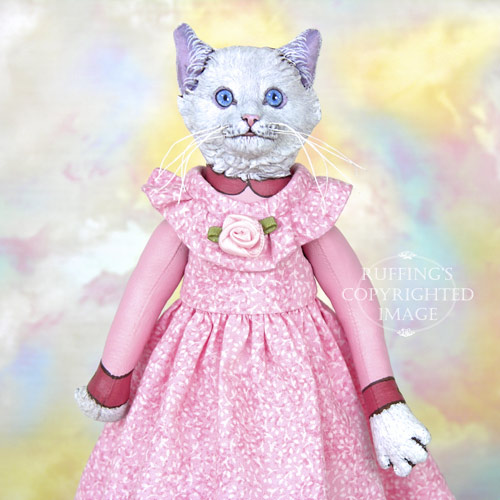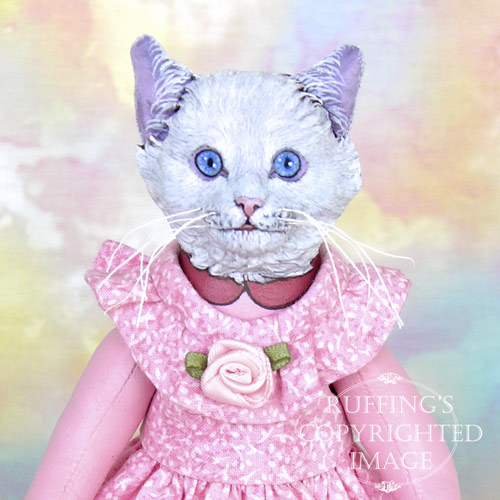 Lillie is a handmade original, one-of-a-kind white cat art doll, hand painted and hand sculpted in paperclay by artist Max Bailey.
It isn't hard to guess Lillie's favorite color. She is a beautiful white cat and to her, pink is the most beautiful color there is.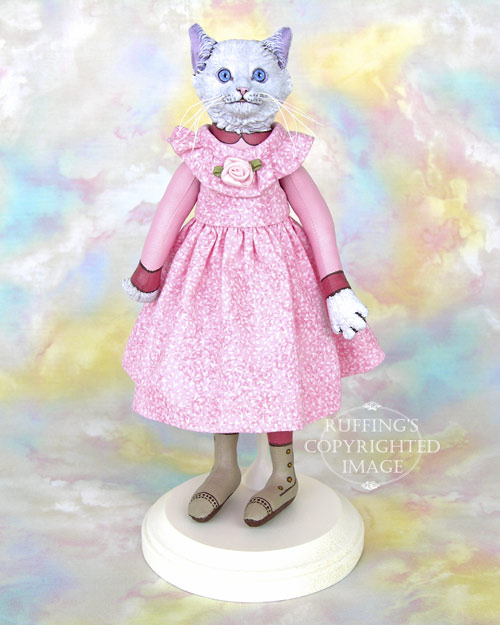 Lillie loves pink everything….pink dresses, cotton candy, and even the movie "Pretty in Pink".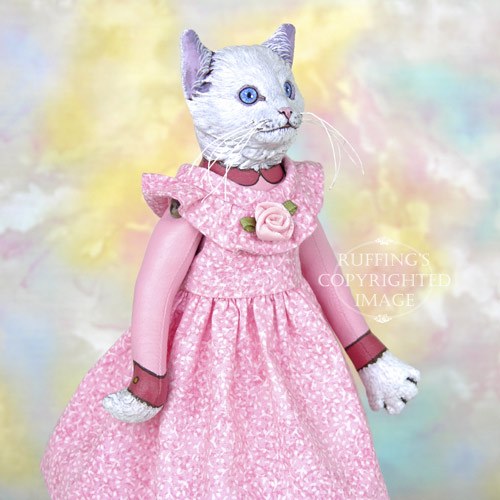 Her whole house is painted pink. It's surrounded by a pale-pink picket fence enclosing a garden filled with pink petunias, pink columbine flowers, and pale pink roses.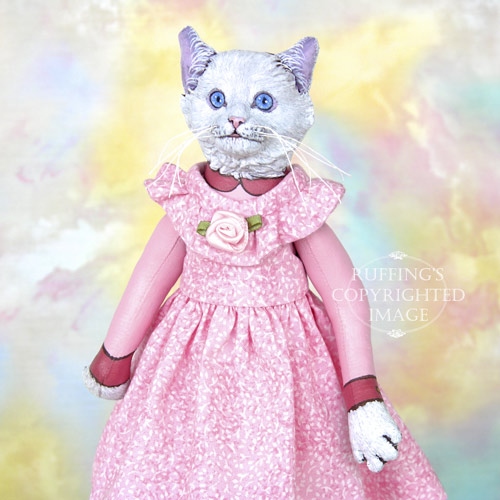 In the morning, Lillie wakes up refreshed. She walks out to her pink mailbox to mail her pink invitations, the addresses carefully written in her delicate scroll.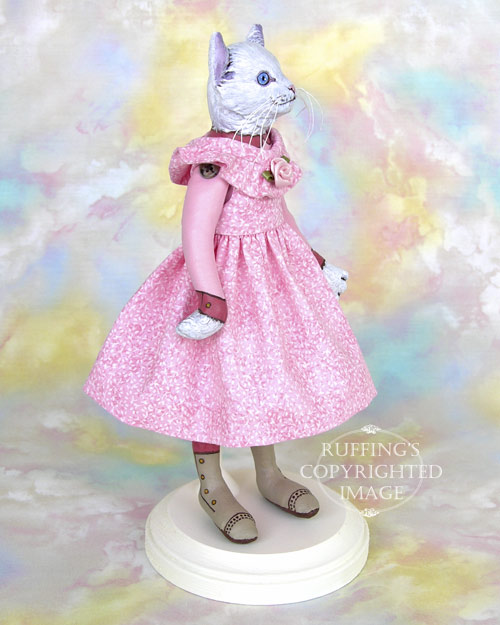 Lillie has decided to invite her friends to attend a party in celebration of spring, and is already planning to serve a cake with pink frosting, along with strawberry ice cream.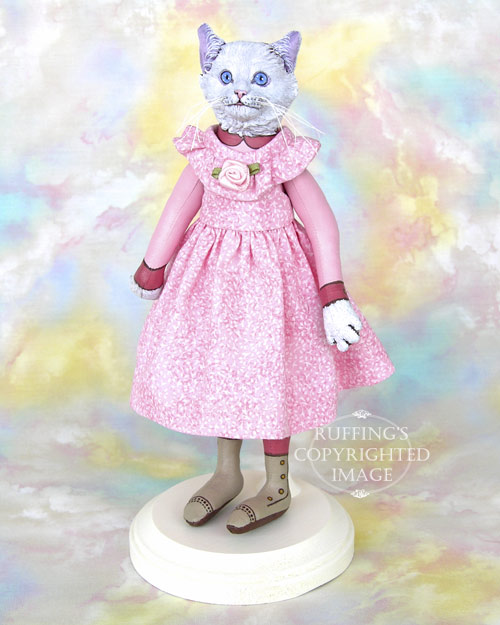 Lillie is wearing a lovely pink dress with a wide ruffle around the neck. A satin rose is attached to the center of the ruffle. Her pink blouse has collar and cuffs of antique rose that match her tights. Tan high-button shoes cover her little kitty feet.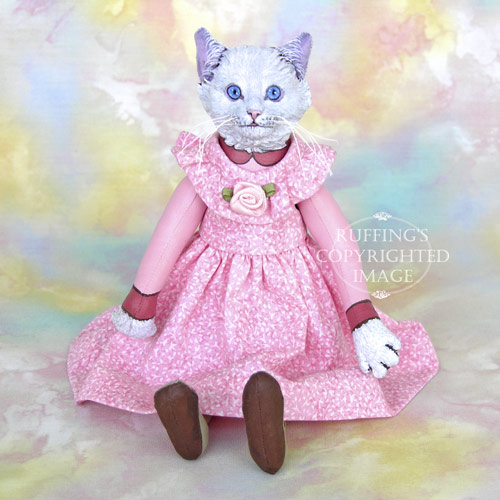 Lillie is an original one-of-a-kind work of art, created from my own design and pattern. She is made from 100% cotton fabric which has been sewn, stuffed, and completely hand painted with acrylic paints. Her whiskers are made from stiffened cotton thread.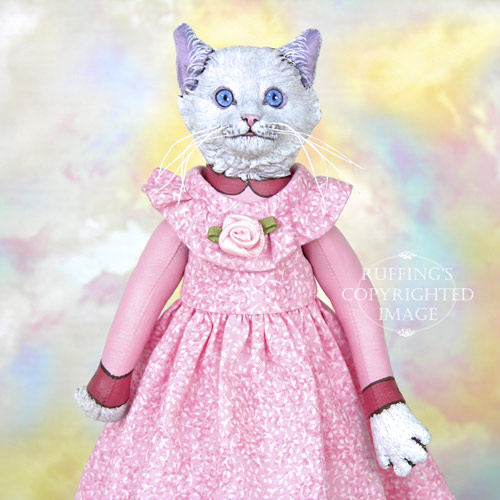 Lillie's paws are needle-sculpted, and her arms are button-jointed so that she can pose. Her face was sculpted from paperclay smoothed into her fabric head.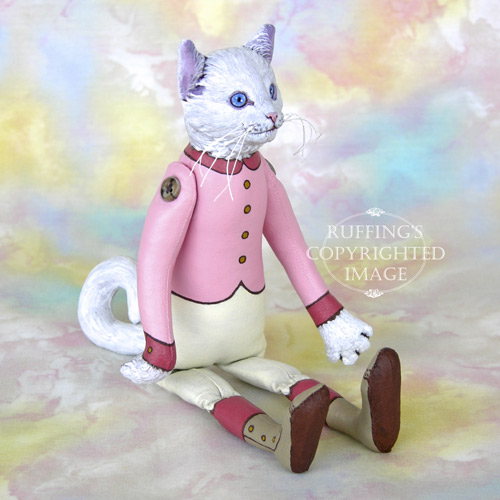 Lillie's curled tail enables her to sit by herself on a shelf or a table, or in a cabinet. She can also sit on a chair, or stand with a doll stand. (Chair and doll stand not included.) Lillie is meant for display only.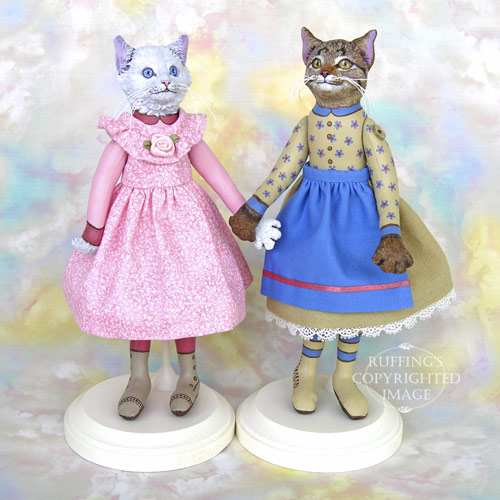 Lillie is signed and sealed with matte varnish for protection and preservation. She is 8 and 1/2 inches tall.
Lillie is available for $299.99. Please inquire to [email protected]
Lillie's tabby cat friend is Minnie.