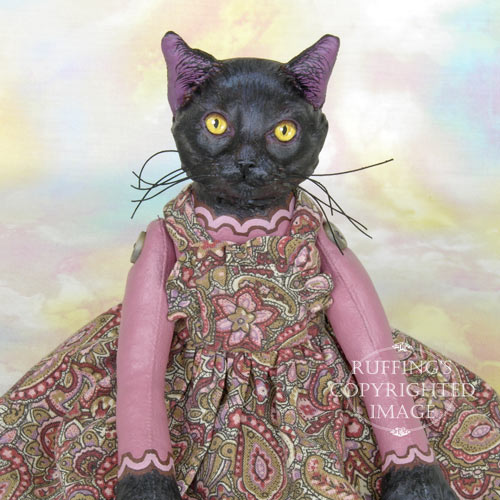 Lucinda is a beautiful black cat. If you are superstitious about a black cat crossing your path, you haven't met Lucinda.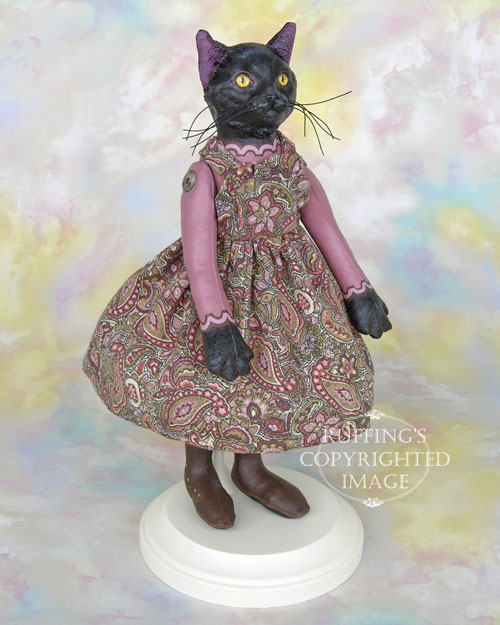 She is called "Lucky Lucy". She brings good fortune to everyone she meets, and it is widely known that everyone who meets her feels better for the experience.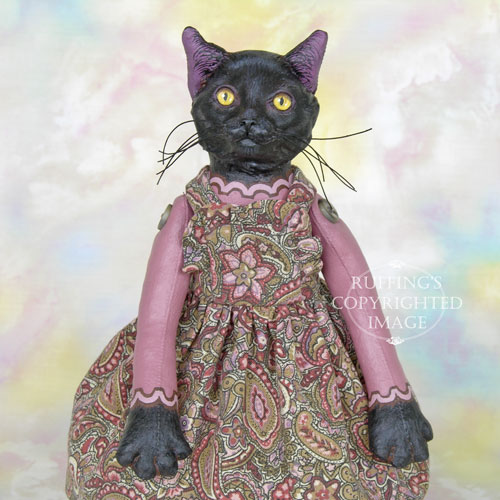 Lucinda's disposition is as sunny as her bright yellow eyes. She is cheerful and affectionate by nature, and will always listen to your troubles, and give kind and thoughtful advice. It is a great gift to have Lucinda as a friend.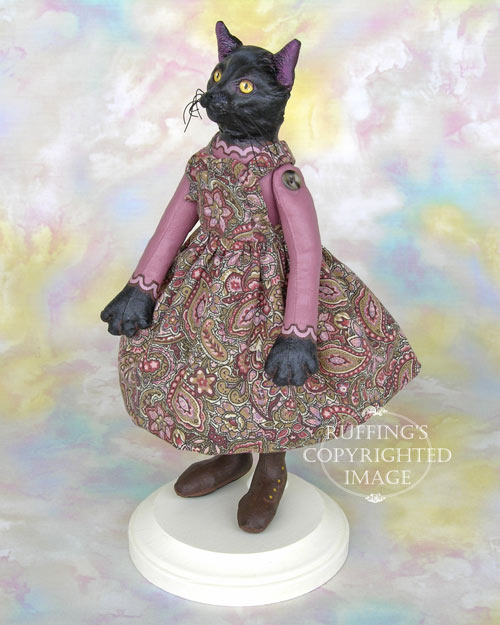 From near and far away, people come to the little town where Lucinda lives. They hope to be lucky enough that Lucinda will cross their path.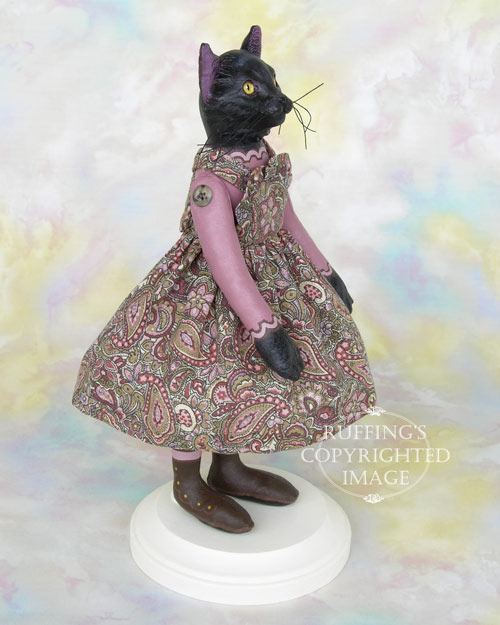 Lucinda is wearing a paisley pinafore in shades of mauve, pink, and tan. It has a ruffled bib and straps that cross in the back.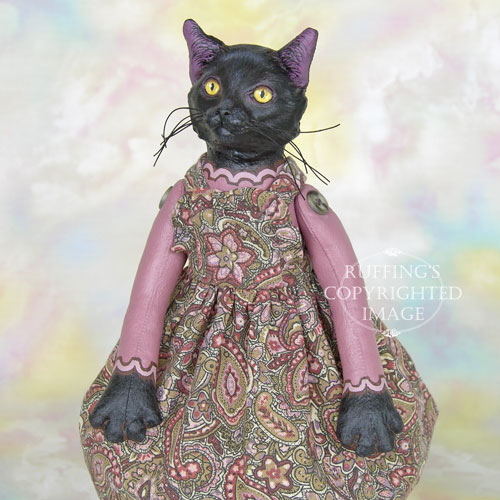 Her mauve shirt is scalloped at the neck and cuffs, detailed with a lighter shade of mauve.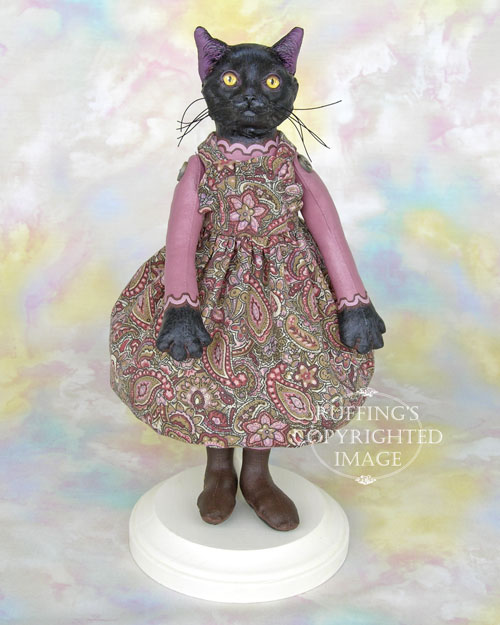 She wears little brown high-button shoes with gold buttons. Under her pinafore are ivory pantaloons, from which her black tail emerges. Her tights are striped in two shades of mauve.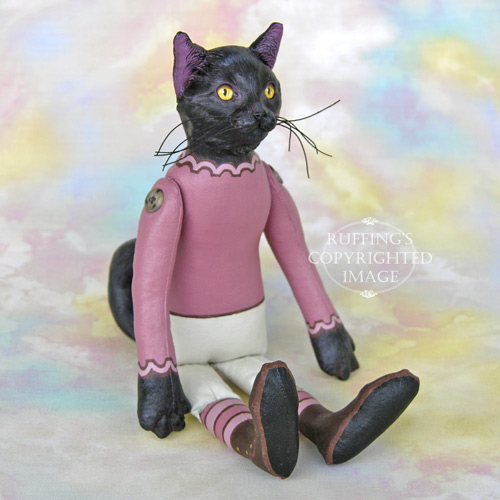 Lucinda is an original one-of-a-kind work of art, created from my own design and pattern. She is made from 100% cotton fabric which has been sewn,stuffed, and completely hand painted with acrylic paints. Her whiskers are made from stiffened cotton thread.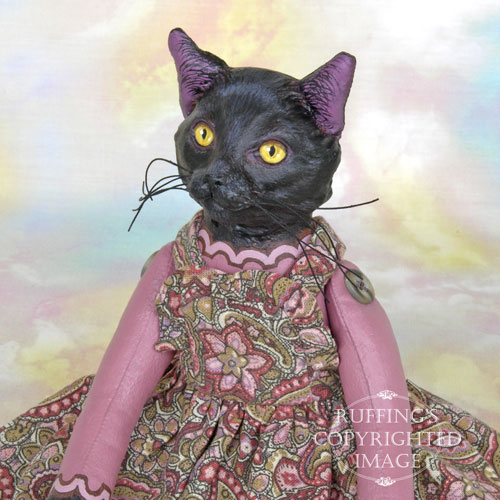 Lucinda's paws are needle-sculpted, and her arms are button-jointed so that she can pose. Her face was sculpted from paperclay smoothed into her fabric head.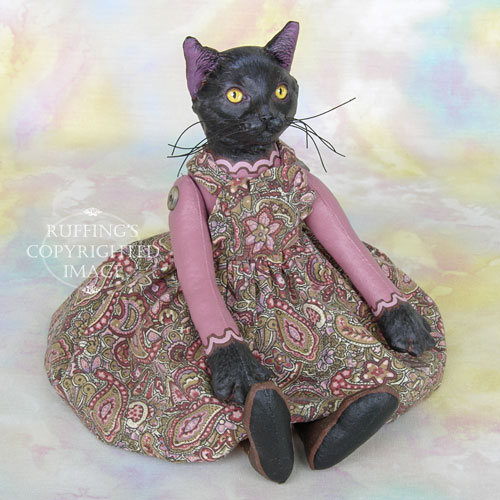 Lucinda has a curled tail which enables her to sit by herself on a shelf or a table, or in a cabinet. She can also sit on a chair or stand with a doll stand. (Chair and doll stand not included.) Lucinda us meant for display only.
Lucinda is signed and sealed with matte varnish for protection and preservation. She is 8 and 1/2 inches tall.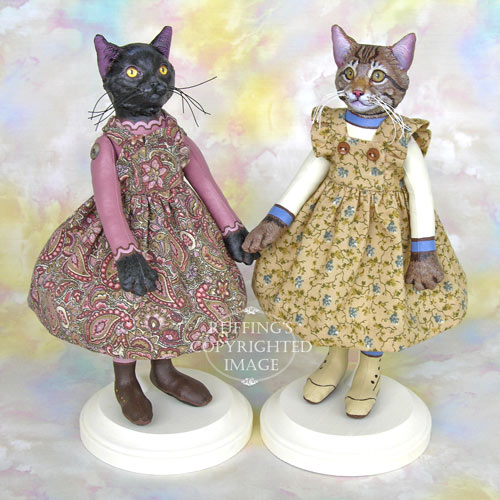 Update: Lucinda has been adopted. Thank you!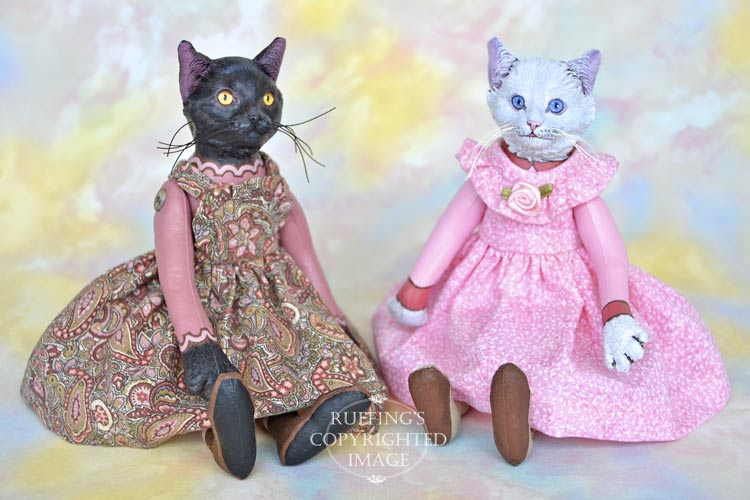 Lucinda's friends are Marnie the Maine Coon cat and Lillie the white cat.