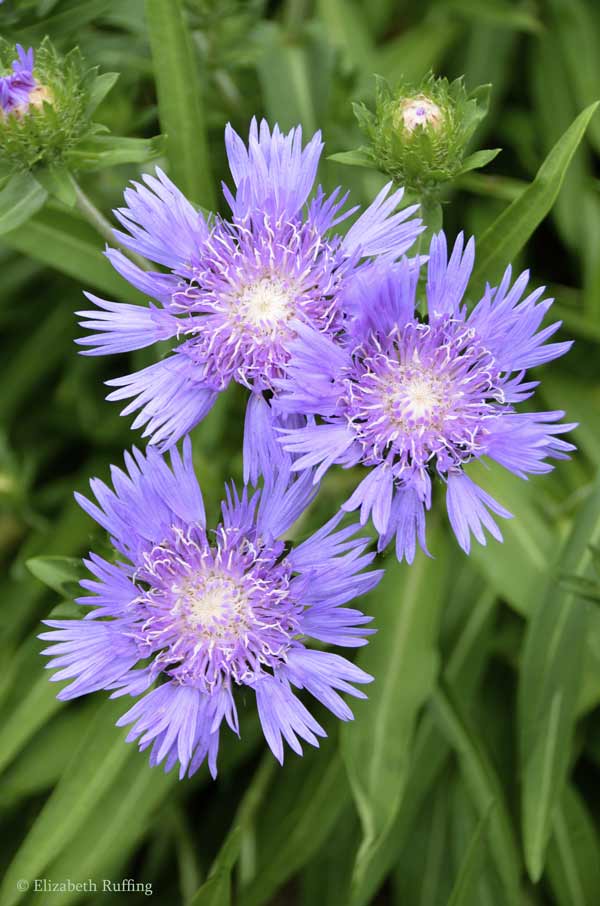 I'm on the mend, and no X-rays of my cat bites were needed. No toys to show for myself yet. So, I thought I would share my pretty cornflowers instead.
I can bend my finger but I'm still making slug eyeballs before finishing any toys. My finger still hurts if I bump it into anything, and fleece eyeballs are so small, bumping into them isn't an issue.
Santana has forgiven me for breaking up his argument with Trouble, and for scolding him.
Or I think he has, for the most part. I am watching out for those paws. He is an unpredictable guy.
Trouble has come back without fail. That is him next to my catalpa tree. I wish I had had my camera just before I took that picture, because he came over with his brothers, Scooter and Fish, in a pack, and they all took a walk with Jude and me. They find his harness and leash fascinating.
Trouble likes to do things with me, plant trees, trim kudzu, mow the lawn. He and Santana watched me a few feet apart since their spat, with no more than some dirty looks.
I managed to get some mowing done, but not the push mowing, since that has definite bumping potential. Trouble watched me ride back and forth on the rider mower, at least twenty times. Then he decided to run out and leap in front of me. I think he wanted me to chase him on the mower. I've discovered he likes to be chased sometimes, which may be what got him into trouble with Santana, who chases him all the way back into his garage, when Trouble sneaks up on him.
I think they get lonely when no one is home, and then they come to see me. No one seemed to be around for a while, when they all came over. I asked if there was an emergency, and offered to look after them if there were. I didn't hear back. Hopefully everything is okay.
I found a catnip lobster online for Miss Henrietta, who was very appreciative. The lobster came in a group of toys, all made of corduroy. She makes a nest out of them and sleeps in them. They are from HuggleKats. I found them on the Foster and Smith site.
Well, I think am good to sew, if anyone is waiting for me to put some toys in my shop. Feel free to ask me if I have a slug almost ready, if you would like one. I know I have plenty of eyeballs.