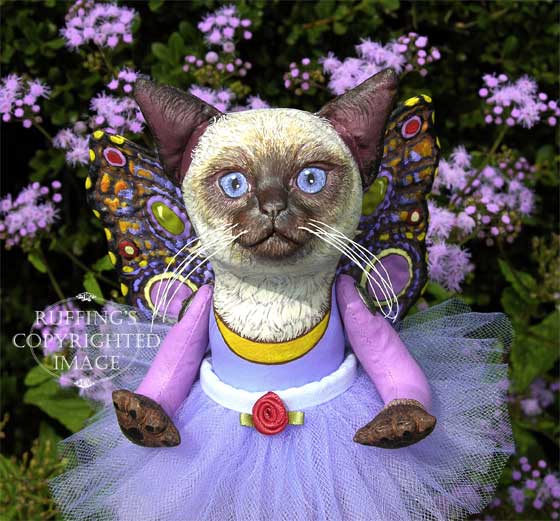 Have you seen Luna?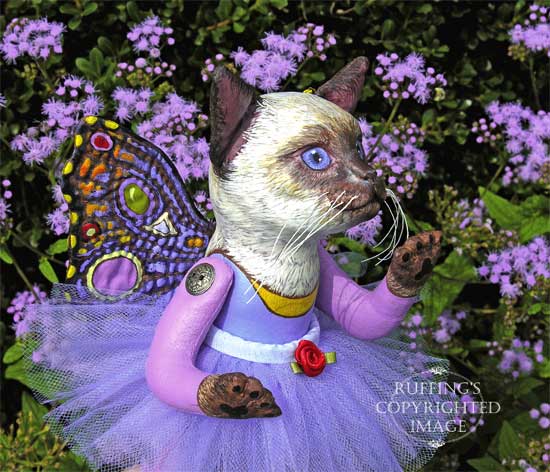 Luna is a pixie kitten, one of those mystical winged creatures of folklore with pointed ears who are said to be uncommonly beautiful.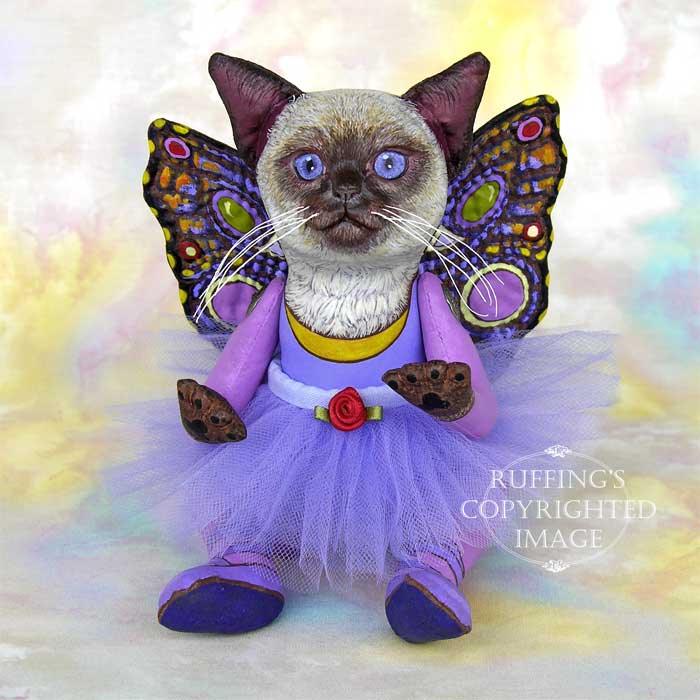 Luna's wide open blue eyes are brimming with kindness and good will, and she has not an ounce of malice in her heart. She is amiable and good-humored in all that she does. She never ever does anything naughty.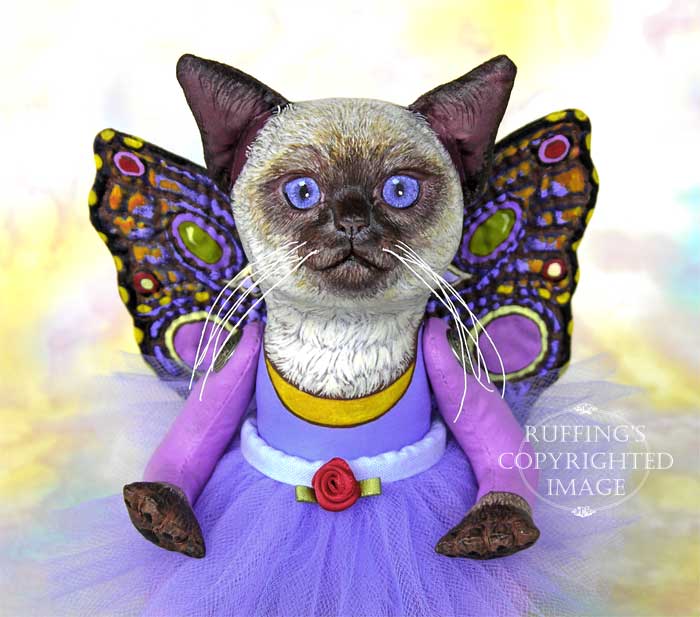 Luna loves to dance. Although her ballet moves may be just a bit awkward and ungainly, you must admit her tutu is really pretty.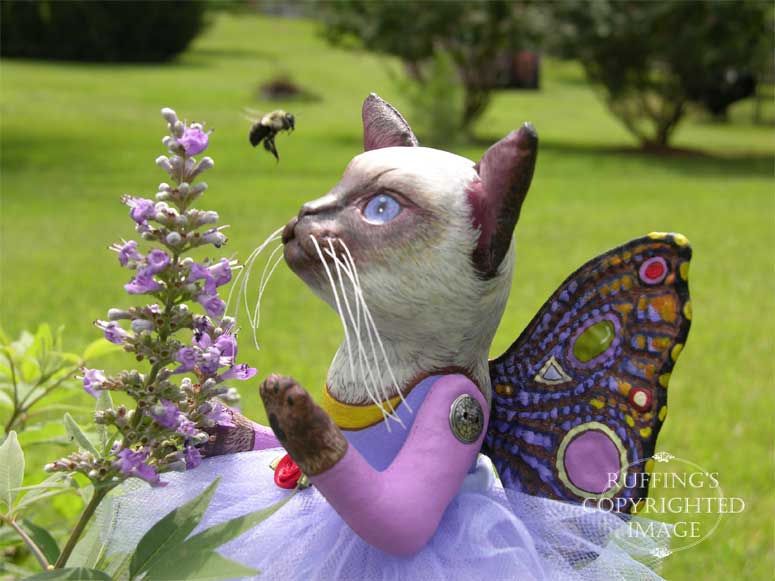 Luna likes people, and she can be very helpful with work around the house or in the garden. If you lend her a feather duster, or even a Swiffer, she will whisk away the cobwebs in the uppermost corners. She will flit through the garden and land on a branch where, with her odd little voice, she will summon the bees to pollinate the flowers.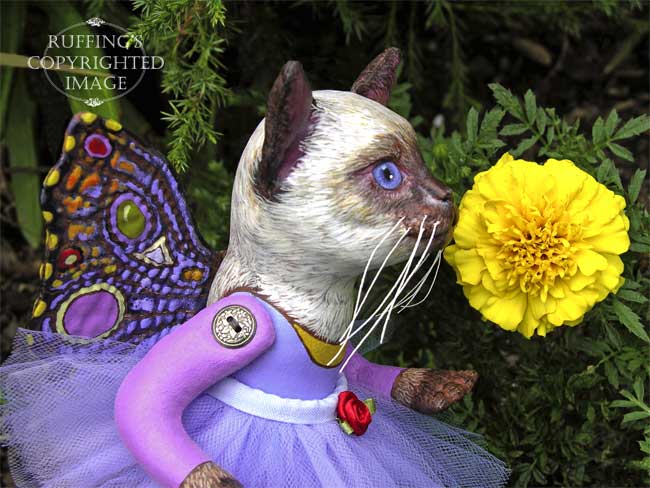 Pixie kittens bring untold blessings to those who are fond of them. Just ask Luna. She will tell you.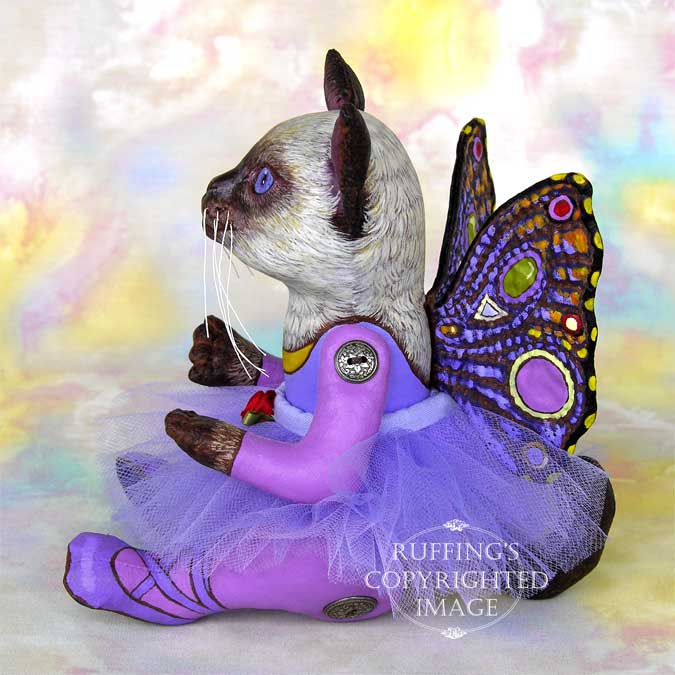 Luna is an original one-of-a-kind work of art, created from our own design and pattern. She is made from 100% cotton fabric which has been sewn, stuffed, and completely hand painted with acrylic paints. She is approximately 8 ¼ inches from the tips of her ears to the tips of her toes, and approximately 6 inches tall when seated.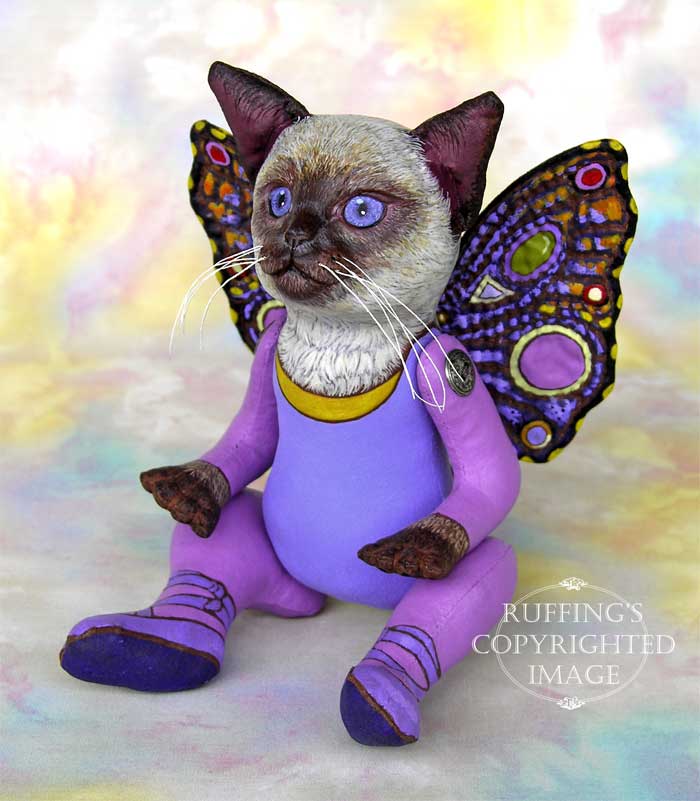 Luna's arms and legs are button-jointed with antique-looking silver filigreed metal buttons, so she can easily pose. Her face was sculpted from paperclay smoothed into her fabric head. Her front paws are needle sculpted, and her whiskers are made from stiffened cotton thread.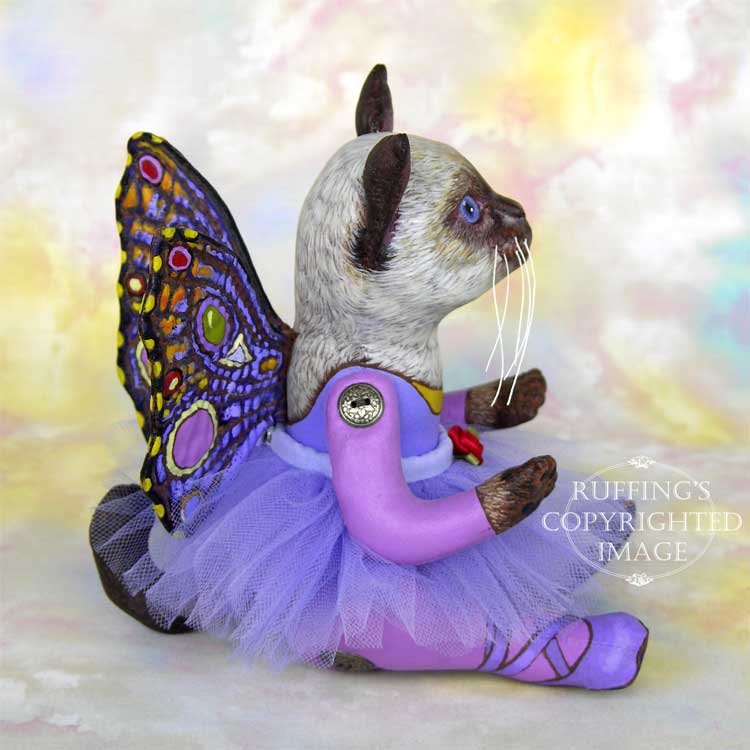 Luna's curled tail enables her to sit very well balanced all by herself on a shelf, or a table, or in a cabinet.
Luna's delightful tutu is made from layers of tulle, in lavender pink and lavender blue, with a hand-sewn waistband of light blue that snaps at the back and has a soft satin rose at the center.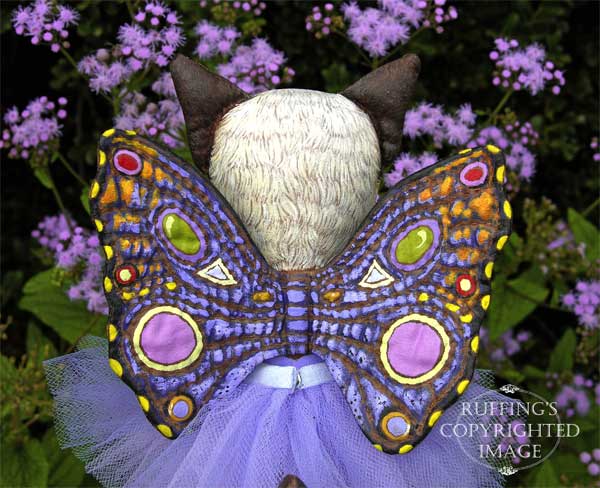 Her mystical wings are made from cotton fabric and are completely hand-quilted.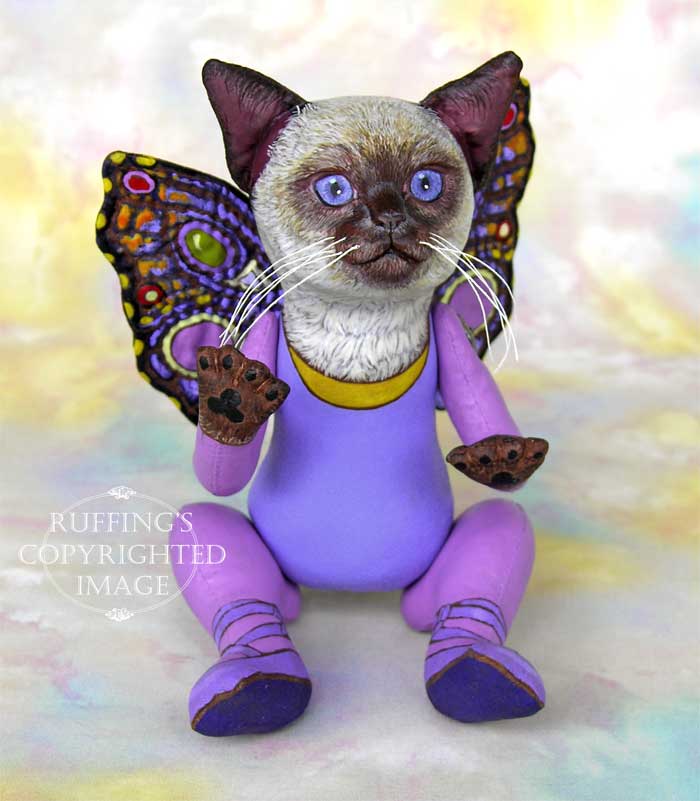 Luna's bodysuit is painted rich lavender blue, with a golden sliver of moon at the neckline. Her tights are the color of an orchid, and her ballet shoes are the color of a purple iris.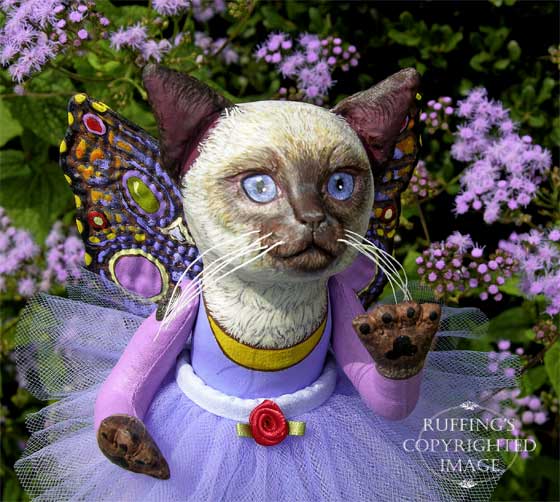 Luna is signed and dated, and sealed with matte varnish for protection and preservation. Luna is meant for display only.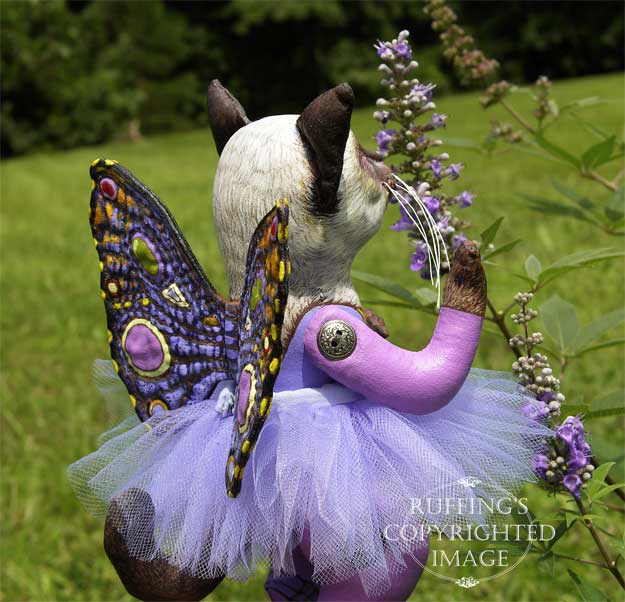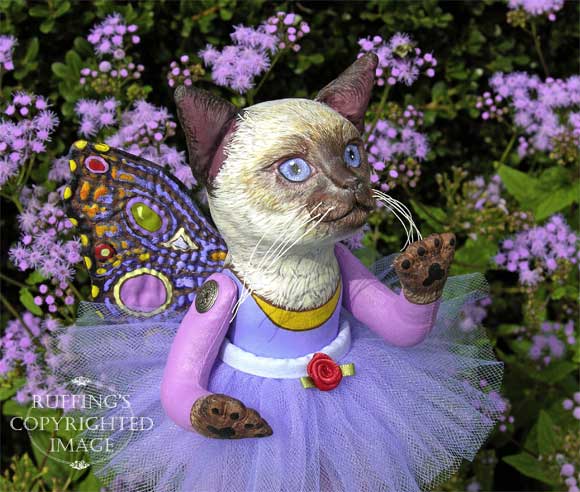 Update: Luna has already been adopted. Thank you!