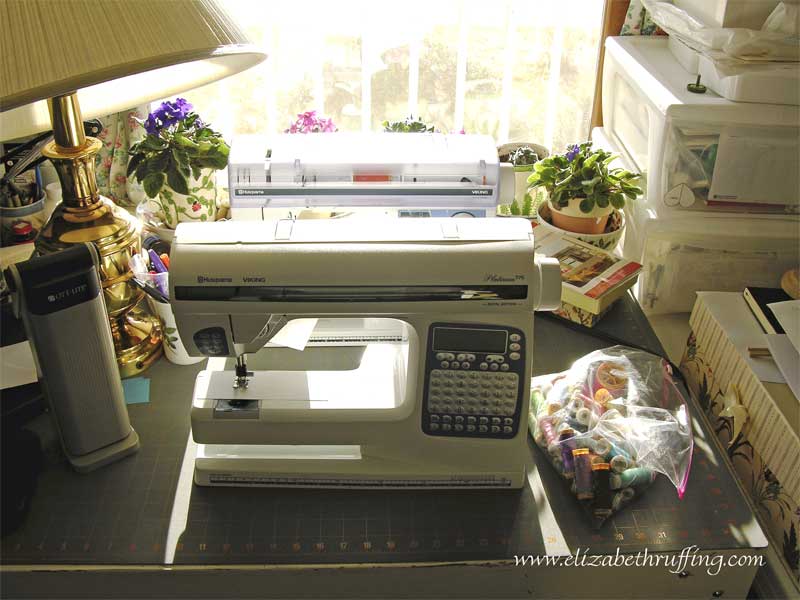 My Husqvarna Viking Platinum 775 sewing machine repair problems have continued.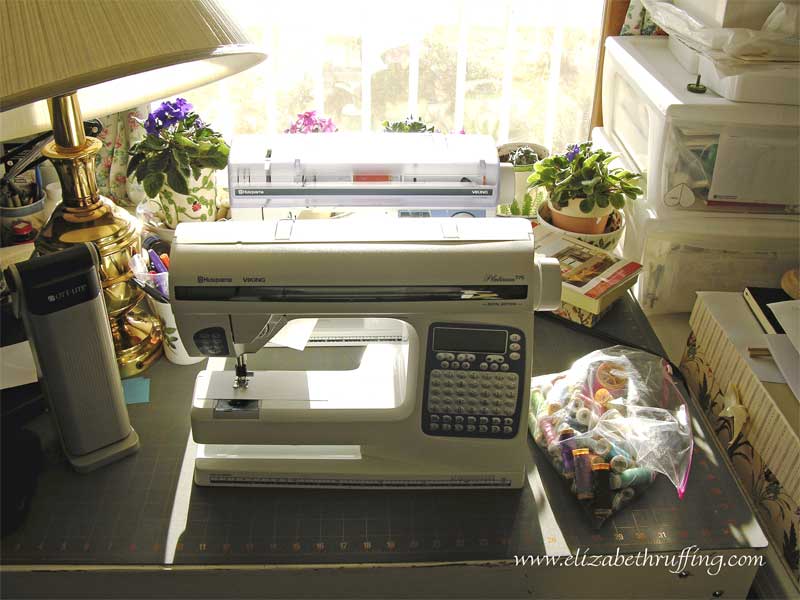 As I said in my last post about my Husqvarna Viking Platinum 775 sewing machine repair ridiculousness, I hoped to have my machine back after more than two months of waiting for parts. At first, I meant I hoped to get it back repaired. Then I lowered my expectations, and hoped to get it back as it was when I brought it to the repair shop. Well…
Before I even touch on how tired I am of this entire process, or how frustrated I am with the Husqvarna Viking sewing machine business as a whole, I think I'll just voice my suggestions for Husqvarna Viking that might help avoid all the problems I've had:
1) Sell the sewing machines directly from the Husqvarna Viking company.
Post them on the Husqvarna Viking web site with set prices that everyone can see.
Allow customers to purchase them online, directly from the Husqvarna Viking web site, or allow them to purchase sewing machines through dealers who take their orders, send them to the company, and have the machines sent directly to the customers from the company. That way, dealers can still get a commission, but there is no intrigue as to whether or not a warranty is valid or a dealer is authorized.
There is no wondering if a machine has been tampered with or refurbished. There is no room for price gouging. It's a cut-and-dried transaction. Staples does it. You can go in to Staples, look at a desk, have someone there order it for you, and it comes to your house. Easy.
2) Post the complete warranty conditions on the Viking web site.
Be clear about what customers need to do to address any issues, and how they go about doing that.
3) Allow customers to have the option to send machines in for repair, directly to the company, where they have people specifically trained to work on their machines.
Post set prices for cleaning, repair, and servicing directly on the Viking web site, with instructions on how to send your machine to them.
Again, there is no room for price gouging, and there is no burden on the customer to ascertain if their local repair person/Viking dealer is honest or qualified to repair their machine.
Allow customers to go to dealers for repair if they choose, but give them the option to mail their machines directly to the company, if they choose.
I think that would solve a lot of the problems with this company that I have been through so far.
At any rate, I got my Husqvarna Viking Platinum 775 sewing machine back, and it's in worse shape since it took a trip to the local authorized Viking dealer's repair shop.
I was afraid this would be the case, but I didn't want to say that in my last post, because I was holding onto the hope that it wouldn't be true.
I have no choice now, but to report this to the original seller who agreed to fix my machine. He is in CA and I am in NC, on the opposite coast. He has his own warranty on the machine, for defective parts. I think the parts would have been covered, but now the waters have been muddied, because the dealer in NC took my machine apart to look at it. I'm hoping the original seller will still replace the parts.
I had a choice of going to one of two local authorized dealers, who were within a reasonable driving distance from me. I had misgivings about one of them, when I tried to buy a sewing machine. At the time, she had a half-off sale on all her discontinued models, and I asked to try one. Then I noticed another sewing machine, the same model I have now, the Husqvarna Viking Platinum 775 sewing machine, that hadn't been marked with a price.
She told me she had completely forgotten about that one, since no one ever looked at it. Everyone who came in wanted the newer models instead. It was an older, discontinued, used floor model, but once she saw I was interested in it, she refused to sell it to me for half off, even though all her discontinued models were half off. She decided to stick close to he price point of the other fancier model, that came new in the box, that I had looked at, assuming, I guess, that that was how much she could get me to spend. That really turned me off.
I liked that model though, and after calling the other local dealer to find out they didn't have it, I found it online instead, brand new. I really liked the sewing machine. It had all the features I wanted and I loved the stitch quality. I ordered it from CA. I sewed with it for some time, with no problems. Then it started stitching backwards, and having irregular stitches.
So, I went to the only other local authorized dealer for repair. As I said before, the price for repair more than doubled, without anyone notifying me, over the course of the two plus months I waited to get it back. I left out of my last post that, in the time between the dealer/repairman telling me were were already "up to $700" and his agreeing not to charge me, there was a lot of negotiating. My dad stepped in to deal with that. I felt like I was being taken advantage of, and I was.
The NC dealer I went to also told me he thought the machine had been worked on before, that it had major damage, and that, "Whatever gremlins got in there must have had a party." It's all been very confusing and upsetting. I personally don't believe in gremlins, and even if I did, I can't imagine how they'd get inside the machine.
I used my eBay-bought copy of the service manual to get into service mode to check the clock on how much use the machine had had, in case it really was a well-disguised used machine. There have been only 33 hours and 12 minutes that it's been on at all, and only 11 hours and 53 minutes that it's actually sewed. I did most of my sewing on my other machine, and saved this one for detailing.
I also unplugged it between use, and kept it on a surge protector. There have been a lot of insinuations by the Viking company and their dealer, about my machine and the person who sold it to me, but I don't know who to believe. Right now, I'm wishing I had just sent it to the original seller to fix in the first place. It hasn't been repaired, and no one I've dealt with so far has behaved in a businesslike manner.
This has all been much more complicated than necessary and I still have no idea how this is going to go. Contrary to what Husqvarna Viking has been pushing at me, I don't wish that I had bought my machine from one of the local dealers. I feel like I would have just paid more for the machine and received the same poor service I've gotten so far.
Husqvarna Viking used to be a good company, from what I've heard, and although I really liked my machine while it was still working, I'm very disgusted with the company.
I hope to be able to just get back to my sewing, on my older Sarah, my other Husqvarna Viking sewing machine, without having to think about this nonsense every day. It's been very distracting and disheartening, not just for myself but for my family. Since we work together, there have been projects piling up that haven't been gotten to because of this.