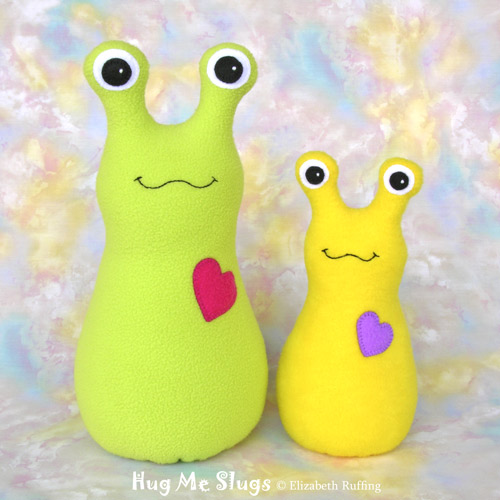 These are two Hug Me Slugs I made for Giggle Moon Photography, in exchange for professional photographs of my toys with kids, something I was looking forward to having. The exchange was also supposed to include a feature in a children's counting book, and free advertising in the book, on the web, on Facebook, and on the Giggle Moon Photography site. I sent these off to Janean Bagley Lindner, the owner, back in June of 2011, but, unfortunately, none of these things ever happened.
I had a hard time getting any response from Giggle Moon, but was told in two emails over the past seven months that there were reasons the work couldn't be done, even though I continued to see photo sessions posted, throughout the same time period, on the Giggle Moon Facebook page. I've reported the incident to Etsy, and asked Giggle Moon to reimburse me for the toys. She promised me she would send payment for the toys, but she did not.
Update as of June 2012: Janean Lindner at Giggle Moon Photography never did pay for the toys she kept. Not one single payment. This is just stealing and it is fraud. I would beware of dealing with her. She has also since started a business under the name of Design Revolution Online, which is also on Facebook here, selling accessories and props for photographers. I have seen at least one contest on this Facebook page, making similar promises as the promises she made to me. Although she told me she could not work, she has continued to publicly post new work, and although she told me she did not have the funds to pay me, she has continued to publicly post about other things she has both bought and sold which cost more than she owes me. She does not respond when I contact her.
Update as of July 2012: I finally received payment for the toys, after emphasizing to her that what she was going was illegal, and pointing out I'd written about my experiences with her and her business online, as a warning to others. It has been over one full year since she received the toys. Although all of us, including me, go through hard times, I don't feel that is an excuse for reneging on promises or taking things without paying for them. Everyone has a story, including me, but I don't use hardship to try to take advantage of other people. I am relieved she settled her debt. It would have been better had she approached me on her own, at any point, to work something out with me. She should be thanking me for being as understanding and as patient as I have been. I waited over a year. She could have sent me six dollars a month and have been done with it in that time. She could have sent the toys right back, unopened and new, if she realized she couldn't follow through. She has never asked me about my life, or my situation, and I don't appreciate receiving emails from her trying to make me feel guilty for asking to be paid for my work, when I have done nothing wrong. No one should be subjected to emotional blackmail for trying to get paid. I will never send anything out again to anyone without payment up front.
I'd like to warn anyone on Etsy about participating in trades. I know I won't be doing any more trades. Everything looked legitimate, and I'd had a good experience with sending my toys to be photographed for a TV show, with another Etsy member, who returned them in perfect condition, in short order. So, I thought this would be a similar experience, and am very displeased over the situation. This is my business. Even though it is pleasant to make toys, most of the time, I don't do it for entertainment. I do it to make a living. I would never expect to walk into a store, take something, and not pay for it. I don't expect anyone to do that with my shop either. If anyone else has had a similar experience, please report it to trust@etsy.com. Etsy doesn't mediate in trades, but they do investigate suspected scammers.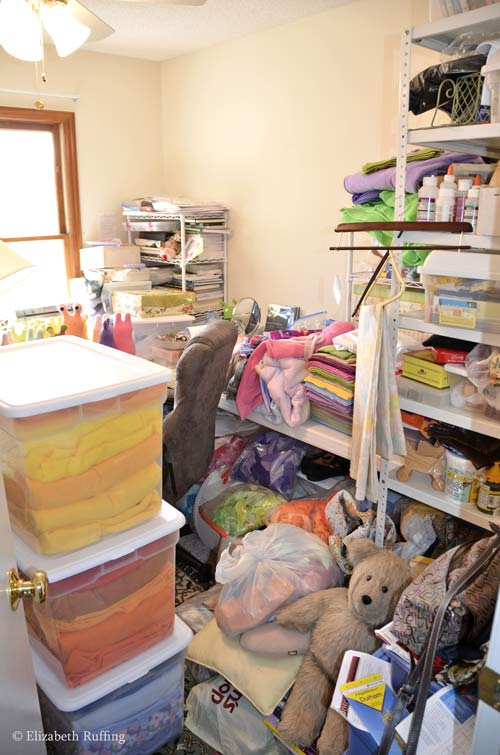 I am continuing to make my toys, and trying not to be angry. This is what my workroom looks like right now, filled with fabric and projects, with hardly any room for me. As you can see, I am not some big toy company, but one person, working from home, making toys by hand. I don't wholesale, and I don't send out free samples. I send toys directly to their new homes, where I hope they will be appreciated and loved.