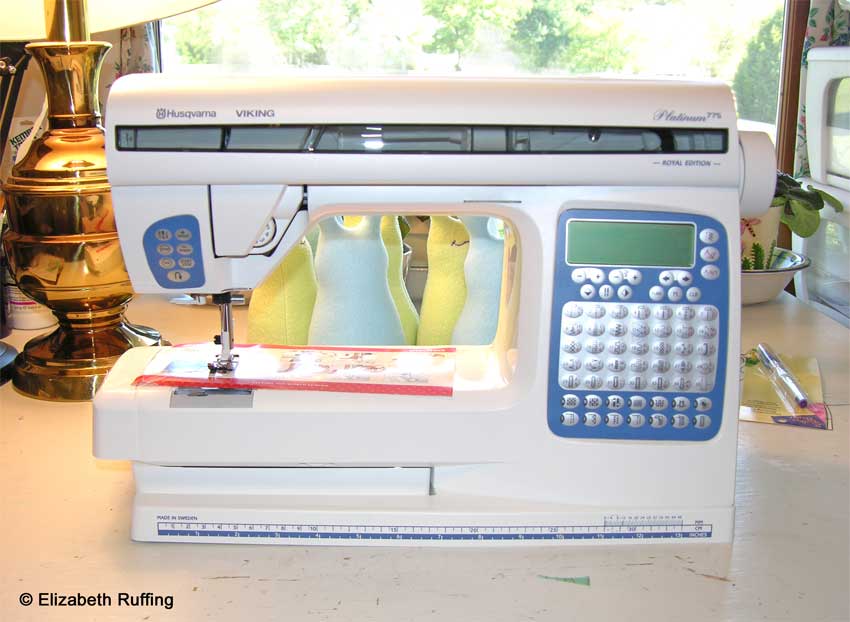 I wish this were a photo of my Viking Platinum sewing machine home from repair, all ready to go back to work, but it's not. These are photos of my new sewing machine when it first arrived here. In reality, it is still sitting in the repair shop, where it has been for over two months. Unfortunately, it looks like it will be MIA for an indefinite period of time.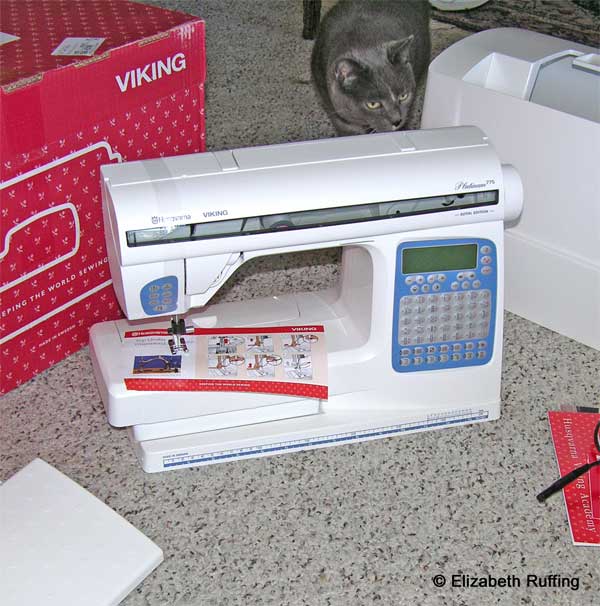 Everything in regard to repairing it has been ridiculous so far. As I mentioned before, there was a problem with the feed dogs. I turned the machine on to work one day, selected a stitch as usual, and the machine just began sewing backwards, with the machine feeding the fabric in reverse. Nothing unusual happened at the time. I had really just started my day. I don't think I even had anything else turned on yet, and the machine was on a surge protector. I wouldn't have had the iron on, since I hadn't as yet sewed anything to iron. No lights dimmed, no circuits popped, nothing strange happened. I brought it to the local Viking dealer to see if he could fix it, and he thought, at first, the feed dogs had been accidentally popped out of place when I got some fabric caught in the throat plate.
Later he told me that he thought the entire electrical panel needed to be replaced, along with the buttons, to the tune of maybe $250-300. I had the option to send it back to the dealer who sold it to me, but it seemed safer to just let this dealer fix it, rather than mail it across the country. I contacted the Viking company about transferring my warranty, which would have covered parts in question, to the new dealer, but they said they would not honor it since I bought the machine over the Internet. They told me their dealers aren't allowed to sell machines over the Internet, and they implied that, for all they knew, it was stolen. They told me they only honored warranties on machines bought from authorized dealers.
I gave them the serial number, which is right on the mailing label with their distribution center's address on it, along with a bar code that they must have scanned at some point, so they could trace it to the dealer address which was also on the box. I had managed to successfully register my warranty on the Viking web site, using my serial number, and I received an email confirmation of my warranty registration. So, I thought, the serial number must have already been in their computer system. I asked them how anyone could sell hundreds of their machines, for years, without any authorization from them, and without their knowing who the dealer was, or without them reporting machines that were possibly missing. Where else could he possibly be getting so many machines, but from them? I got no answer to my questions, just an apathetic response repeating that they wouldn't honor their warranty.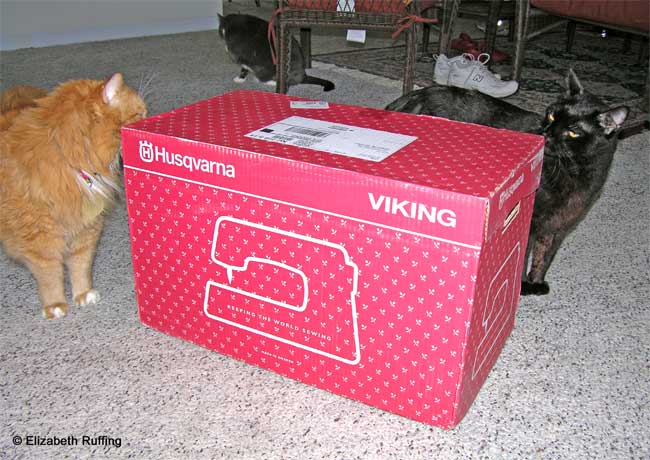 Apparently, the dealer here who was ordering parts for my machine asked them some similar questions, and was told that the person who sold me the machine was in fact a Viking dealer…he just isn't anymore. So, because of that they couldn't honor the company warranty, supposedly because they don't know what might have happened to the machine between the time they sold it to him and he sold it to me, as if that is something they could tell about any machine. The label on the box says it was sent from their factory to their distribution center in 2007, before going to the dealer, and I bought it from the dealer in 2008, new and sealed in the box. That seems like a normal turn-around time to me, not really enough time for it to have been used, abused, reconditioned, and repackaged from the factory without any note about it being refurbished anywhere on the box. It was working perfectly when I got it, and it seemed brand new to me. Plus, the dealer I got my machine from is still selling them, along other models that came out after mine. If he was no longer a dealer at the time I got my machine, how did he get machines that came out after mine?
Anyway, it seemed obvious that no matter what, the Viking warranty was useless. They told me my only option was to send the machine to the original dealer for repair, since he had his own warranty on it. I decided to just wait for the parts, and get my machine back. Over two months, I called and called, but no parts arrived from the Viking company. Finally, when I went in to look for a new presser foot, I was told my parts had just come in, but the dealer was too sick to fix my machine. After a couple of weeks, and some more calls, he told me it had turned out that the new parts didn't do the trick, there was still something wrong with the feed, and that he would probably need to send my machine to Tennessee for them to figure it out. I asked how much all of this would cost, and he told me we were "already at $700." I asked him if he could take those parts and send them back to the company, and he said he would. He's not going to charge me anything, thank goodness, and now I don't have to pass out cold on the floor.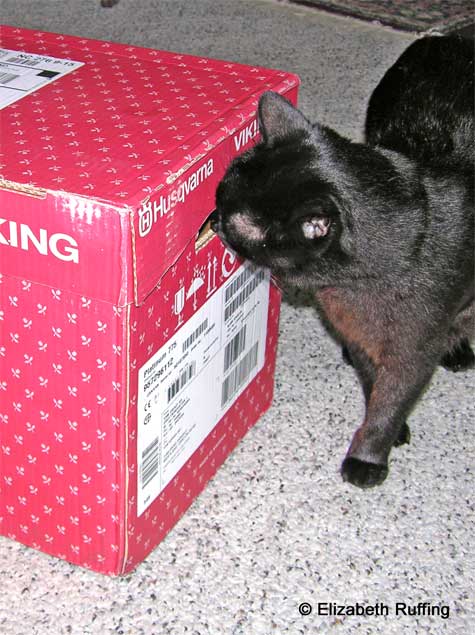 So, right now, I'm out a couple of months time. Plus, I've had so much frustration with the Viking company itself. I've never heard of such nonsense over warranties and repairing a machine. Why don't they just have a place you can mail the more complicated electronic and computerized machines to for repair yourself? And all this warranty intrigue…what's that? If the company has a conflict with a dealer, that shouldn't be my problem. The warranty should be on the machine, and not dependent upon how they feel about the middleman involved. How can I know who is following their rules and who isn't when I buy a machine? How can I even know what their rules are? There is nothing in the language of the warranty about the Internet either. It's not like it's illegal, or even uncommon, to sell merchandise on the Internet, although their email to me made it sound like I should expect underhanded dealings if I dare to buy something there.
You find out that you are completely dependent on the dealer from whom you purchased your machine, and their own warranty on it, which makes purchasing a machine about ascertaining if someone is personally a good egg or not. Even so, if that person retires, I'm not sure what the Viking company says about your warranty, since they seemed to have said that if someone is no longer a dealer at the time you purchase your machine, the warranty is no good. And how can any potential customer know this about anyone? The idea is, supposedly, that you can transfer your Viking warranty to a dealer closer to you, if you live more than 50 miles from the original dealer, but that didn't work for me, obviously.
I feel like I've fallen into some kind of sewing machine soap opera. I wish it were over now, but I have to start from scratch. This time I'm just sending it to the original dealer, and I'm going to hope that he is honorable about his own warranty, and that he knows how to fix my machine. I have the service manual myself, but they make their machines so they can only be opened with tools they sell to their dealers. The electrical aspect is well beyond my scope at any rate.
I don't know what people who sew are supposed to do anymore. Viking, Pfaff, and Singer were all bought up by the same company. It was so important to me to get my machine before they began their production in China, but it seems like even though I like my machine a lot, the customer service of the company just doesn't measure up if you have a problem. Two months to send parts to their dealer? We've been talking about getting a Kenmore as a stand-in, but there are so many complaints about Sears' customer service now as well. They've been bought up by Kmart. It just seems like every company gets bought up by someone bigger, and their products begin to be made more cheaply, and their customer service becomes more detached. And even when your dealer tries to do right by you, he or she still needs to get parts from the company. The dealers must suffer because of these things too. So, who knows how long it will be before I see my machine sewing forward again, if I do. Fingers crossed.