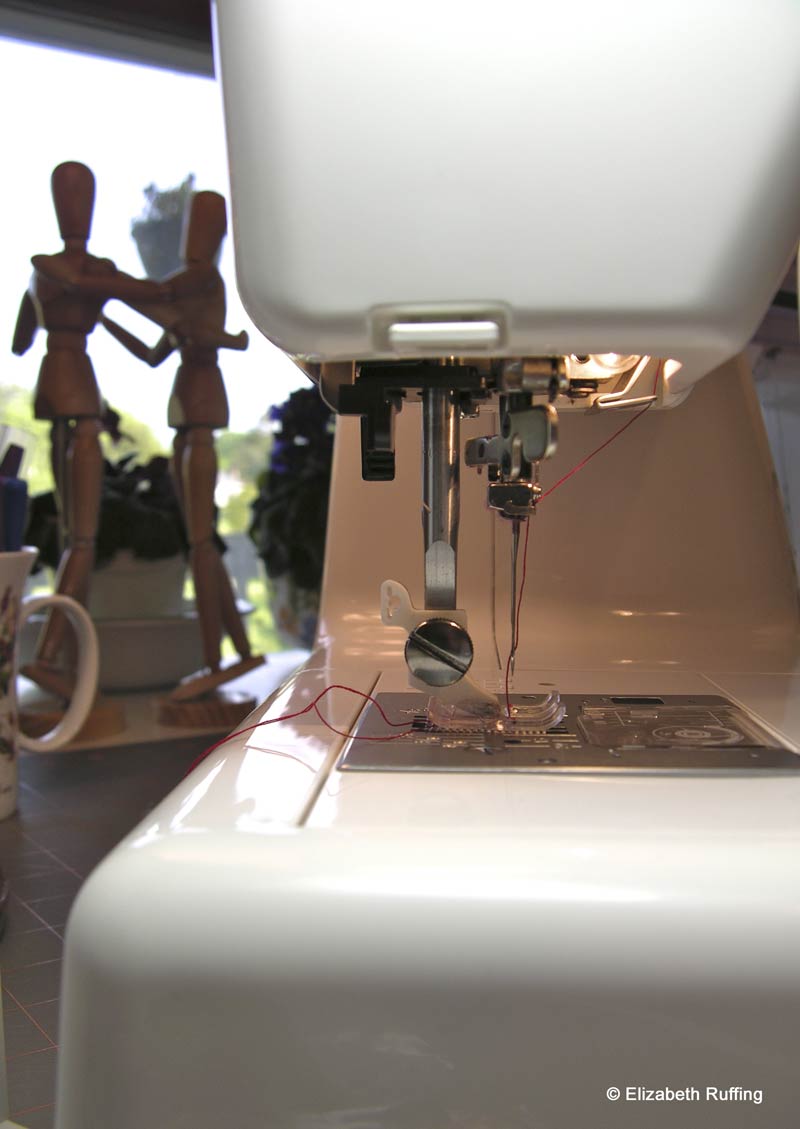 I made a great discovery yesterday. I unscrewed my presser foot ankle from my Viking Sarah sewing machine, and screwed it onto my new Kenmore 19233…and it fit! That means I can use all those Viking presser feet I've collected, on the Kenmore, which is a relief, since I've invested a lot in presser feet so far. And who wants to have two sets of everything anyway? Update: I also found out you can buy a spare Viking Accessory Ankle , if you want to leave your Viking ankle on your original machine.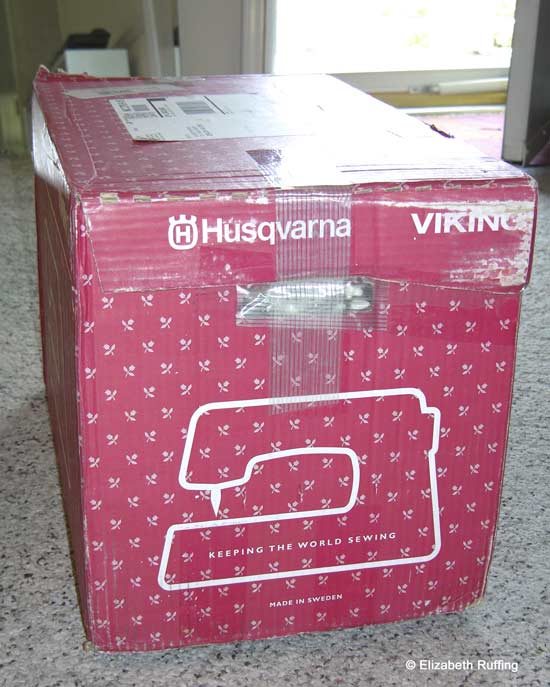 Well, guess who came home today? My Viking Platinum 775, which has been MIA for almost six months now, showed up with the UPS man. I couldn't help making a mental note of the "Keeping the World Sewing" logo on the side of the box. That hasn't quite been my experience with it.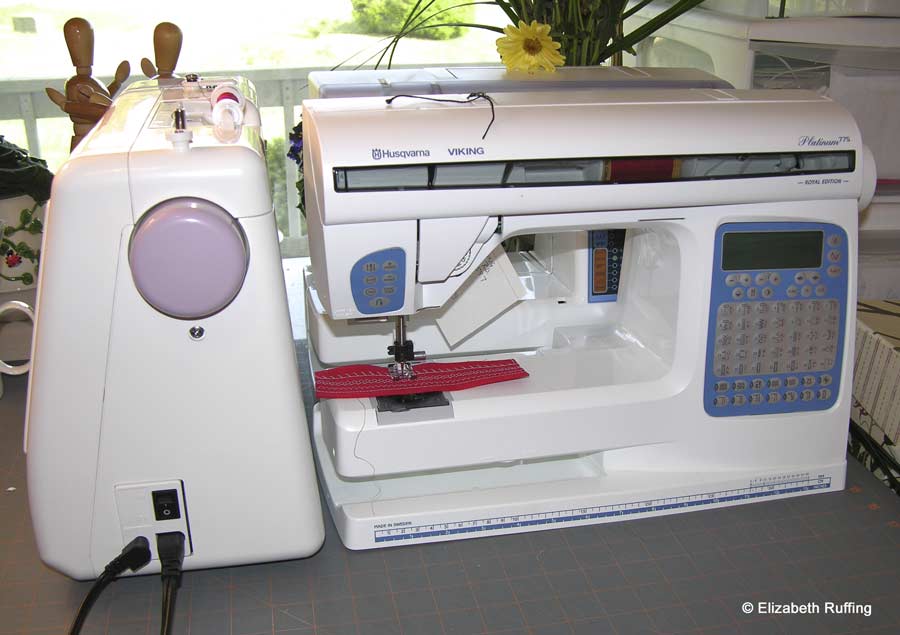 I was afraid to open the box, feeling sure there was going to still be something on it that didn't work, after coming back from the second repairman, who is also the original seller, all the way from California. I turned it on, and it did a few basic stitches, sewing forwards instead of backwards, like it is supposed to. It had been sewing everything backwards before. Then I selected some more intricate, decorative stitches, and it still sewed the same few basic stitches! No decorative anything. No alphabet. The needle up/down button was still broken too. I wanted to cry.
I came back later, after typing a draft of a letter I thought I'd send but didn't, and miraculously, it was willing to sew all the stitches on its menu. Perhaps it needed to warm up first. I stitched a sampler and it did fine. The needle up/down button was still broken, and the grit behind the panel was still there, things that I noticed after it came back from the first repairman.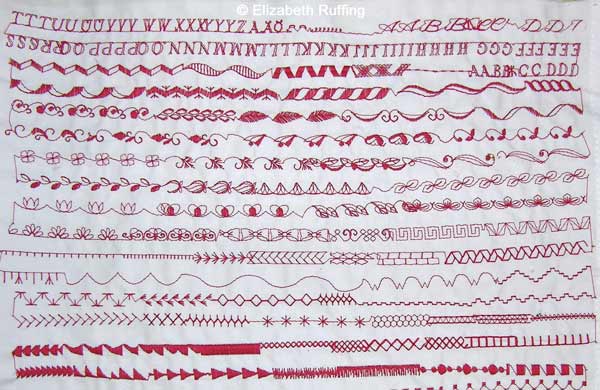 The buttons and the panel had not been replaced, as the first repairman had told me they needed to be. Yet, here is the machine, sewing with those original parts. I did have to wait another 2 1/2 months for a different part to come from Viking though.
I'm not sure what to do about the remaining repairs that need to be done. I think the second repairman may have just missed my note about the additional repairs, since I had to write a second time in regard to them, after I got the machine back from the first repairman. But, I would have to ship the machine back to California for him to fix those things. I have no one I trust to go to here in North Carolina. I have to say, I've had a problem with everyone I contacted so far who is officially connected with the Viking company. Each of those people made insinuations about the seller of the machine, saying he must be doing something underhanded, but really, he's been honorable so far, as far as I can tell. And he didn't charge me anything. He honored his own warranty, even though the Viking company would not honor the warranty on their machine. I just had to pay to ship the machine to him.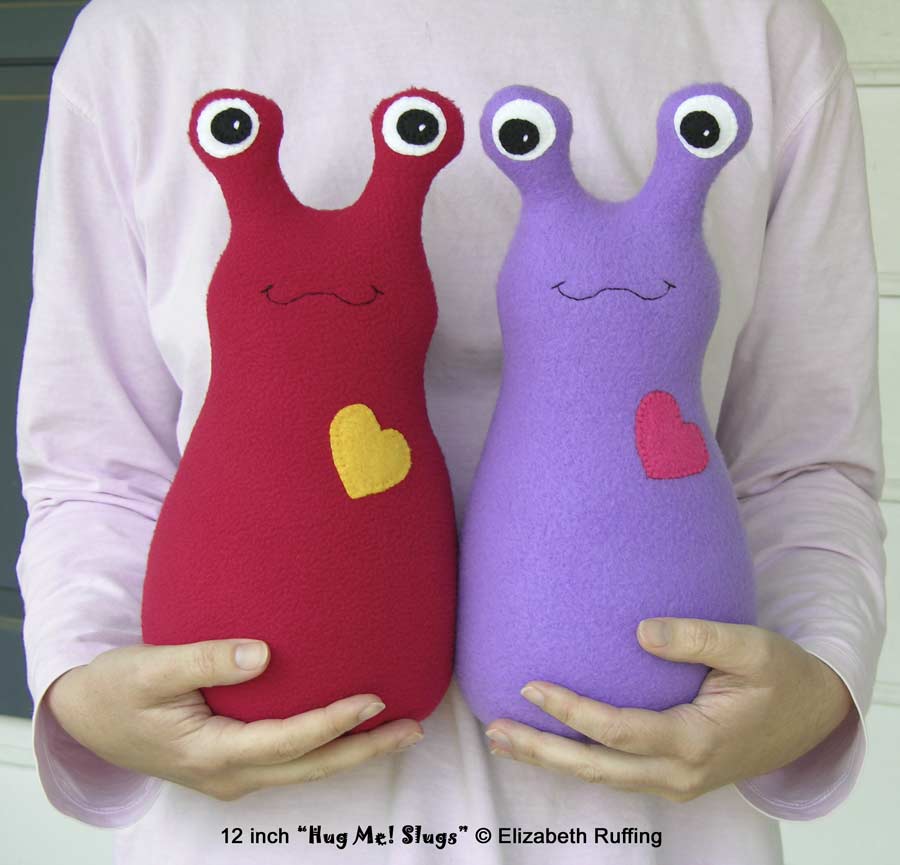 On a brighter note, I made this red fleece "Hug Me! Slug" with my new Kenmore sewing machine. He's on his way to the west coast to cheer up someone who has lost a dear friend. It's nice to have a project to do that means something to someone else. That makes me feel good. I hope the new sewing machine and I will be great friends.