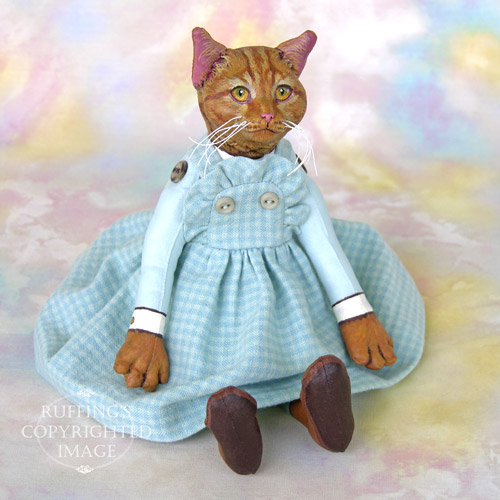 Be careful about what you ask Eloise. She has a reputation for always being honest. She never fails to tell you exactly what she thinks.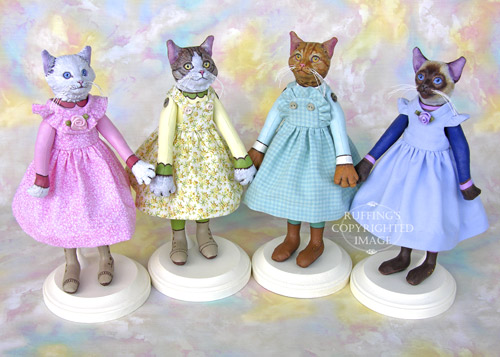 "Do you like my dress?" her friend asks. Eloise responds that she might like the dress, if it weren't pink. That's as diplomatic as she can be. She doesn't mean to hurt anyone's feelings.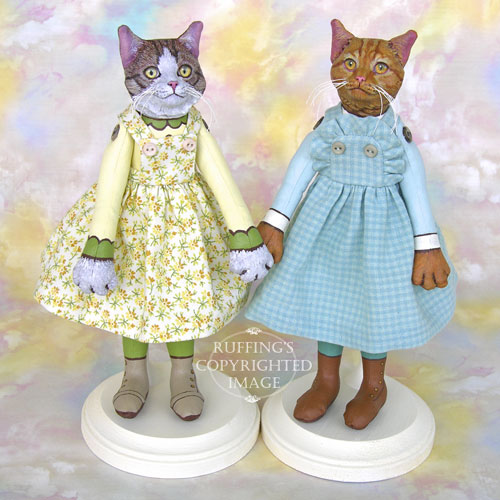 "Don't you think I'm the prettiest girl in the class?" another friend asks.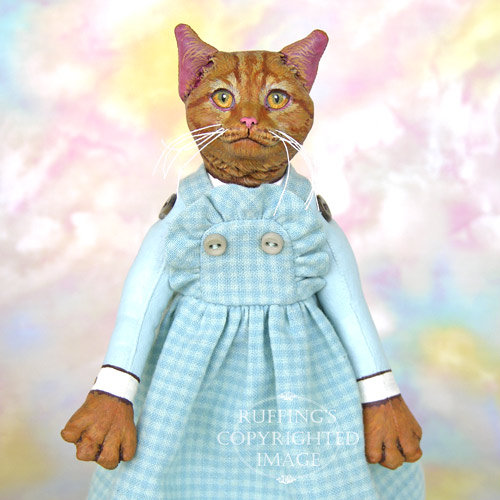 "No," answers Eloise. "Suzie is the prettiest girl in the class, but you might be the next prettiest."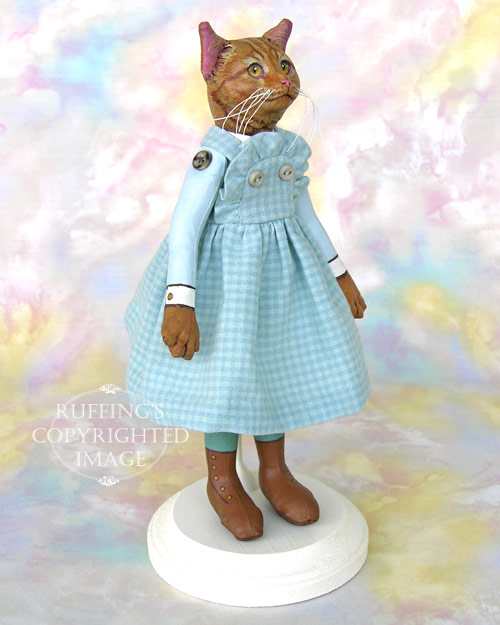 "I wish my friends would stop asking me questions," Eloise sighs. "They never like the answers."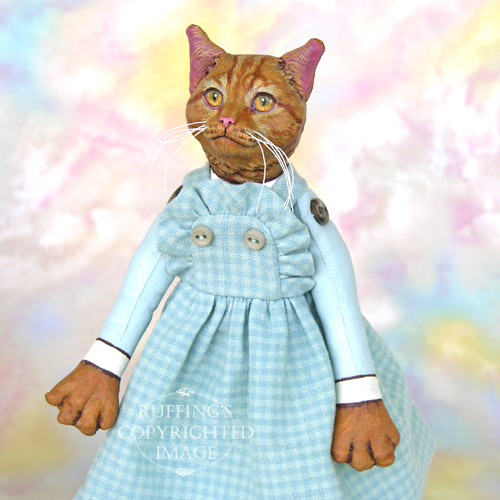 Eloise is wearing a pretty green gingham pinafore, with a wide ruffle around the bib. It looks very nice over her pale green blouse with the white collar and cuffs, and with her darker green tights. Golden brown high-button shoes cover her little kitty feet. Under her pinafore she wears white pantaloons, from which her orange striped tail emerges.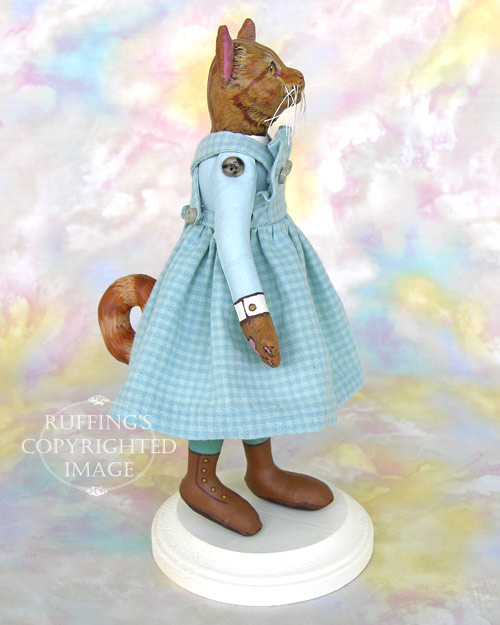 Eloise is an original one-of-a-kind work of art, created from my own design and pattern. She is made from 100% cotton fabric which has been sewn , stuffed, and completely hand painted with acrylic paints. Her whiskers are made from stiffened cotton thread.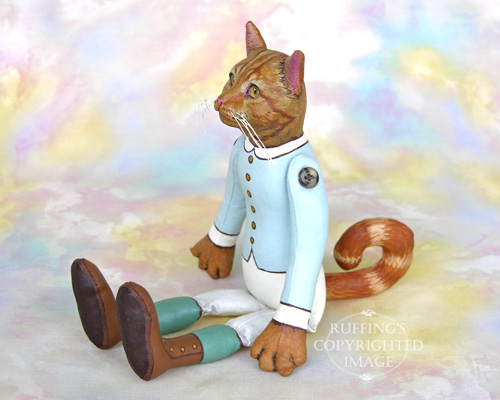 Eloise's paws are needle-sculpted, and her arms are button-jointed so that she can pose. Her face was sculpted from paperclay smoothed into her fabric head.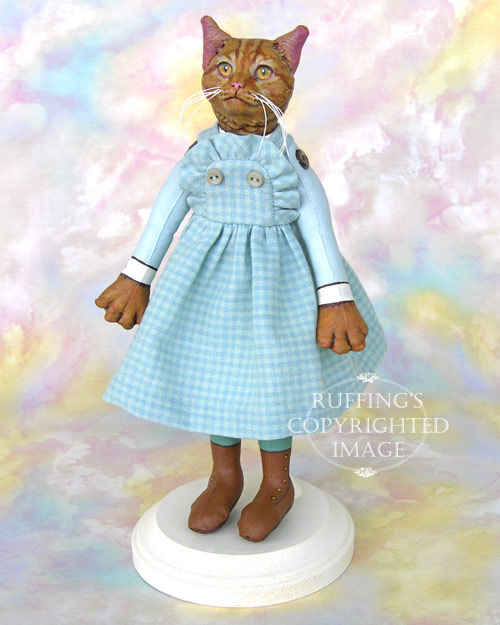 Eloise has a curled tail which enables her to sit by herself on a shelf or a table, or in a cabinet. She can also sit on a chair or stand with a doll stand. (Chair and doll stand not included.)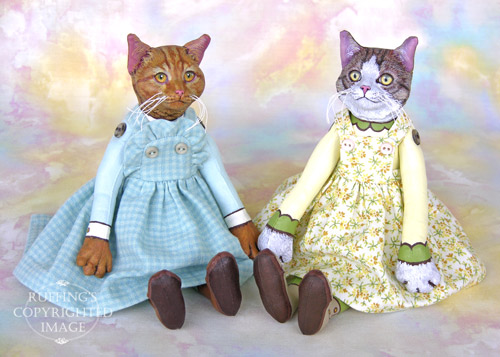 Eloise is signed and sealed with matte varnish for protection and preservation. She is 8 and 1/2 inches tall.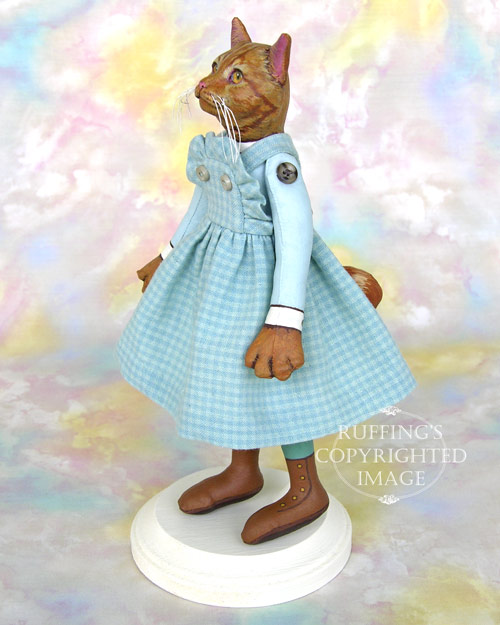 Update: Eloise has been adopted. Thank you!
Eloise's friends are Lillie the white cat, Edith the tabby-and-white cat (coming soon), and Cleo the Siamese cat.