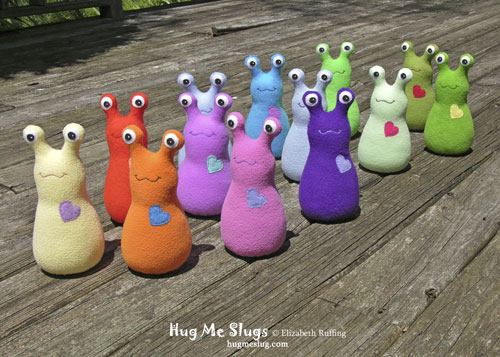 A lot has happened since I last posted. I missed wishing you all a happy Slugs Return from Capistrano day, on May 28th. I didn't know this was a holiday I was asked to write an article about it.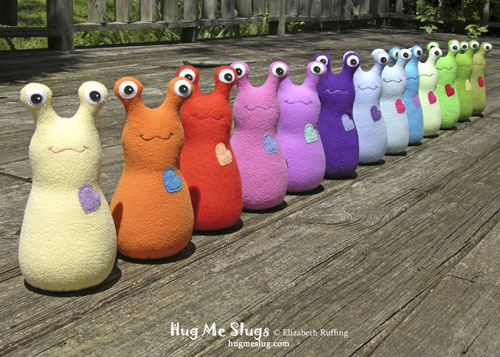 It's true…it's an official holiday, recognized by Chase's Calendar of Events, the compendium of American holidays like Labor Day. I put a copy of my "Happy Slugs Return to Capistrano Day!" article on our Ruffing's blog too.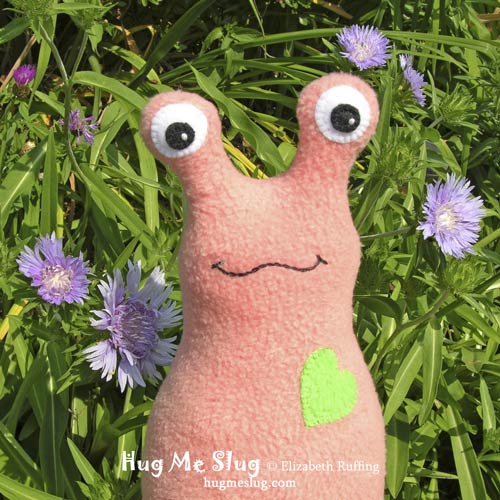 I sent out the last one of my coral-peach Hug Me Slugs yesterday. I am now out of that color, but I do have a light peach that is similar. I will be posting my new handmade stuffed animal toys in our Ruffing's shop.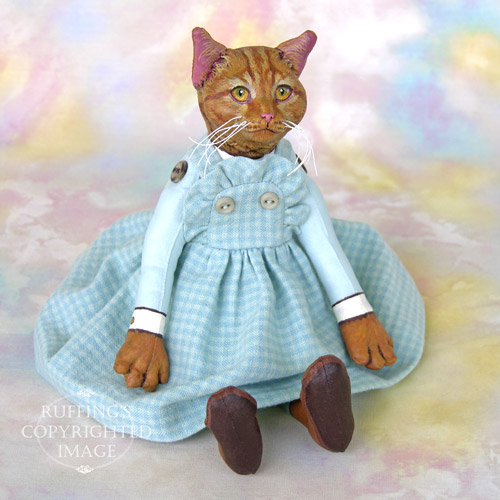 I finally took the plunge and started the visible part of our Ruffing's blog migration. I still have many pages to add, and many more links to redirect from the old pages and posts. I'm sure that will take months. Eloise, Max Bailey's new, original, one-of-a-kind ginger tabby cat art doll is the first doll to grace the front page of our new blog.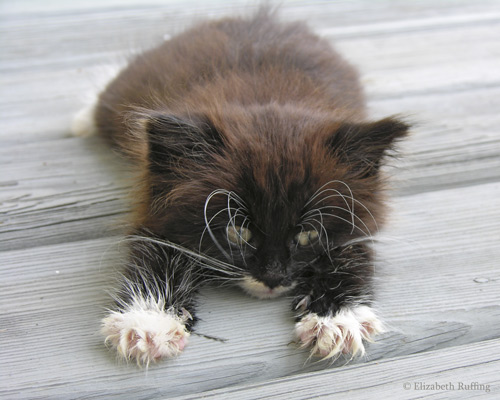 We kept meaning to photograph Eloise last week, but real-life kittens kept happening into our lives! This is Miranda Panda, named after a panda art doll of ours. I had accompanied Marie on two TNR trips the weekend of May 21st, one to a lady's home in the country, which you can see and read about in this album, and one to a fast food restaurant, which you can find more about in this album on Facebook. (I took lots of photos.)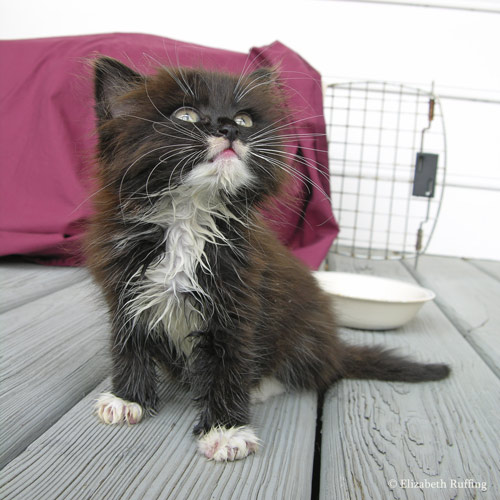 I went back later, on May 23rd, to the lady's house, to pick up some traps, and came back with Miranda Panda. Miranda had somehow gotten into a dog pen with a pit bull and was lucky to have been rescued on time. The woman had never seen Miranda before, but it is likely she is one of the kittens from one of the litters of kittens on her property.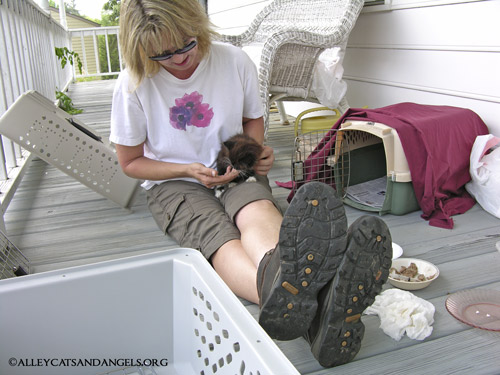 I got Miranda to our house and Marie came right over. Miranda drank so much water. She was very dehydrated and very skinny. Marie got an appointment with the vet, and miraculously, Miranda was unscathed by the pit bull. She was very malnourished, but Dana and Brian took her into their care, where she is doing very well. Update: Miranda was adopted.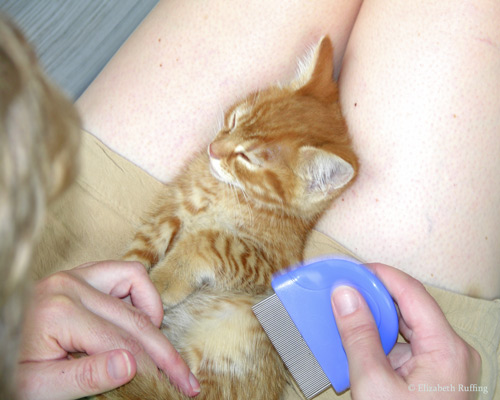 Then, on May 27th, I went back to check on the water at the fast food restaurant, and found another kitten, hanging out by the bowls! He seemed to want me to catch him, but kept running around and up and down the mulberry tree that was there. It was on a very steep hill, full of pricker bushes and garbage. I went back home, and asked Marie if she could take another kitten. She said she could take one more. I grabbed the Fancy Feast and a carrier and headed back to the fast food restaurant.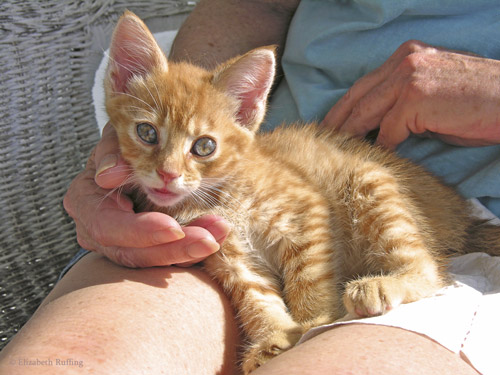 The kitten was still in the mulberry tree, on a branch overhanging the ledge. I lowered myself, holding onto another branch, and propped the open can of Fancy Feast on the mulberry branch, as close as I could to the kitten. He ate out of it, and I moved it closer to me, so I could let go of the branch I was hanging onto and grab him. Instead of grabbing the mulberry branch, the kitten grabbed the can of Fancy Feast, by the edge, in his mouth! He didn't want to let it go. It was probably the most wonderful thing he'd ever eaten.
I dropped the can, trying to hold onto him and get back up the hill, but I had more Fancy Feast for him in the carrier.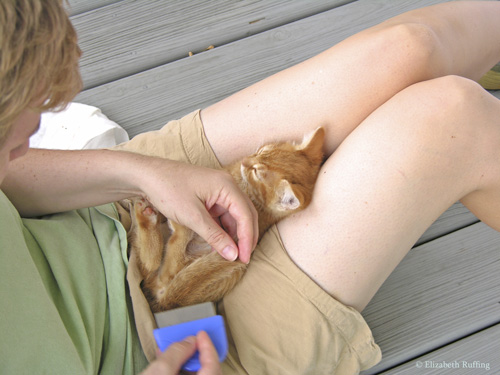 I got him home, and flea combed him and fed him some more. He was loaded with fleas, but absolutely loved getting combed and cleaned up. He also had a cut that was healing over his eye, and a burn that had separated his lower front gums from his lower lip. He will get a stitch for that later, once it heals enough.
Tia wanted to name him something food related, and so I suggested Monterey Jack, since cheese is in abundance in his former location, and since he is a bit of a lumberjack, with great tree-scaling skills. He's being called Jack, for short.
The next morning, May 28th, Jack was still very happy and bouncy and hungry, but it became apparent that he had a prolapsed rectum. Marie and I got him to the vet, who put him back in order, but then the day after that, Jack was having more problems. He needed to go to the emergency vet on the 29th. The stitch the first vet had taken was too tight. The emergency vet removed it and observed him to make sure he was okay. Then Marie took him home with her to take care of him and get him the medication he needed.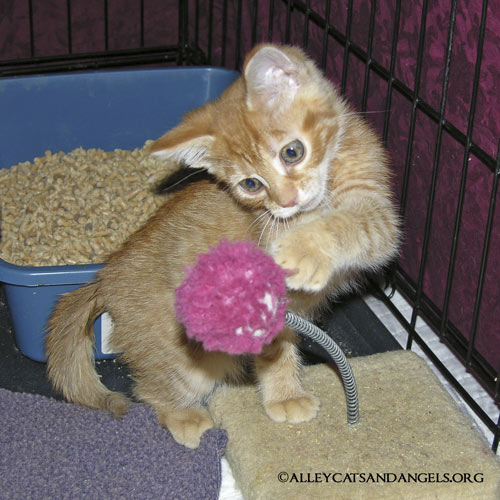 Mom and I went to visit Jack yesterday, and he is healing. He is just the happiest little guy, with such a positive personality. He has purred through everything with a great loud purr. You just have to admire him. Update: Jack has been adopted.