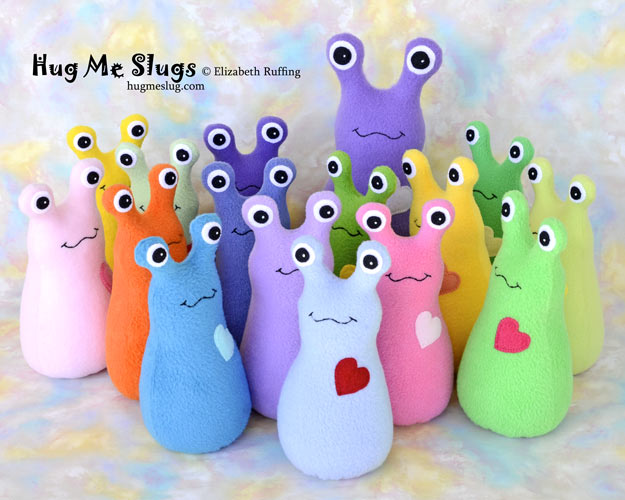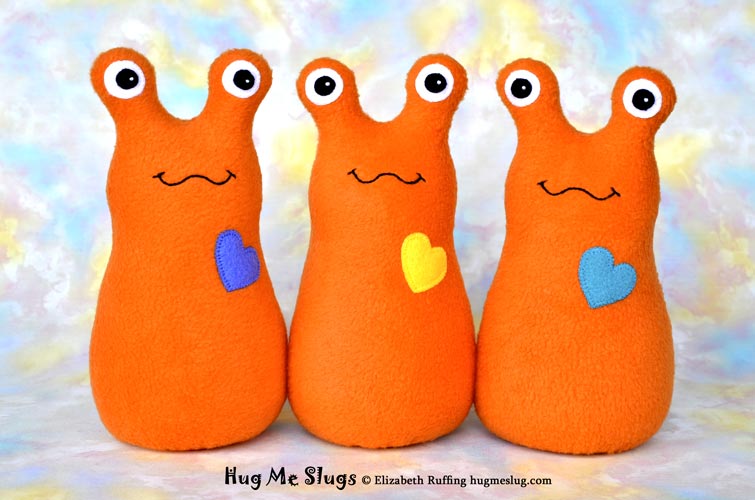 I've been making lots of stuffed toy Hug Me Slugs lately! I realized today that I have been making stuffed animal slugs for almost half a decade now! Wow, that must mean I've made hundreds of plushie slugs.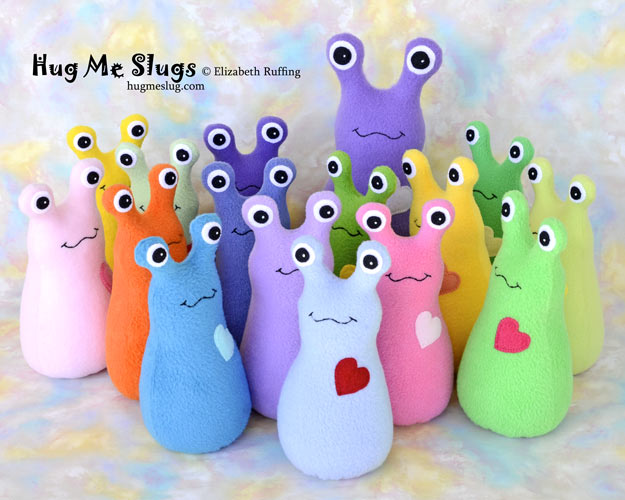 I'll be adding more adoptable slugs to our Ruffing's shop, in all different colors!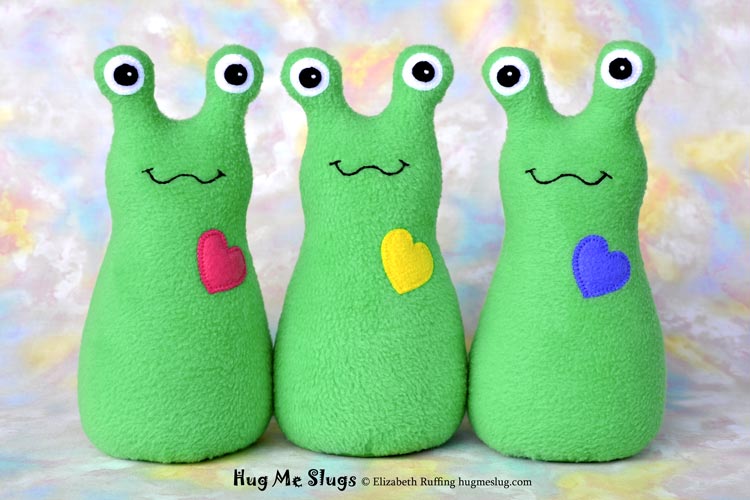 They are all made of fleece and are soft and cuddly. Each one comes with a hang tag, which can be personalized. Their adopters can pick out names for them, or I print "For + a name" on the tag, which comes tied to each slug with a ribbon. There is even room for a short message on the back of each tag.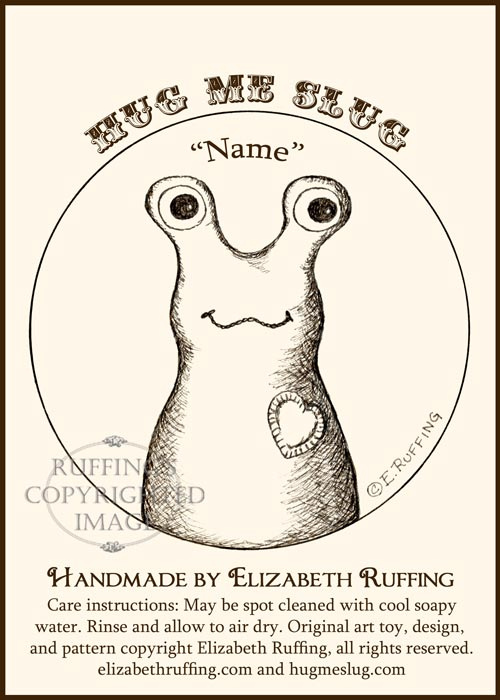 I discovered there are some slug cousins and more slug enthusiasts out there. There is a new animated show on called Slugterra, with a bunch of cute slugs, in all different colors too. They look like a fun group of characters. The slugs on the show are very action-oriented. I'm sure they will have their own toy versions soon.
Here is a video of some of the Slugterra slugs.
I found myself wanting to set all the slugs free. I wanted to release them into a shady green garden with all kinds of good things to for them eat.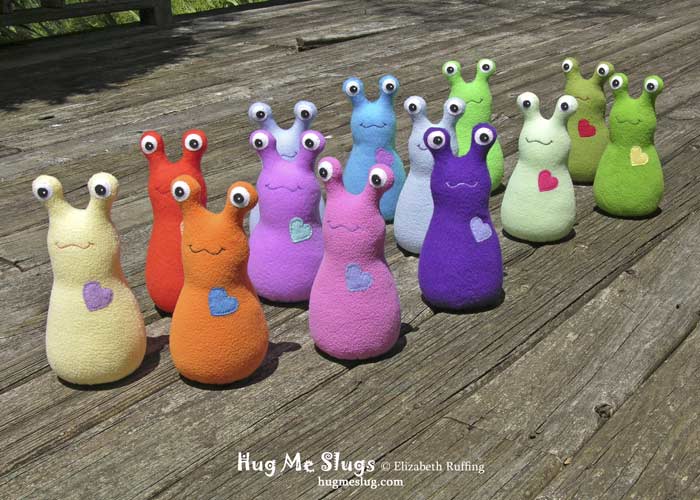 In my fantasy slug-world, Hug Me Slugs live in a sanctuary full of fruits and vegetables that instantly regenerate whenever a slug takes a bite out of them.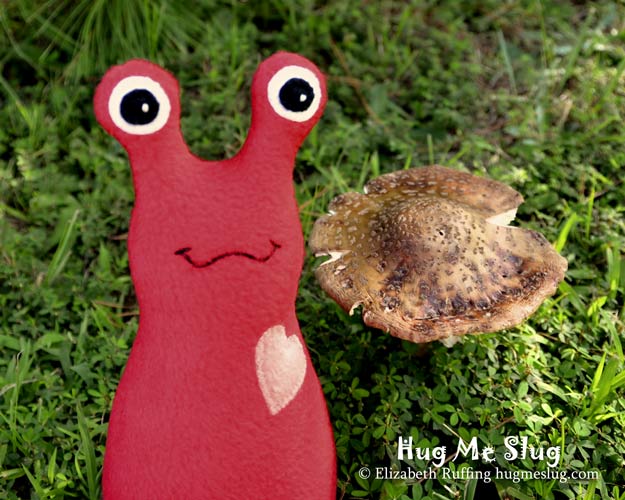 When they are not eating or playing, they loll around, with the sun shining through the forest leaves above, smiling contentedly, telling each other jokes and stories. They may even have burping contests. They do seem to eat a lot.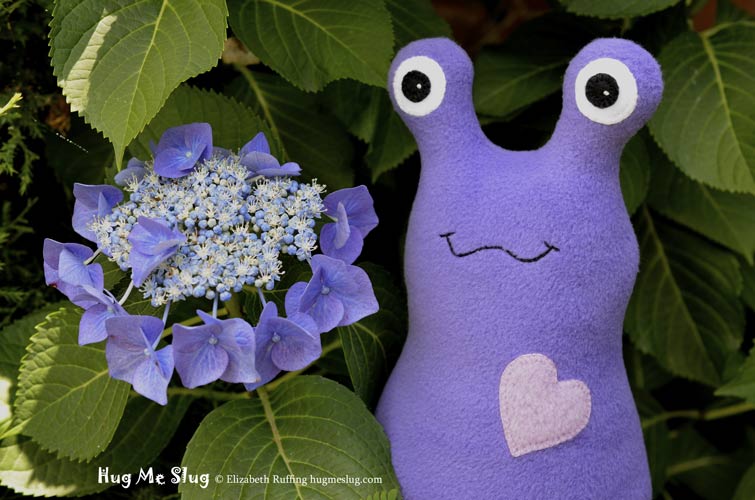 I'm not affiliated in any way with the Slugterra show itself. I think my Hug Me Slugs and Bugs may be friends or relatives though. I'm sure they would enjoy playing together. Hug Me Slugs get along with pretty much everybody.They are peace-loving, gentle souls who are friends to everyone.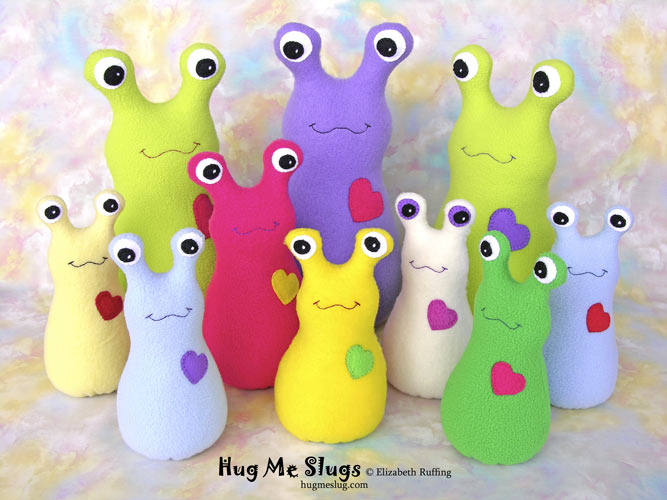 Please come visit our Ruffing's shop to see my adoptable creatures. If you are on Facebook, please come "like" our Ruffing's page.