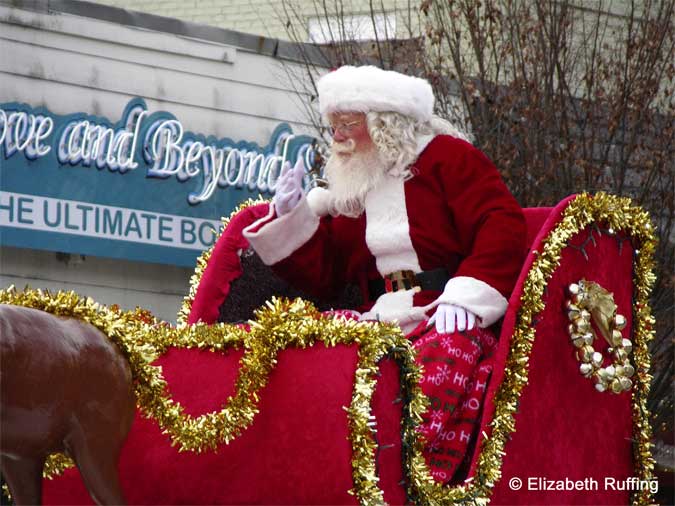 I made sure to get back from running errands on time to take my mom to the Christmas parade in town, this past weekend. Seeing as how I feel like one of Santa's elves lately, with all the toy making, I could hardly miss seeing him.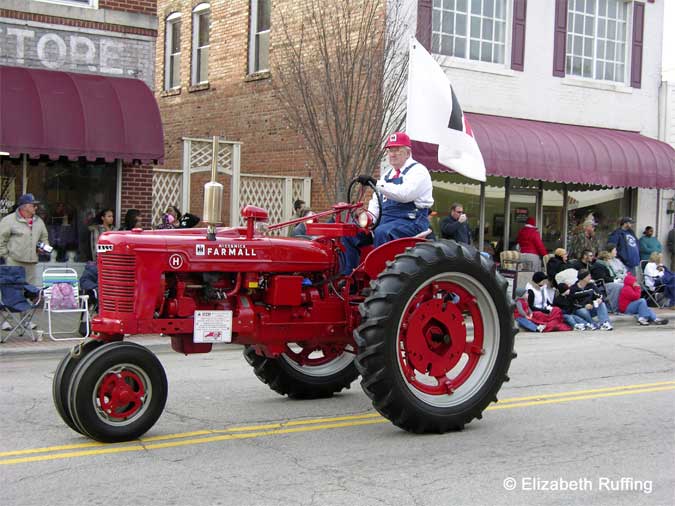 As always, there were lots of vehicles, starting with these great tractors, all shiny and polished by their owners for the parade.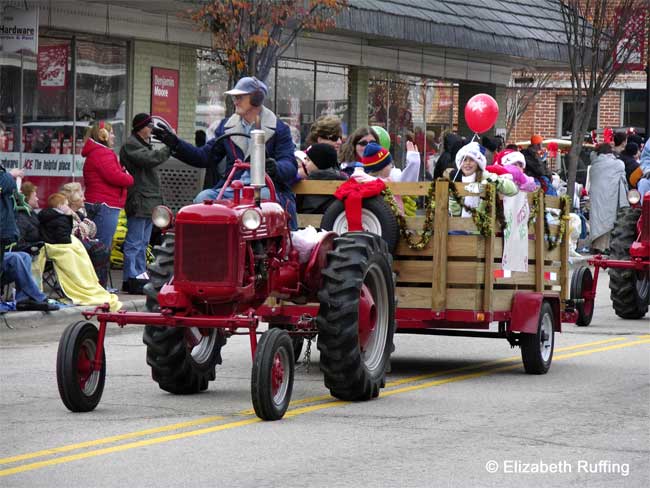 Then, of course, there were the motorcycles.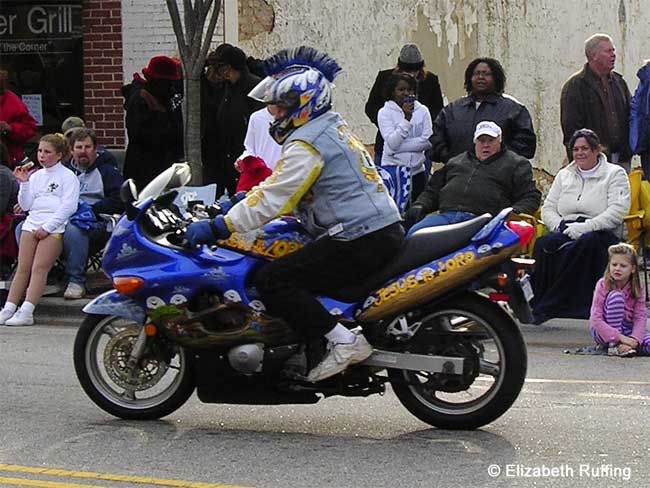 This one says "Jesus in Lord" on the side.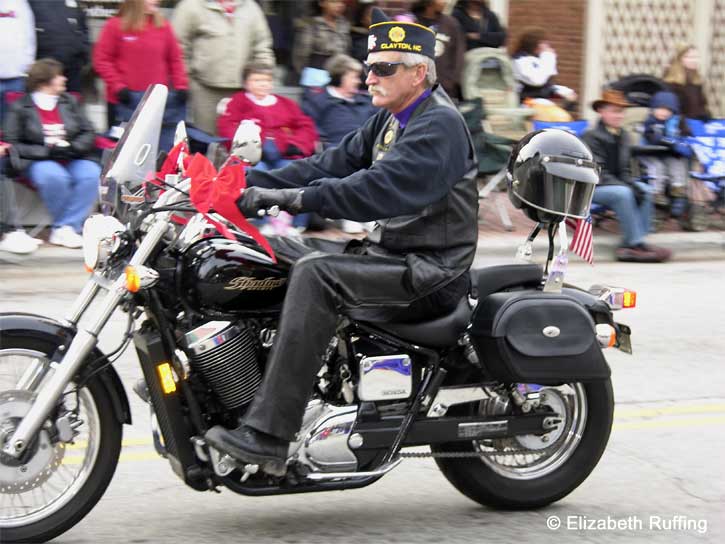 Some of these guys look pretty serious.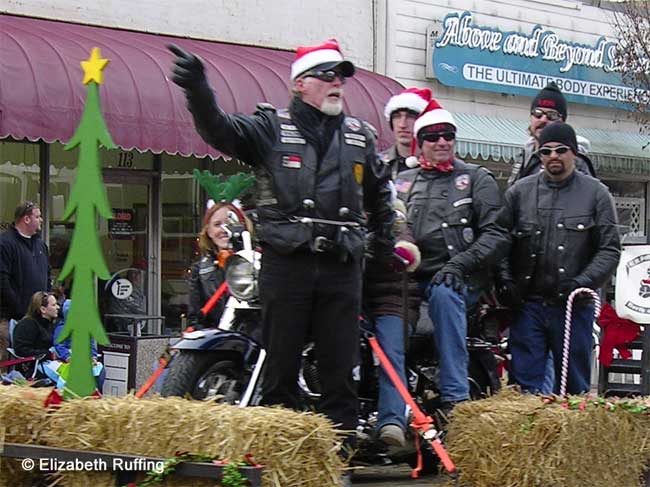 I'm not sure if this gentleman is pointing to the star on his Christmas tree or if he is just having a conversation with someone in the crowd. Maybe he's telling his wife where to meet him at the end of the parade.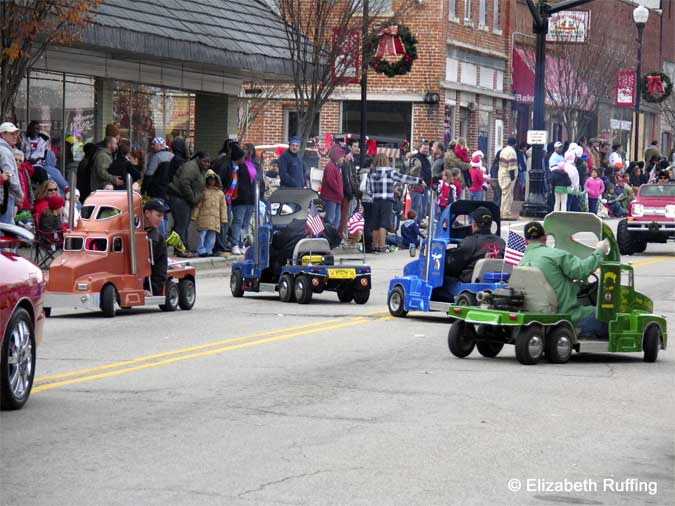 There are always the men in the little cars. The one over on the left ran out of steam and had to be towed, just after I took this shot.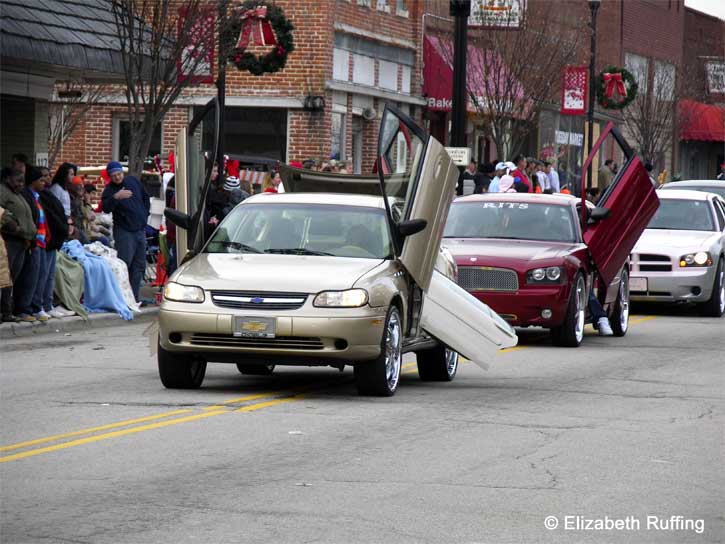 There are so many cars, all with waving folks inside. A couple of years ago, the cars that had the hydraulic lifts inside, so they went up and down, were popular, but these with the doors that go up and down, sort of like a jack knife, seem to have taken their place.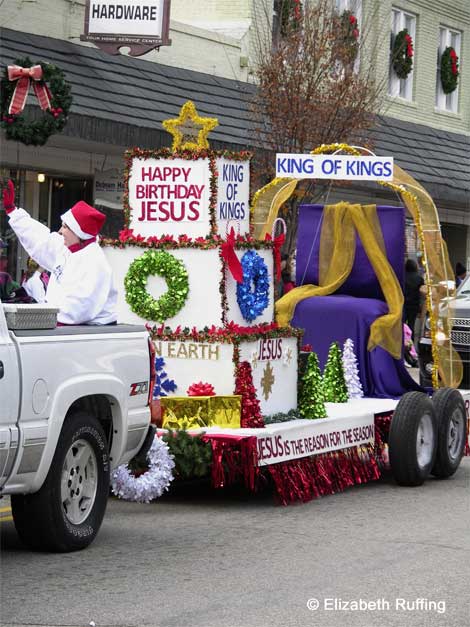 There were plenty of homemade floats.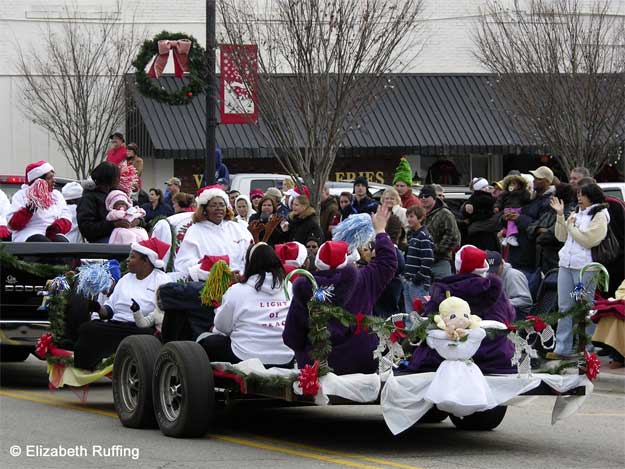 This lady was leading a song as she went by.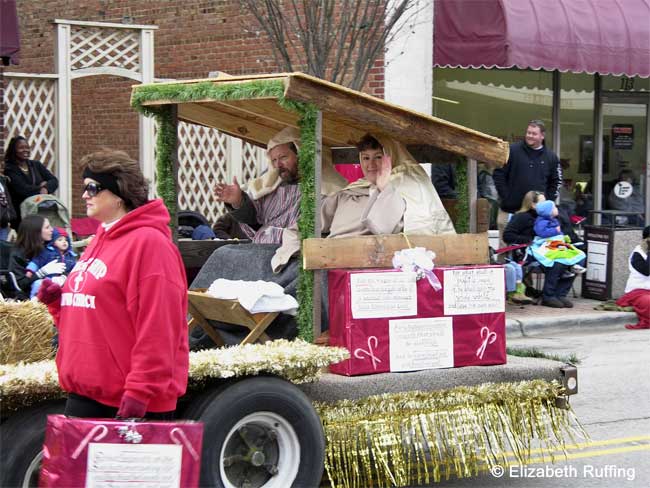 The Mary and Joseph float went by. Mary waved and smiled at me.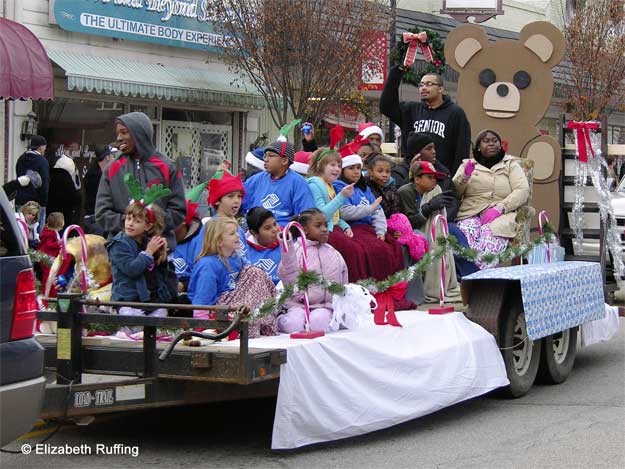 Lots of kids ride on the floats. They wave more enthusiastically at the beginning of the parade.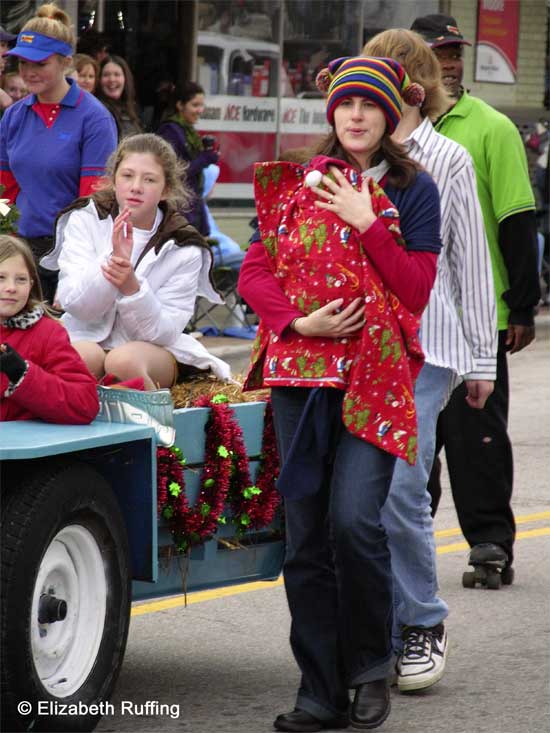 Then they get tired, by the end of the parade.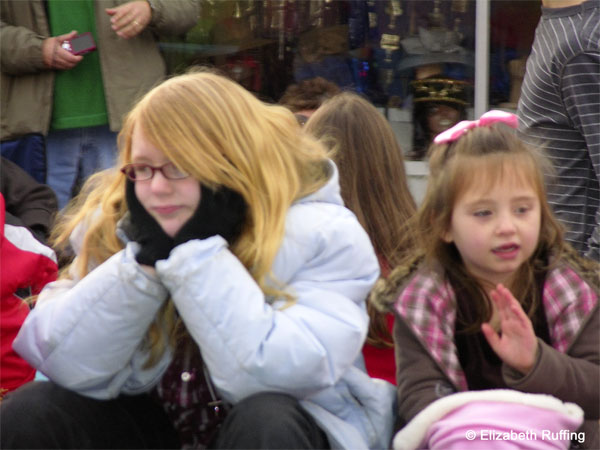 This little girl seems to have run out of waving energy, but her companion is still forging on.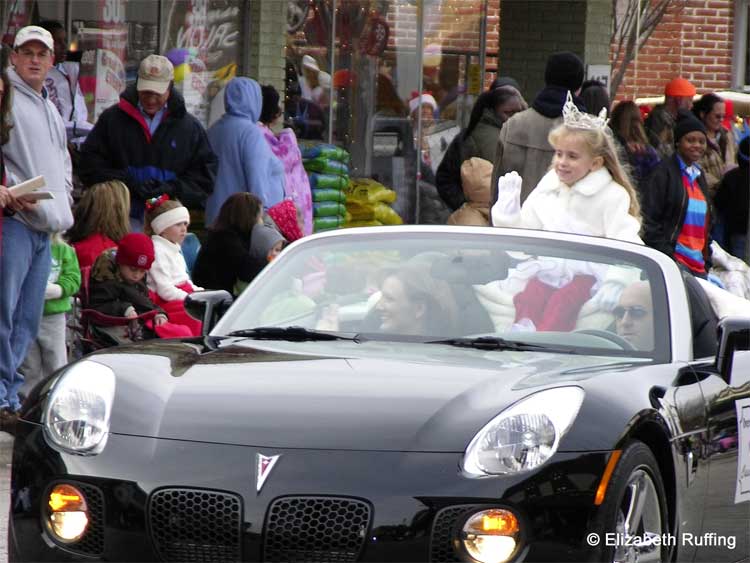 There were at least three beauty queens. They seem to hold up better with their waving. I think they must practice.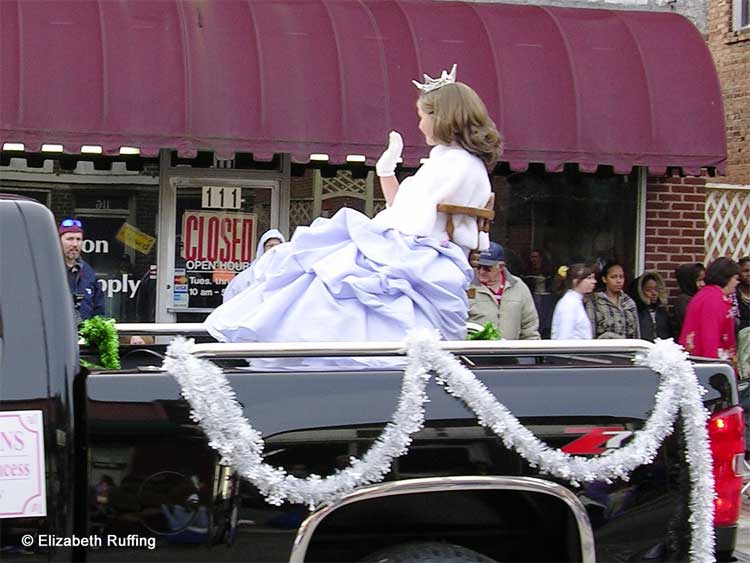 This one had a beautiful skirt.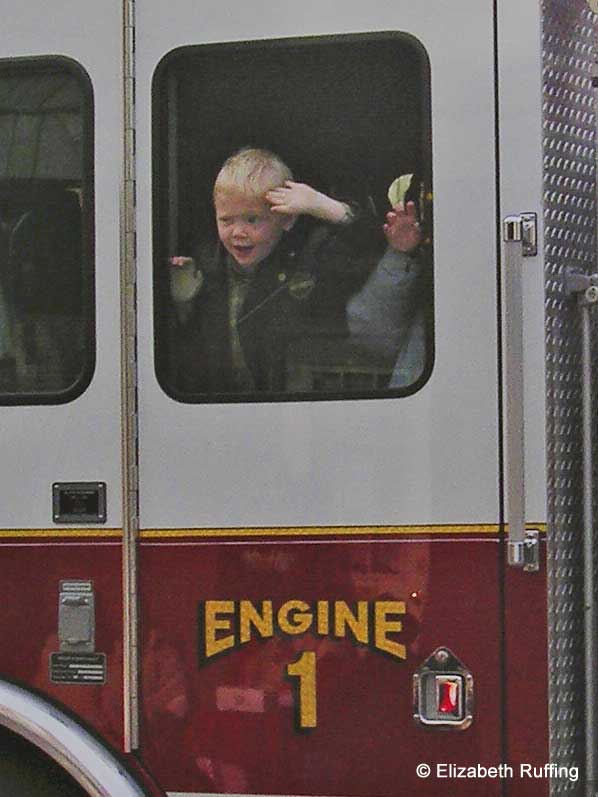 Some of the kids get pretty silly by the end of the parade. This little boy in the firetruck was making all kinds of faces out the window. Another little boy went by yawning.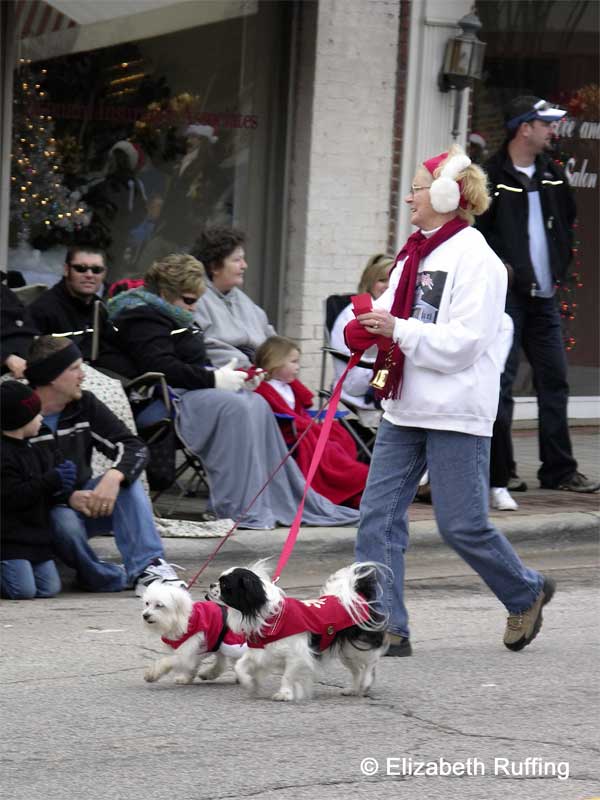 There were even dogs strutting along in the parade, with their festive red coats.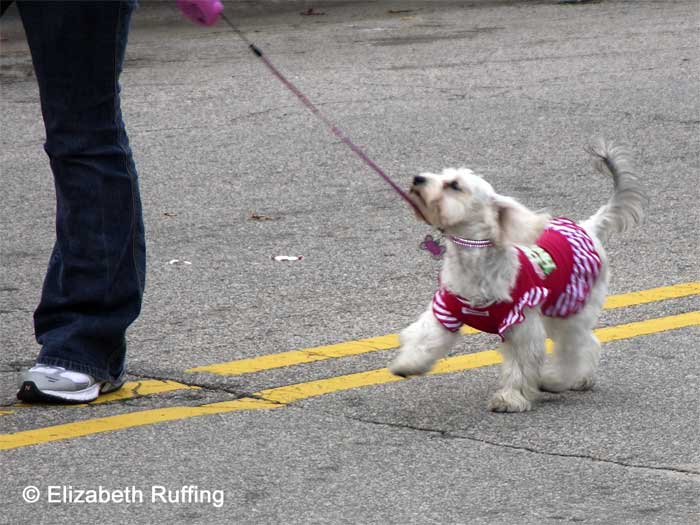 They seem to have more endurance than some of the kids. But then they didn't have to wave or dance or jump around.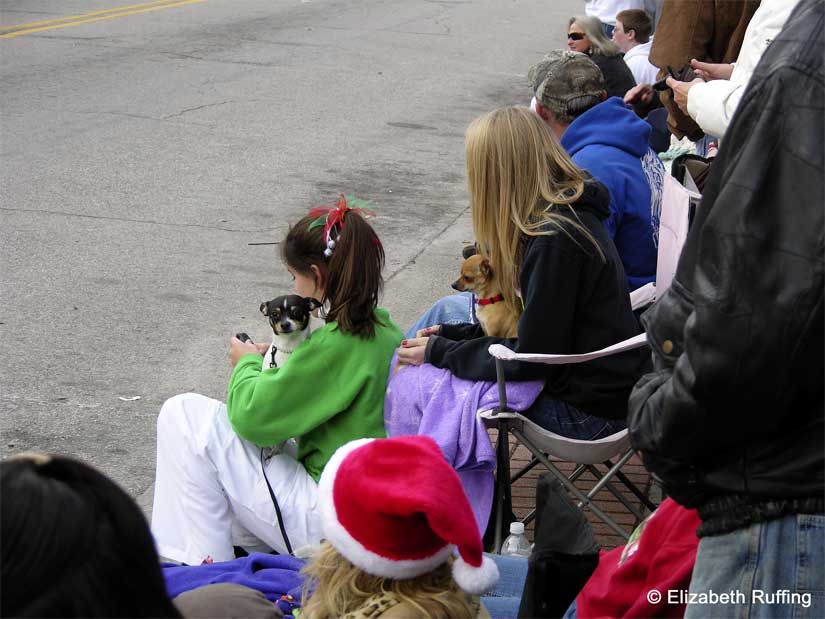 There were even dogs watching the dogs in the parade.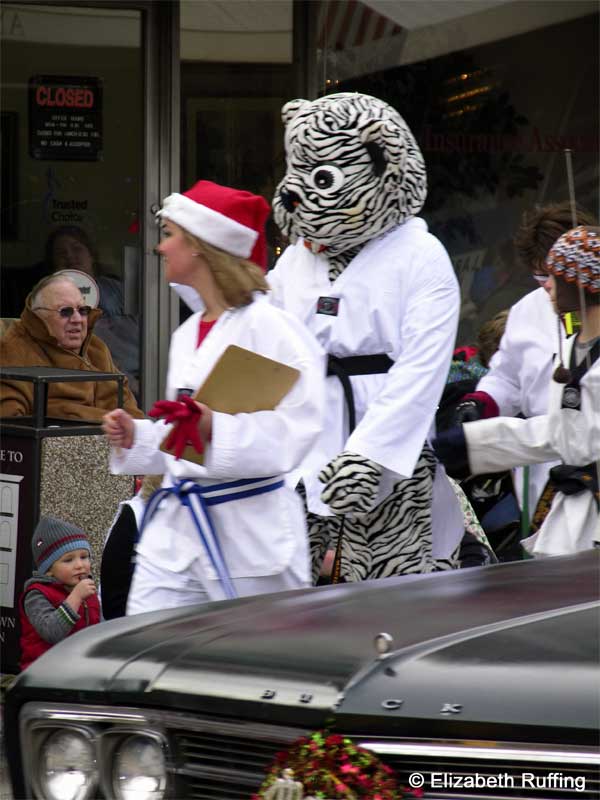 And there was a tiger.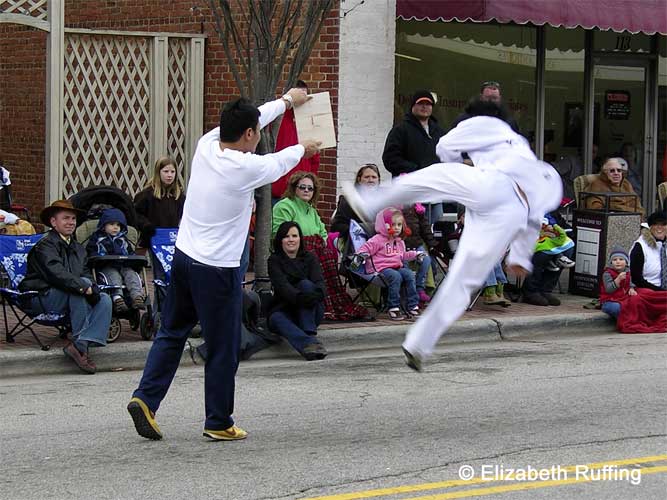 He was helping pass out flyers for the karate school guys.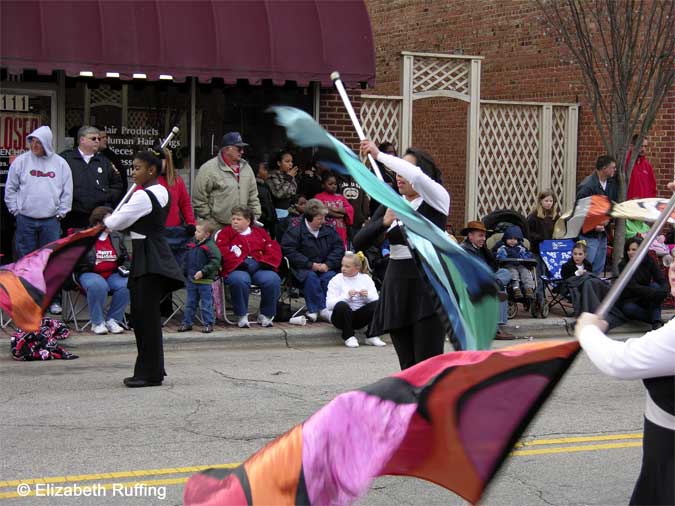 There were colorful flags,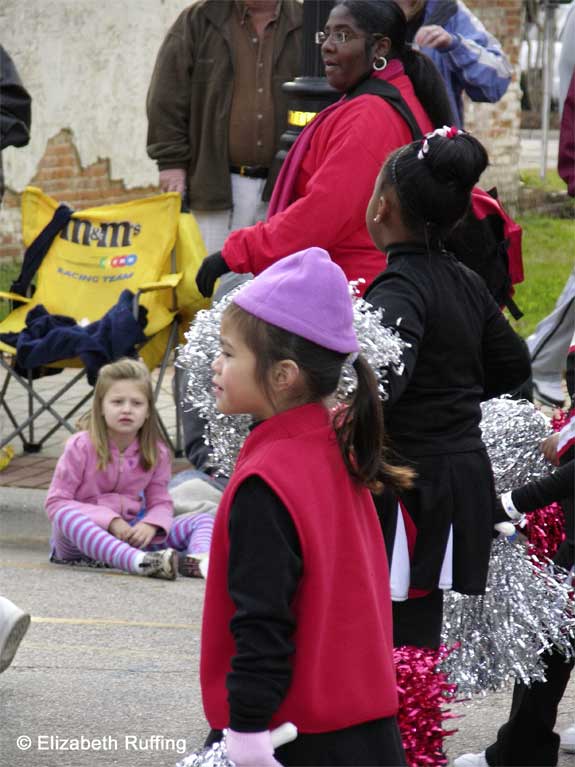 and kids waving sparkling pom poms. This one was getting tired too, I think.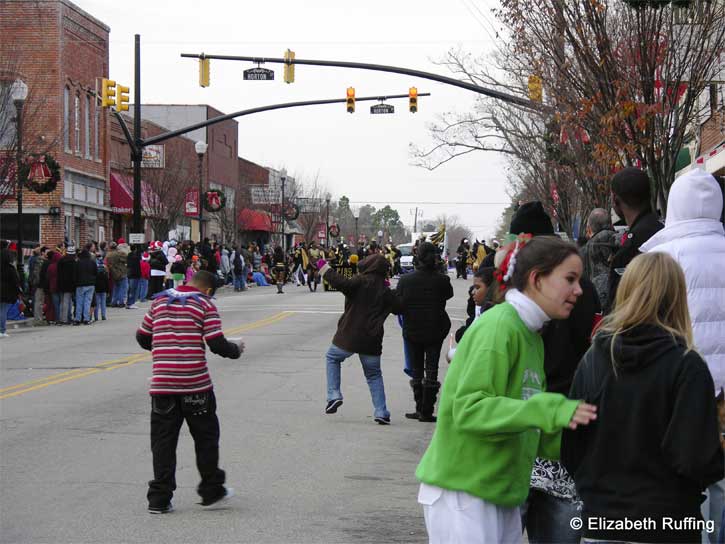 After just about everyone went by, there was a lull. People started moving into the street, and I thought they might be heading home. When I saw the people in front of us start to dance in the street, I realized they were moving off the curb to get a better look at the Helping Hand Mission Marching Band.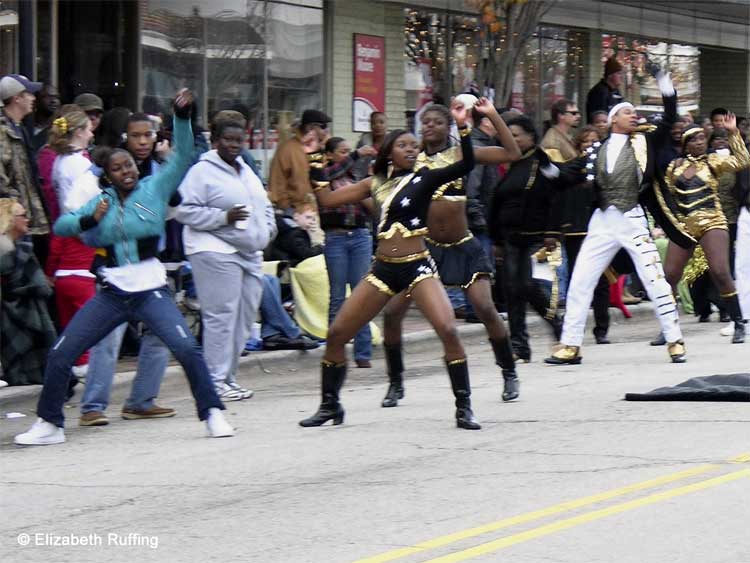 There are lots of dancers and bands in the parade, but the Helping Hand Mission really gets the crowd excited. They stop to perform frequently, which is why there was a lull, I guess. This girl on the left was doing a good job of keeping up with the girls in the group.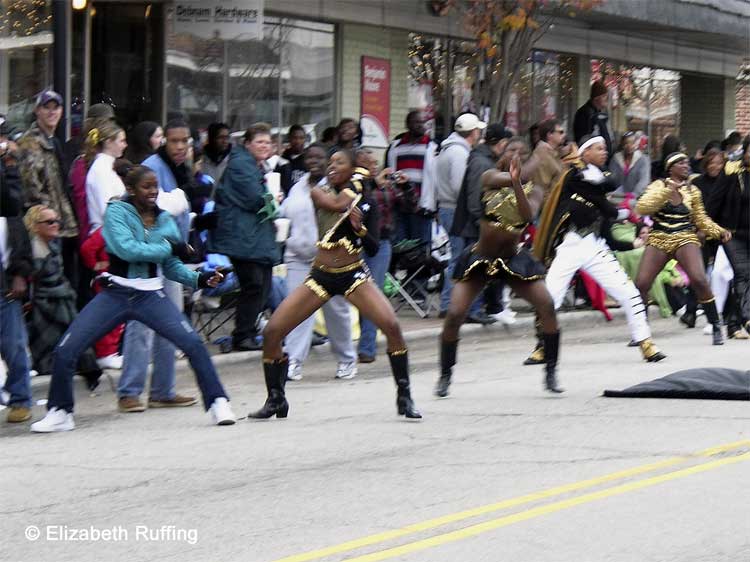 I had to step out into the street to get photos at this point. My mom told me there was another guy with a camera squatting down in the middle of the road, and he stayed there until they were almost to him.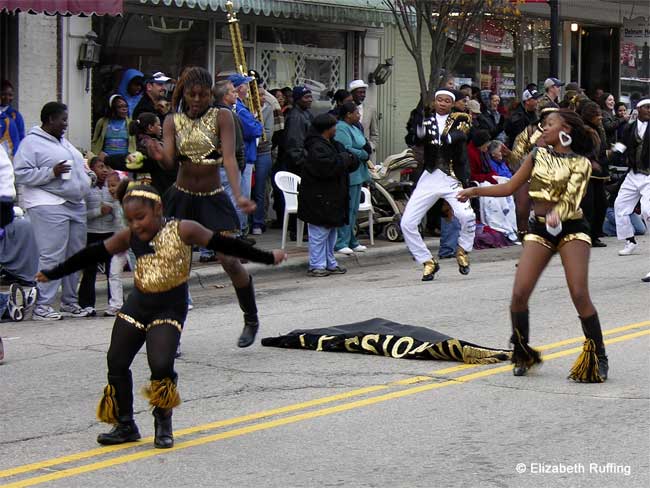 They stopped just in front of us to dance and play the drums.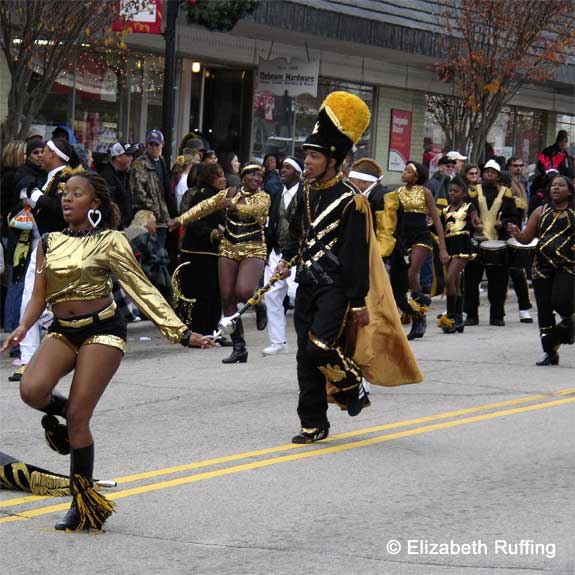 The one guy blows his whistle to signal when they stop or go, I think.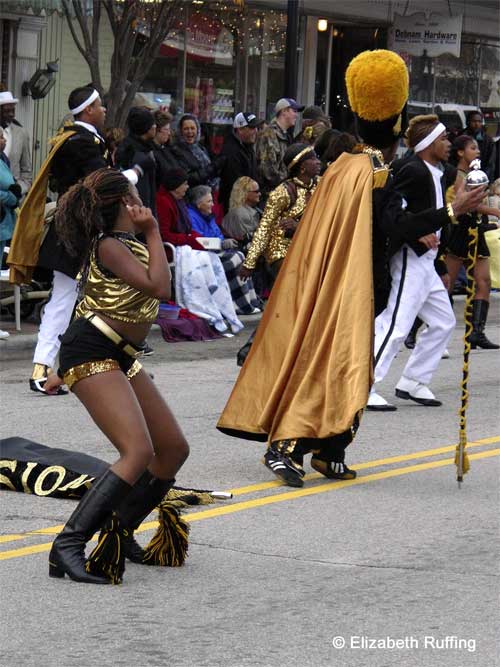 One lady in front of us kept dancing along. When she passed me and realized I had a camera, she looked a little embarrassed. I was enjoying that she was having fun. I felt a little embarrassed that she looked embarrassed.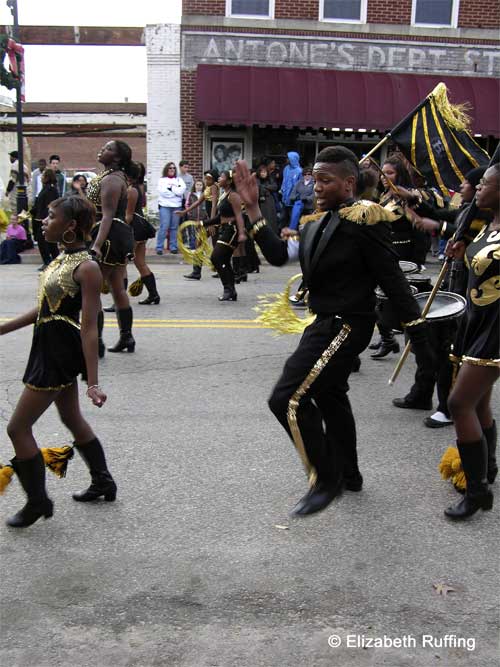 An army truck went by, driven by a man with such a sweet-faced baby. I tried to get a better photo of her, but they passed by before I knew it.
And for the big finale….Santa, of course! He made sure to wave at everyone. He can't afford to get tired out. He's got lots to do these next couple of weeks!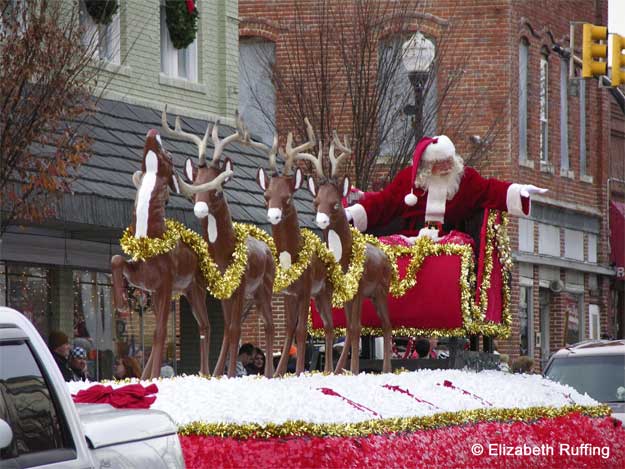 And so do I! I'll post some of the toys that went out this week. I've got plenty to get ready for transit this coming week!
Tonight people will be lighting the first candle of Hanukkah too…Happy Hanukkah!