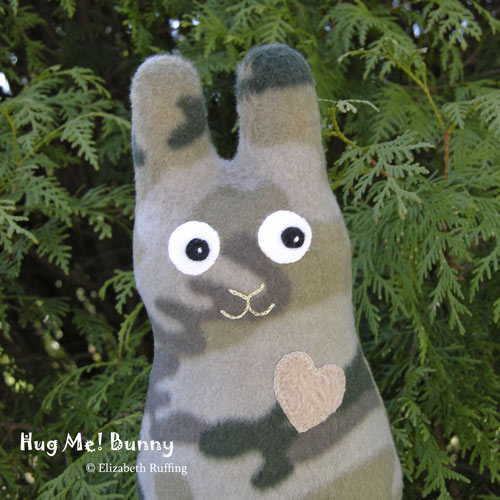 Friends have been encouraging me to make camouflage Hug Me Slugs. My friend Marie suggested they would make great gifts for people in the military and their families, who could use an extra hug, and everyone who was chatting about the Camo Slug idea agreed. I was working on them today. Suddenly, I had to take a detour. It may be Saint Patrick's Day today, but that only made me think of Easter, my favorite holiday. And Easter made think of bunnies. I stopped sewing, drew a little picture, and then drafted a pattern. Within an hour or two, Camo Bunny was born!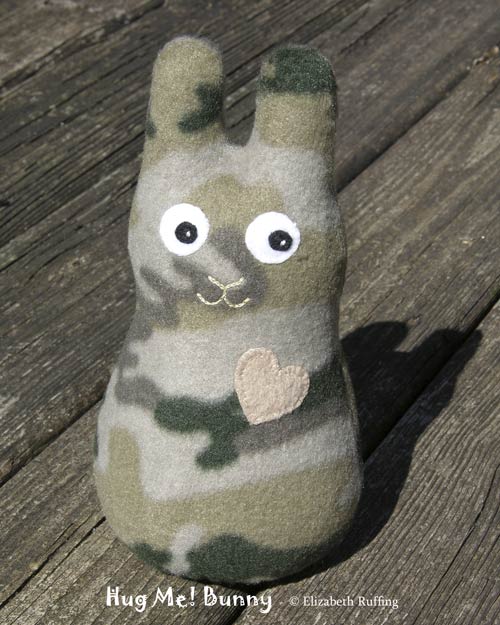 Camo Slug will join Camo Bunny. I am making some custom Hug Me Bunny stuffed toy animals too. I can make them in any other fleece color that I have on hand as well. I'll be adding more ready-made toys. I have a pile of them that I am working on. I will be adding my new handmade stuffed animal toys to our Ruffing's shop.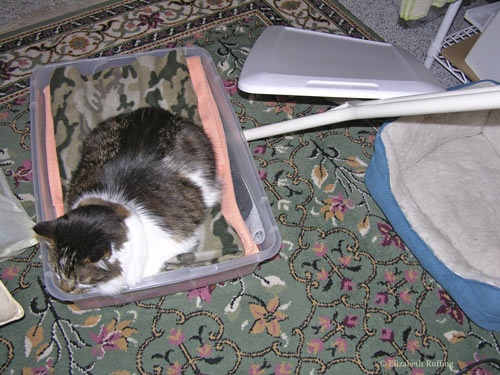 Camouflage fleece makes a great cat bed, apparently. My assistant settled right in while my back was turned for a few minutes. Perhaps he was hoping I wouldn't see him, surrounded by camouflage. He was cooperative about getting back into his own bed, but the fleece won the cuddly contest.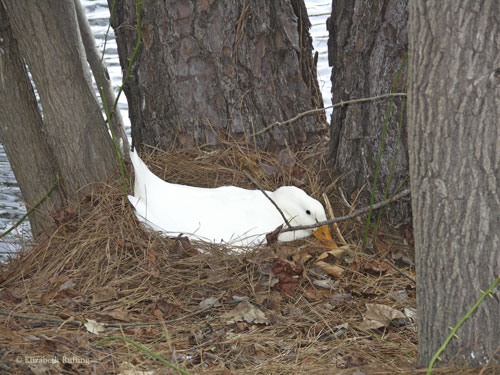 One of the ducks was missing this weekend, and I was very worried until my mom found her…sitting on about twelve eggs! She built her nest, hidden behind a group of trees. I'm so glad she is okay. I was certain she was a he, and so that was an extra surprise. The other boy ducks tried to chase her off last year, when she was less than a year old. The one that is the dad used to snap at her when they came for corn snacks. He's the big duck we brought to the vet, to have a fish hook removed. They are both survivors, and so we all hope their ducklings will be too.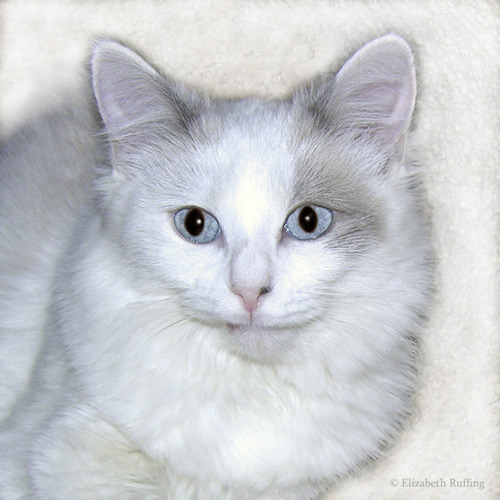 Speaking of survivors, and hiding, this is Frosty. Frosty came from a feral colony and is very shy. She is staying with Marie, but she has to have one of her canine teeth removed. One is growing straight out. That's what gives her lip a slight curl in the corner of her mouth. We're going to visit with her for a little while after her dental, while she recovers, before Marie gets back home from work. She is such a beautiful girl.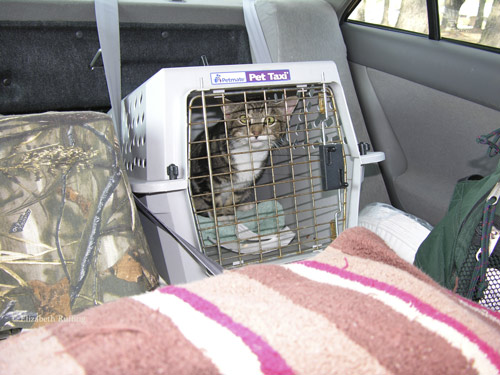 I tagged along with Marie again, on a trip back to Rochelle's house, to pick up some more cats to be neutered/spayed and vaccinated. This time it was Gypsy's turn. He is tame and the others are feral. He stayed with us, in a carrier, so he wouldn't go eat all the food in the safety traps. We took him to Kentucky Fried Chicken with us, to pick up some smelly chicken. The cats went right in the traps, once the chicken arrived. Gypsy seemed to enjoy the car ride, and the chicken…of course.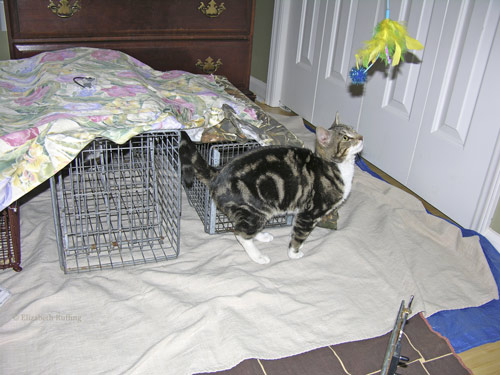 The cats stayed in their traps at Marie's house, the night before their surgeries, and then they went back to Rochelle's house. Gypsy enjoyed being in the house. The feather toy was new to him. He may stay with Rochelle, or, if someone would like to adopt him, he may go to his own home. He may need a little potty training, since that may be unfamiliar to him too. So, that is a wait-and-see situation. We had a cat who was outside in his early months, who was successfully potty trained, after not knowing about litter boxes, and Gypsy seems like a smart boy. He may take right to the idea, since he's been neutered, without any training. No one knows yet. I added the rest of my photos to a photo-documentary, if anyone would like to read the rest of the story.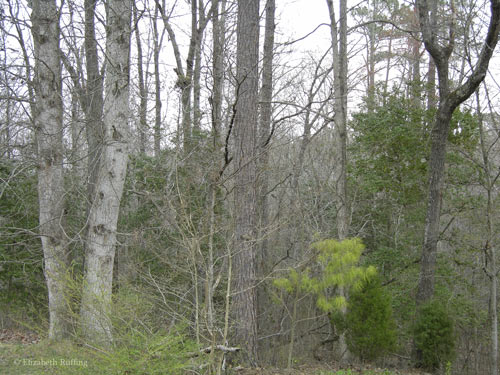 Please join Ruffing's on Facebook, if you haven't already, and visit our Ruffing's shop blog. We will be posting our new creations there.
And Happy Saint Patrick's Day, everyone! As you now know, I am thinking about Easter instead. I am thinking about Christmas also, stocking up on toys, but I don't want to miss spring either. Everything is starting to look very pretty.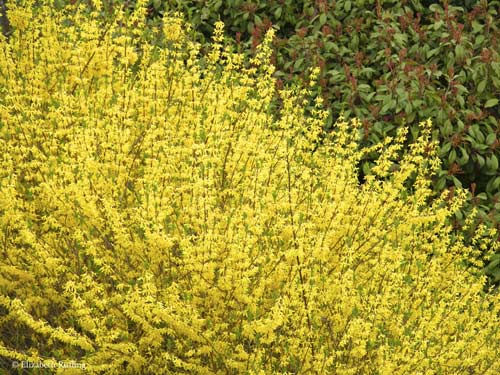 I took my camera with me on a walk recently. Here is a spectacular forsythia bush, and a yard full of little purple flowers in the grass.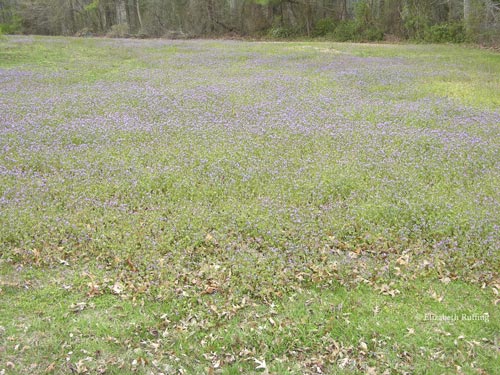 Our peach tree is full of blooms.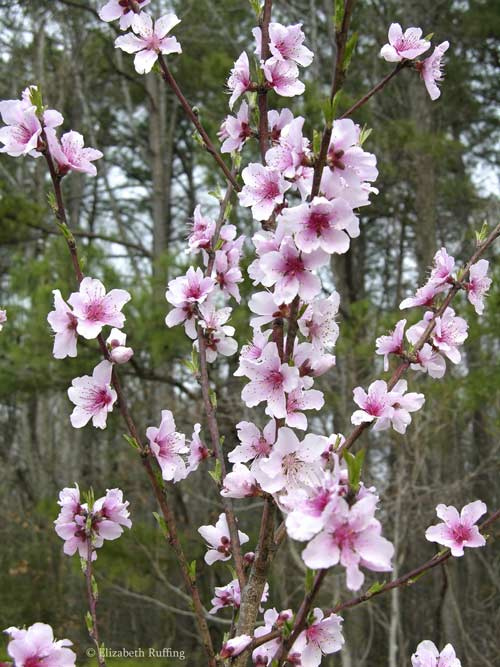 The trees are getting their leaves.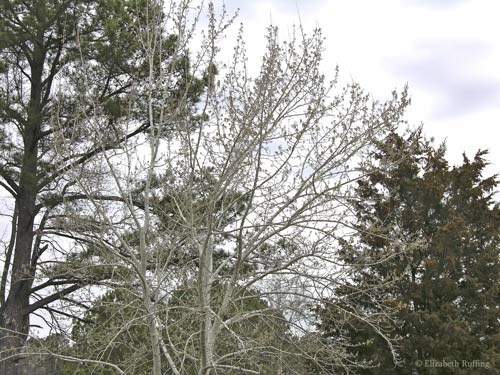 And I even saw a dandelion! I don't care what people say about them. I'm happy to see their bright yellow heads popping up.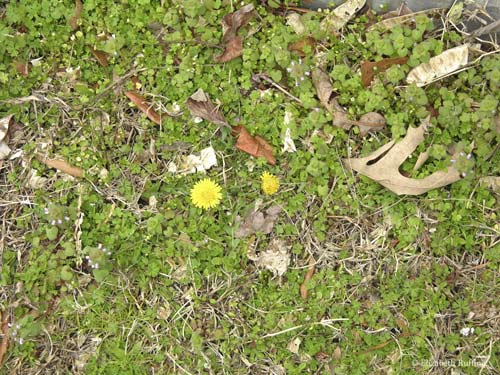 I have so much to do. I hope to have more to show you soon.